Welcome to the ultimate Wealthy Affiliate review for 2023.
I didn't just eyeball the members' area for a couple of minutes and call it a day like a lot of "reviewers" out there…
And I'm not here to bash Wealthy Affiliate, call it a scam and promote another course. Neither am I here to say Wealthy Affiliate is perfect… because it's not.
I've gone through Wealthy Affiliate's training and actually applied it myself. I'll share my results.
In this review, I'll answer all of your questions about Wealthy Affiliate in my usual no-nonsense way to arm you with all the info you need to decide whether this is the best affiliate marketing course for you.
So if you want to know:
Exactly what Wealthy Affiliate offers
Who the guys behind this platform are (I've met them both)
If students are actually getting results
What the biggest Wealthy Affiliate complaints are
If Wealthy Affiliate is a scam or legit
Whether it's worth you signing up (or if there are better alternatives)
Then you've absolutely come to the right place.
Here's a quick bitesize version of the review:
Wealthy Affiliate Review
What: Wealthy Affiliate is an affiliate marketing training platform and community with structured courses, live classes, website-building software and keyword research tools all under one roof.
Wealthy Affiliate was founded by Kyle and Carson in 2005 and now boasts 2.6 million+ members.
Price: Wealthy Affiliate has three membership options: Starter, Premium And Premium Plus+. Starter is free forever, Premium is $49/month. Premium Plus+ is $49 the first month then $99/month.
Go yearly and you'll get a discount. Premium is $495/year and Premium Plus+ is $995/year.
Bottom Line: Wealthy Affiliate – compared to other affiliate marketing courses – is absolutely worth it if you're a beginner looking for affordable, step-by-step training that works.
You'll have the right know-how, tools and support – everything you need to thrive in the online space.
If you want to give Wealthy Affiliate a proper test drive, join as a free Starter member. You'll be glad you did.
Overall Rating: 4.75 stars
Pros
• Everything you need to succeed in one place
• Step-by-step and easy to understand
• Free to start and affordable pricing
• Super supportive community
• Students get results
Cons
• Need Premium to earn serious money
• Some bad advice from fellow members
• Some people focus too much on WA rank
• Too much emphasis on Affiliate Bootcamp
• It takes time to go full-time
Wealthy Affiliate has reigned as affiliate marketing course king for at least a decade. But is it any good, does the training still work and is it worth joining in 2023?
The answer is 100% yes, especially if you want to build a strong moneymaking online business 💪
Wealthy Affiliate is the best affiliate marketing course I've come across so far…
🏆 Best Affiliate Marketing Courses 🏆
Best advice I can give you?
Have the right expectations going in and take it at your own pace.
While Wealthy Affiliate will take you by the hand and walk you through everything you need to set you up for success, there are a lot of skills you need to master like basic website design, SEO and keyword research, content creation and email marketing.
And that's going to take time…
So enjoy the process, work your way through Wealthy Affiliate's training, take action on every lesson task and you'll acquire income-generating skills that'll set you up for life.
By the time you've reached the end of Wealthy Affiliate's Online Entrepreneur Certification course, you'll be the proud owner of an affiliate marketing website, that's based on a topic you're passionate about, recommending products you truly believe in and that's generating a solid income.
And that's what it's all about – YOU making your online dream business a reality, building your financial future on a firm foundation so you can provide for yourself and your family for many years to come.
An Honest Wealthy Affiliate Review
I ALMOST fell for a shady affiliate marketing scam and it was totally my fault. What can I say? I was desperate.
Thankfully I had the brains to check out reviews of this "get-rich-overnight-at-the click-of-a-mouse crap" before handing over my hard-earned cash, and that's when I stumbled across Wealthy Affiliate.
Of course, I was sceptical. I had been searching for months and Wealthy Affiliate wasn't the first program I'd come across promising to show you how to build a real income-generating business online…
Then I saw you could join Wealthy Affiliate as a free Starter member (no credit card needed) so I thought:
"Well, what do I have to lose really?"
So I did…
And I couldn't have discovered Wealthy Affiliate at a better time.
I was so done working call centre jobs and at a point in my life where I was ready to take massive action to make my dream business a reality.
It felt like my whole future was on the line and I was willing to do whatever it took to get to where I wanted to be.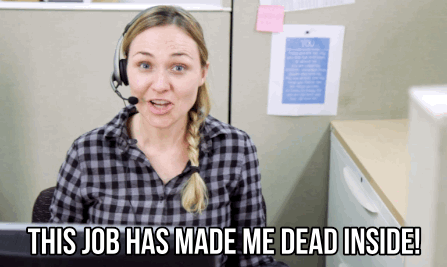 After creating my free Starter account, I dove into the lessons completing every action step along the way.
Two things stood out:
Here was a straightforward, practical course without any gimmicks or hype
Everyone in the community was super supportive and encouraging
Why are these two things important? Because when you're venturing out as a brand new online entrepreneur, getting the right know-how and support is critical to your success.
Since then I quit that call centre job, jumped on a one-way flight to Thailand, travelled across southeast Asia and earned $100,000s in affiliate commissions with multiple websites in multiple niches.
I've been officially recognised as a Super Affiliate and even got my wife in on the act…
And all this is a result of applying Wealthy Affiliate's training.
What follows is an honest and accurate review of Wealthy Affiliate from someone who has been a member of this platform for eight years and met co-founders Kyle and Carson in person.
Let's start by running through exactly what Wealthy Affiliate is and how it works.
What Is Wealthy Affiliate And How Does It Work?
Wealthy Affiliate is an online training platform and community designed to equip both newbies and advanced affiliate marketers with everything they need to create a successful and sustainable business in the online space.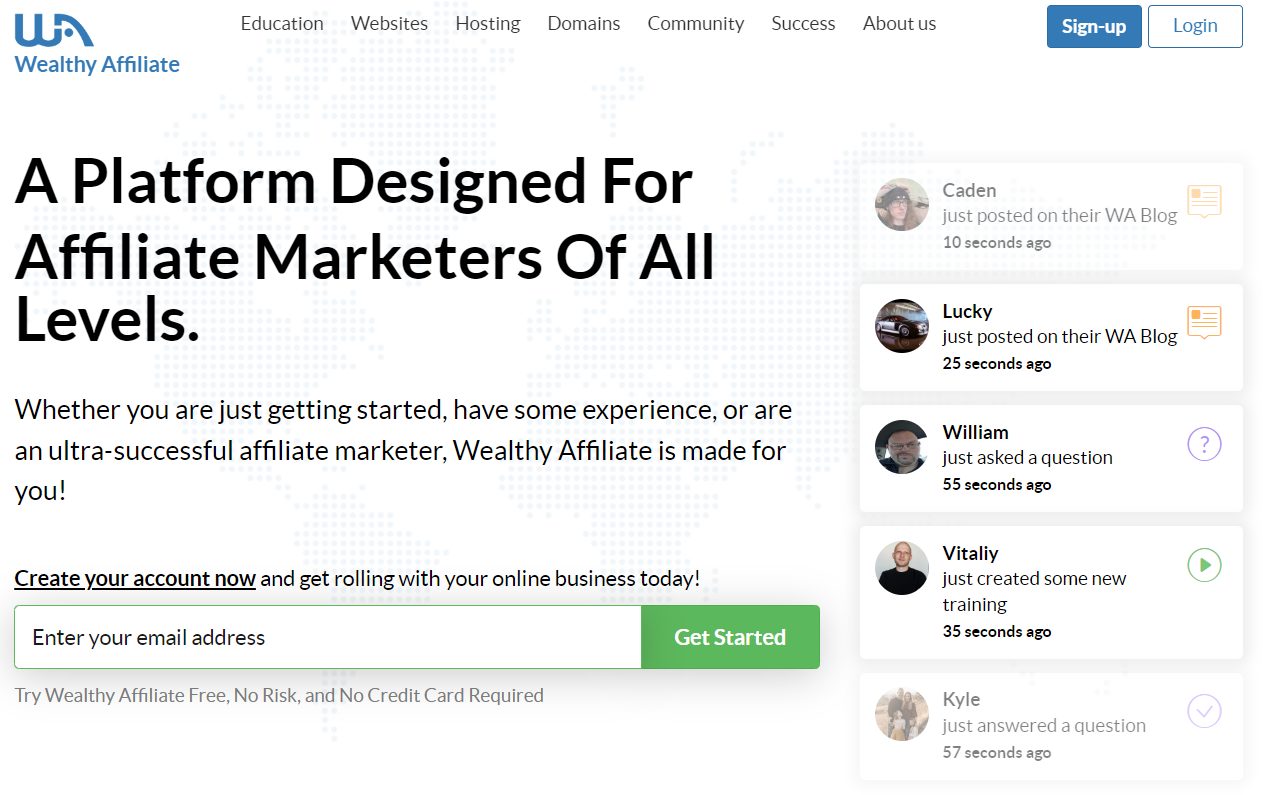 The difference between Wealthy Affiliate and other affiliate marketing courses out there is that Wealthy Affiliate is way more than a course.
You'll have everything you need to succeed in one place:
Join as a free Starter member today and you'll have access to top-notch training and world-class affiliate marketing tools and become part of an amazing community of like-minded go-getters who you can share your progress and celebrate your successes with.
We'll break down exactly what you get, but for now, here's a quick peek at the members' area: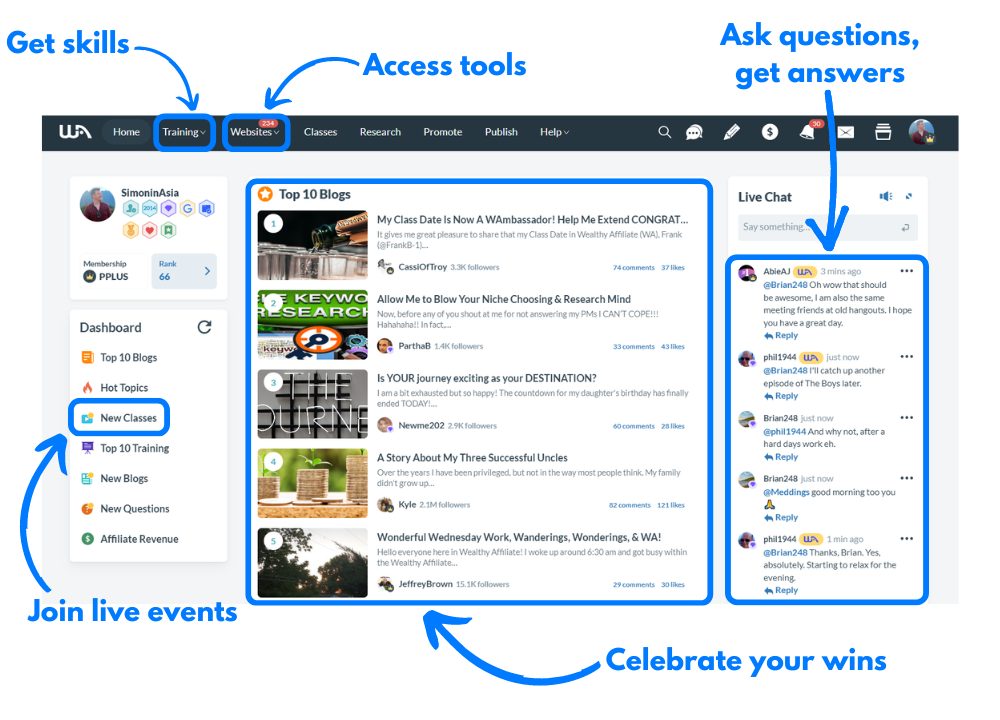 Meet Wealthy Affiliate Co-Founders Kyle And Carson
Kyle Loudon and Carson Lim are the Canadian entrepreneurs who co-founded Wealthy Affiliate under the name Niche Marketing, Inc. in July 2005.
I can tell you first-hand, that a lot of "online gurus" out there just want to tell you what you want to hear without a care in the world about whether you actually see results or not. These guys aren't like that.
I really believe Kyle and Carson and the entire team at Wealthy Affiliate genuinely care about your success. It shines through everything they do.
And why shouldn't they? If you're winning, they're winning.
Here's what they say on their About page: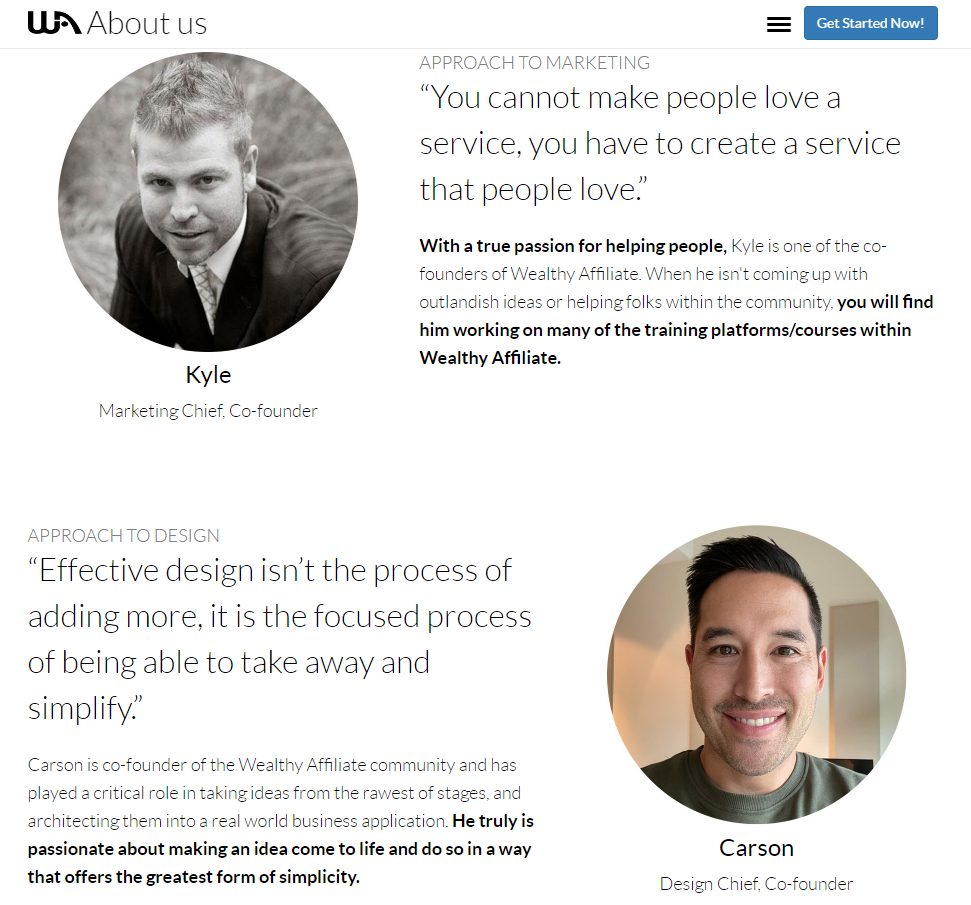 Kyle and Carson launched WealthyAffiliate.com as a keyword list service. They offered members basic PDF tutorials on how to create successful ad campaigns – and that was it!
Travel back in time 17 years and Wealthy Affiliate would've looked like this: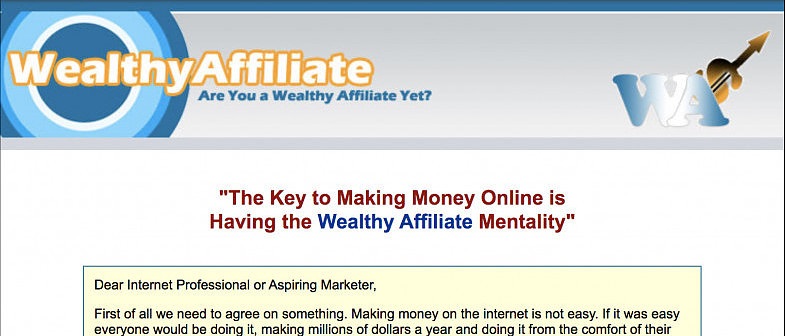 Safe to say, Wealthy Affiliate has changed and developed over the years but one thing that remains constant is Kyle and Carson's commitment to helping aspiring entrepreneurs achieve huge online success.
Fellow Commission Academy trainer Dale and I have both met Kyle and Carson at the annual Wealthy Affiliate Super Affiliates Conference in Las Vegas:
Here are a few words from Kyle on why they started Wealthy Affiliate:
"Prior to starting Wealthy Affiliate, Carson and I were both independently very successful affiliate marketers. We created Wealthy Affiliate with the intention of helping others achieve the same level of success. At the time this was in the Pay Per Click world, using primarily Yahoo at the time (as it was the most popular search engine).

Over the years, our platform has evolved drastically based on what our users wants and needs were. Sometimes a lot of our projects seem overly ambitious, but alongside the BIG IDEAS we also grew our development team helping accomplish more platforms and developments."
These guys are unstoppable and what I appreciate about them most is their relentless drive to push the boundaries and raise the standard of online business education:
"Our focus has been, and continues to be, helping YOU build successful businesses online. We do this through our education, through our platforms/tools we develop, and through the various lines of support. We also do this by helping you keep ahead of YOUR competition with the latest techniques and strategies that you need to utilize in your business."
Who Is Wealthy Affiliate For?
Wealthy Affiliate is best for three types of people: total newbies, those struggling to earn $1,000+ a month and more experienced affiliates looking to boost their bottom line.
If you've never made a dime online, WA will equip you with step-by-step training that works
If you've been burned in the past with subpar courses that didn't deliver, WA will show you the way to finally experience your breakthrough
If you're already an experienced online entrepreneur then WA is going to give you the advanced cutting-edge strategies you need to take your earnings next level
Whether your goal is to make $10,000 or $100,000 a month online, you can absolutely be successful when you take advantage of the education, tools and support available to you as a Wealthy Affiliate member.
Every single day members post success stories and celebrate new milestones and the sky is the limit to what you can earn when you're willing to apply a little elbow grease and hustle.
Wealthy Affiliate isn't for everyone though…
Who Is Wealthy Affiliate NOT For?
Wealthy Affiliate isn't for you if:
You're expecting life-changing results overnight
You're not willing to apply the assigned action steps
You're not ready to invest in your education to gain income-generating skills that'll pay you for life
Forget the done-for-you nonsense, shiny autopilot systems promising instant profits and hyped-up scams offering an easy ride because the not-so-popular truth is generating a steady income stream online takes grit and determination.
You can have the best personal trainer in the world giving you the best workouts and diet plans, but you only see results when you drag your butt to the gym and do the pull-ups, squats and bench presses.
The same goes for Wealthy Affiliate.
You'll have a proven roadmap to follow with cutting-edge software at your fingertips and a whole community cheering you on, but you'll only see the cash in your account after you put in the work.
So be one of those people who follow through because success is for the go-getters, the action-takers and those who don't back down until they've achieved what they set out to achieve.
What Will You Learn At Wealthy Affiliate?
Wealthy Affiliate's training is specifically designed to show you how to become a successful affiliate marketer. The core training covers the complete A to Z of everything you need to build a thriving online business from scratch.
You're going to learn how to earn daily commissions online by recommending other people's products and services through a process known as affiliate marketing.
Simply put:
Affiliate marketing is a business model where an online retailer pays a commission to an affiliate every time they refer a customer to their website.
For example, let's say you review electronic gadgets and you decide to join Amazon's affiliate program.
You could link to the Amazon listing of each cell phone, laptop or device you review and Amazon will pay you a commission for each sale that comes from your site.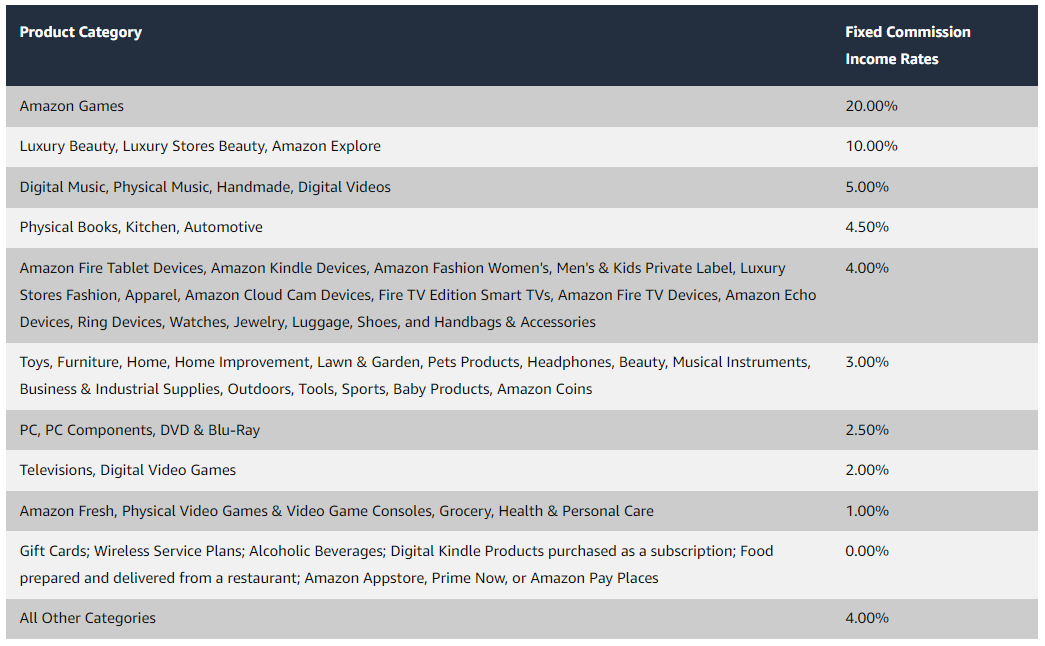 You'll earn around a $4 commission on each set of Sony headphones a customer buys through you. And I know that might not seem like much…
But – and this is a big but – if you can sell a lot of headphones to a lot of people, you can earn $1,000 or even $10,000s of commissions each month.
So the key to affiliate marketing success is learning how to drive boatloads of super-targeted traffic to your website that will click on your affiliate links and buy.
And that's why Wealthy Affiliate's training is gonna walk you through these 4 simple steps:

You'll essentially learn how to create a website around a specific niche (or topic) that ranks in search engines like Google for specific keywords and phrases so you get a free and steady stream of visitors.
When you get to Step 4, you'll be earning revenue by promoting related products and services to your audience by joining affiliate programs like Amazon and eBay.
Whenever anyone clicks your affiliate links and buys, you make a commission.
Now let me give you a quick overview of the training, support and tools you get as a Wealthy Affiliate member.
Wealthy Affiliate Training
Wealthy Affiliate is – at its heart – an educational platform that gives you a truly interactive and immersive learning experience.
Whether it's the core training with live chat, the weekly live events or the Premium Plus+ classes – you can communicate directly within the lessons and get questions answered in real-time.
There are two core training courses within Wealthy Affiliate:
Online Entrepreneur Certification (recommended for newbies)
Affiliate Bootcamp
The main difference between the two is that the Online Entrepreneur Certification course shows you how to earn a full-time income in any niche you have a passion or interest in, and the Affiliate Bootcamp course focuses on the "make money online" (MMO) niche and covers how you can make money promoting Wealthy Affiliate.
1. Wealthy Affiliate's Online Entrepreneur Certification
The Online Entrepreneur Certification (OEC) training is a 5-module course split into 50 lessons that walk you through the entire process of creating and growing an affiliate income around any topic you like.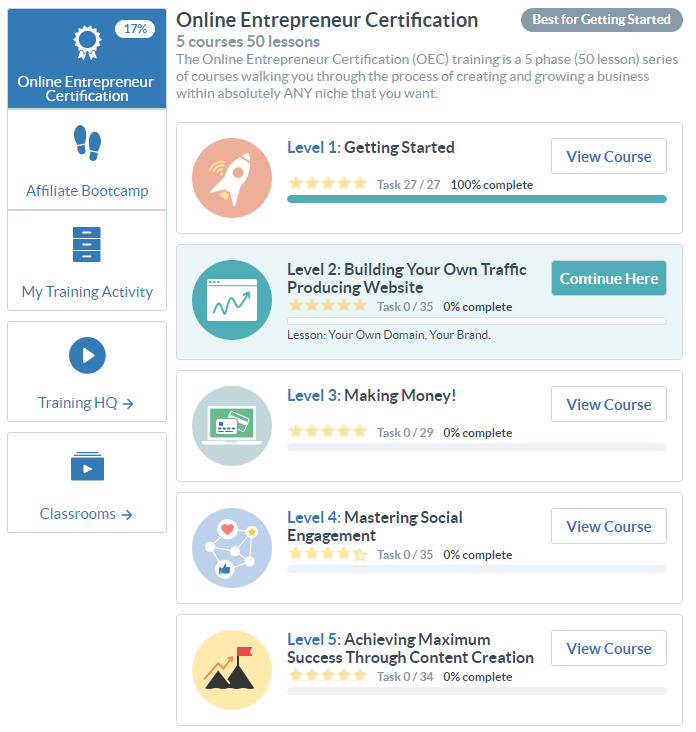 You'll learn how to create your first website, how to get ranked in search engines, how to join affiliate programs and find products to promote, build an email list, find low-hanging keywords and how to scale up with paid ads.
Some of the video lessons are short (like 5 mins) and others longer (up to 45 mins) but all of them are SO easy to understand.
This is not super techie stuff and they don't make things more complicated than they are. These are courses the average person on the street can follow.
The lessons look like this: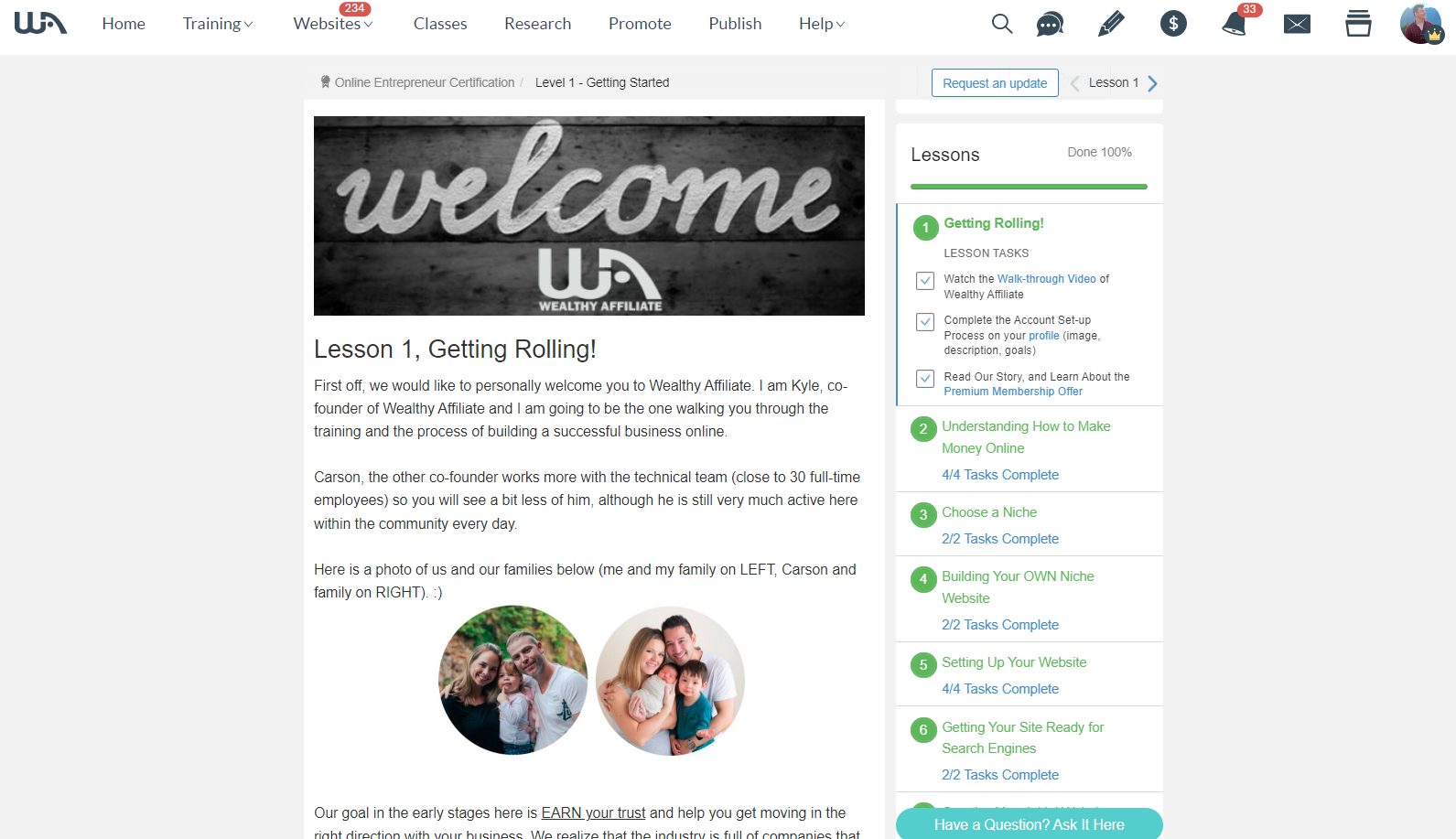 Each lesson is a mix of text and video and Kyle delivers all of the training. There are assigned Lessons Tasks with every lesson meaning you're building your affiliate website as you go through the course.
There's also a question-and-answer area for each module with experts on hand to help every step of the way.
2. Wealthy Affiliate's Affiliate Bootcamp
The Affiliate Bootcamp training is a 7-module course with 70 lessons that guide you through how to create an online business centred around promoting Wealthy Affiliate.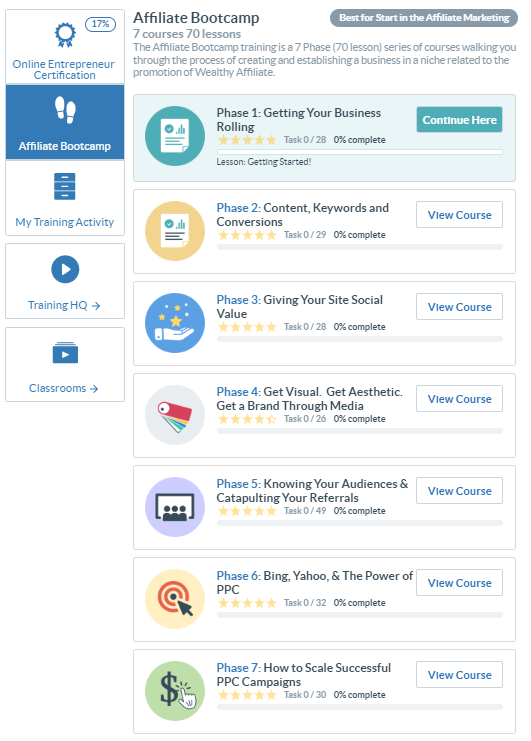 As well as the Core Training, there are:
Weekly Live Events – Every Friday, Wealthy Affiliate trainer Jay Neill runs a live webinar (complete with live Q&A) on a whole variety of topics such as SEO, Youtube, content marketing, branding, PPC marketing, Pinterest and so much more. You'll also have access to a library of 500+ previous training sessions.

Premium Plus Classes – As a Premium Plus member you'll also be invited to join 300+ live expert training sessions per year. This also includes over 700+ hours of previous classes.
Wealthy Affiliate Community
What makes Wealthy Affiliate so different to every other affiliate marketing training out there is that you're not just told to join a private Facebook group and get on with it…
With over 2.2 million members, Wealthy Affiliate is the place you can meet like-minded aspiring entrepreneurs, get round-the-clock support, bounce off ideas and get expert advice any time of day or night.
There are 4 main support channels you can take advantage of as a member:
Post Updates & Ask Questions – Stuck on a particular lesson? Not sure about something? Want a second opinion? Simply ask the community and get instant help.
Live Chat – with members all over the world, Wealthy Affiliate is buzzing with activity 24 hours a day and Live Chat is a constant lifeline.
Private Messaging – Join Wealthy Affiliate here and you'll have direct access to Dale and me anytime for one-on-one mentorship, guidance and support.
24/7 Technical Support – With Wealthy Affiliate, you can rest assured your business is in good hands. Have an issue with your website? Simply submit a support ticket and get a resolution in minutes.
Wealthy Affiliate Tools
The training gives you a roadmap to follow, the support channels give you a helping hand and Wealthy Affiliate's state-of-the-art tools give you what you need to make it happen.
There's a lot to go through here and this Wealthy Affiliate review is already wayyyyy longer than I intended, so let me give you a very quick overview of just some of the tools you'll have at your disposal.
SiteBuilder – Makes building websites easy. You'll have your website live on the web in seconds, complete with SSL security, daily backups and lightning-fast hosting speeds.
SiteDomains – Makes registering a domain a breeze.
SiteContent – Your very own content creation platform fully integrated with WordPress.
SiteFeedback – With this you can pointers from members on your website so you can make it better.
Jaaxy – getting 1,000s of people to your website and making sales daily means finding the right keywords and with Jaaxy in your corner, you'll have the competitive edge.
Affiliate Program Search – this helps you find 10,000s products you can promote to bank commissions.
Wealthy Affiliate Pricing & Memberships
Wealthy Affiliate has three levels of membership; Starter, Premium and Premium Plus. You can pay monthly or get a discount (effectively get 2 months free) by going for the Yearly option.
Starter: Starter membership is free for as long as you like.
Premium: Premium is $49 a month or $495 a year.
Premium Plus: Premium Plus is $99 a month or $995 a year.
Here are the main differences between Starter, Premium & Premium Plus memberships:
Starter
Best for Beginners
• Host 1 website
• 7 days' limited support
• Phase 1 training
• No live classes
• Jaaxy Starter
Premium
Most Popular
• Host up to 10 websites
• Unlimited support
• All core training
• 52 live events per year
• Jaaxy Lite
Premium Plus+
Boss Level
• Host up to 50 websites
• Unlimited support
• All core training
• 300+ classes per year
• Jaaxy Enterprise
Choose the plan that's right for you.
And unlike courses like Authority Hacker that require you to pay $199/month for Ahrefs…
Or Commission Hero where you need to pay a $247/month ClickFunnels subscription to follow the training…
With Wealthy Affiliate, everything is included. The only exception is a domain at $14 a year which isn't bad at all.
Try Wealthy for free so you know exactly what to expect. Go through the first 10 lessons and upgrade to Premium whenever you feel ready. You really have nothing to lose.
Wealthy Affiliate Discounts and Deals
There are several Wealthy Affiliate discounts available but you can make the biggest savings when you sign up for a yearly membership.
Paying $49 a month for Premium which works out at $588 per year or go Yearly for $495 and get a $93 (16%) discount.
The same goes for the Premium Plus+ membership – pay $99 a month or go Yearly for $995 and get a $193 (17%) discount.
You can also take advantage of Kyle's "Quick Action bonus" to get the first month of Premium for $19 if you upgrade within the first 7 days.
They also run deals throughout the year, especially around Black Friday.
Wealthy Affiliate Pros 😍
1. You'll Have Everything You Need Under One Roof
A lot of training courses recommend expensive SEO tools or sales funnel software so they can squeeze more money out of you. What I really like about Wealthy Affiliate is they don't recommend tools you don't need.
As a member, there's simply no need to pay out for anything else.
And that's because Wealthy Affiliate is the ultimate all-in-one affiliate marketing platform. Everything you need to launch a thriving online business is included in the Premium membership.
2. The Beginner Step-By-Step Training Is Easy To Follow
When I set out to understand how the whole "make money online thing" worked, I fell down quite a few rabbit holes. There's just a mass of misinformation out there without knowing who or what to believe.
And there are so many new terms and concepts you have to get your head around, like "affiliate marketing niches", "cookie duration", "high-ticket affiliate programs" and "EPC" to name a few.
Sure, you can type this stuff into Google and read every blog post on the topic. You might even fit all the pieces of the puzzle together eventually…
But it'll take you A LOT longer than it should.
With a structured training program, you don't have to sift through a billion blog posts or watch a gazillion YouTube videos.
If you believe you have what it takes to become your own boss then Wealthy Affiliate is going to give you a track to run on, a proven roadmap to success that works for:
Your hopes and aspirations
Your online income goals
And your schedule
Just start with the first lesson, complete the action steps and move on to lesson 2. No guesswork, no, wondering what to do next. Just follow the training and you're set.
3. You Don't Have To Break The Bank To Learn This
So let's talk about the price again for a second. As far as I know, the price of Wealthy Affiliate Premium has only risen ONCE since 2005 – from $47 a month to $49.
That's an absolute bargain, especially when you compare Wealthy Affiliate to other affiliate marketing courses like:
Affiliate Lab – $997
Authority Hacker – $997
Clickbank University – $1,188
Commission Hero – $997
Legendary Marketer – $2,500
Super Affiliate System – $997
And remember, you can take Wealthy Affiliate for a free test drive (no credit card needed) so you can experience the whole platform for yourself completely risk-free.
My decision to invest in myself and my education at Wealthy Affiliate has definitely paid off. By month nine I made more than I had spent on the membership. By month 24 I earned 10x the amount I paid and I've earned $100,000s since then.
Wealthy Affiliate has helped me avoid so many newbie mistakes that would have cost me dearly in time and money.
I simply wouldn't be where I am today and I'm pretty sure I'd still be sitting in a call centre in the UK instead of living in a beautiful condo in Thailand where I'm typing this now.
So yeah, Wealthy Affiliate is affordable and worth it and the return on investment has been truly epic.
4. You'll Be Part Of A Super Supportive Community
Wealthy Affiliate has a highly engaged and interactive community which not only makes going through the course and building your online business fun, but it means you never have to stay stuck.
Surround yourself with expert mentors and a whole troop of fellow affiliate marketers and you can ask a question and get an answer in seconds. You can bounce ideas around and get valuable feedback and advice that could save you months of trial and error.
The Wealthy Affiliate community has been a real lifeline for me. They've helped me out when I got lost, gone over and above when I was feeling frustrated, kept me going when I felt like throwing in the towel and celebrated with me when I achieved great milestones. You need that!
5. Kyle & Carson Practice What They Preach
One of the biggest reasons Wealthy Affiliate has stood the test of time and become the most popular affiliate marketing course on the planet is that they run their business with real integrity and teach others to do the same. They raise the standard.
Throughout the training, you'll hear Kyle tell students things like:
"Don't chase the dollar signs but focus on helping people first"
"Only recommend products you can wholeheartedly get behind"
"Always be honest"
Advice like this is not only ethical and practical, but it's also how you stay in the game for the long run.
And I can think of no better example of this than the 3-year-long Wealthy Affiliate lawsuit instigated by MOBE in 2018.
It was a long and drawn-out battle but in the end, the FTC stepped in, shut the scammy MOBE pyramid scheme down and Wealthy Affiliate prevailed.
But here's the really telling part:
When the case was dismissed and Wealthy Affiliate was awarded a $130,000 settlement, Kyle and Carson decided to donate $65,000 to the repatriation efforts of the FTC for the scam victims.
6. Wealthy Affiliate Students Get Results And So Can You
It's been cool to see Wealthy Affiliate develop over the years. There's been a ton of changes, rollouts and updates but one thing that hasn't changed is the fact Wealthy Affiliate students get results.
When naysayers say Wealthy Affiliate's training doesn't work in 2023 it just cracks me up 😂
Especially when students post success stories like these every single day: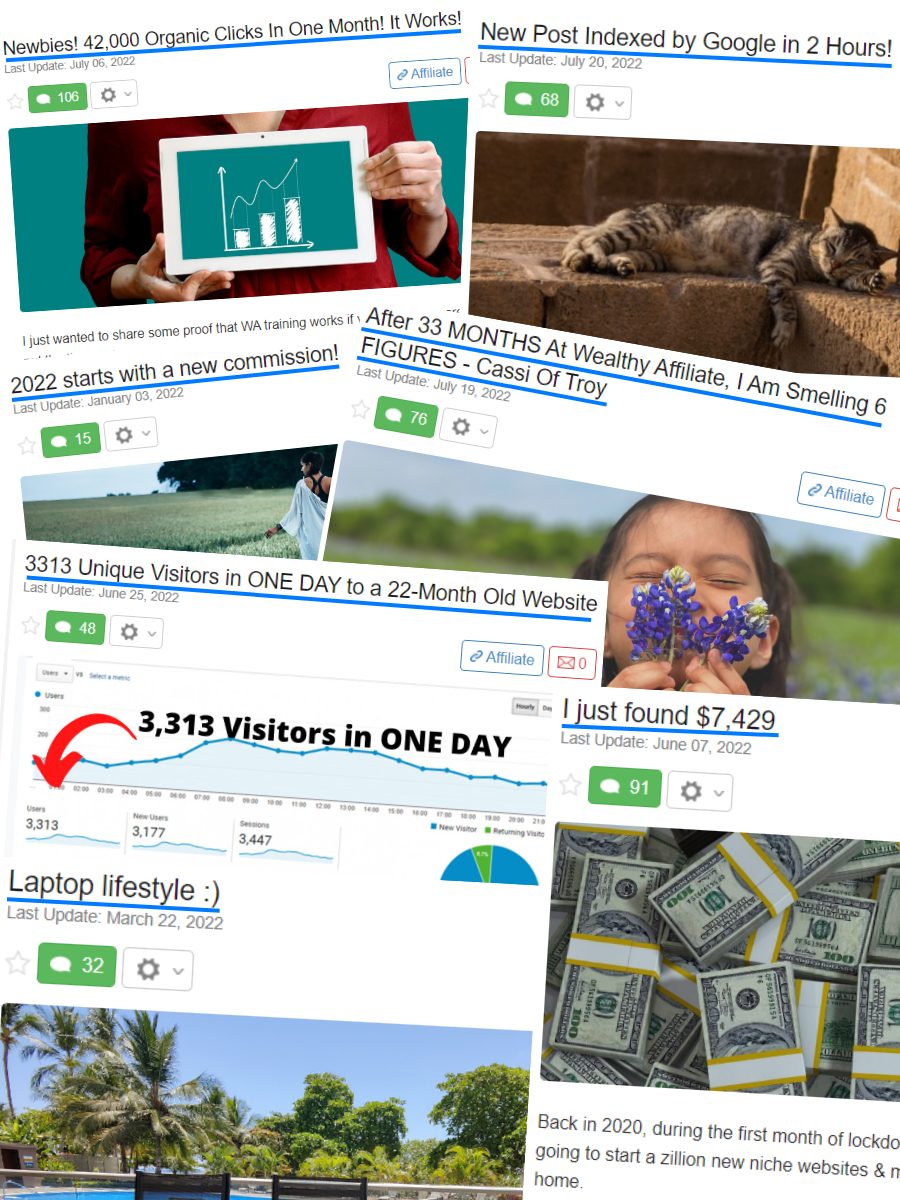 They create a website for the first time, get to 300 email subscribers, make their first sales and achieve their first $1,000 days. Many go on to quit their job, become their own boss and achieve real financial freedom.
And these are exactly the kinds of results you can expect when you become a member.
Wealthy Affiliate Cons 🤔
We've gone through the pros and this review wouldn't be complete if I didn't tell you the cons as well.
I said it before:
Wealthy Affiliate isn't perfect and – while none of these criticisms are dealbreakers by any means, I've noticed a few things that could be improved in the 9 years I've been a member.
So here are my 5 biggest Wealthy Affiliate complaints…
1. The Free Starter Membership Just Ain't Gonna Cut It
It's extremely difficult to make money as a free Starter member.
There, I said it.
While some may say you can join Wealthy Affiliate for free and create a free website on a subdomain (yourwebsite.siterubix.com rather than yourwebsite.com), I'm telling you now – you really need your own .com domain to get those all-important Google rankings that are gonna drive your traffic and sales.
The free Starter membership is designed to allow you to go through the first 10 lessons and scope out the training so you get an overview of exactly what to expect but at some point, you need to go Premium.
2. Wealthy Affiliate Is Outdated?
There was a time (around 2019) when the Wealthy Affiliate core training needed a revamp and I'll admit, I wondered what was taking them so long. It's not that it was wrong or inaccurate, it just needed a facelift.
Platforms like WordPress and Jaaxy are constantly evolving and when you're showing people how to add a logo or an affiliate link, people are going to struggle to follow along if the interface doesn't look exactly the same.
It's an issue you come up against when you're running any type of online training which is why Dale and I are so big on constantly making the Commission Academy training better.
Thankfully, since then, Wealthy Affiliate's training has been completely updated and continues to be, so you can be confident you're getting the latest, cutting-edge training that works in 2023 and beyond.
The irony is, those Wealthy Affiliate reviews calling it outdated are now… well, outdated. 🖐️🎤
3. Too Much Emphasis On Affiliate Bootcamp
Some people think the only way to make money with Wealthy Affiliate is by promoting Wealthy Affiliate.
That would mean Wealthy Affiliate is some kind of MLM or pyramid scheme.
And it's not.
BUT…
Remember there are 2 paths you can take:
You can go the Online Entrepreneurship Certification route or the Affiliate Bootcamp route.
The OEC training walks you through how to make money in a niche you have a passion and interest in.
Affiliate Bootcamp walks you through how to earn in the make money online niche, primarily by recommending Wealthy Affiliate.
And I see a lot of members defaulting to Affiliate Bootcamp because they struggle to pick a niche of their own, and I think that's a huge mistake because you're gonna give yourself the best shot at success if you choose a niche you really like.
So go through the Affiliate Bootcamp training, by all means, just apply it to a less competitive niche you're more knowledgeable and passionate about.
You'll do a lot better if you pick a topic you love because you'll be able to help more people and that's how you make more money. You can always venture into the make money online niche once you've got more experience under your belt.
4. Too Many Members Chase Rankings
Wealthy Affiliate has a ranking system that ranks every member based on their level of activity within the platform and the top 25 ranking members are called Ambassadors.
I love the Wealthy Affiliate community, but it does annoy me when I see people leaving pointless comments or posting random pics of what they had for lunch just to boost their member rank. It's a total waste of time.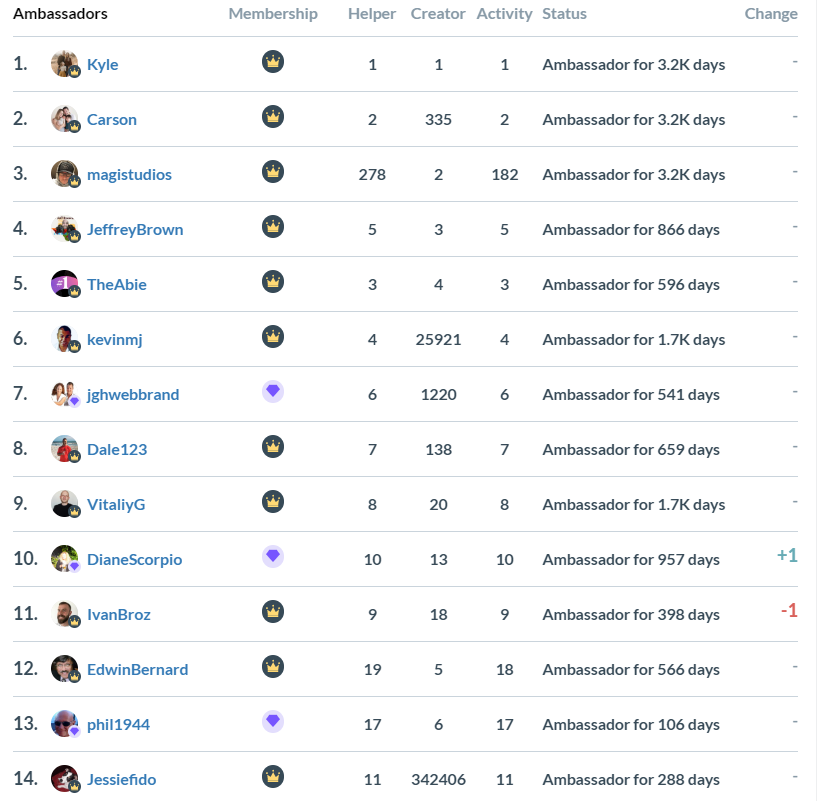 Just because someone is a Wealthy Affiliate Ambassador or has a high WA ranking, doesn't necessarily mean they know what they're talking about. So just be careful who you take advice from.
Here's a link to Dale's Wealthy Affiliate profile and here's mine.
If there's anything, anything at all we can help you with, just let us know and we'll be there. For real 😊
5. It Takes Time
It takes time to make money with affiliate marketing and that's true if you're learning the ropes with Wealthy Affiliate, Commission Academy or anyone else…
How long does it take?
Well, most affiliate marketers will see their first affiliate commissions around the 3-month mark and your income will steadily increase after that.
But going from a few bucks to getting more than 4 figures per month in your bank account is gonna take 6 to 18 months and that's too high a mountain to climb for many.
We talk about this on our YouTube channel a lot because time is the single biggest barrier to entry and most people quit before experiencing their breakthrough.
Don't let this be you! Wealthy Affiliate are constantly striving to make the journey as quick and easy as possible and they'll save you years of meandering but prepare yourself for the journey.
Is Wealthy Affiliate A Scam Or Legit?
Wealthy Affiliate is not a scam – it's not perfect – but it is most definitely not a scam. Wealthy Affiliate has been around since 2005 and is a safe, legit and real affiliate marketing platform focused on equipping students with the tools, training and support they need to become huge online success stories.
But don't just take my word for it.
Wealthy Affiliate has been rated 4.9 out of 5 stars on Trustpilot, based on 500 customer reviews: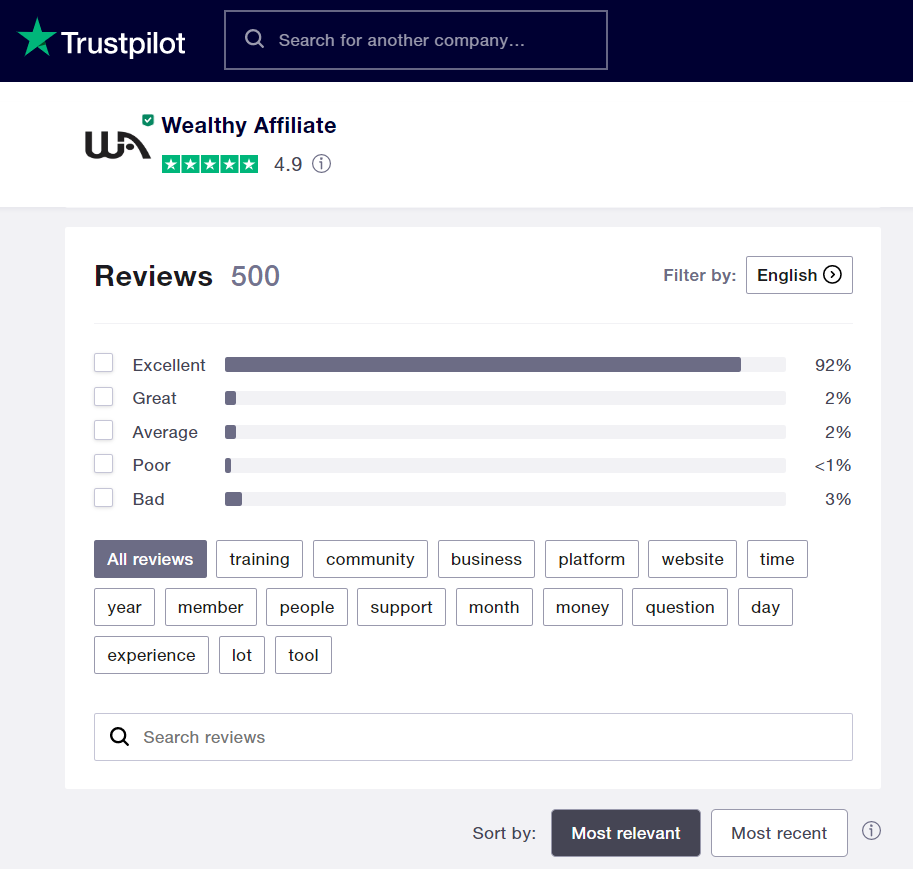 Is Wealthy Affiliate Worth It?
Yes, joining Wealthy Affiliate is worth it if you follow the training and take action. There's a reason they're the most popular affiliate marketing course and they continue to keep their prices low.
It's worth investing in yourself because that investment will pay you back many times over, as it has for me. And keep in mind, that you can start for free to decide if it's worth taking the plunge and upgrading to Premium.
I'm gonna go ahead and guess you're reading this Wealthy Affiliate review right now because you've imagined what your life would look like if you could work anytime, anywhere and make money in your sleep. You've dreamed about building an online business and you've decided this is your time to make big things happen.
I'll tell you straight – it's not easy to become an affiliate marketer and grow an online income that can replace your full-time job, but you can make it happen with time, effort and the right know-how.
You have a lot to learn and you owe it to yourself to learn from the best. That's why, whatever stage you're at in your online journey, I recommend you join Wealthy Affiliate.
With me and Dale as your expert mentors, I know you'll be giving yourself the best shot at getting on the fast track and experiencing real success, hands down.
Wealthy Affiliate Review: The Bottom Line
I hope you've found this Wealthy Affiliate review helpful. I'm a huge fan of the platform and have no doubt it can help you jump-start your online business.
Not only did you make it through my crazy long Wealthy Affiliate review… you took the most important step of believing you can do it.
Most aspiring entrepreneurs don't even make it that far, and their dream business stays exactly that – a dream.
If you've never built an affiliate marketing business to $1,000 per month or more then Wealthy Affiliate can change your life. I only wish I joined sooner. It would have saved me years of trouble.
Getting Started: How To Join Wealthy Affiliate
Joining Wealthy Affiliate couldn't be easier. Follow this walkthrough and you'll have your free Starter account created in less than 2 minutes.
Join Wealthy Affiliate In 5 Simple Steps:
Step 1. Go to WealthyAffiliate.com
Step 2. Enter your email and click the Get Started button
Step 3. Enter your name, password and username and click Create My Account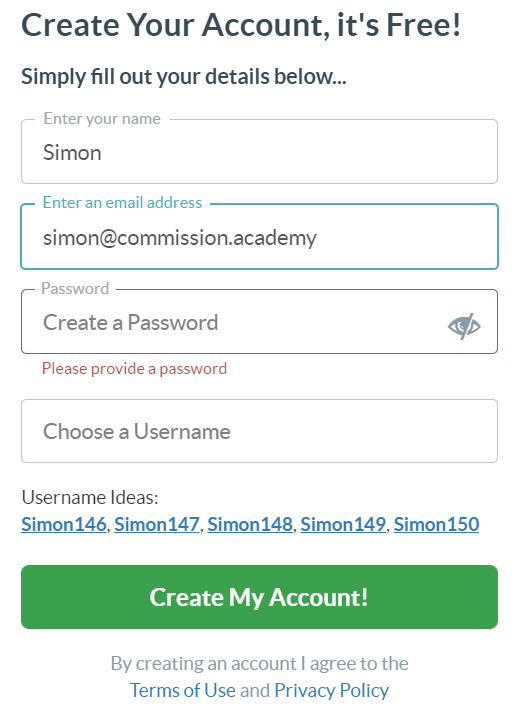 Step 4. Watch Kyle's welcome video and hit Start Training to dive into Lesson 1
Step 5. Add a bio and image to your WA profile

And you're done! Congratulations! 🥳
Work your way through the training and say hi to like-minded members in Live Chat and take it from there. You now have everything you need to build a successful and profitable online business right at your fingertips.
5 Tips To Help You Get The Most Out Of Wealthy Affiliate
1. Go Premium Yearly
When I joined Wealthy Affiliate I started with the (very aptly named) free Starter account, upgraded to Premium after a few days to get my first month for $19 then, not long after, I went Premium Yearly.
Going Yearly helps you in a few ways:
It gives you the best bang for your buck (nearly 20% discount) meaning you save money
It's a solid investment in your future and an important mental step
Going Yearly gives you enough time to grow yourself and your business and see results
2. Don't Take The Affiliate Bootcamp Path
I'm seriously rooting for you and want to see you create a successful website you can be proud of in a niche you love to talk about, making a ton of money recommending products you truly believe in.
For that reason, don't take the Affiliate Bootcamp course if you're a beginner. You don't need to promote Wealthy Affiliate to make money with Wealthy Affiliate.
The make money online niche is super competitive and it's a long and hard slog to break through.
You'll be much better off starting out with a niche close to your heart first so you can develop your skills, get some experience under your belt and then branch out into the make money online niche further down the line if you want to.
And if you get stuck figuring out a niche then our simple 3-step guide will help you get unstuck.
3. Reach Out
Sign up to Wealthy Affiliate here and you'll have unlimited access to Dale and me.
We are both Super Affiliates in our own right with a combined 18 years of experience in the affiliate marketing game and we've personally mentored 1,000s of newbies through the process of making that first commission to building a thriving online business – so reach out!
Remember, the whole point of being part of a community is that you never have to struggle alone!
4. Forget About Rank
Chasing Google rankings will put money in your pocket, chasing Wealthy Affiliate rankings won't do jack.
The community is there if you want to bounce ideas around, get a second opinion, ask a question or share your progress, but some use it as a kind of Facebook alternative where they share every detail of their personal lives.
Do that if you want, by all means, but if you really want to get the most out of your Wealthy Affiliate membership then keep your eyes on the prize and stay focused on taking action on the training.
5. Apply The Training At Your Own Pace
The beauty of taking online courses is you can take them at your own pace. So start at the beginning, work your way through the sessions systematically and complete all the action steps attached to each lesson before moving on to the next.
I'm sure you've got a packed schedule with a lot of other stuff going on, so set aside specific time to work on building your business, even if you can only allocate 30 minutes or an hour a day. The key is to do at least one thing each day that's going to take your business forward.
And remember, Rome wasn't built in 24 hours. If you do get frustrated, you can always take a break and come back to it later.
Wealthy Affiliate FAQs
If you have any questions about Wealthy Affiliate that aren't answered here, please do let us know in the comments and we'll get right back to you.
What is Affiliate Marketing And How Does It Work?
Affiliate marketing is a commission-based business model where you send customers to online retailers in return for a percentage of the profits of each sale.
Check our step-by-step affiliate marketing guide for beginners.
Is Affiliate Marketing The Best Way To Make Money Online?
Yes, affiliate marketing is the best online income method because, compared to other online business models like dropshipping, freelancing or Amazon FBA because with affiliate marketing:
The start-up costs are so low
The profit margins are higher
There's no need to create products because you're selling other people's products
You don't have to source, ship or store products
There's no customer care to deal with
You can do it by yourself at home
There's no limit to how much you can earn
You put in the work once and get paid again and again
I love affiliate marketing because of its simplicity and this is something absolutely anyone can do.
Can Anyone Be Successful With Wealthy Affiliate?
Yes, I believe anyone can be successful with Wealthy Affiliate no matter what your age, experience or background because Wealthy Affiliate walks you through the whole process from beginning to end.
I'd say the only prerequisite for becoming the next Wealthy Affiliate success story (and the only requirement for earning with affiliate marketing generally) is you need to have the right work ethic and grit to see it through.
Watch this video to learn why anyone can become a huge success at this:
How Much Money Can You Make With Wealthy Affiliate?
While there are no income reports or earnings figures specifically for Wealthy Affiliate members, I can tell you that 35% of affiliate marketers earn $35,000+ a year, 9% of affiliates earn $50,000+ a year and 3% of affiliates earn $150,000+ a year on average.
Wealthy Affiliate has beginner, intermediate and expert affiliate marketers you'll be interacting with on their platform. Some are working towards making their first commission and others earn more than six figures.
You can earn as much as you want. Whatever your online income goals are, the sky is the limit, truly. You'll be the one sitting behind the wheel of your online business so it'll be completely up to you how far you want to go.
And exactly how much you can earn with Wealthy Affiliate will depend on how much time you can invest into the training and into your business on an ongoing basis.
It will also vary based on how competitive your niche is, the price point of the products you're selling and what the commission rates are.
Watch this for a full breakdown:
How Long Does It Take To Make Money With Wealthy Affiliate?
Most Wealthy Affiliate students who follow the training and take action steps every day will typically make their first commissions at the 3-6 month mark, earn $1,000+ a month around the 12-18-month mark and replace their full-time income at around the 24-36 month mark. Earning six figures or more could take 3 to 5 years.
It takes time to build a real online business and Wealthy Affiliate are always open and honest about this.
Are Wealthy Affiliate Students Getting Results?
Yes, Wealthy Affiliate students are seeing incredible results and accomplishing amazing things in 2023.
Every day students:
Create websites for the first time
Get ranked on Google
Celebrate their first sales
Get their first 100 email subscribers
Achieve their first $100 day
Experience their first $1,000 day
And escape the 9 to 5 for good
The training works and now it's your turn.
Get started here – the sooner you start, the sooner you'll reap the rewards…
Is Wealthy Affiliate A Pyramid Scheme Or MLM?
No, Wealthy Affiliate is not a pyramid scheme or any kind of multi-level marketing scheme.
Wealthy Affiliate is an affiliate marketing training platform with an affiliate program and there are no pyramid-style commission structures or downlines of any kind and you do NOT have to promote Wealthy Affiliate to make money.
Wikipedia defines a pyramid scheme as:
"… a business model that recruits members via a promise of payments or services for enrolling others into the scheme, rather than supplying investments or sale of products or services."
In other words, a pyramid scheme is a pyramid scheme when the majority of members make money recruiting new members, rather than selling actual products.
Yes, you can promote Wealthy Affiliate (if you've read this review you know I actively discourage it, especially when you're just starting out) but the vast majority of WA members launch their own affiliate marketing businesses based on any topics of their choice and make money selling whatever products they like.
And this is exactly what Wealthy Affiliate teaches: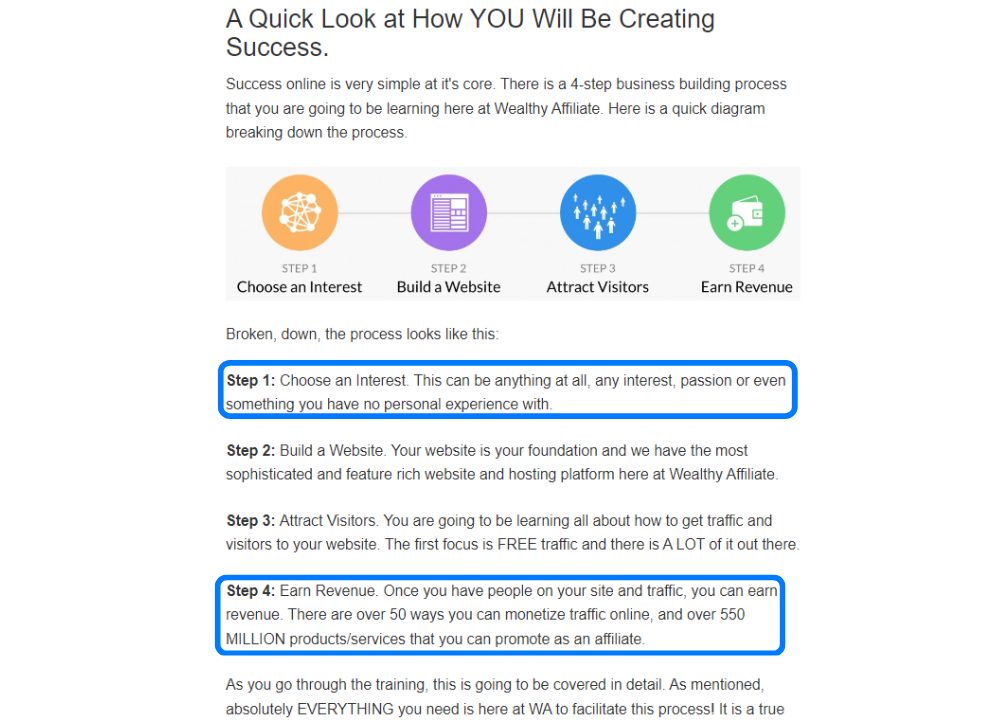 Does Wealthy Affiliate Have An Affiliate Program?
Yes, if you want to make money promoting Wealthy Affiliate then they have an affiliate program where you can earn 50% commissions every time one of your referrals upgrades to Premium or Premium Plus and they offer lifetime commissions.
According to their affiliate program page, affiliates can earn $121 on average for each person they refer: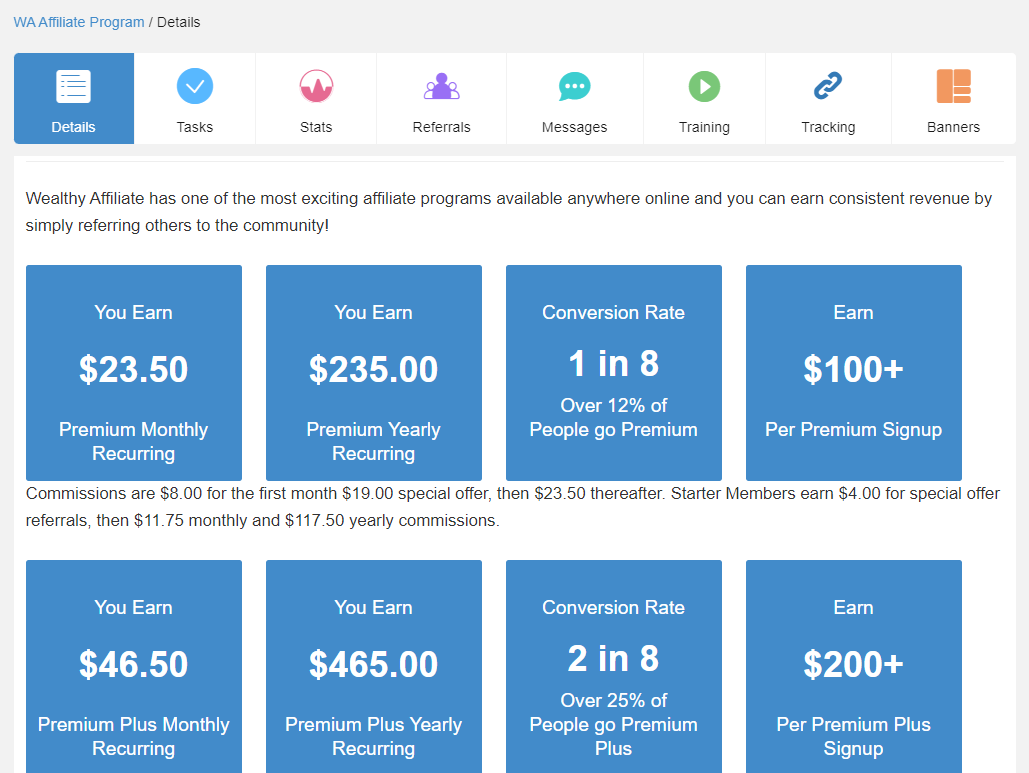 Is Wealthy Affiliate Available In Every Country?
Wealthy Affiliate is available in most countries and they have members from all over the world, though unfortunately, due to high levels of spam, Wealthy Affiliate's free Starter option isn't available in India, Pakistan, Phillippines, Vietnam, Nigeria, Kenya or Ghana.
If you are from any of these countries then starting with the Premium option would be your best bet.
Does Wealthy Affiliate Give Refunds?
You can cancel your Wealthy Affiliate membership at any time but there are no refunds.
Wealthy Affiliate don't give refunds because they follow the freemium model meaning you can test drive the entire platform for free and upgrade when you're ready so you already know what to expect before you upgrade.
You can read the full terms and conditions here.
It's fairly common knowledge though that if you say, choose the yearly subscription, forget about it and are rebilled then if you message Kyle or Carson directly then he will (more often than not) issue a full refund.
You can downgrade your membership from Premium Plus to Premium or cancel your account whenever you want.
How To Cancel Your Wealthy Affiliate Membership?
It's really easy to cancel your Wealthy Affiliate account. Inside the members' area, simply click on your profile pic and select Account Settings from the drop-down menu.
Hit Subscription in the side menu and scroll down until you see the Downgrade and Cancel billing options. Then click the red button to confirm you want to cancel your membership and you should be good to go.
What Is The Best Wealthy Affiliate Alternative?
Commission Academy is a solid alternative to Wealthy Affiliate if you're looking for practical training on how to start building a real income-generating business.
Sign up for our 100% free training to access our 16-lesson Fast-Start course and 12 Advanced Classes and be invited to join our Weekly Live Hangouts for instant help and support.
You'll be learning from the best. Dale and I are both accomplished Super Affiliates who have earned $100,000s in commissions and, as your instructors, we'll equip you with the right mindset and skillset you need to succeed.