Quick Answer: Yes, affiliate marketing is a commission-based business model where affiliate marketers get paid a set commission rate on each sale they generate for an online store. Commission rates can range anywhere from 1% to 90% depending on the affiliate program.
Simply put, affiliate marketing is the process of earning commissions every time you generate a sale of a product or service for an online store.
You earn commissions like a sales rep would, except there's no face-to-face selling or sales calls and start-up costs are super low because everything's done online.
You don't need stock or inventory either as you're making a percentage on other people's stuff.
It's a flexible and straightforward 4-step income strategy:
Start a website
Attract free traffic
Recommend products
And start earning the passive income you've always dreamed of.
This is exactly how many affiliate marketers earn six figures a year.
Pat Flynn over at SmartPassiveIncome.com, for example, earns at least $53,000 every month.
And although not everyone is making six figures, take the free Commission Academy course and you'll launch your online business in a way that will set you up for every possible success.
Now before I walk you through what affiliate is and how it works, let me show you why you should care.
Ever since the 4-Hour Workweek book came out, everyone seems to want the same thing.
To wake up in the morning, open up their laptop and see something like this: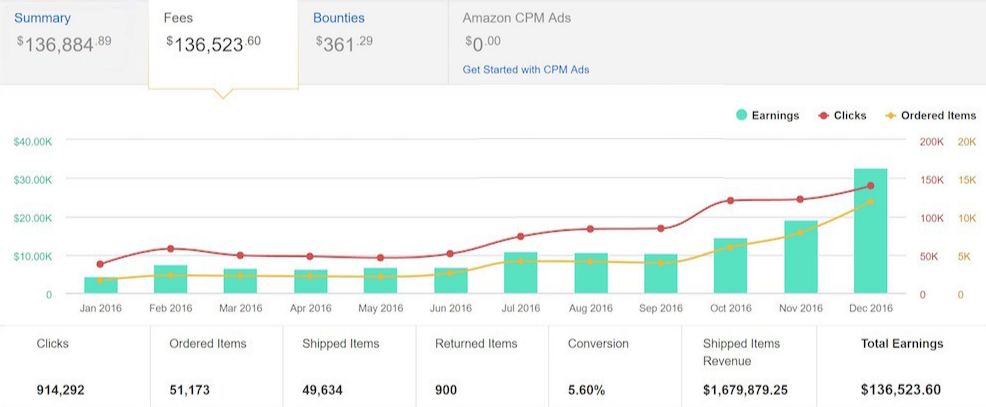 That's the dream, right?
Have more than enough to provide for you and your family.
Make money while you sleep wherever you are in the world.
Ready to find out more?
Let's start with the basics – how affiliate marketing works and what you need to do to become an affiliate.
What Affiliate Marketing Is And How It Works
Affiliate marketing is where you recommend other people's products online in return for a commission. Affiliates use a unique affiliate link to direct potential customers to an online store and get credit for sales.
Affiliate marketers use a variety of traffic sources to drum up sales including social media sites, email and paid advertising but most successful super affiliates start a website to make daily commissions with free Google traffic.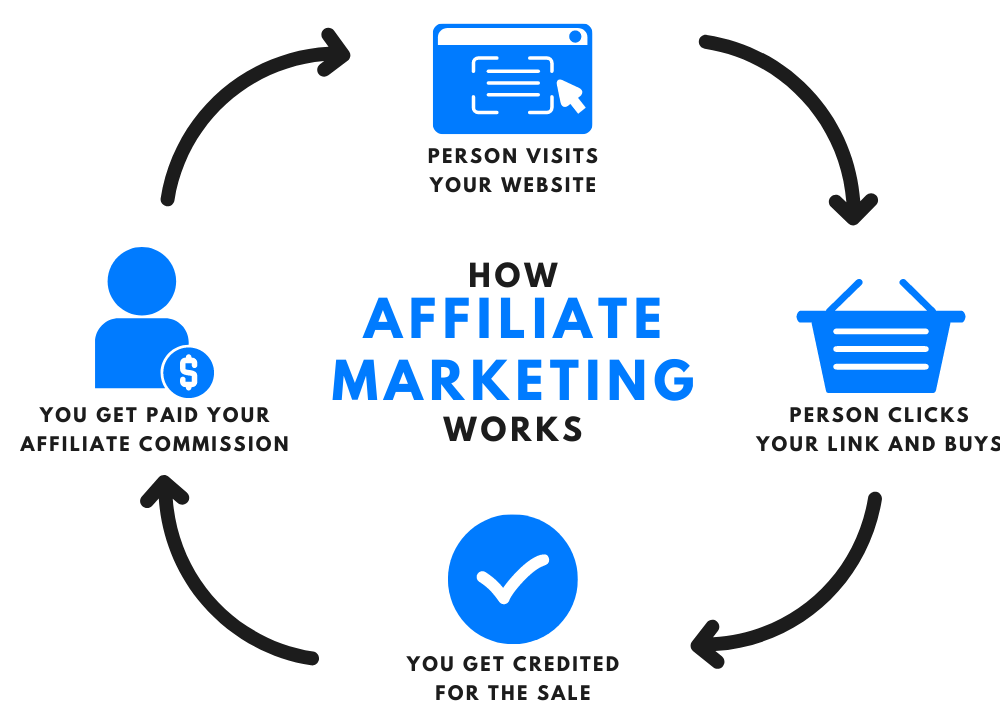 How Affiliates Bank Commissions In 4 Simple Steps
1. Pick A Topic
Affiliate marketing is fun when you build your business and make commissions talking about a topic you're passionate about and excited about. This topic is what's known as your affiliate niche.
Take this website for example, all about owning pet hamsters: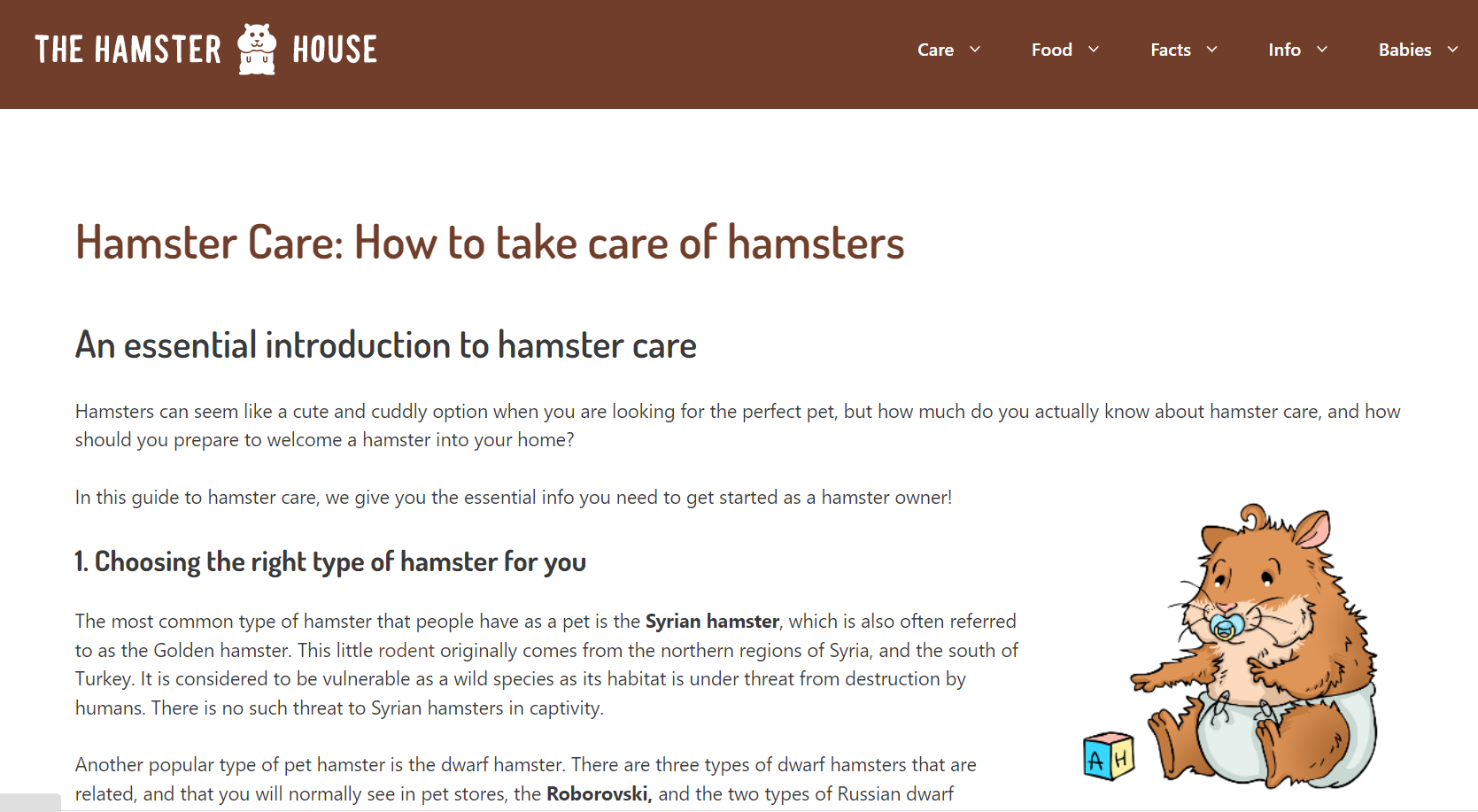 Or this one that's based on the topic of scuba diving: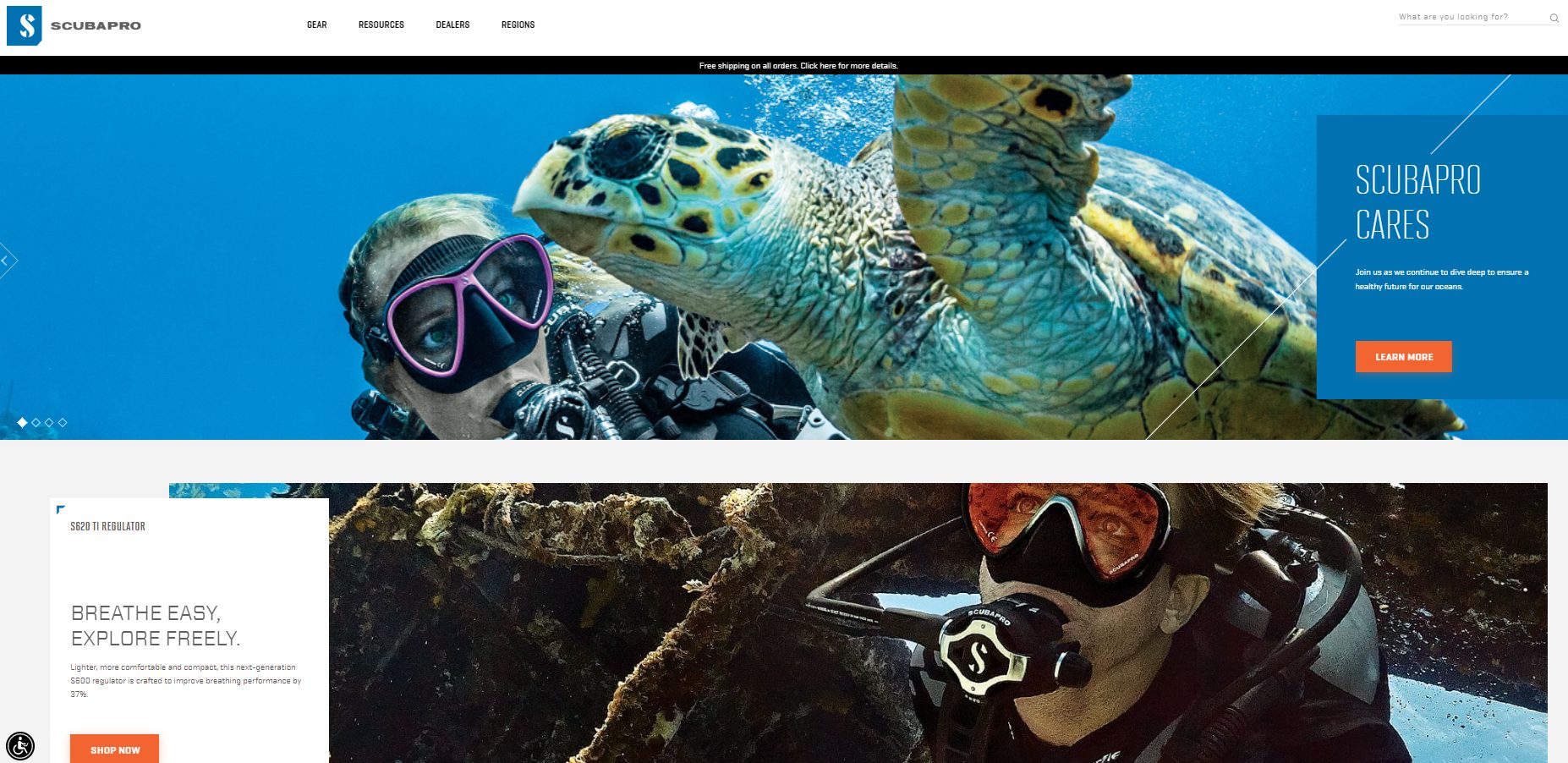 Or this website that's all about taking care of babies:
So whether you're really into abseiling, baseball, crochet or dog grooming, you can earn commissions online talking about your favourite subject. You just have to pick one topic and go for it!
2. Start A Website
Once you've narrowed down your niche, your next step is to create a website where you'll be creating content, connecting with your audience and promoting products.
You don't have to worry though, starting a website isn't scary, in fact, it's easier than you think…
Follow our free training course and we'll walk you through everything click by click.
3. Attract Free Traffic
What's the best way to get people looking at your website and clicking on your affiliate links?
Search engine traffic!
Why?
Because it's completely free and you attract the exact right kind of people who are ready to buy.
And the best way we know to get 100,000s people to your site each and every month is through creating content that is helpful to your target audience. Ideally, you want a good mix of how-to guides, response posts (answering people's questions), top 10 lists and product reviews.
Let's run through a real-life example of how this works. People go to Google and type in "best Bluetooth speakers" and they see your website come up in the search results: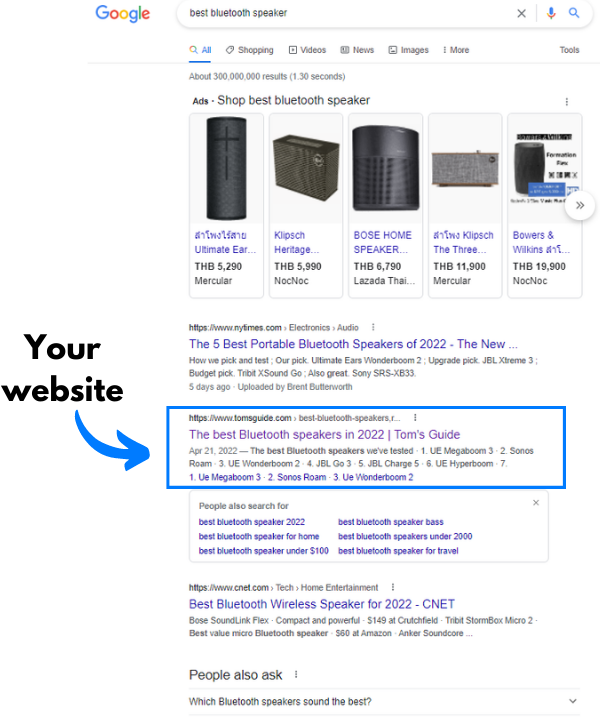 They head over to your website, consume your content and click on your affiliate links so you bank a commission when they buy: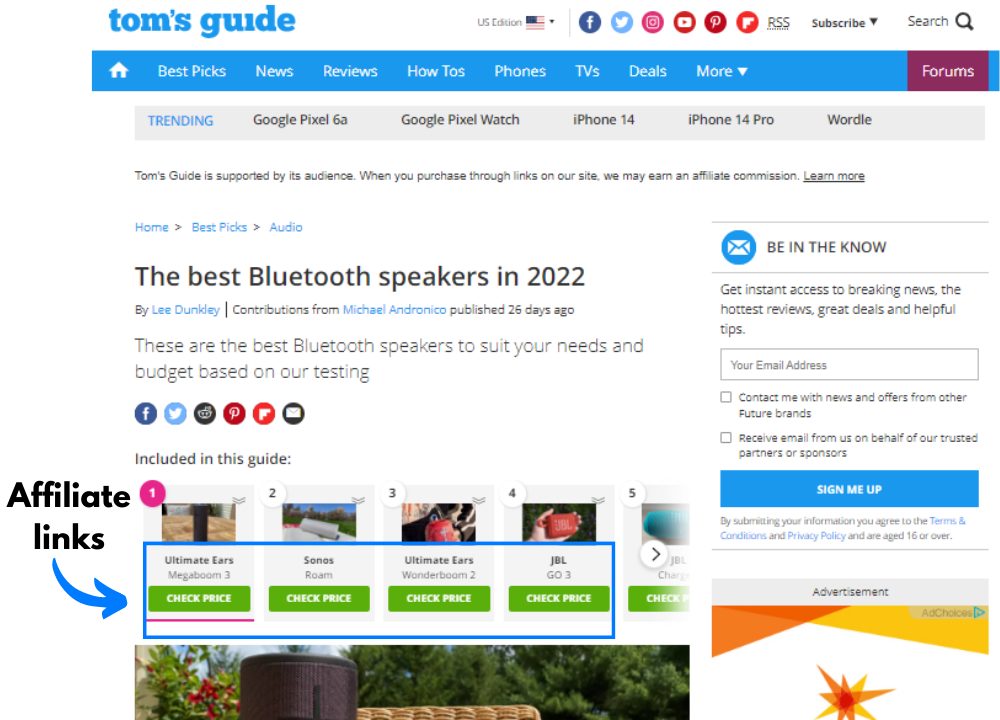 In this case, the owner of Tom's Guide is recommending the Ultimate Ears MEGABOOM 3 on Amazon priced at $144. Amazon commission rate for speakers is 5% which means you'd make $7.20 per sale.
This might not sound like a lot until you factor in that, according to Mangools, the phrase "best Bluetooth speakers" is googled 141,000 times a month on average.
Even if only 50% of people click your site and buy, that's 120,500 sales times $7.20…
I'll let you do the math! 😉
4. Recommend Products
Recommending products is the last piece of the puzzle that makes all of this work.
Whatever niche you've chosen to create your website in, there are relevant products you'll be able to recommend to your audience in a natural way.
This is where joining affiliate programs come in. There are 10,000s affiliate programs online that will give you access to more than 550 million products and services you can promote for an affiliate commission.
Check out our beginner's guide to finding affiliate programs here.
Whether you're promoting wheelbarrows, running gear, makeup or kitchen supplies, they'll be an affiliate program out there you can partner up with for free. They'll give you your own unique link to add to your content and access to your sales and earnings stats.
There are:
Safe to say, there are affiliate programs out there for every type of product you can possibly think of!
And it gets better:
There's no limit to how many affiliate programs you can promote or how many products you can recommend, meaning you can build multiple income streams from a single affiliate website.
Affiliate Commission Rate Examples
Commission rates vary from affiliate program to affiliate program and affiliates can earn anywhere from 1% to 90% on each conversion.
The Amazon affiliate program, for example, pays between 1% and 20% depending on the product category: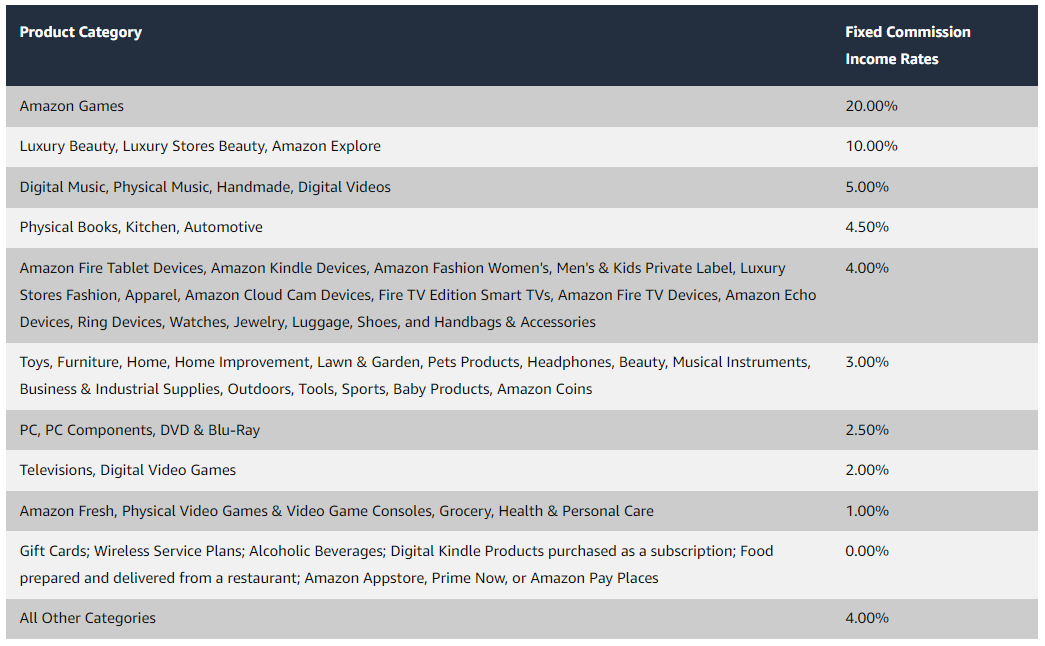 Amazon is by no means the only option though. If you're looking for higher commission rates then a quick Google search of relevant affiliate programs will bring up a whole plethora of options.
I found this Bluetooth speaker affiliate via FlexOffers for example which offers a 10-12% commission rate. That's double what Amazon offers.
Then there's the Clickbank affiliate network which specialises in online courses and digital products. They pay up to 90% commissions, with affiliates typically earning 50-75% commissions depending on the individual product.
As you can see, digital-based affiliate programs tend to offer affiliates higher commission rates thanks to almost zero manufacturing costs and higher profit margins.
How Do Affiliates Get Paid?
Once accepted by an affiliate program, affiliates can track their traffic and sales and get paid at the beginning of the month for sales generated the previous month if they've reached the minimum earnings threshold. Some affiliate programs hold earnings for a 30 day period. Affiliates usually receive payment via PayPal or bank transfer.
How Much Can Affiliates Earn In Commissions?
Beginner affiliate marketers can earn a few $1,000s in commissions a month depending on how much traffic they're getting, the price of the products they're promoting and what the commission rate is.
Experienced affiliates can earn $100,000s a year by building multiple niche sites in a variety of niches and promoting multiple products. You scale up their income by outsourcing content creation, keyword research and other income-generating tasks.
Affiliate marketing is now estimated to be worth a whopping $12 billion, that's 4x what it was in 2012. And with 81% of brands now running affiliate programs, the earning potential for affiliates has never been bigger.
In short: there's no cap on how much you can earn as an affiliate and the key to making 6 figures with affiliate marketing is having a strong work ethic and following the right strategy.
Your Next Step: Start Making Affiliate Commissions
I've been making hundreds of thousands of dollars a year and achieved super affiliate status.
Fellow Commission Academy trainer Dale has too.
So if you're looking for a complete step by step on getting started then try the free Commission Academy course.
To put it simply, we designed it to be the best, most user-friendly affiliate marketing course on the planet.
So when you're ready, start the training right here and we'll be on hand every step of the way.