This is my in-depth review of Merlin Holmes' 1K A Day Fast Track course.
In this review you'll find out:
What 1K A Day Fast Track actually teaches
How much 1K A Day Fast Track costs
If students are getting real results
How it compares to other affiliate marketing courses
If the whole thing is legit or a scam
Whether or not this is the best course for you
So without further ado, let's get into the review.
1K A Day Fast Track Review
What: An impressive affiliate marketing course by 7-figure earner Merlin Holmes for affiliates of all levels focusing on building an email list to promote Clickbank products.
Price: $997 one-time (more info)
Bottom Line: A little pricey, but still the best training we've seen that shows you how to leverage email marketing to generate a passive income online.
Overall Rating: 4.5 stars
Pros
• Lifetime access
• Won't take long to start earning
• Students get results
• Regularly updated
• Infinitely scaleable
Cons
• A little pricey
• Requires ClickFunnels
• Need an ad budget
What Is 1K A Day Fast Track?
1K A Day Fast Track is a dynamic 6-module course designed to show you a simple yet powerful yes or no polling method you can use to earn $1,000 a day promoting ClickBank products via affiliate marketing.
Affiliate marketing is where online stores pay you commissions for sending customers their way and generating sales.
Affiliate marketing is the best business model for beginners as there's:
And though 1K A Day Fast Track touches on various ways to generate traffic to your offers – eg. YouTube, TikTok and blogging – Merlin's main focus is native ads.
Learn more:
Who Is Merlin Holmes?
Merlin Holmes, the mastermind behind 1K A Day Fast Track from Denver Colorado, has been in the affiliate marketing game for 15 years and earned more than $150 million in affiliate commissions.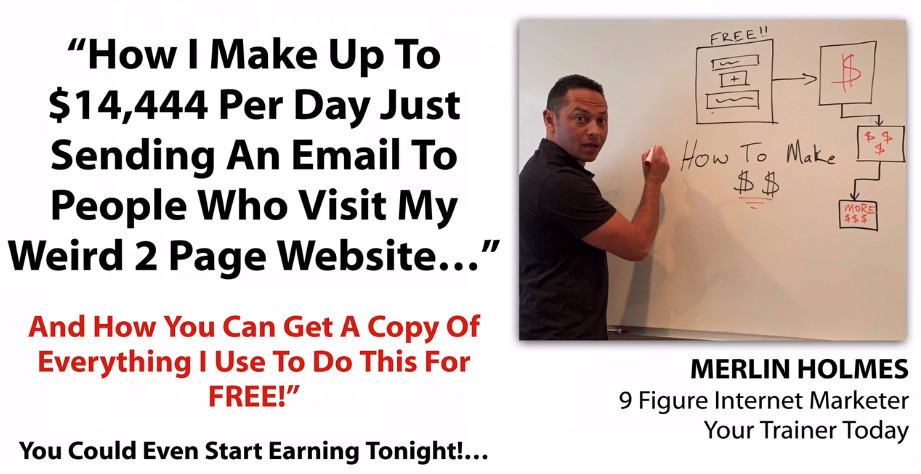 Before becoming a super affiliate he worked as an assistant manager at Dairy Queen in the early 2000s and got involved in an MLM.
That didn't work out too well as he hated selling and said he felt like a broke used car salesman.
In 2005 he set up a website to help others avoid MLM scams. He put an email sign-up form on the site and ended up with a staggering 43,708 subs in 90 days, resulting in a monthly income of $20,000.
Then Merlin tied the knot, bought his dream house and started a family.
In 2021, under the name Rockstar Marketing, Inc. Merlin launched the 1K A Day Fast Track course
Merlin is a good affiliate marketing mentor to learn from because he doesn't just make money by teaching; he makes money by doing what he teaches – that's a big difference!
Watch this video and get the inside scoop from Merlin himself as he gives you a firsthand glimpse into the program so you know exactly what to expect.
What's Different About 1K A Day Fast Track?
Affiliate marketing courses like Commission Academy and Wealthy Affiliate teach you how to:
1K A Day Fast Track is different because Merlin Holmes made his millions selling ClickBank products via email marketing.
And instead of creating some lead magnet like an ebook to offer in exchange for someone's email address like everyone else, 1K A Day Fast Track will show you how to build an email list fast with simple yes or no polls like this one: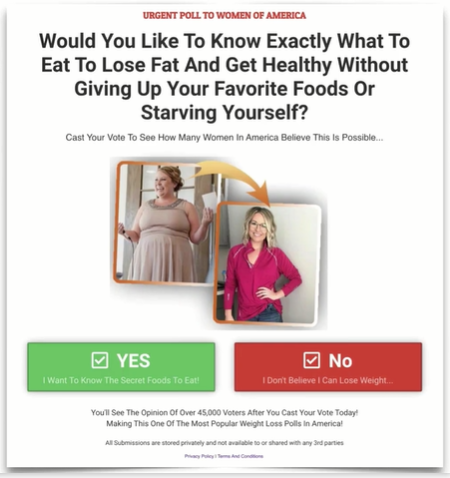 These polls work because everyone likes to give their opinion and they have to enter their email address on the next page to see the results.
And this is how 1K A Day students are able to get 50-100 new email subs each day.
You then send potential customers to the product sales page and send them an email follow up sequence
Here's an overview of how 1K A Day Fast Track works: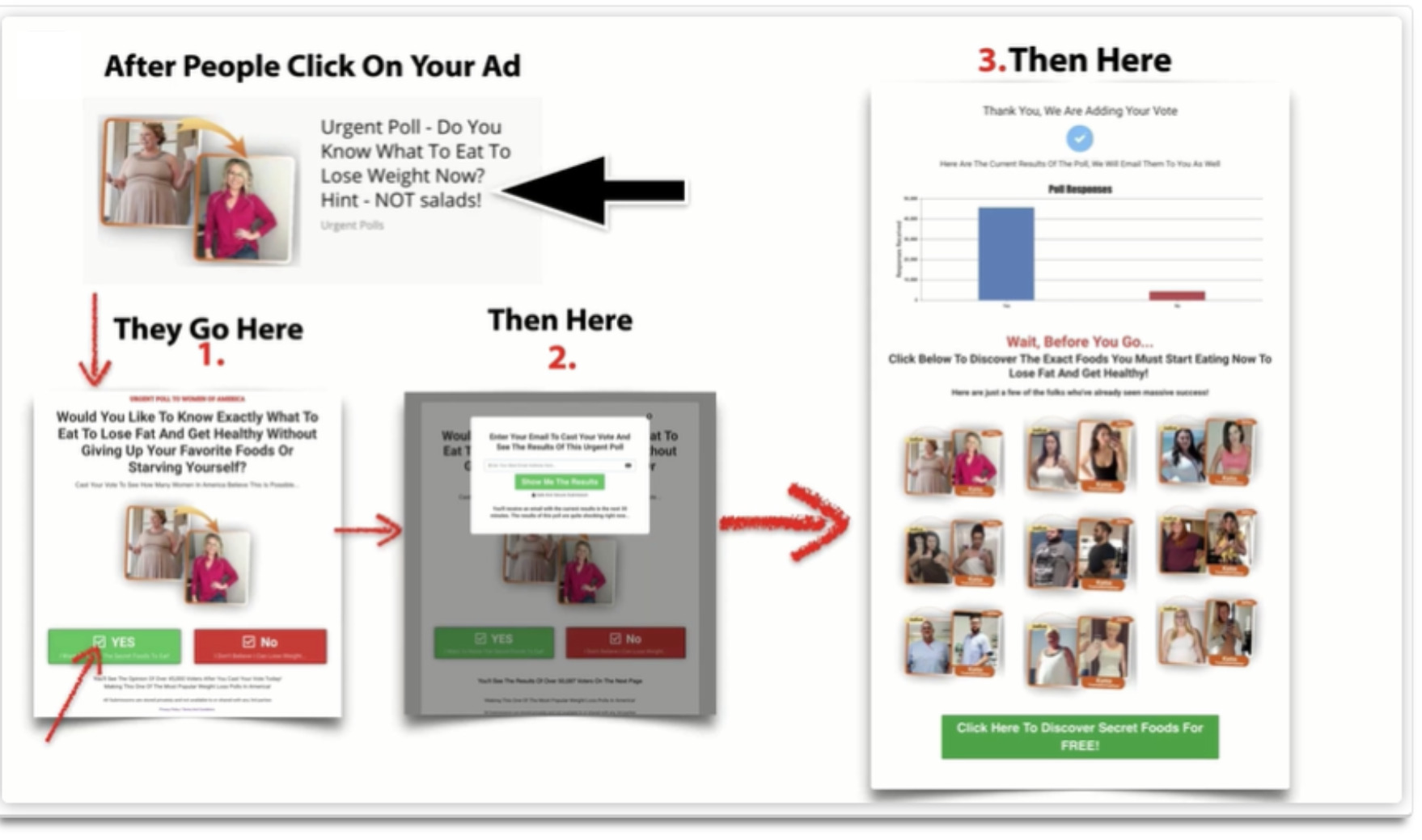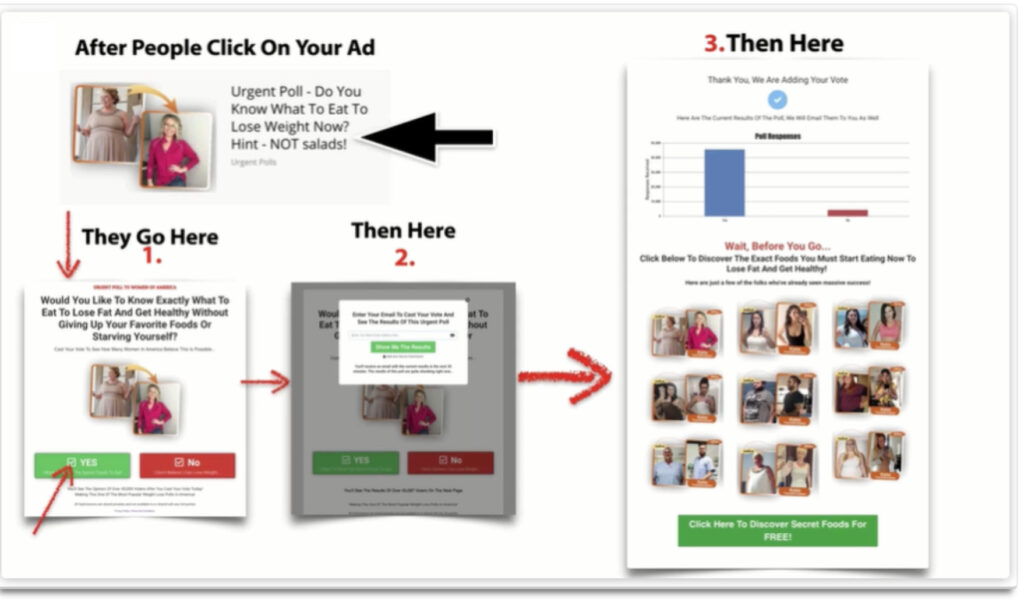 But in the age of TikTok and Insta, isn't email marketing dead and buried?
No, quite the opposite.
Email marketing is still as powerful and profitable as ever as these stats show:
In a nutshell, you're going to learn how to find high-converting affiliate products, create yes/no polls to get 70% opt-in rates and 50-100 daily new email subscribers to generate a steady stream of sales.
Can You Make Money With 1K A Day Fast Track?
Yes, achieving financial success with 1K A Day Fast Track is well within your reach, even if you've faced challenges in running profitable email marketing campaigns in the past.
Because instead of expensive paid traffic sources like Facebook and YouTube, Merlin will show you how to leverage "second-tier ad networks," which give you massive exposure at 10% of the cost.
This means rather than paying between $2 and $4 per click, you'll learn how to run native ads through the RevContent ad network for as little as $0.28 per click.
And the lower your cost per click, the lower your risk, the higher your profit margins and your chances of running a successful campaign.
Merlin will also show you which Clickbank products get you the highest commissions to maximise your earning potential.
How Is 1K A Day Fast Track Structured?
The 1K a Day Fast Track course is made up of 42 lessons broken down into 6 modules or 6 weeks.
Log in to the course and this is what you'll see: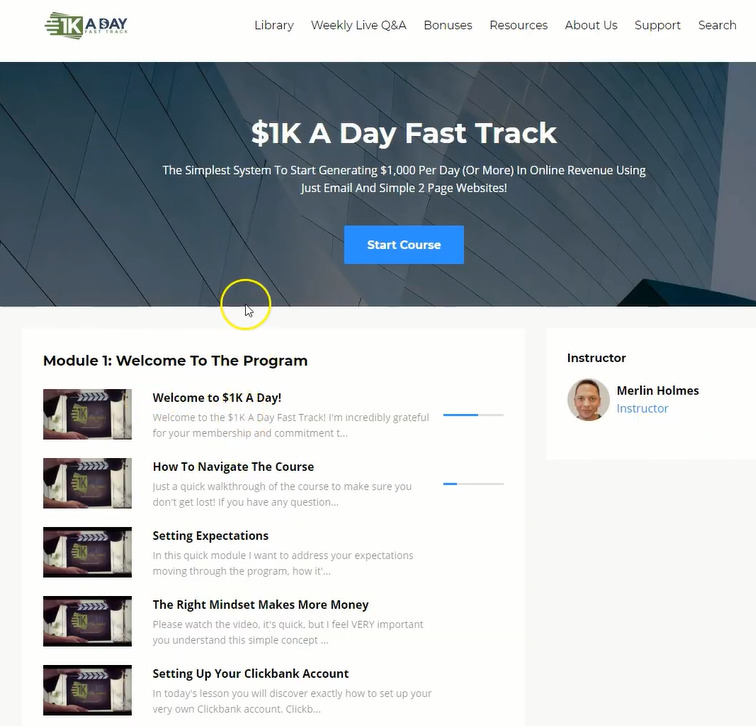 Each video lesson has a word-for-word text version and comes with a question-and-answer area.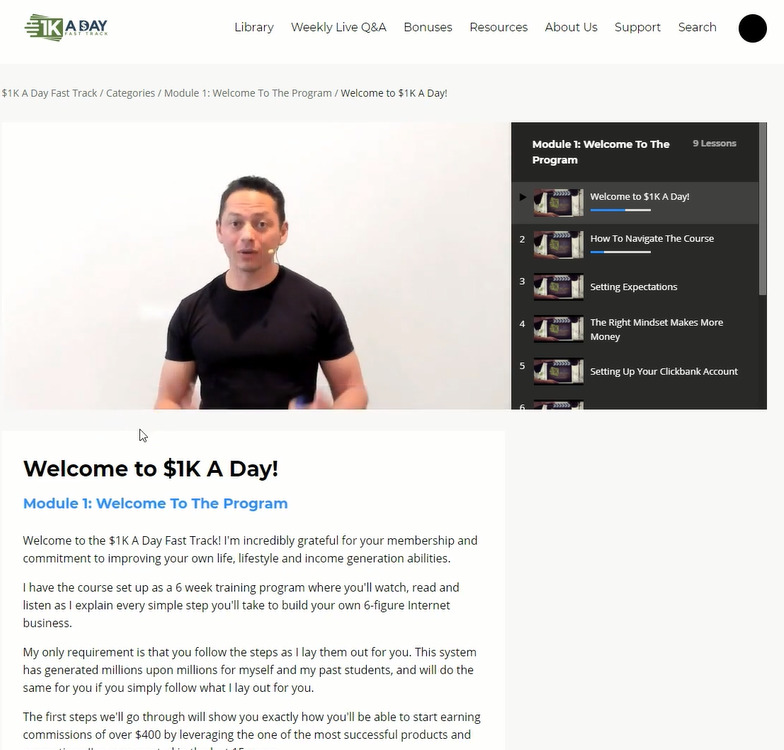 Overall, this is a very digestible course. Merlin is a passionate, personable and extremely knowledgeable trainer who lays it all out in a way that's easy to understand and follow.
Here's a module-by-module breakdown of the training:
Week 1: Welcome (9 lessons)
Merlin starts things off with a welcome video giving you a glimpse of what's to come.
Then he wastes no time diving deep into the nitty-gritty of setting up your ClickBank account, getting your links and raking in those all-important first commissions.
Week 2: Polling (9 lessons)
Merlin holds nothing back as he spills the beans on his game-changing list-building techniques, unveiling the secrets behind leveraging yes or no answer polls and how to build your very own sales funnel with captivating landing pages.
Week 3: Email marketing (9 lessons)
In this module, you'll learn what types of emails to write and Merlin even gives you tried and tested templates to work off that will have your subscribers buying like there's no tomorrow.
Week 4: Automation (5 lessons)
This module gives you an in-depth look at how to find the best offers to make money with ClickBank and other affiliate networks, as well as expert affiliate marketing tips to give you that competitive edge.
Week 5: Native ads (4 lessons)
Traffic is the lifeblood of any online business and this module revolves around becoming a master of the traffic game.
More specifically, you'll learn how to use low-cost native ad networks to get people clicking your polls, joining your email list and buying what you're offering.
Week 6: The future (5 lessons)
By now, you've pocketed your first commission and are on the fast track to becoming a full-time affiliate.
In Week 6, Merlin takes things up a notch and shows you how to find even more affiliate products to promote and helps you devise a killer long-term plan to skyrocket your earnings.
And thanks to Merlin's commitment to consistently updating and reshooting videos, you're getting lessons that are current and cutting-edge for 2023 and beyond.
Just know upfront investment in native ads is necessary to make this work (see below).
However, follow the strategy as outlined in this course and no doubt you can make $1k a day with this.
What Kind Of Support Do You Get?
Join 1K A Day and you'll be invited to Merlin Holmes' weekly coaching calls with live Q&A and you can watch all past recordings.
Additionally, you can reach out to the support team via email whenever you have questions or need assistance.
Who Is 1K A Day Fast Track For?
1K A Day is an email marketing course designed for both beginners and seasoned affiliate marketers.
This comprehensive training encompasses every aspect of building a thriving affiliate marketing business, including selecting a niche, finding products, driving traffic, growing an email list and making sales.
Here's how 1K A Day Fast Track puts it in the free webclass: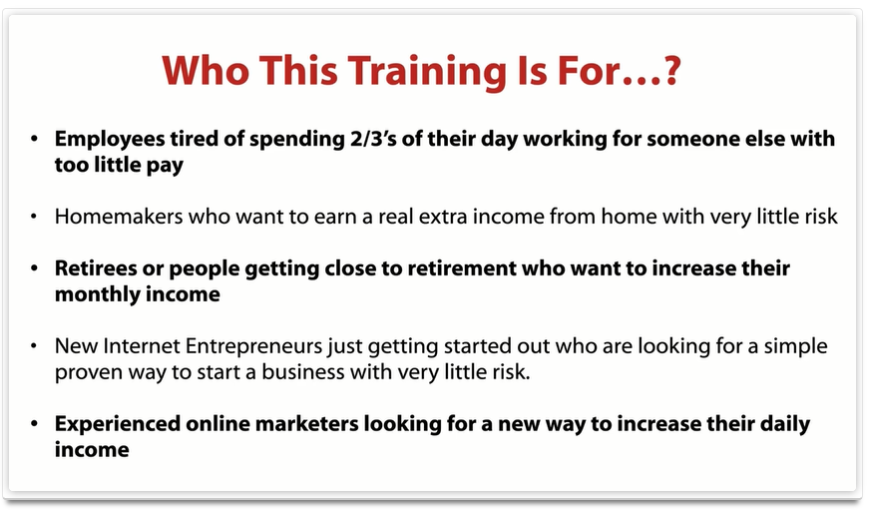 How Much Does 1K A Day Fast Track Cost?
You can get full lifetime access to 1K A Day Fast Track for a one-time payment of $997.
Discount
There is no discount for 1K A Day fast Track at the moment.
I searched high and low but couldn't find any legit coupon or special offer.
That said, if Merlin ever does run a special offer on 1K A Day, you'll likely hear about it via his email list, which you'll be added to when you sign up for his free webclass.
Refund
1K A Day comes with a no questions asked 30-day money-back guarantee.
You can request a refund via Clickbank directly.
Pros
1. You'll Start Earning Pretty Fast
One of the biggest advantages of following the 1K A Day Fast Track method is that because you're using low-cost paid ads like native ads, you're not having to rely on Google organic traffic.
You can skip the waiting around for Google to index and rank your websites and jump straight to the way more fun earning part.
2. Students Are Getting Results
It's relatively easy to findlegit 1K A Day Fast Track success stories.
Check out the screenshots on the sales page: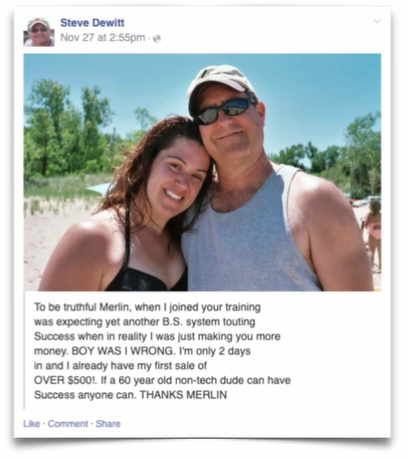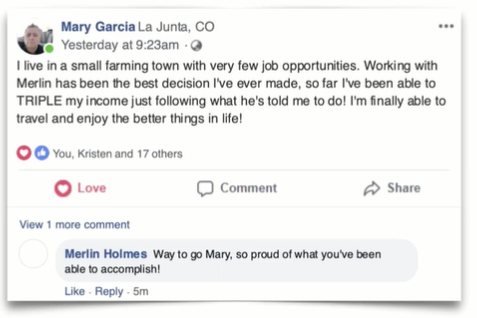 3. You Don't Need To Be A Techie
The cool thing about 1K A Day is you don't have to contend with fancy or complex software or have to be a technical genius to be able to make this work.
All the tools you'll be using with this course are easy-to-use and Merlin will show you how to get set up click by click.
Cons
1. A Little Pricey
At $997, 1K A Day Fast Track is a little more expensive than other affiliate marketing courses we've reviewed:
Is 1K A Day Fast Track worth the investment?
Yes, I think so.
You're getting premium training from a successful super affiliate and you will get results if you apply the training.
2. You'll Have To Join ClickFunnels
Merlin recommends using ClickFunnels to create your polls and landing pages.
ClickFunnels starts at $127 a month so it's by no means cheap.
3. You Need Money To Make Money
The great thing about paid traffic is you can get results quicker.
The bad thing about paid ads is… well, you have to pay!
And while Merlin steers way from more expensive Facebook or Google ads and uses RevContent which is just a fraction of the cost, you're still going to need an ads budget.
Interested In The 1K A Day Fast Track?
If so, you definitely want to watch the free 60-minute webclass Merlin put together.
It'll give you a solid overview of the entire moneymaking method.
1K A Day Fast Track Alternatives?
We're on a mission to rank and review all the best affiliate marketing courses.
Here's what we've uncovered so far:
🏆 Best Affiliate Marketing Courses 🏆
Is 1K A Day Fast Track The Best Course For YOU?
Honestly, that depends on your skill level and budget.
Let's go through it…
If You Wanna Get Into Email 📧
This is without a doubt the best email marketing course I've seen.
If You're On A Tight Budget 💰
1K A Day Fast Track is $997 and then you'll have to pay $127 for ClickFunnels and that's before you account for how much money you're going to end up spending on ads.
Wealthy Affiliate on the other hand is $49 a month ($24.92/month if paid yearly) and your keyword tool, sitebuilder, hosting and everything you could possibly need to succeed is included.
If You Wanna See Results ASAP 📈
With paid ads there's no waiting months for Google to send traffic you're way, it's pretty much instant, meaning you can start making a profit within the first couple of weeks.
If You're A Newbie 🌱
Wealthy Affiliate is a course and community specifically designed for affiliate marketing beginners.
1K A Day on the other hand, though marketed at affiliate marketers of all levels, lends itself to more intermediate or advanced learners who want to take their earnings up a notch.
If You're Unsure 🤔
Watch the free 1K A Day webclass »
It'll give you a solid overview of the entire strategy and by the end of it you'll know if this is the course for you.