This is a list of the 5 best affiliate marketing courses on the planet.
You can follow any of these courses to reach the coveted $10k per month milestone in 2023.
Ranked by criteria such as training quality, tools and support, affordability and student results, here are the top affiliate marketing courses you've been waiting for:
🏆 Best Affiliate Marketing Courses 🏆
Best Affiliate Marketing Courses For 2023
Best for: Beginners
▶ Read the full Wealthy Affiliate review
What: With 2.6 million+ members, Wealthy Affiliate is the go-to resource for aspiring affiliate marketers that gives you the step-by-step training, state-of-the-art tools and instant support you need to succeed.
Price: Starter (free forever), Premium ($49/month), and Premium Plus+ ($99/month).
Bottom Line: Wealthy Affiliate is the perfect choice for beginners seeking affordable, step-by-step training that delivers results. Highly recommended.
Wealthy Affiliate ticks all the boxes:
Everything you need to succeed in one place
Step-by-step and easy to understand
Free to start and affordable
Super supportive community
Students get results
The best part?
You can test drive the entire platform without paying a penny.
Join as a free Starter member and upgrade to Premium whenever you're ready.
Best for: Intermediate-Advanced
▶ Read the full Affiliate Lab review
What: The Affiliate Lab is a course by Matt Diggity which aims to equip students with a proven, test-backed blueprint for ranking, monetising and flipping affiliate marketing websites.
Price: $997 or two payments of $597.
Bottom Line: With in-depth modules, real-life examples and an active community, Affiliate Lab has gained a reputation as one of the top courses in the industry. This course delivers over and above.
Watch the free Affiliate Lab webinar for a solid overview of the strategies taught in the course and to get a feel for Matt's teaching style.
Best for: Aspiring bloggers and Youtubers
▶ Read the full Project 24 review
What: Project 24 is a step-by-step course where you learn the strategies you need to make a full-time income through blogging and YouTube in 24 months.
Price: $449 for the first year, $249 every year after
Bottom Line: A solid option if you're looking for a proven roadmap to follow.
Watch the Project 24 tour to get a sneak peek inside the training so you know exactly what to expect.
Best for: Newbies to email marketing
▶ Read the full 1K A Day Fast Track review
What: 1K A Day Fast Track is a 6-week course designed to show you a simple yet powerful yes or no polling method you can use to earn $1,000 a day promoting ClickBank products.
Price: $997 one-time
Bottom Line: The best native ads and email marketing training we've seen.
Watch this video for an overview of the entire program so you know exactly what to expect.
Best for: Intermediate-advanced
▶ Read the full Invincible Marketer review
What: Invincible Marketer is a course by Aaron Chen with 63 lessons and 32 hours+ of hands-on, practical training on how to make $10k a month with affiliate marketing.
Price: Get started with a $7 trial, followed by a monthly fee of $67 or choose lifetime access for $430.
Bottom Line: Invincible Marketer is a solid investment for beginners dead serious about building an affiliate marketing empire. It comes highly rated by students which is hardly surprising considering the incredible results they're getting.
Watch this video for an overview of the entire program so you know exactly what to expect.
Which Affiliate Marketing Course Will You Take?
You've made it through our entire list of the best affiliate marketing courses!
Congratulations! 🙌
You're already a step ahead of most aspiring freedom-seeking entrepreneurs who never make it this far.
They're content to let their dream online business remain just that – a dream.
And most aspiring freedom-seeking entrepreneurs don't even make it this far – they never take that first step to make their dream business a reality.
Now, while I truly believe any of the affiliate marketing courses you've just seen will give you what you need to smash $10k a month, I must confess that I have a soft spot for our own course, Commission Academy.
Why?
Well, because you'll get free and instant access to the best affiliate marketing training on the planet (in my humble unbiased opinion of course!)
Join the Academy and you'll get to learn from not just just one, but TWO successful super affiliates with a combined 20+ years of affiliate marketing experience.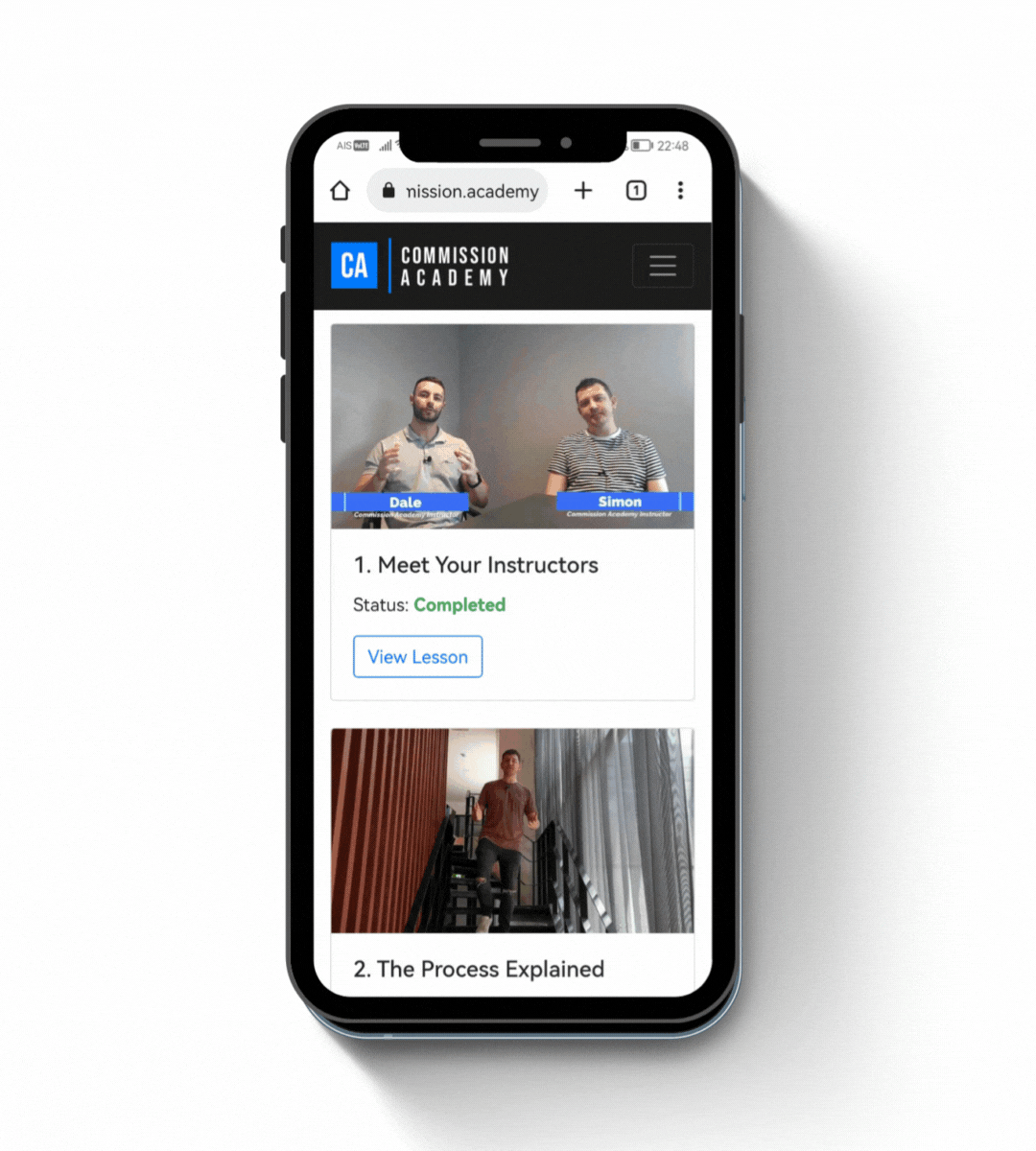 You'll also be invited to our Weekly Live Hangouts where you can ask questions to Dale and I, get feedback on your work thus far and share your latest success stories.
So whether you're a fresh-faced newbie looking to give yourself a strong headstart…
Or an intermediate affiliate looking to take your skills and income to new heights…
Commission Academy will help you make it happen.
Affiliate Marketing Courses FAQs
Are Affiliate Marketing Courses Worth It?
If it's a course on this list, the answer is a resounding yes.
Just think about it…
Find a good affiliate marketing mentor who has already achieved what you want to achieve and you get to leverage their time and expertise to make your dream business a reality.
Follow a proven roadmap and you get to skip common newbie mistakes and avoid the months of trial and error so you can smash your affiliate marketing goals quicker.
What Are The Criteria For A Good Affiliate Marketing Course?
In my mind, there are 5 elements every good affiliate marketing course must do:
1. Provide Comprehensive Training
Not vague, broad strokes but practical, easy-to-follow click-by-click training
2. Be Taught By Successful Coaches
You don't want to learn from someone whose primary income source is selling courses.
As the old saying goes: "The who can't, teach."
Instead, you want to learn from the best of the best, those who have achieved exceptional results to maximise your own success.
3. Give You Access To Top-Notch Tools & Support
Whatever your reasons for starting affiliate marketing, being able to get the right expert help in a timely manner (i.e. not having to wait 24-48 hours for an email reply) is going to be critical to your success.
Same goes for the tools you need to implement what you're being taught. Just think about the rusty axe – it doesn't matter how good you are or much you try, you need the right tools to get the job done.
4. Be Frequently Updated
Google updates, ChatGPT, emerging social media platforms like TikTok…
The world of affiliate marketing is undergoing rapid and unprecedented change.
This is why you need cutting-edge training that works for 2023.
5. Offer Good Value For Money
The beauty of affiliate marketing is it shouldn't cost a bomb to get started.
Yes, some investment will be required (whether that's for web hosting, keyword tools etc.) but you never need to shell out $10,000s for affiliate marketing training.
And if you're looking for a free affiliate marketing course, then I can't recommend the Commission Academy course highly enough.
Is Affiliate Marketing Easy To Learn?
Learning the basics of affiliate marketing is easy because it's actually a pretty simple business model:
You promote products online and make commissions on each sale.
Mastering affiliate marketing, on the other hand, takes bucketloads of grit and it's not for the faint of heart or those looking for shortcuts.
Many set out to achieve massive affiliate marketing success only to quit a few months later, but a solid affiliate marketing course and community help keep you accountable and on track.