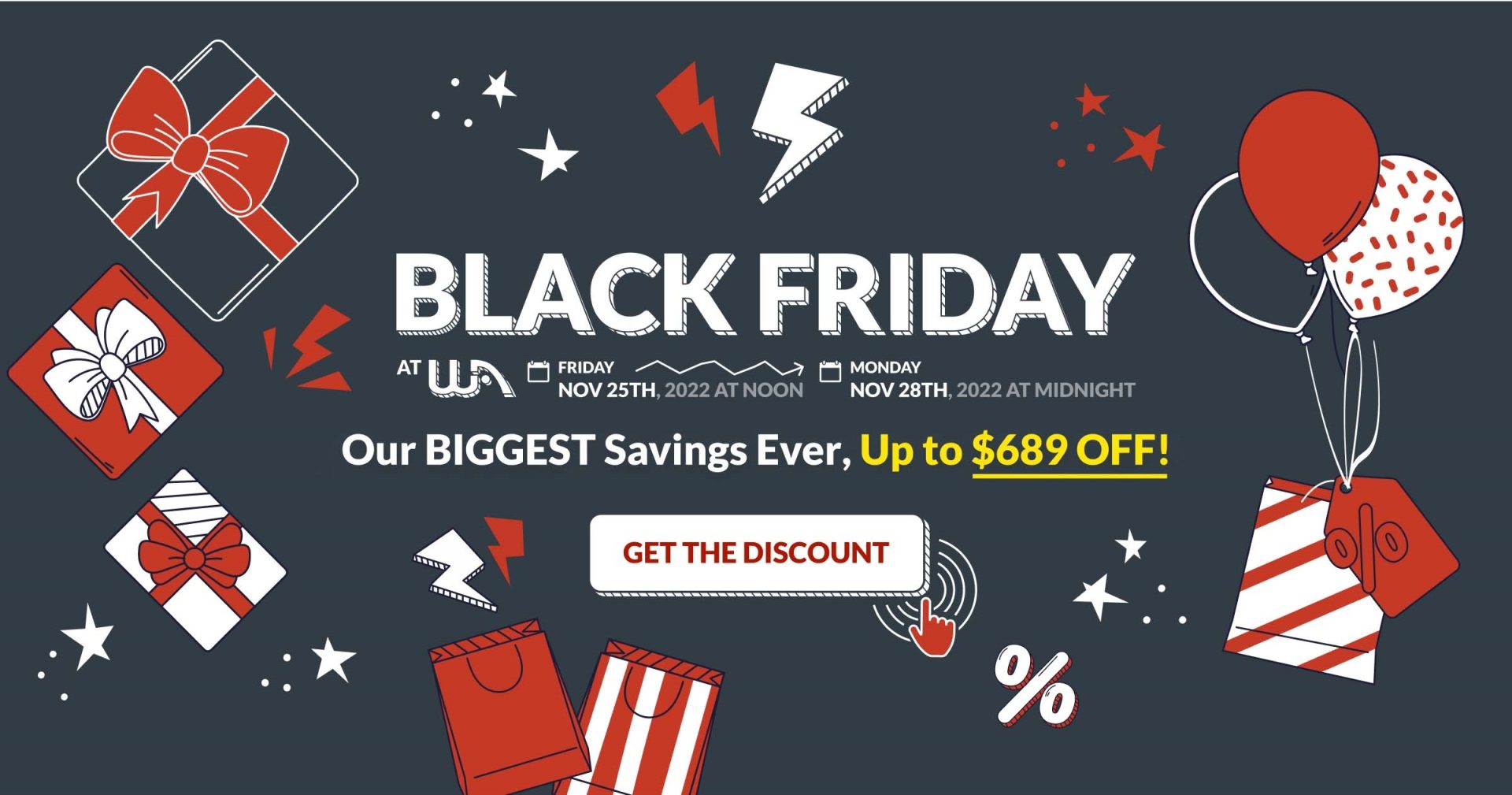 2022 is going to be Wealthy Affiliate's biggest Black Friday event ever!
Never has been more affordable to launch and build a thriving online business at Wealthy Affiliate so you'd be smart to take full advantage.
So here's a quick overview of the Wealthy Affiliate Black Friday discounted pricing and offers:
Wealthy Affiliate Black Friday Sale
Wealthy Affiliate's Black Friday Sale 2022 is finally here and this time Wealthy Affiliate is offering hefty discounts.
You get unlimited access to a complete 120-lesson training package plus weekly live classes with 24/7 instant support, easy-to-use SiteBuilder and a FREE domain name for just $0.82/day.
| | | |
| --- | --- | --- |
| Membership Plan | Regular Price | Black Friday Offer |
| Premium | $499/Year | $299/Year |
| Premium Plus+ | $999/Year | $499/Year |
Wealthy Affiliate is absolutely worth it if you're a beginner looking for affordable, step-by-step training that will get you results. You'll have the right know-how, tools and support – everything you need to thrive in the online space.
So don't miss out if you wanna smash your online income goals and make 2023 your best year yet.
What Are The Wealthy Affiliate Black Friday Deals?
Between Black Friday and Cyber Monday, Wealthy Affiliate are slashing the regular prices of Premium and Premium Plus+ memberships so you can get a year's Premium for just $299 (40% discount) or Premium Plus+ for $499 (50% discount).
They have offered this deal for the last few years but co-founders Kyle and Carson say 2022 is the last year they're going to be offering the $299 and $499 Black Friday price points so get it while you still can.
When Does Wealthy Affiliate's Black Friday Deal Run?
This year, Wealthy Affiliate's Black Friday offer runs from midday (PST) November 25th 2022 (Black Friday) to midnight November 28th 2022 (Cyber Monday).
The good news is, lock in this deal now, and you're grandfathered in forever meaning you'll be guaranteed this same price for as long as you decide to renew.
Premium Vs. Premium Plus: What's The Difference?
You can build a profitable affiliate marketing business as a Premium or Premium Plus+ member, but the biggest differences between the two are the number of websites you can host and live classes you can join.
See our SUPER in-depth Wealthy Affiliate review to get the full details but here's a quick snapshot:
Premium
Most Popular
• Host up to 10 websites
• Unlimited support
• All core training
• 52 live events per year
• Jaaxy Lite
Premium Plus+
Boss Level
• Host up to 50 websites
• Unlimited support
• All core training
• 300+ classes per year
• Jaaxy Enterprise
Take advantage of the Wealthy Affiliate Premium Plus+ Black Friday Deal, however, and you'll get the "Success Hacks In 2023" bonus which will consist of 9 expert super affiliate classes where they outline their success hacks in the year ahead.
These will be packed with breakthrough strategies I know will be worth far more than the price of the yearly membership by themselves.
How To Activate The Wealthy Affiliate Black Friday Deal
Here's a simple step-by-step guide you can use to activate the Black Friday deal from Wealthy Affiliate:
Step 1: Click this special link (no coupon code required) to visit Wealthy Affiliate's homepage. Then, enter your best email address and click the Get Started button.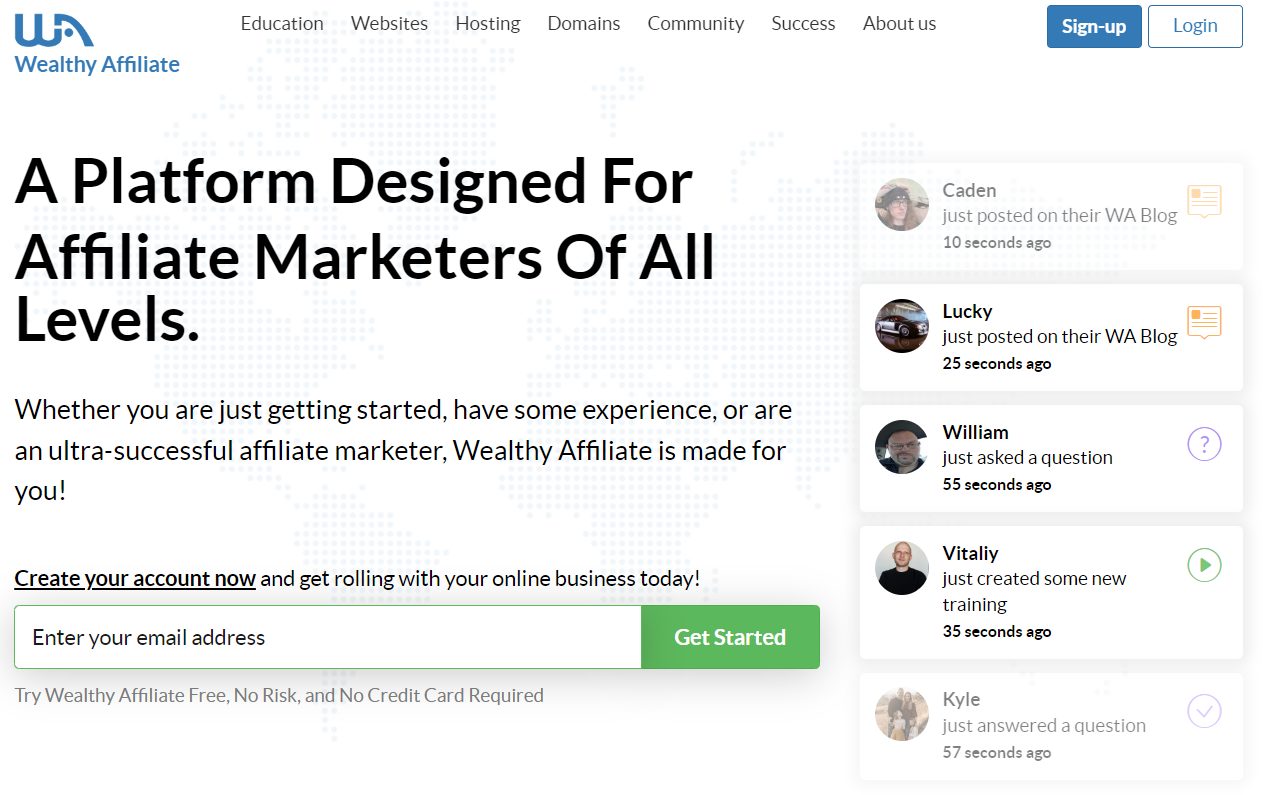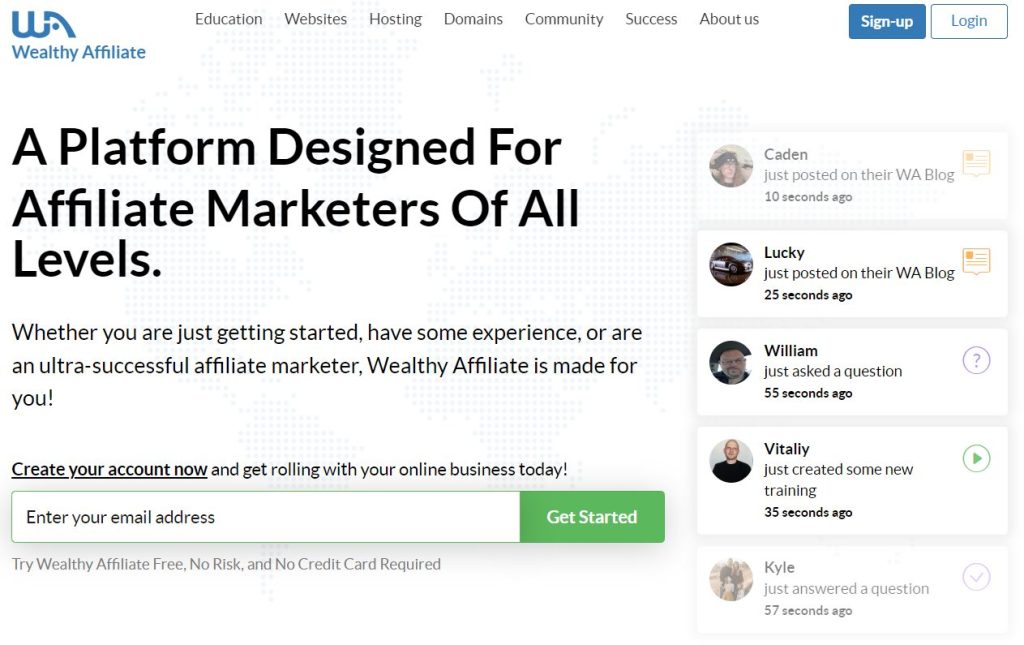 Step 2: Choose whether you want to join as a Premium or Premium Plus+ member
Step 3: That's it! Claim your Black Friday discount, fill out the payment details, and you'll have full access to the full training and tools and the 2.2 million+ Wealthy Affiliate community. You now have everything you need to become successful!
Now, let's talk a few things about Bluehost so you can decide whether it's the right choice for your site needs or not.
4 Reasons To Grab Wealthy Affiliate's Black Friday Deal
1. Best Value
Join Wealthy Affiliate during this Black Friday event and you'll be saving $300 per year on your Premium membership or $500 on your Premium Plus+ membership
Right now you can get unlimited Premium Plus+ access for the usual price of the Premium membership – it's going to cost less than $1 a day to build a 5 or 6-figure-a-year online business. You'd be a fool to miss out!
2. Last Time Ever
Wealthy Affiliate co-founder Kyle has confirmed that while Wealthy Affiliate will run Black Friday discounts in the future, this is the last time the special $299 and $499 price points are ever going to be offered.
3. Forever Pricing
Grab Wealthy Affiliate's Black Friday deal now and you'll never have to pay more for your yearly membership down the line; you'll be guaranteed that same price in subsequent years if you decide to stick around.
4. Strongest Start Possible
Wealthy Affiliate has a 4.9/5.0-star review rating on Trustpilot for good reason:
Wealthy Affiliate's training has been tried and tested and it works. It's gotten results for 2.2 million other students and it will get you results too.
Not only that but you'll be equipped with the latest cutting-edge web building and keyword research technology to make your dream business a reality.
So don't delay, grab the Black Friday offer while it's available and start your affiliate marketing business with Wealthy Affiliate today.
Wealthy Affiliate Black Friday Deals FAQs
1. What Is Wealthy Affiliate?
Wealthy Affiliate is an all-in-one affiliate marketing training platform with structured courses, live classes, website building software and keyword research tools all under one roof.
Read our Wealthy Affiliate here to find out more.
2. How Do You Make Money With Wealthy Affiliate?
Wealthy Affiliate focus on teaching students how to earn commissions online via an online business model called affiliate marketeting.
Affiliate marketing is the best business model for beginners because you simple create a website around a topic you really enjoy and recommend relevant products and services your audience will love in return for a percentage of each sale you generate.
3. Is Wealthy Affiliate Worth it?
I would say Wealthy Affiliate is worth it at the regular price but with the Black Friday offer it's an absolute steal!
I'll be honest – it's not easy to become an affiliate marketer and grow to 6 figures, but you CAN make it happen with the know-how and support you get as a Wealthy Affiliate member.
Wealthy Affiliate's Black Friday Sale: Bottom Line
I have but one question:
What would your life look like this time next year if you join Wealthy Affiliate now?
You'd have a thriving online business of your very own that's generate more than a full-time income.
You'd be able to work anytime, anywhere and yes, even make money in your sleep.
You've dreamed about building an online business and this Black Friday is the ideal time to finally bite the bullet and make big things happen.