Quick Answer: The best way to choose an affiliate marketing niche is to pick a topic you like and ensure there's a big audience and enough relevant products to make it profitable. Check out our free training to turn your niche idea into a thriving online business.
This is your complete guide on how to choose an affiliate marketing niche.
And not just any old niche, but the right niche for YOU.
In this guide you'll learn:
The #1 key to finding your perfect affiliate marketing niche
How to narrow down your ideal demographic
The exact 3-step process we use to find profitable affiliate marketing niche ideas
And plenty more…
Because for sure, finding an affiliate marketing niche when you're starting out can feel like a daunting task.
But here's the good news:
It doesn't have to be difficult and I'm here to break it down.
So how do you actually decide on the right niche? There's a right way to do it. And a wrong way to do it.
Let's dive in.
Choose An Affiliate Marketing Niche In 3 Simple Steps
What Is An Affiliate Marketing Niche?
An affiliate marketing niche is a specific group of people you target to promote relevant products and earn commissions. These groups can be categorised by their interests, income, age, lifestyle or location.
Google defines a niche this way: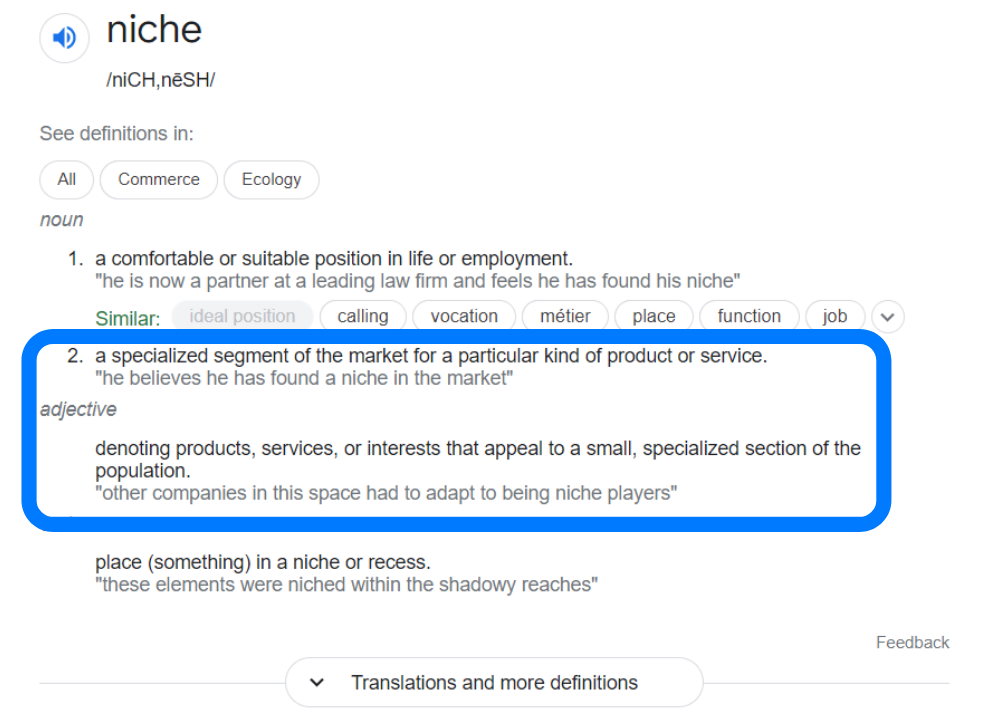 The most popular affiliate marketing niches are:
Health and fitness
Wealth and personal finance
Technology
Pet care
Hobbies
Self-improvement
These are super broad and competitive niches, but stick with me and I'll show you how to narrow it down. And the more specific the better.
The real key to finding an affiliate marketing niche is to think of it in terms of choosing your target audience.
Now we know what an affiliate marketing niche is, let's go ahead and walk you through how to pick the right one.
Step 1: List Out Your Hobbies And Interests
The first and most important thing you want to think about when choosing a niche?
Pick something you are actually interested in!
Choose something you enjoy. Choose something you like to talk about. Choose something you want to learn more about.
Why?
Because the worst thing you can do is pick a niche you don't like. You'll just bore yourself to tears! This is one of the reasons affiliate marketers fail.
Remember:
You'll be writing blog posts about your niche
Maybe you'll be creating videos about your niche
You're going to be recommending products related to your niche
And you're going to be helping people within your niche
So your life will be way easier when you have some passion and knowledge on the niche you go into.
Steve Jobs said it best:
"Your work is going to fill a large part of your life, and the only way to be truly satisfied is to do what you believe is great work. And the only way to do great work is to love what you do. If you haven't found it yet, keep looking. Don't settle."
I love that! Makes sense right? Choosing the right niche is going to make affiliate marketing fun and skyrocket your chances of success in the long run!
So choose a hobby, interest or area of expertise you like. It can be almost anything you can think of…
Whether you're into beekeeping, beer tasting, scrapbooking or skydiving, you can make A LOT of money as an affiliate marketer because there are billions of people online every day asking questions and searching for solutions on these niches every single day.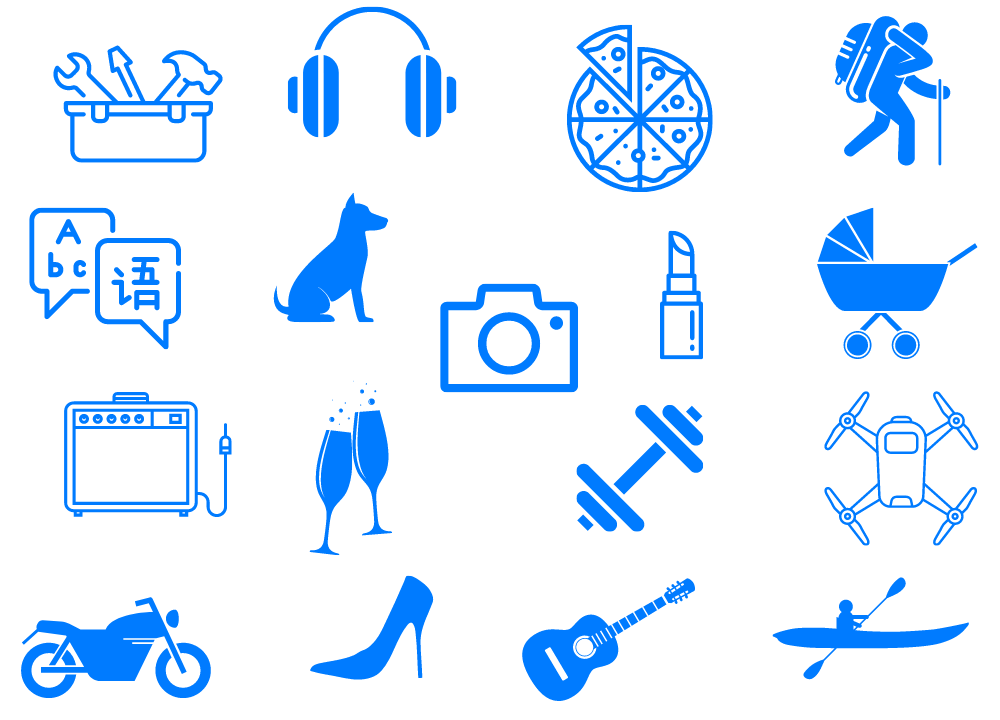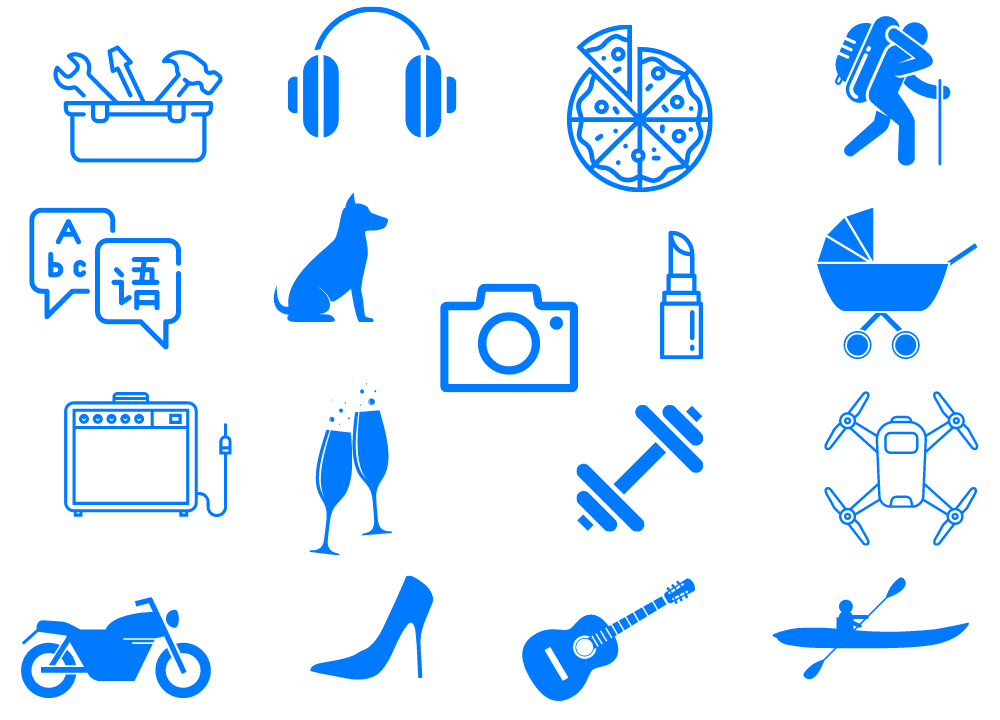 So take a couple of minutes and make a list of your hobbies, passions and interests.
Use this epic list of hobbies to get the ideas rolling and ask yourself:
What do you like to read about?
What topics do your friends consider you an "expert" on?
What do you do in your free time?
What podcasts do you listen to?
What kind of YouTube channels are you subscribed to?
What are the last 3 purchases you made on Amazon?
Here's my personal list of things I enjoy talking about: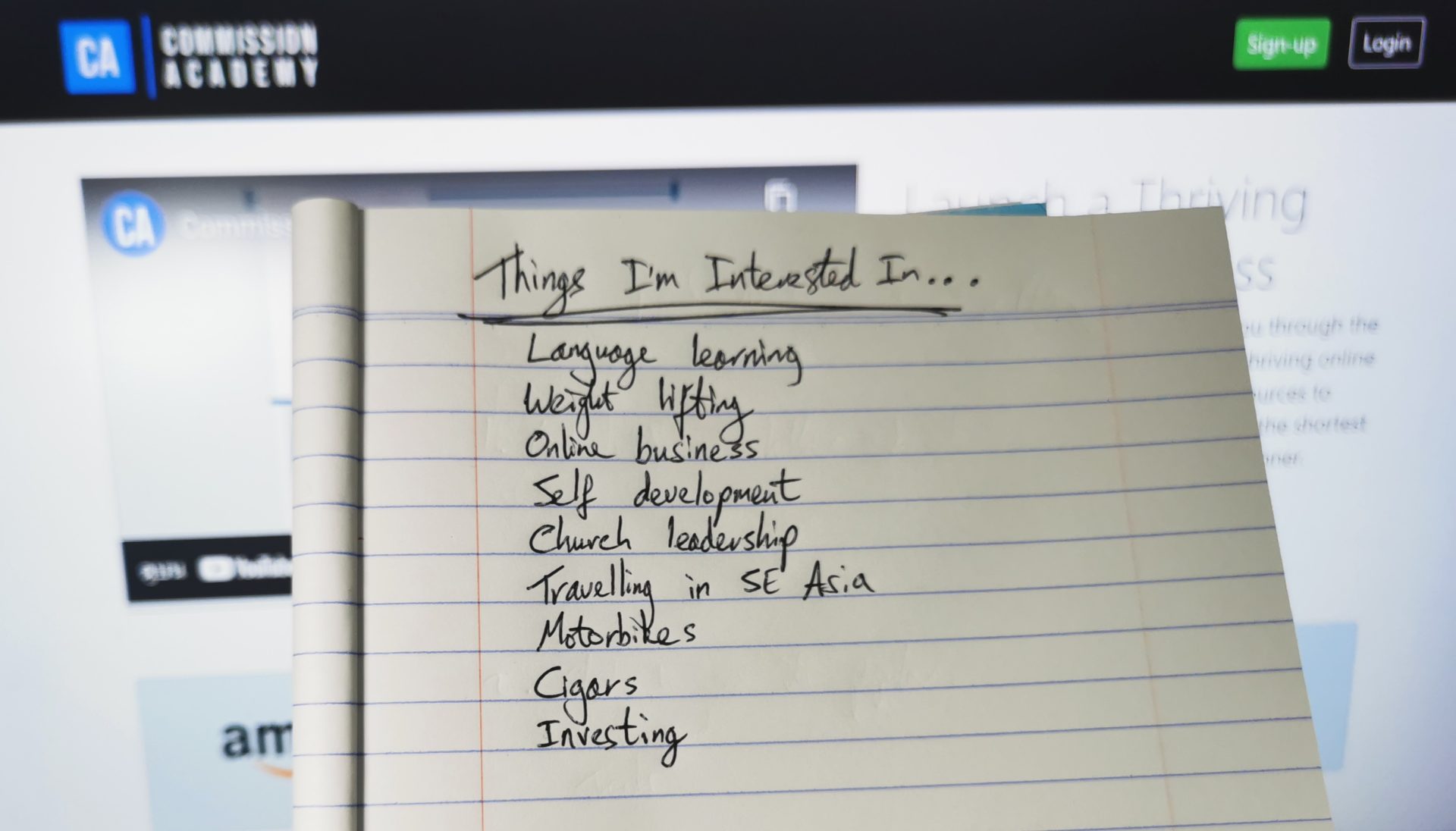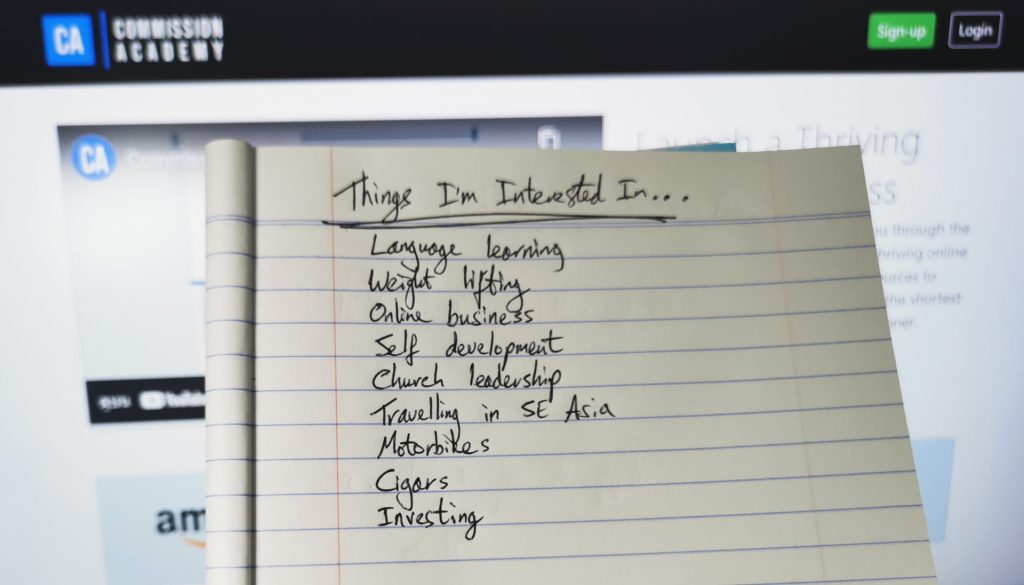 Now Let's Get Specific
Once you've got your list of topics, pick your favourite and let's get specific and narrow down your audience.
So instead of choosing the health and fitness niche, say:
"I'm going to help 30 to 50-year-old men get rid of belly fat with home workouts."
Instead of saying you're in the language learning niche, say:
"I'm going to help beginners learn how to speak fluent French."
Instead of settling on the travel niche, say:
"I'm going to help gap year students who want to backpack around Cambodia on a budget."
You get the idea. You know you've got your affiliate marketing niche nailed down when you can say:
"I'm looking to help (this group of people) with (this topic)."
Step 2: Check If Your Niche Idea Is Popular
The next step in choosing a niche is to make sure there's a big-enough audience to make it a viable option.
Because, though there are no limits to how many products you can promote as an affiliate, you don't want to limit your potential earnings by answering questions no one is asking or recommending products no one is interested in buying.
This is where Google Trends and Jaaxy come in handy.
Google Trends will give you a real insight into the popularity of any given niche.
So let's use learning French as an example:
This graph shows us the popularity of this niche idea over the last 5 years and tells us "learning French" is an evergreen niche that is here to stay. There is a slight downward trend in the last couple of years but that's probably down to Covid travel restrictions.
Next up is Jaaxy; a keyword tool that tells you about how many Google searches any phrase gets per month.
Start by asking:
"What type of questions would my target audience type into Google?"
My target audience (a beginner looking to learn French as a second language) would likely search for things like:
How to learn French
Best online French courses
So let's head over to Jaaxy and type these in and see what we come up with: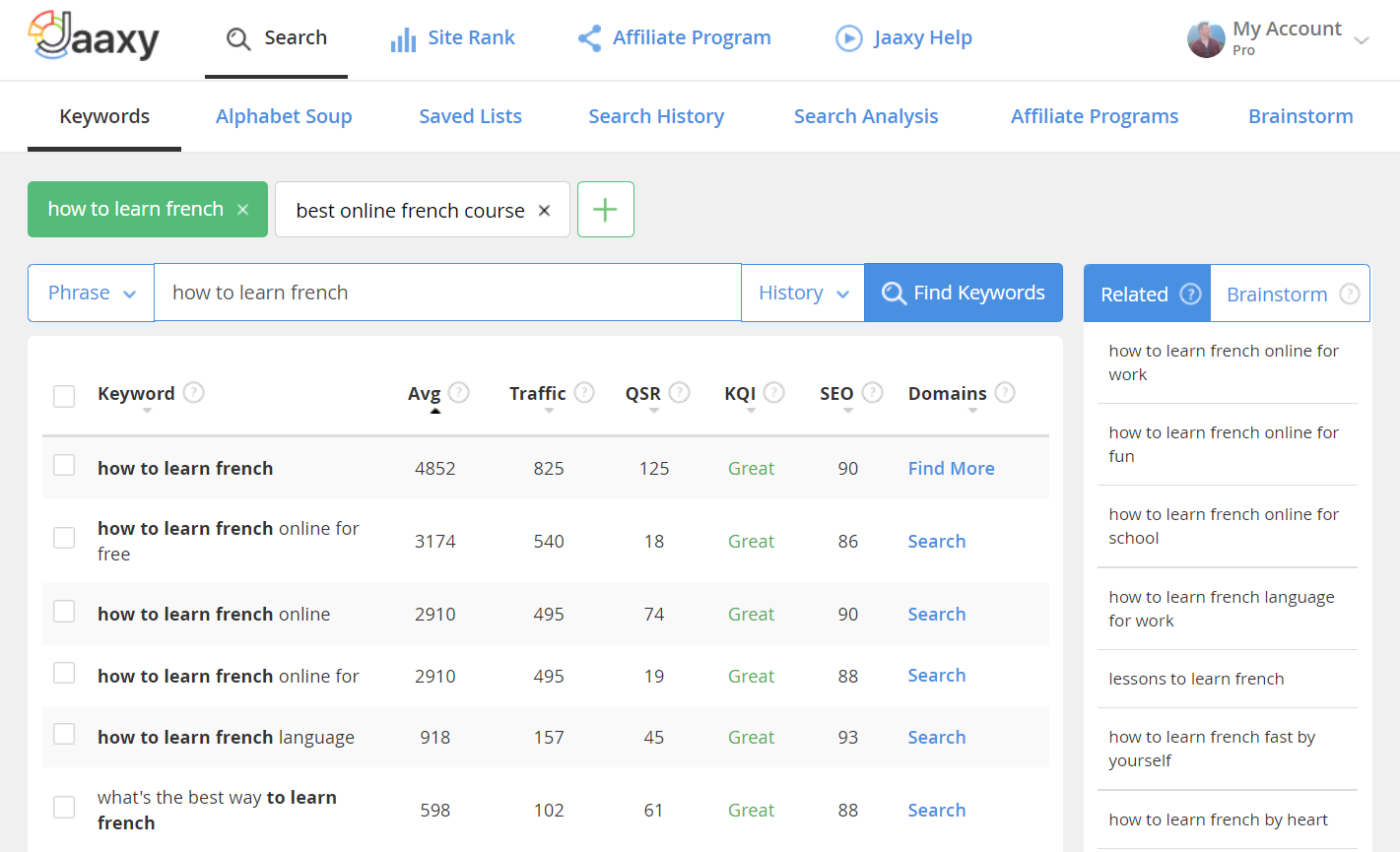 As you can see, an average of 4,852 people search Google for "How To Learn French" each month.
That's a whole lot of people!
This tells me there's a lot of interest out there and this would be a great affiliate marketing niche.
Okay, so you've nearly found your niche! But wait, there's just one more thing we need to check…
Step 3. Make Sure Your Niche Has Profit Potential
Simply put: when you think of your niche idea, are there related products or services you can promote?
Whatever your affiliate marketing niche idea, there are bound to be a gazillion affiliate programs out there you can join that'll give you access to 100,000s of related and relevant products you can promote.
If I'm helping middle-aged men lose belly fat then I'm going to make money recommending fitness affiliate programs.
If I'm helping beginners learn French I'm going to generate affiliate income by promoting books and online language courses.
If I'm helping student backpackers travel around Cambodia, I'm going to earn commissions by joining the best travel affiliate programs and promoting things like flights, baggage, hotel stays and travel insurance.
The easiest way to check your niche's potential profitability is by googling "[your niche topic] affiliate programs"
I've just searched for "French language affiliate programs" and got a ton of affiliate programs come up, including some online French courses I can promote for 50%-75% monthly commissions. That's pretty good!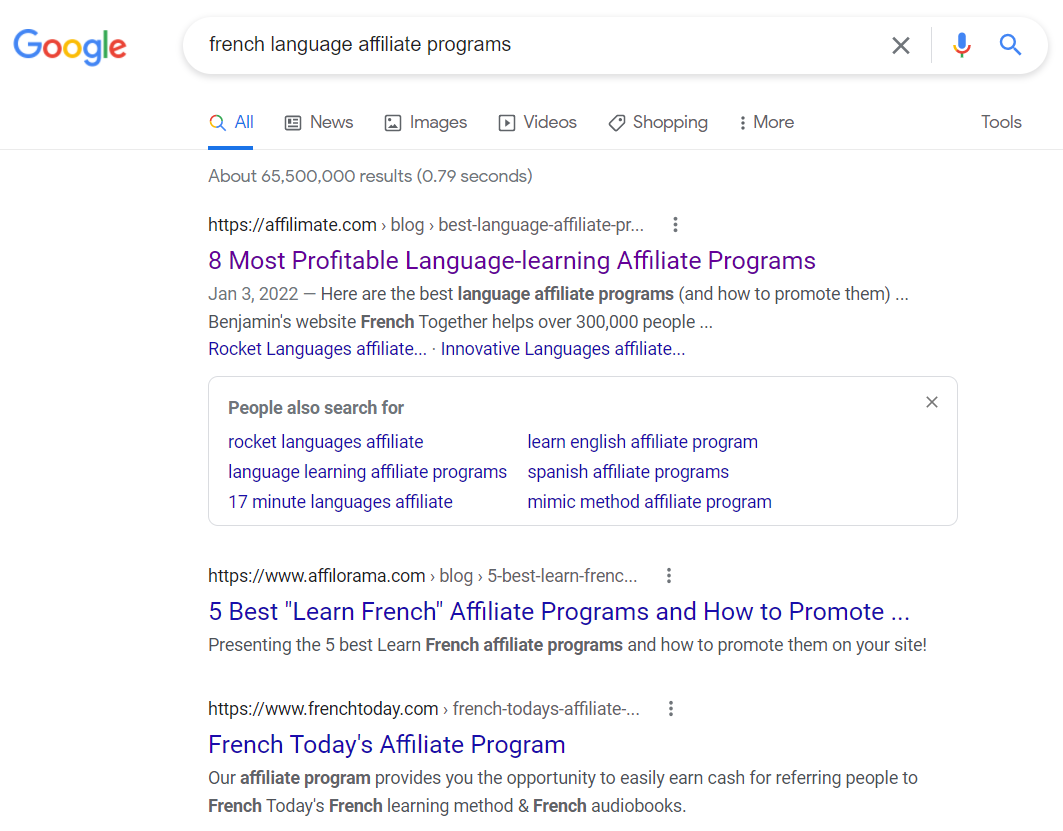 It might also be a smart idea to see how other websites within your prospective niche are making money, so spend a few minutes browsing them and find out what they promote.
I think 99% of niche ideas have real profit potential, but this final step will help you ensure there are products and services related to enable you to earn commissions online and gives you at least an initial monetisation strategy going forward.
Have You Found Your Niche Yet?
Running? Cooking? Horse riding? Being a parent?
Have you found your passion, is it popular and does it have profit potential?
If so, then whatever it is, you've found a winner and that's the right niche for you.
Don't overthink it! 🙂
We'll Show You How To Dominate ANY Niche
Choosing the right affiliate marketing niche means you don't end up wasting precious time and energy with nothing to show for it. And now you know the simple 3 step formula:
Pick a topic you like
Make sure it's popular
Check there are relevant products you can promote
Passion + Popular + Profit = A great affiliate marketing niche idea!
Now it's time to turn that idea into real income. This is where Commission Academy comes in.
Dale and I will give you complete step-by-step training backed by years of experience.
Start the 100% free Commission Academy crash course today and we'll show you the EXACT formula we use to beat the competition and dominate any affiliate marketing niche.
The time to make your dream business a reality is now and with the right training and support, we know you can make it happen.