Everybody has different reasons for deciding to become an affiliate marketer:
Some do it for the location and time freedom
Some do it because they'd rather be their own boss
Others do it for the limitless earning potential.
Whatever the case, all affiliate marketers agree – affiliate marketing is top-class.
Here are 15 reasons (in no particular order) why affiliate marketing is the best business model.
1. Affiliate Marketing Is Super Simple
If you're looking for a way to earn online, affiliate marketing is the simplest way to do it. Compared to dropshipping, Amazon FBA or e-commerce, with affiliate marketing you don't need to:
Create, buy, store or ship products
Pay for expensive paid ads
Deal with any customer service
Affiliate marketing is commission-based so all you do is send people to online stores like Amazon or eBay and get a cut of every sale you generate. They'll take care of the rest.
Here's how affiliate marketing works: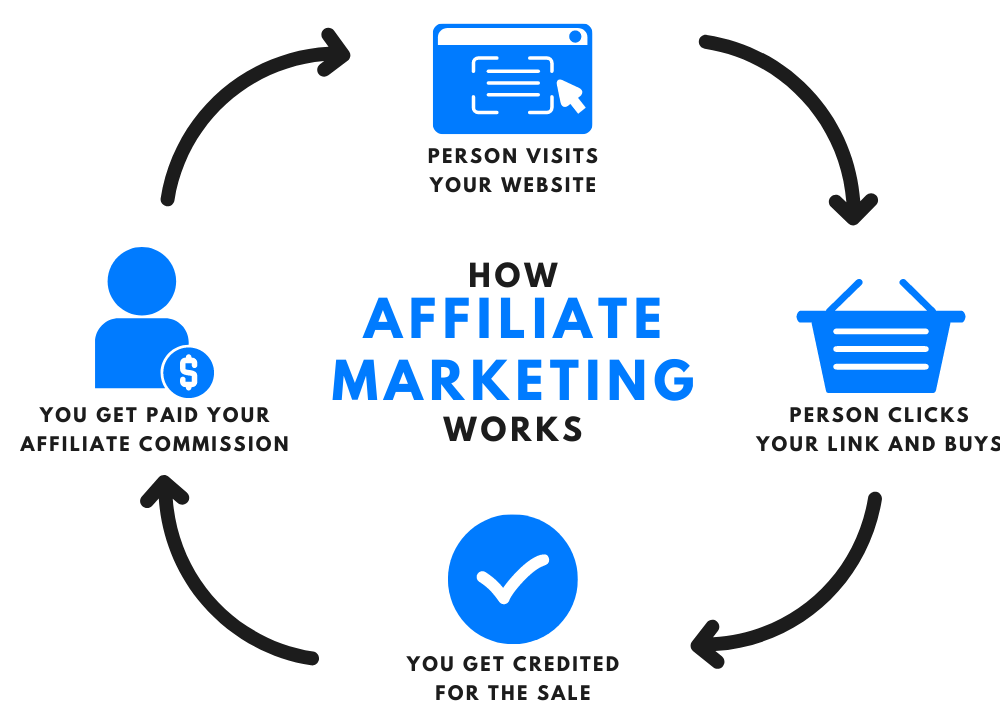 2. You Get To Turn Your Passion Into A Business
Making money is great, but building a 6-figure business around what you love is even better.
Everyone has hobbies, passions and interests but most people don't know you can turn what you love into a thriving online enterprise. Well, with affiliate marketing, you can.
Passionate about fitness? You can start a website that helps people to smash their goals and transform their bodies. You'll make money and they'll live healthier.
Have experience in marriage and parenting? You can start a website aimed at people at all stages of family life and share your knowledge to help them have deeper, more fulfilling relationships.
The best businesses are fueled by passion so find what you love and the work will never feel like work.
"Your work is going to fill a large part of your life, and the only way to be truly satisfied is to do what you believe is great work. And the only way to do great work is to love what you do."
3. You Can Dream Big
There are limits to working a normal job. You can only advance so far and earn so much no matter how hard you try, but the sky is the limit when it comes to how much you can make with affiliate marketing.
Some affiliates make $150,000 a year, others go on to become multimillionaires – how far you go is up to you.
No idea is too crazy and no goal is too high when you're an affiliate marketer – you can dream as big as you want and determine your own income. So aim high. Set ridiculous goals for yourself and take MASSIVE action to make them happen. You won't regret it.
"Twenty years from now, you'll be more disappointed by the things that you didn't do than what you did. So throw off the bowlines. Sail away from the safe harbor. Catch the trade winds in your sails. Explore. Dream. Discover."
4. You Get Such A Rush That's Hard To Duplicate
There is no greater shot of adrenaline than achieving a goal and it's important to take the time to celebrate passing milestones in your business, no matter how big or small.
Toast to wins like:
Creating a website for the first time
Getting indexed in Google
Attracting 100+ daily website visitors
Making your first sale as an affiliate
Reaching 1,000+ email subscribers
Achieving your first $30,000+ month
And the longer you're doing this, the bigger and more exciting these milestones become, so enjoy the journey!
5. You Need Little Money To Make Big Money
Affiliate marketing is the best business model for beginners because you have the real opportunity to earn big with little money down. With dropshipping or Amazon FBA, you'd need to invest a ton of capital upfront to build an online store and have an ads budget, but with affiliate marketing there's none of that.
All you need to launch an affiliate marketing business is:
And you can get this for less than $50 a month. Here's a full cost breakdown:
6. You Can Work Whenever
How often do the 9-to-5 crowd clock-watch?
What about the stampede out the door when the clock strikes five?
And then there's the Sunday evening dread – that anxiety you get knowing you have to work the next day.
With affiliate marketing you can say goodbye to all of that because your time and schedule belong to you. The affiliate marketer's life is a flexible one and there's no more selling your time for money.
Yes, you'll need to invest time to go through some step-by-step affiliate marketing training and apply the lessons to grow your business, but you decide exactly when you want to do it and that's the key difference.
Affiliate marketing is hard work but it gives you the ability to set your own work-life balance and shape your life how you see fit. You'll free yourself up to enjoy your hobbies, spend more time with family, attend your child's school events and live life on your own terms.
7. You Can Work Wherever
As an affiliate, you aren't confined to an office cubicle. You have the freedom to roam and explore while you're creating an amazing online venture.
Whether you're in London or Cape Town, LA or Bejing, you can work anywhere: in a coffee shop, on the poolside, or in a hotel room, it doesn't matter as long as you've got a phone or laptop and a Wifi connection.
You can take your laptop to the beach if you really want to, just don't get sand on your keyboard! 🏖️💻
8. You Can Get Good At This Whoever You Are
It doesn't matter where you come from, if you're rich or poor, how old you are or what background, experience or qualifications you have – anyone can do affiliate marketing.
I'm serious. You don't need a degree from an Ivy League school to start an affiliate marketing business. In fact, some of the richest affiliate marketers dropped out of college.
Jon Marrow, the creator of SmartBlogger, is proof that not even a debilitating disability can stop you.
And everyone else in between.
9. Your Profit Margins Are Higher
It's not about how much money you make, it's about how much of that money you can keep, and compared to other online business models, affiliate marketing has the highest profit margins by far:
Dropshipping has 15% profit margins. That means if you run a Shopify store and generate $1,000 you'll only keep $150 because of overheads and high running costs (Source)
Running a digital agency typically gives you 20% profit margins (Source)
MLMs and network marketing have 10% profit margins and only 1% of people make a profit (Source)
Freelancing fares slightly better at 30% (Source)
Affiliate marketing blows all of these models out of the water with a whopping 50-80% profit margin.
You make more money because running costs are so low and you can start for free. This means there's less risk and it's easier to scale up your income.
10. You Build A Tribe Of Raving Fans
One of the best things about building affiliate sites is getting feedback from and interacting with people who have been positively impacted by your business and appreciate what you do.
It makes my day every time someone takes time out of their day to send an email or a comment to thank you. It's a nice reminder that you're doing this for real people out there and it all worthwhile.
And the beauty of the affiliate marketing model is you don't have to choose between profits and the feel-good factor because you can absolutely have both.
You win because you get to make money promoting other people's stuff without the hassle of handling stock, hiring staff or dealing with shipping and your audience wins because you match them with the best products and services that meet their needs.
11. You Open Yourself Up To Passive Income
Warren Buffet once said, "If you don't find a way to make money while you sleep, you will work until you die."
And affiliate marketing really does give you the chance to earn commissions while you sleep.
Once you've put the work in upfront and your business is established, it's a pretty hands-off business model and you make passive income 24/7.
That's because you'll be attracting a global customer base who will come to your website, click your affiliate links and generate an income for you around the clock.
12. You Never Stop Learning
Affiliate marketing is a fun ride and you'll never get bored. Every day presents new challenges and opportunities to grow and there's always something new to learn.
You'll start out as a complete novice (like everyone else) but follow proven step-by-step training and you'll pick up high-value, income-generating skills that will set you up for life.
But don't stop there because your income grows as you grow and those who achieve affiliate marketing success are those who commit to lifelong learning.
13. The Best Is Yet To Come
Naysayers have said "Affiliate marketing is dead" every single year since I started 8 years ago but make no mistake, affiliate marketing is only on the up and up.
Affiliate marketing is a business model that's going to be around for as long as people are searching Google and buying things online and, as we all know, people are buying stuff online now more than ever and that's a trend that's only going to increase.
Statista estimates the affiliate marketing industry will be worth $8.2 billion by 2022, that's up from $5.4 billion in 2017. Affiliate marketing is here to stay and the sooner you get started, the better! 😉
14. You Build A Real Money-Making Asset
Creating an affiliate marketing website is just like buying a piece of real estate; it'll generate a steady and reliable income for you month after month and you can sell it anytime for a big lump sum.
As you build out your business you are building a real asset that increases in value, an asset you can sell on the likes of Flippa and Empire Flippers for 36x the monthly revenue.
So if your site generates $10,000 a month, you can sell it for $360,000 and invest that into your next project.
15. You Can Make A Difference
Affiliate marketing gives you a way to build a solid financial future for you and your family for decades to come but the best part is that feeling you get as an online entrepreneur when you can step back and say,
"This is the business that I built!"
You're creating a long-term, successful brand and legacy you can be proud of that's going to help improve the lives of millions of people. With affiliate marketing, you really do have the opportunity to change the world.
Whatever your business idea, go for it! Nothing is stopping you! And who knows what impact you could have?
Start Your Success Story Right Here
Commission Academy is the digital launchpad for aspiring entrepreneurs just like you who are ready to start an online business, generate daily commissions and replace their income with affiliate marketing.