At Commission Academy, we're on a mission to help aspiring entrepreneurs like you achieve affiliate marketing success in the shortest time possible.
So often, the journey of learning how to be successful with affiliate marketing is full of trial and error, making stupid mistakes and wasting a ton of time and money in the process.
If I can help you avoid years of frustration and meandering then I'll be very happy.
Today I want to share with you some of the main things I've learned about succeeding with affiliate marketing.
Let's do this!
Affiliate Marketing Shortcuts? Red Flags Anyone? 🚩
I immediately get sceptical when I hear someone talk about shortcuts to success (especially in the make money online space) because more often than not it often means doing something dodgy or blackhat. That or they're trying to sell you on the idea you don't have to work hard.
That's not what we're about.
I love affiliate marketing. I love the freedom and flexibility that comes with it. I love the limitless earning potential. I love being my own boss and living life on my own terms.
Here's the thing though:
You get to live the affiliate marketer's lifestyle only after you put in the hard work.
But that doesn't mean you have to go about it the long way.
The idea isn't to become successful with affiliate marketing using some kind of (non-existent) cheat code or make you think it's easy when it's not. It's more about helping you avoid the common pitfalls and making your path to success as straight and smooth as possible.
Dale and I have learned a lot on the road to becoming super affiliates. We've tried a lot of different things, sometimes successfully and other times not so much. We know the strategies that work and the ones that don't.
I share what we've learned the hard way in the hope it will save you from taking those "dead-end" paths and point you in the right direction.
3 Shortcuts To Affiliate Marketing Success
I want to focus in on the three main points that (at least in my view) will ultimately determine whether you fail or succeed with affiliate marketing.
1. Promote Winning Products That Sell
There are so many products you can promote as an affiliate. The choice is endless, but I see a lot of newbies getting obsessed with promoting stuff that they think will give them high ticket commissions.
This is short-sighted because it's not just about whether it's a high or low-ticket product – price points and commission rates are part of the equation but they're not the whole story.
You want to pick products that:
Your audience will love
Have an optimised sales page
And give you monthly recurring commissions (wherever possible)
Don't put your name to junk products that don't work because you'll pay for it in the long run. You don't want to risk your reputation and break trust with your audience. It's just not worth it.
And choosing products with a well-designed landing page will of course mean you make more sales.
And finally, it took me years to get my head around the idea that looking at the lifetime customer value is probably the biggest key to choosing products.
I mean, why not sell the products that give you the highest return?
For example, I could promote a $5 guitar book for beginners on Amazon for a 4.5% commission, or I could promote a $50-a-month online guitar course and earn 50% every month for a year.
In the first scenario, my lifetime customer value is $0.45. It's around $300 in the second. See what I mean?
Getting this down is going to massively affect how much you go on to make as an affiliate.
That's why it's more than just high vs. low ticket. Look at the average conversion rates and test it out because high-ticket doesn't always mean you'll make more money.
For example, if only 1 out of 100 people buys, you'll earn higher commissions switching to a lower-priced item that generates more sales.
I hope that makes sense. If you can get the affiliate product selection bit down then you're already halfway to becoming a super successful affiliate.
And here's a quick step-by-step on how to find affiliate products:
Now let's talk about how you promote these products and generate a steady stream of sales.
2. Employ A Winning Affiliate Marketing Strategy
Everyone dreams of living the laptop lifestyle but the sad truth is most aspiring affiliate marketers will fail.
And I honestly don't think it's their fault…
There are just so many gurus giving bad advice and peddling trashy training that's about 15 years out of date.
They teach a broken model that keeps people broke. They teach people to pick any random Clickbank product, pay for solo ads, Facebook ads or native ads to generate traffic and then drive all that traffic directly to the sales page via your affiliate link.
This is what UNsuccessful affiliate marketers do:


What's supposed to happen is you make more than you're paying out for the ads so you're in profit, except this method hasn't worked since 2005. You might get traffic but make little to no sales. With a less than 1% conversion rate, it's impossible to ever come out on top.
Why?
Because everyone has seen these sales pages before and you're offering nothing new. People love to buy products but they hate being sold to so they just won't buy in.
The super successful affiliates, on the other hand, are those who know people don't really buy products – they buy a feeling or an outcome!
They achieve 5-10% conversion rates because they know they need to add value first. They understand they need to build trust before we'll buy anything they're recommending. They also know how to mediate the gap between somebody's problem, question or pain point and the product and how to present that product as the solution.
You answer your audience's questions, you help them solve their problems and then and only then, do you give a clear call to action telling them where to buy the product.
It looks a little something like this:


The successful affiliate marketing model gets you 10x the conversion rates because instead of sending them straight to a sales page, you're building that all-important trust and credibility upfront before asking for the sale.
And when you look at the successful affiliates who earn $150,000+ a month, they're the ones offering the most helpful and useful content.
That's why we teach this inside our free Commission Academy Fast-Start training.
It's essentially a 4-step process:
This winning strategy works for any niche and any product and anyone can be successful doing this.
3. Target Winning Buyer-Ready Traffic Sources
You're promoting products you believe in.
Check!
You're promoting products with a proven high-converting strategy.
Check!
Last up, you just need traffic and lots of it.
And remember, when we say traffic we're talking about actual people coming to your website, clicking your links, buying stuff and generating you those all-important commissions.
So how do you get floods of free, laser-targeted, buyer-ready traffic clicking your affiliate links?
It's not by spamming your links in YouTube comments or Facebook groups that's for sure.
It's through Google.
Who is more likely to buy that air fryer you're selling:
Someone casually scrolling Instagram or someone googling phrases like "best air fryer" and "air fryer review"?
See what I mean? 😉
These are the people who will convert into sales because they're actively looking for an air fryer. They know what an air fryer is and they've already decided they want to buy one. They just need a smart affiliate like you to come along and give them a nudge in the right direction and bag the sale.
Using keyword tools like Mangools will tell you how many times a phrase or question gets searched each month: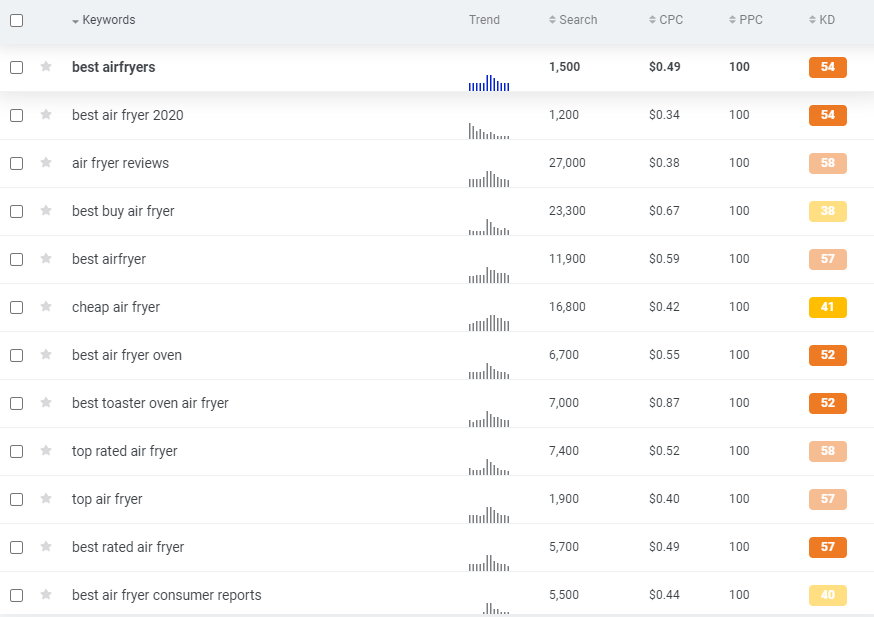 And the way you get this kind of traffic is by creating a website and filling it out with content like helpful how-to guides, question and answer posts, best top ten lists and product reviews that target these specific keywords.
It ties in perfectly with what we were just saying about offering a ton of value upfront before asking for the sale.
Does it take work setting up your website and creating the super helpful content that's going to attract 1,000s of free and organic search engine visitors to your website every day?
Yes absolutely, but it's worth it and it'll skyrocket your affiliate income in the long run.
Here's why having a website is an absolute must if you really want a successful affiliate marketing career:
Put in the initial one-time effort to create that website, to create that piece of content and that one-time effort can and will pay you back for many months and even years to come.
Just imagine how successful you could be and how much money you would make if your website hit the top Google spot for the term "best airfryers". That's how you make multiple commissions daily!
Never started a website before? It's all good, our free training will show you exactly how it's done. 😎
What Affiliate Marketing Success Tips Can You Share?
I've covered a lot in this post but I really hope you've got something you can take and run with to launch a very successful affiliate marketing career for yourself.
Ultimately, you can be very successful with affiliate marketing if you promote the right products, in the right way, to the right people.
Winning products + winning strategy + winning traffic = HUGE affiliate marketing success!
Now it's time to hand it over to you:
Do you have any tips to share about things that have sped up your progress towards online success?
If you could travel in time what would you tell your newbie self when you were just starting out?
What would you do differently if you could go back and start over?
Let us know as it could really help someone who is just starting out!