Quick answer: Yes, no matter what your age, location, education or experience, anyone with the right drive can achieve huge success with affiliate marketing. You definitely don't need a marketing or coding background to earn online and you can start here for free.
I totally get it. You dream about earning big money online. You see others do it. And yet you've still got those niggling doubts in the back of your head saying things like:
"Do I have what it takes to do this?"
"Can affiliate marketing really work for me?"
"What if I give it my all and fail?"
I am no one special. I'm just a lad from the north of England who didn't finish college and worked a ton of entry-level jobs for 10+ years before finally discovering affiliate marketing.
You name it, I've probably done it…
Children's birthday party host. Call centre agent. Supermarket shelfstacker. Admin assistant. Pizza delivery boy.
Some of my coworkers became lifelong friends but working under a boss never fit right with me. What can I say, I think I have an attitude problem 😂
But it was more than that…
I'd sit in these massive call centres chained to a headset dreaming about travelling and living in Southeast Asia.
I needed to be free from the 9 to 5 grind. I needed a way I could earn an income anywhere in the world on my own schedule. I needed to take back control of my life.
And that's exactly why I decided to become an affiliate marketer. The money is great but, for me, it's more about the freedom and flexibility that comes with being your own boss.
And here's one thing I know for sure:
If I can make $100,000s in commissions and achieve super affiliate status then you most definitely can too.
Whatever your reasons for getting into affiliate marketing, you can absolutely thrive in the online space.
Anyone can do affiliate marketing.
Anyone.
Anyone with the right training and grit to see it through that is.
Sure, there are plenty of myths and excuses out there that can hold you back, but stick with me and I might just convince you that you have what it takes to win at the affiliate marketing game.
Myth #1: Starting Affiliate Marketing Is Too Expensive
I love affiliate marketing because you can earn big money without breaking the bank.
In fact, you can start affiliate marketing for free.
While you COULD blow all your hard-earned cash on online courses, affiliate systems and paid ads, don't even bother getting your wallet out of your pocket because you simply don't need to.
All you need to make a lot of money with affiliate marketing is:
A laptop
WiFi
And some good solid training
At Commission Academy, we'll give you free step-by-step training on how to launch your very own affiliate marketing business the right way so you'll be earning commissions in no time.
Following our proven roadmap and you'll not only save money, but you'll also save yourself a ton of time by learning what works.
So there you go – you've now got access to everything you need to start earning.
And all for the grand total of $0.
You're welcome! 😉
Myth #2: I'm Too Old/Young/[Insert Your Excuse Here!]
Affiliate marketing is good if you're a student because you're more technology savvy and pick up new skills quickly. And if you're older, you have the advantage of being able to leverage your years of experience.
Excuses like "I'm not old/smart/technical enough" really stem from a lack of self-belief.
The truth is if you want it badly enough then you'll find a way around any obstacle that comes in your way because you can do pretty much anything you set your mind to.
And I can think of no better example of this than Jon Morrow: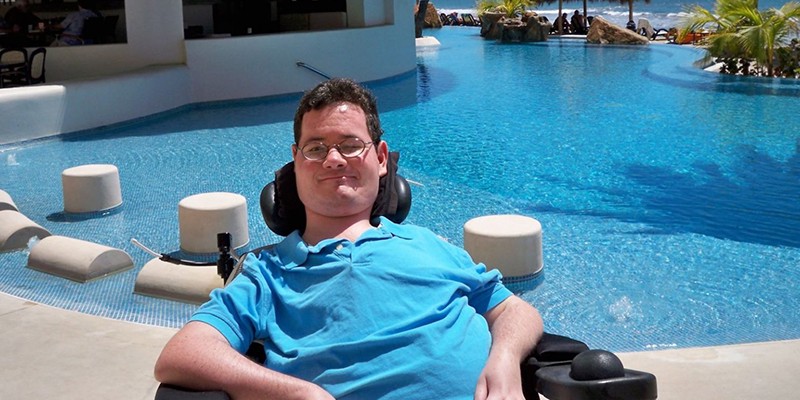 You see, Jon has Spinal Muscular Atrophy so he's wheelchair-bound and can only feel his face. And yet, he makes more than $100,000 a month through affiliate marketing and travels the world.
If Jon can do it, so can you! 💪
Myth #3: I Need To Know Everything Before I Do Anything
Do you feel like you need to know all the ins and outs, dos and don'ts of affiliate marketing, before taking the first step to making your dream business a reality?
That's a lot of pressure!
If you suffer from perfectionism then I have good news for you – you don't have to be an expert, you don't need to have it all together. We all make mistakes and you will too. It's totally fine and normal.
That's why you follow proven training that gets results.
Dale and I have made plenty of mistakes. And each time we picked ourselves back up, learned from it, got better over time and now we've packed everything we know into a structured, easy-to-follow, affiliate marketing course to help you avoid the newbie mistakes and make your path to success smoother and quicker.
So unlock your potential, stop making excuses and say a permanent goodbye to paralysis by analysis. The best time to start affiliate marketing is now – so don't wait!
"You don't have to be great to start, but you do have to start to be great."
Myth #4: I Don't Have The Right Skills Or Qualifications
Affiliate marketing is a level playing field where anyone can take part and anyone can win. You don't need any formal qualifications to become a successful affiliate marketer.
We've mentored doctors, lawyers, opticians and army veterans who have gone on to excel at affiliate marketing, whilst at the same time, we've mentored stay-at-home mums, college students and retirees from every walk of life who want to do better for themselves and their families.
Because no matter your skill set, background or experience, you can leverage your passions, hobbies and interests to build a thriving affiliate marketing business around what you love.
All you need is a willingness to learn and the grit to see it through – if you've got those then the sky is the limit!
Myth #5: Affiliate Marketing Is Too Risky And Difficult
I get it's nerve-wracking trying anything new but affiliate marketing doesn't have to be hard and there's a smart way to do affiliate marketing.
Sure, you could follow what most affiliate marketing scammers say and:
Promote lousy products
Incur high startup costs
Use low-quality traffic sources
Struggle to make sales
This is the road that leads to massive frustration and disappointment and we don't recommend it. Rather than make profits and sales you'll end up paying through your teeth for low-quality traffic that doesn't convert and half-baked courses that never give you the full picture.
Or here's a better idea…
You could launch your online business the right way (the way we teach at Commission Academy) and:
Promote relevant quality products
Acquire real income-generating skills
Earn big with little money down
Never need to pay for ads
Enjoy high conversion rates
This means you're not risking any money because you're not paying out for traffic or any pointless software, and you're not risking your time because you're following a proven roadmap that gets results.
The choice is yours.
Are You Ready? Let Us Show You How It's Done
We've mentored 10,000s Commission Academy students from all walks of life and equipped them with the right mindset and skill set to become fearless and successful self-made online entrepreneurs
Now it's your turn.
You'll be amazed at what you can and WILL achieve! 🎯