If you're looking for a real Wealthy Affiliate alternative, in this post I'll:
List out 8 reasons Commission Academy could be what you've been looking for
Run you through exactly how Commission Academy compares to Wealthy Affiliate
And show you how you can join for free and start your training
So if Wealthy Affiliate isn't the right fit, keep reading!
The Best Wealthy Affiliate Alternative
Wealthy Affiliate is one of the most popular affiliate marketing courses going. It's the real deal and we gave them a 9.2/10 rating in our recent Wealthy Affiliate review.
And you can still make good money with Wealthy Affiliate…
But it's not for everyone.
I say this as someone who joined in 2014 as a complete beginner. The course took me from zero to my first $10,000 month and I'll be forever grateful.
Unfortunately though, Kyle and Carson don't update their courses as often as they should and let's just say it might not be as cutting-edge as it once was. But don't worry.
Commission Academy is the best alternative to Wealthy Affiliate that's gonna guide you through the entire process of creating a thriving online business (on a budget).
Let's dive into the 8 reasons why:
1. Commission Academy Is 100% Free
Wealthy Affiliate has 3 pricing options, including a Starter membership that gives you 10 free lessons, but you'll have to upgrade to Premium at $49 a month to access all of the training.
At Commission Academy, on the other hand, you'll learn how to become an affiliate marketer who's generating daily commissions, all for the grand total of $0.
Create your free account here and you'll get instant and unlimited access to ALL of our training – the Fast-Start Course (16 lessons) and the Advanced Course (12 lessons) – without paying a dime.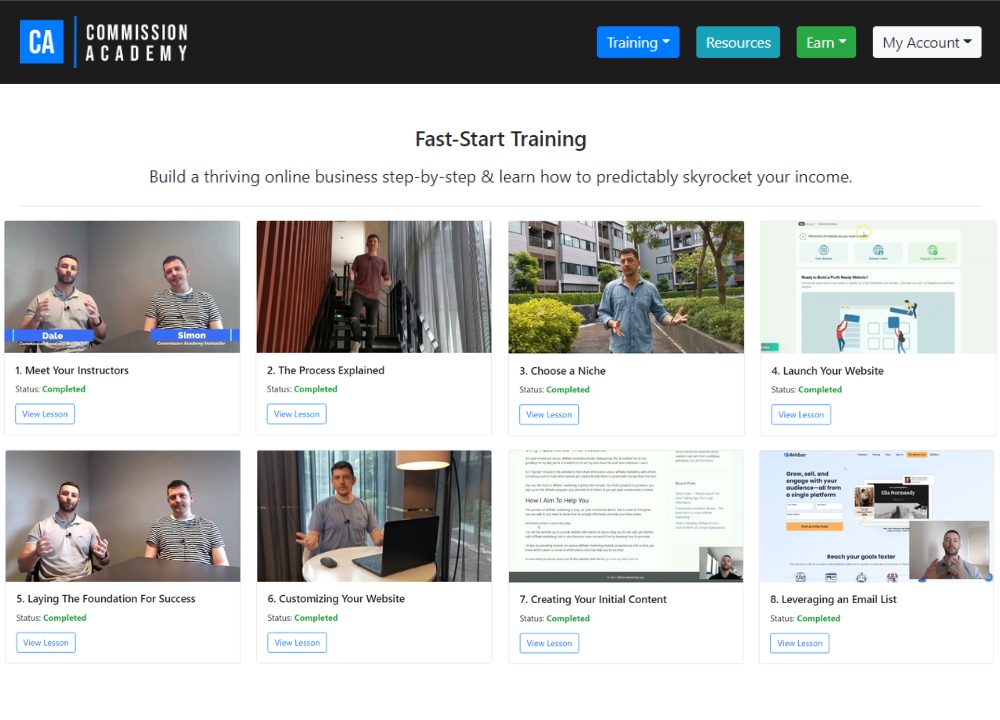 2. Commission Academy Is Created Specifically For You
If you've:
Dreamed about earning online
Never done anything like this before
Already started but spinning wheels
Then you're gonna love the Commission Academy training.
Building an income-generating online business doesn't have to be complicated. We've broken down every action step and every lesson is specifically designed for beginners in a way that anyone can follow and understand so you can finally get results!
We'll show you EVERYTHING you need to go from zero to earning your first dollar online and then how to grow that into a 6 figures income- even if you have never done this before and have no special skills.
If you've already started but aren't where you want to be, our courses will get you unstuck and give you the proven roadmap you need to break through to the next level.
3. You'll Learn From The Best Of The Best
Dale and I are the Commission Academy instructors, and the phrase "Those who can't, teach" definitely doesn't apply here!
We are both successful Super Affiliates in our own right who have earned $100,000s in commissions and with a combined 18 years of experience in affiliate marketing in a wide variety of niches.
Most importantly, we're on the frontlines every day either scaling up our existing businesses or launching new ones so we know exactly what works and what doesn't in 2022. You'll be in good hands.
4. You'll Get Practical Step-By-Step Training That Works
If you've ever tried to figure out how the process of earning commissions online works then you know all too well that there's a myriad of programs and courses out there that are all hype and no substance.
The internet is full of fly-by-night affiliate marketing scams that overpromise and underdeliver.
Commission Academy aims to do the complete opposite.
For example, we don't just tell you to go out there and find products to promote, we walk you through the exact steps to find, join and promote affiliate programs.
We won't tell you to build an email list, we'll literally guide you through it click by click and over the shoulder.
Start the training now and you'll get the practical how-to without gimmicks or hype.
5. You'll Get To Join Our Weekly Live Hangouts
Commission Academy is a community of 54,000+ aspiring entrepreneurs.
Join Commission Academy and you'll be invited to weekly live hangouts with me, Dale and like-minded go-getters from around the world.
Every week, you'll get your chance to ask any questions and get one-on-one help, share your progress thus far, bounce ideas around or get expert feedback from me and Dale directly to confirm you're on the right track.
6. We Strive To Keep Costs As Low As Humanly Possible
95% of affiliate marketing courses out there tell you to keep buying more stuff to squeeze more cash out of you. Commission Academy isn't like that.
Yes, there are going to be some costs to starting an online business but we really work hard to keep costs as minimal as possible because we recognise not everyone has wads of cash to invest upfront.
That's why we will ONLY ever recommend tools we use ourselves personally, that have a free trial and that you absolutely do need to achieve massive affiliate marketing success.
7. You'll Get Up-To-Date Training That Works In 2023
One of the biggest Wealthy Affiliate complaints is the training isn't updated regularly enough…
Commission Academy, on the other hand, is being constantly improved and refreshed so you can be confident in the knowledge that you're getting the latest, cutting-edge training that will get you results in 2022 and beyond.
We're also adding new training all the time because we're serious about our mission to equip as many people as possible with the know-how they need to ditch the 9 to 5 and become their own boss.
8. Commission Academy Is Highly Rated By Students
And last but not least, I believe Commission Academy is the best alternative to Wealthy Affiliate because we get great feedback from our students.
Here's what they have to say:
"I would love to make money doing this and I realize it can take some time. That doesn't bother me. With you and Simon I actually fell like I might actually get somewhere with this. It feels possible now.

I really can't thank you enough and I'm so glad I ran across your videos the other day. I could use some good luck in my life for a change. Now I think I've got some. THANK YOU!"
"Thank you very much Mr Dale and Mr Simon for this wonderful free training. I heard of affiliate marketing two months ago and I was asked to pay $300 for the training. But I was not able to go through because I didn't have that money. Am very inspired to start right away. So all have to say is thank you very much and God bless you for this training."
Commission Academy vs. Wealthy Affiliate
Honestly, I know you can do well with either Wealthy Affiliate or Commission Academy. Both offer excellent training, support and mentorship to help you build a lucrative online empire.
But if you:
Are disappointed with Wealthy Affiliate's recent updates
Need affiliate marketing training that's more affordable
Want to learn from experienced Super Affiliates
Feel like they push you to promote Wealthy Affiliate too much
Then Commission Academy is the best Wealthy Affiliate alternative and you should give it a shot.