Want to become an affiliate marketer? Good for you! It's one of the most enjoyable and rewarding careers out there. The first step is taking our free affiliate marketing course. Created specifically for beginners, Commission Academy will give you the right training and support you need to succeed.
Ever wondered how to start affiliate marketing and make enough money to go full-time?
You can do it. Tons of people already have.
And I'm going to show you how.
I've earned $100,000s through affiliate marketing and been able to quit my call centre job, make the move from the UK to Thailand and now have the freedom and flexibility to control my own destiny.
And yet, I started exactly where you are right now. The only difference between you and me is I've been doing this for nearly a decade.
I failed A LOT along the way. I got impatient and tried to shortcut the process. I've made a lot of bad decisions.
This guide is going to help you avoid the common newbie mistakes I made so, not only will your path be easier, but you'll also get there a lot quicker.
How To Become An Affiliate Marketer in 5 Simple Steps
How Does Affiliate Marketing Work And Why Should You Become An Affiliate Marketer?
Affiliate marketing is a simple business model where you earn commissions for generating sales online. Big brands like Amazon, Nike, Samsung and Walmart have affiliate programs you can join for free where they give you a unique affiliate link to promote their products.
Your job as an affiliate marketer is to then use that link to match the right products to the right people.
Here's a quick overview of how affiliate marketing works: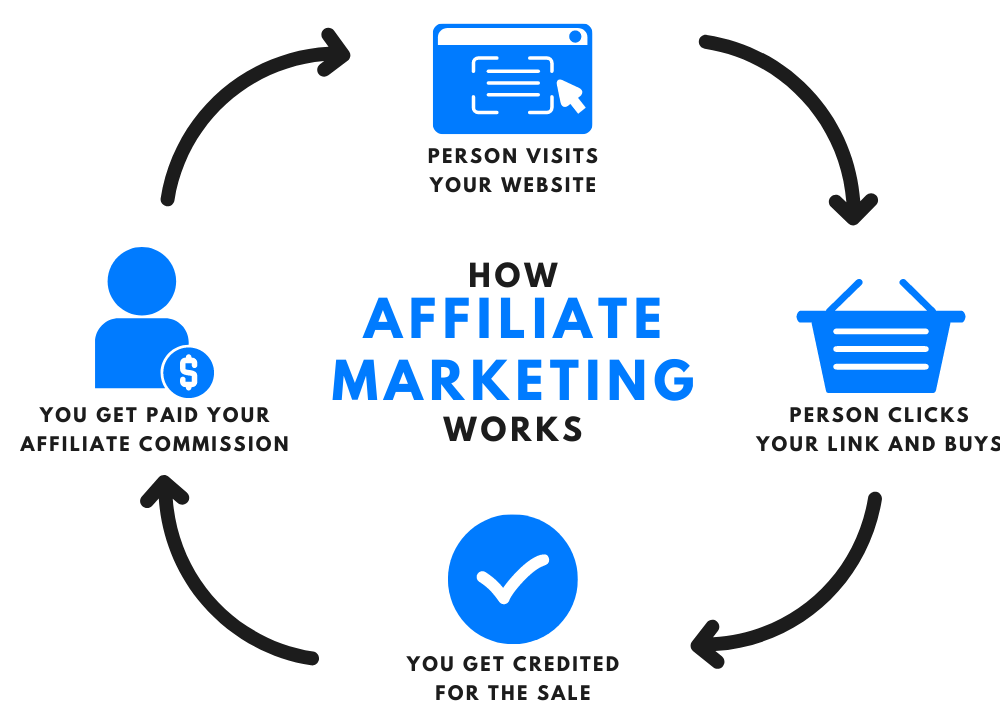 Before showing you HOW to become an affiliate marketer, let's quickly talk about WHY you should get into the affiliate marketing game.
1. Affiliate Marketing Gives You Great Earning Potential
What I love the most about running an online business is that you can decide how far you want to go. Is your goal to earn $10,000 or $100,000 a month? You can make it happen.
Unlike a shop on the high street that's limited to 9 to 5 opening hours, your affiliate marketing website is online 24 hours a day, 7 days a week to a truly worldwide customer base so you can bank commissions around the clock.
And things are only getting better as stats show a 10% increase in affiliate earnings for the last 5 years, with no signs of slowing down.
2. Affiliate Marketing Is Easy And Inexpensive To Start
Imagine if you wanted to start a traditional brick-and-mortar business…
You'd have to pay $10,000s out for:
Rent
Rates
Stock
Salaries
Insurance
And this is before you even open your doors!
The costs of starting an online business are nowhere near that. All you need to become a successful and profitable affiliate marketer is:
Good training
A website domain
Hosting
And that's it.
You can get set up for less than $30 a month. Heck, we can even show you how to get started for free.
3. Affiliate Marketing Puts YOU In Control Of YOUR Life
This was the whole reason I got into this in the first place. I was sick and tired of working for other people.
To be honest, I was never any good at it.
I needed a way to live life on my own terms, to be in control of my schedule, how much I worked and how much I wanted to earn.
The beauty of becoming an affiliate marketer is it puts YOU in the driving seat.
You can work anytime and anywhere…
All you need is a laptop and wifi! 😉
How To Become An Affiliate Marketer In 5 Steps
Now I'm gonna walk you through the entire process in detail. Here are the 5 steps to take:
Step 1: Commit To Starting An Affiliate Marketing Business
Step 2: Choose An Affiliate Niche Idea You're Passionate About
Step 3: Create Your Affiliate Website
Step 4: Create Helpful Content That Ranks
Step 5: Promote Relevant Products And Make Money
These are the exact steps I took when I started my affiliate marketing journey. Follow this 5-step process and you will have a long and happy affiliate marketing career.
Step 1. Commit To Starting An Affiliate Marketing Business
Any business, online or offline, is gonna take investment. It's absolutely possible to earn 6 figures with this, but it's having the right level of commitment that's going to get you across the finishing line.
There are two things you'll need to invest to become an affiliate marketer: time and money.
Investing Time In Your Affiliate Business
You can start investing 30-60 minutes a day. Whatever fits your schedule. If you can go full-time, even better if you want to see results faster.
The key is having the right expectations going in and being intentional about setting aside the time to work on your business.
Investing Money In Your Affiliate Business
You could shell out a lot of cash to start an affiliate marketing business, but you definitely don't need to and I don't recommend it.
I've tried building both an affiliate website from scratch and hiring people to outsource the work and I've got to say, I've always had the most success doing it myself.
When you're starting out, it's crucial you drive your business forward and get good at every step of the process. That way you'll understand how your business works on every level and what's expected so you're armed with the knowledge and skills you need to start outsourcing further down the line.
The good news is it takes very little money to get started in affiliate marketing.
Step 2. Choose An Affiliate Niche Idea You're Passionate About
Your affiliate marketing niche is the specific audience or market you'll be targeting going forward.
When picking a niche, it's important to ask yourself what you're passionate about. You don't have to be jumping up and down with glee every time the subject is mentioned but you should at least have some level of interest in it as this is what will help keep you going in the long run.
Your niche could be absolutely anything. Just pick a hobby or interest you like.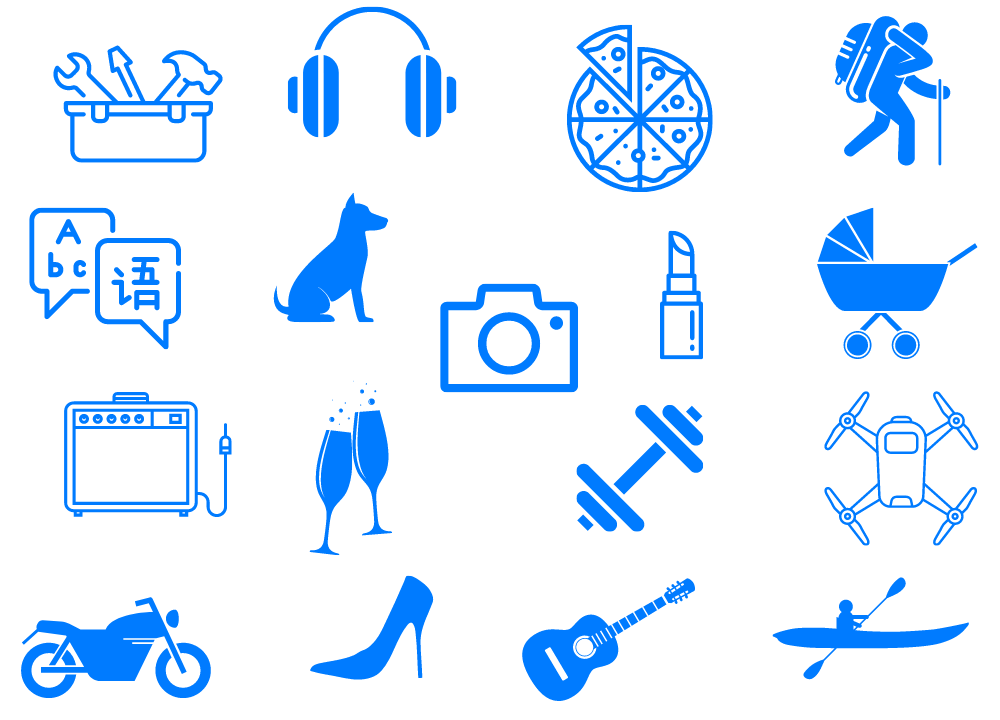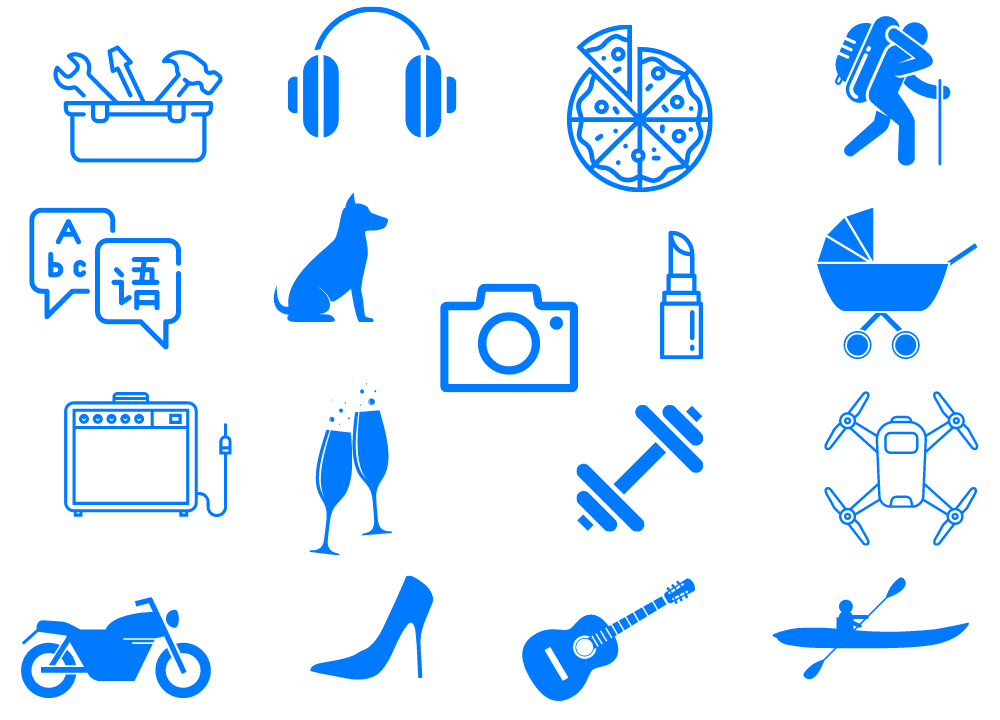 A few questions to help you identify your ideal niche:
What do you like to read about?
What topics do your friends consider you an "expert" on?
What do you do in your free time?
What kind of podcasts do you listen to?
What kind of YouTube channels are you subscribed to?
What are the last 3 purchases I've made on Amazon?
Running? Cooking? Horse riding? Being a parent?
Have you found your passion?
If so, whatever it is, that's the right niche for you.
Don't overthink it! 🙂
Step 3. Create Your Affiliate Website
Now you've decided to become an affiliate marketer and decided on a niche, it's time to create your website. This is going to be your piece of virtual real estate, the foundation of your online business that's going to set you up for success.
While there are other ways to make money with affiliate marketing, every serious affiliate we know builds an income-generating website that attracts search engine traffic as this is the best, most profitable approach.
No idea where to start?
Guess what – neither did I! Before I become a full-time affiliate marketer I'd never built a website, had no clue what a domain name was or why you needed hosting. Heck, I couldn't even spell HTML!
Don't worry though, the good news is you don't need to know any code. It turns out starting an affiliate website is a lot easier than you think and we'll walk you through it.
Follow our step-by-step video training and you'll have your website up and running in less than an hour.
Step 4. Create Helpful Content That Ranks
Congratulations! You started a website, and now it's time to start writing and publishing content. This is where the fun begins.
Building out your website with helpful and unique content is the best way to get your website ranked in search engines, build an audience and eventually attract 100,000s readers to your blog.
So help your audience with every piece of content you create. Answer questions. Offer solutions. Add value.
Let's say I chose electric guitars as my niche. I could now write product reviews and how-to posts like "How to play barre chords on the guitar" because these are the types of keywords people type into Google: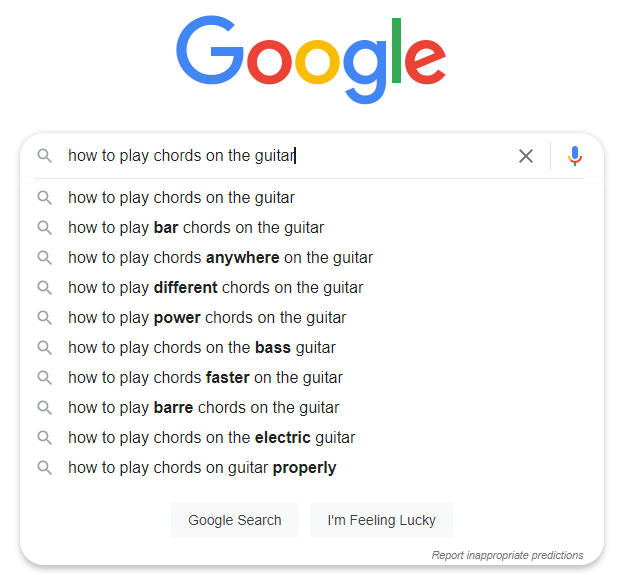 I could also write top ten lists like:
Top 10 guitar pedals
Top 10 guitar amps
Top 10 guitar courses
I could go on but you get the picture. Use keyword research tools like Ubersuggest and AnswerSocrates to come up with a list of keyword ideas so you'll never run out of things to write about.
I recommend publishing a blog post at least once a week. Publish every day if you can, especially in the beginning, to get momentum on your website quicker.
Whatever you decide, try to stay consistent. Set yourself a weekly schedule to stay on track.
Express yourself. Be authentic. Have fun. Try not to be a perfectionist (it's hard I know!) but put your audience first and you'll build a real strong connection with them and eventually establish yourself as an authority.
Step 5. Promote Relevant Products And Make Money
Follow steps 1-4 and you'll have a really solid business foundation on your hands and be well on your way to becoming a successful affiliate marketer.
You'll have an affiliate website built around your chosen niche that's being packed out with super-awesome content. Keep going and the daily streams of daily visitors will come.
Now it's time to add some affiliate links and start making money! 🙂
Whatever your target niche, they'll be plenty of relevant products and services you can naturally promote to your audience.
If you're starting a golf website, look for the best golf affiliate programs where they'll give you your own unique affiliate link so you can link to a whole array of golf-related equipment on your website and earn up to 80% commissions on every sale.
If you're starting a skincare website, find the best skincare affiliate programs and make money promoting high-quality skincare products.
Do it this way and you'll get an extremely high conversion rate and make a lot of affiliate commissions.
Why?
Because you're matching the right products with the right people. Instead of buying email traffic or spamming social media, you're attracting free and organic traffic made up of people you know are already interested in what you are promoting.
And never forget, one of the biggest secrets to affiliate marketing success is this:
Help people solve their problems and you're all but guaranteed to make money as an affiliate. And the more helpful you can be, the more money you will make.
And if you want to find out what affiliate programs are and how they work, watch this handy video:
Become A Successful Affiliate Marketer Today
If you're an aspiring entrepreneur, affiliate marketing is a great low-risk, low-cost way to make a lucrative income online and now is the best time to start.
I hope this affiliate marketing guide gives you a track you can run on to achieve great things online and live the life you've always dreamed of, like so many other affiliate marketers have done.
You have a lot of exciting milestones ahead so make sure you enjoy the journey! 🙂
Have any questions about becoming an affiliate marketer that isn't answered above?
Drop your comment below and we'll get right back to you!