Quick Answer: Affiliate marketing is not a scam, but a legit and lucrative business model many people use to earn a full-time income. Just beware of scammers who sell the idea affiliate marketing is a quick and easy way to make money online. It takes a lot of grit and the right know-how to make it work.
Is affiliate marketing the best way for beginners to make money online?
Or a complete scam and waste of time?
In this post, I'm going to do a deep dive into the reasons why affiliate marketing is legit.
I'll also expose the brutal truths that affiliate marketing scammers won't tell you (but should!).
Let's jump right in.
What Is Affiliate Marketing?
Affiliate marketing is where you partner with online stores and earn commissions for selling their products.
Investopedia puts it this way:
"Affiliate marketing is an advertising model in which a company pays others (e.g., bloggers and Youtubers) to advertise their products and services and generate sales."
When someone hits your affiliate link and buys, you get a cut of the sale.
It's a super simple business model: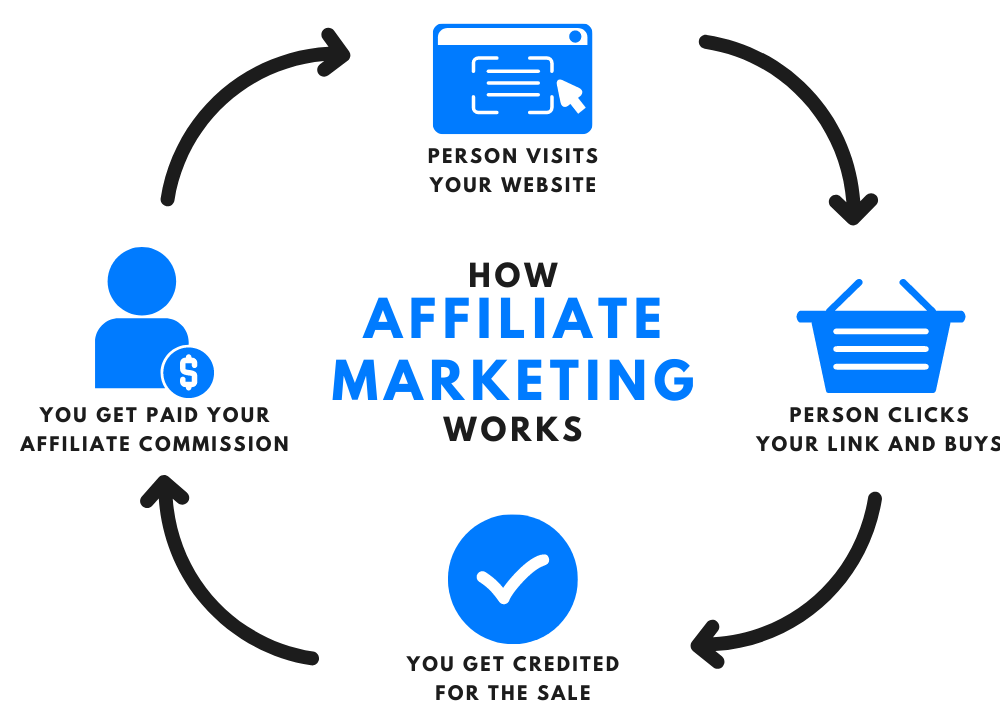 As an affiliate, you're acting as the middleman between stores and their potential customers. Your job is to match the right people with the right products and the more people you help, ultimately the more money you will make.
3 Compelling Reasons Affiliate Marketing Isn't A Scam
It feels risky trying anything new. I was dubious before I started too, but I'm going to show you some stats and success stories that prove without a doubt that affiliate marketing is not only a legit business model but the best, most lucrative and smartest way to earn money online.
1. All The Big Brands Are Getting In On It
Everyone knows we're buying less on the High Street and spending more online. In fact, we spent a whopping $730 billion last year alone and that number's only going to get bigger. Statisticians reckon we'll make 22% of our purchases online by 2023.
It's no wonder then that 81% of brands now have affiliate programs. They see the direction we're heading and are keen to take on affiliates to generate more online sales – and pay them handsomely for it too!
There are 10,000's affiliate programs out there with 100's MILLIONS of products and services you can promote as an affiliate for free, including big brand names like:

2. Affiliate Marketing Is A Win-Win-Win
Whenever you're considering a potential business opportunity, one of the questions you want to ask is:
Is it viable in the long run?
And the answer with affiliate marketing is a loud and resounding "Yes, it is!"
Why? Because it's a triple win:
It's a win for affiliates who can earn a reliable income online simply by recommending the products and services they use in their everyday life without the hassle of having to handle stock, keep inventory, hire staff, deal with shipping or get bogged down in any customer service.
It's a win for online stores who have affiliate marketing to thank for 15 to 30% of their online sales, which just goes to show how powerful affiliate marketing is at building brands, expanding customer reach and increasing sales and revenue.
It's a win for customers who benefit by finding the products they're looking for that best solves their problems.
All this to say, this is a booming $12 billion industry that is here to stay, and the sooner you jump on the digital bandwagon and get started, the better! 😉
3. There Are Heaps Of Credible Success Stories
What better proof is there that affiliate marketing is a bonafide and legitimate income strategy than inspiring real-life success stories?
Every day we celebrate Commission Academy students generating their first sales, making their first $100 days and achieving great things online. Some go on to become super affiliates and earn six figures a year…
And so can you!
Anyone can be hugely successful in the online space. Check out these amazing affiliate marketing results:
And none of these successful entrepreneurs had any special skills or qualifications when they started out…
I didn't have a clue what I was doing when I got into affiliate marketing. I didn't have the "right" background or experience at all and I'm probably one of the least technical people you've ever met. Heck, I didn't even know how to spell HTML! 🤣
But affiliate marketing meant I could quit my UK call centre job, book a one-way ticket to Thailand and go on to make $100,000s online. I'll probably never buy a Lamborghini but I enjoy the affiliate marketing life that enables me to spend time helping charitable causes I care about the most.
Dale, a fellow Commission Academy Instructor, worked full-time as an electrician before he generated enough affiliate income to travel the world and live life on his own terms.
So know this:
No matter what your education or work experience is or whatever country you're in, you can have a very successful career in affiliate marketing.
Affiliate Marketing Is Legit, But Watch Out For Scams
We've all seen get-rich-quick schemes and make money online scams. Clickbank and WarriorPlus are full of them.
I even fell for a few when I started out. And I'm not ashamed to admit it. Professional con artists are… well, just that – professionals – they're experts at what they do!
Affiliate marketing scams have the same tell-tale signs:
They promise easy money for little effort
They say everything's done for you
They guarantee instant profits
They use hyped-up, misleading sales videos
They come with endless upsells
And they always fail to deliver any real results
These scams give the affiliate marketing industry a bad name, but don't let a few rotten apples stop you from pursuing your dream of becoming an online entrepreneur.
3 Affiliate Marketing Facts You Really Should Know
1. Affiliate Marketing Takes Grit
Wannabe affiliate marketers love the idea of earning commissions but quit once they realise real work is involved. Affiliate marketing is a waste of time for those without grit and drive.
What's grit?
It's passion and determination to achieve goals no matter the setbacks and challenges. Grit is the fuel that sees you through. It's the difference between success and quitting.
It's what keeps you going when self-doubt starts messing with your head. It's what you need to pick yourself back up, dust yourself down and keep going.
A lack of grit is the biggest reason affiliate marketers fail.
Will Smith has grit. Before getting the part in The Fresh Prince of Bel-Air he was filing for bankruptcy. He was a down and out:
"I will not be outworked, period. You might have more talent than me, you might be smarter than me, you might be sexier than me, but if we get on the treadmill together, there's two things: You're getting off first, or I'm going to die.

It's really that simple, right?

You're not going to outwork me. It's such a simple, basic concept. The guy who is willing to hustle the most is going to be the guy that just gets that loose ball. The majority of people who aren't getting the places they want or aren't achieving the things they want in this business is strictly based on hustle."

Will Smith
Affiliate marketing is a fun and exciting ride, though this business isn't for the faint of heart or anyone in a big hurry. It takes time to learn the ropes and begin making money but it IS totally worth it.
2. Starting Affiliate Marketing Doesn't Have To Cost A Bomb
I've seen affiliate courses being sold online by so-called "gurus" for $2,000, $3,000, even $6,000 a pop.
That's outrageous!
Then there are those who say you need to sign up for some fancy sales funnel software at $297 a month (through their affiliate link of course) if you really want to "make it big".
Please, please, please don't waste your money!
The truth is you can start affiliate marketing for around $50 a month.
All you need to become a super successful affiliate is a website domain and hosting, a logo, a keyword tool and the right training. Really, that's it!
3. Avoid Done-For-You Affiliate Systems
Done-for-you affiliate marketing systems are the biggest hoax of all. They sound good on the surface but they never work.
They offer autopilot commissions at the click of a mouse with done-for-you landing pages, traffic and emails, but what they don't tell you is you'll be paying a fortune for low-quality solo ad traffic that doesn't convert.
So if you are serious about getting rich with affiliate marketing, steer clear of anything that sounds too good to be true and forget these fake "shiny shortcuts" and build an online business the right way instead.
If Affiliate Marketing Is Legit, Why Do Some Say It's A Scam?
Two main reasons spring to mind:
Either the person calling affiliate marketing a scam fell prey to a get-rich-quick scammer and got frustrated at the lack of results and wrote the whole affiliate marketing thing as a scam…
Or they followed a legit affiliate marketing course but didn't follow through long enough to reap the rewards…
Either way, I hope I've done enough to convince you that affiliate marketing gives people like you and me a real shot at earning commissions online, working from home and becoming your own boss.
Affiliate Marketing Works When You Do It Right
The next step is to get your income-generating affiliate website up and running so you can start cashing in on those commissions!
We can help you with that!
Get free step-by-step training and support by signing up for our affiliate marketing crash course.