After 40+ hours of relentless exploration, countless cups of coffee and an unwavering dedication to uncover the truth – I present to you the definitive Invincible Marketer review for 2023.
We'll dissect Invincible Marketer and look at:
And ultimately determine if Invincible Marketer is the best option for your budget, your schedule and your income goals.
Let's dive in.
Invincible Marketer Review
What: Invincible Marketer is Aaron Chen's step-by-step affiliate marketing course promising to help newbies make $5,000 – $10,000 a month online.
Price: $7 trial then $67 a month or $430 for lifetime access (more info, join now)
Bottom Line: Invincible Marketer is a rock-solid investment for ambitious beginners dead serious about building an affiliate marketing empire.
And achieving $10,000 a month is well within reach for those who apply the training.
So if you're ready to make your dream business a reality, watch this video where Aaron spills the beans and gives a detailed overview of the entire program so you know exactly what to expect.
Overall Rating: 4.25 stars
Pros
• Hands-on practical lessons
• Students get results
• Wallet-friendly pricing
Is Invincible Marketer A Legit Course?
Yes, Invincible Marketer is a legit, well-structured course that will teach you how to earn passive income online through affiliate marketing in 2023 and beyond.
But don't just take my word for it – Invincible Marketer has a 4.8-star rating on Google reviews.
Here's a member who appreciates Aaron's practical, hands-on teaching style:
Here's another student who can't rate Invincible Marketer highly enough: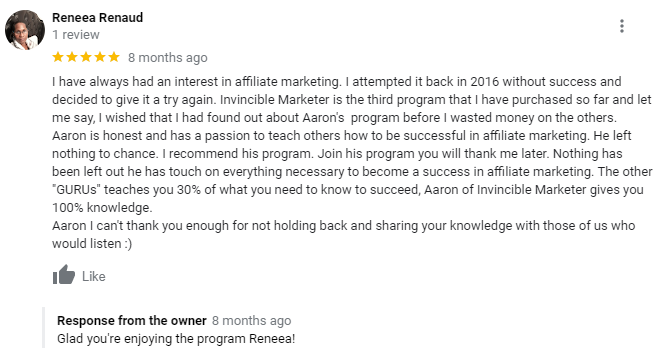 And Invincible Marketer has been life-changing for this guy: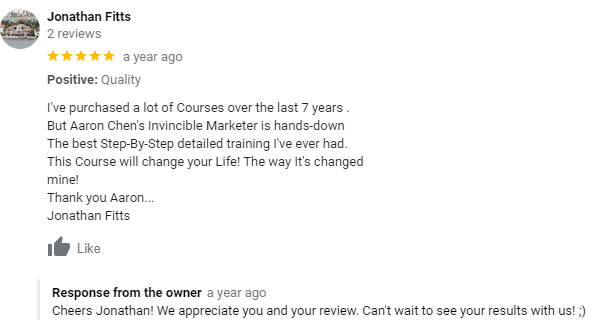 Invincible Marketer also has a 4.8-star rating after 424 student reviews on SoTellUs: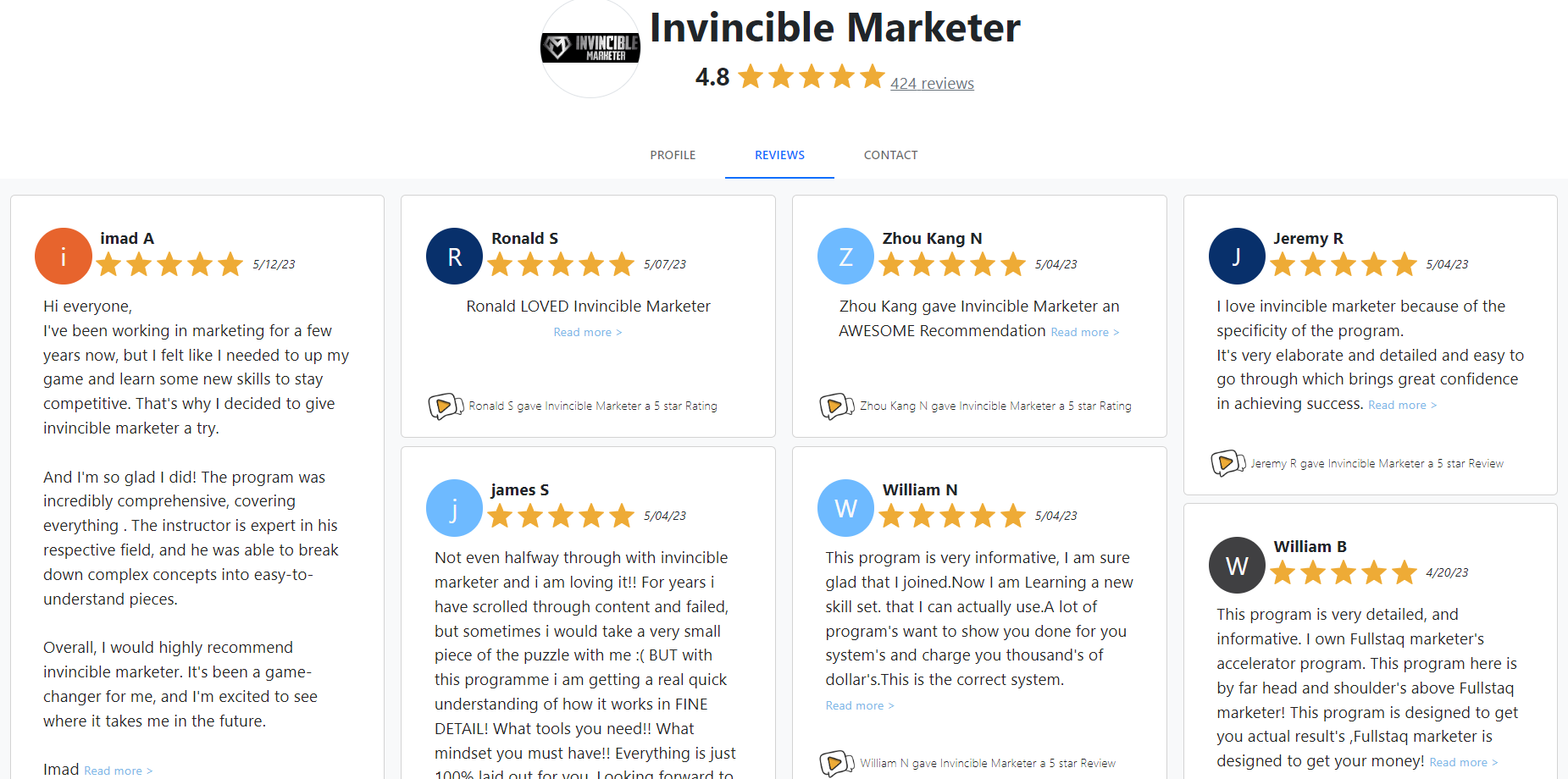 Invincible Marketer was launched in 2019 by Malaysian entrepreneur Aaron Chen under the name High Impact Marketing Sdn Bhd.
Aaron Chen is a successful digital marketer who, determined to escape the 9 to 5 rat race, tried different ways to make money online without much success:
Network marketing
Dropshipping
Print on demand
He spent a lot of money too:
In the 7 years between 2009 and 2016, he spent $10,000 on online courses and $30,000 on email solo ads.
His breakthrough eventually came when he met his mentor Vik Strizheus who taught him about an indirect selling strategy where you build trust by offering high value upfront before asking for the sale.
This really worked out. He 10xed his conversion rates and has now made nearly $1 million in affiliate commissions.
Since then Aaron's launched 2 courses aimed at showing people how to get results without having to go through the years of frustration he had to go through:
Invincible Marketer: A to Z training on how to set up the right sales process to sell any product you want online and become an unstoppable entrepreneur.
Video Authority Mastery: An in-depth course on how to master YouTube as a traffic source to drive laser-targeted traffic and generate more affiliate sales.
He has 27k subscribers on his main YouTube channel: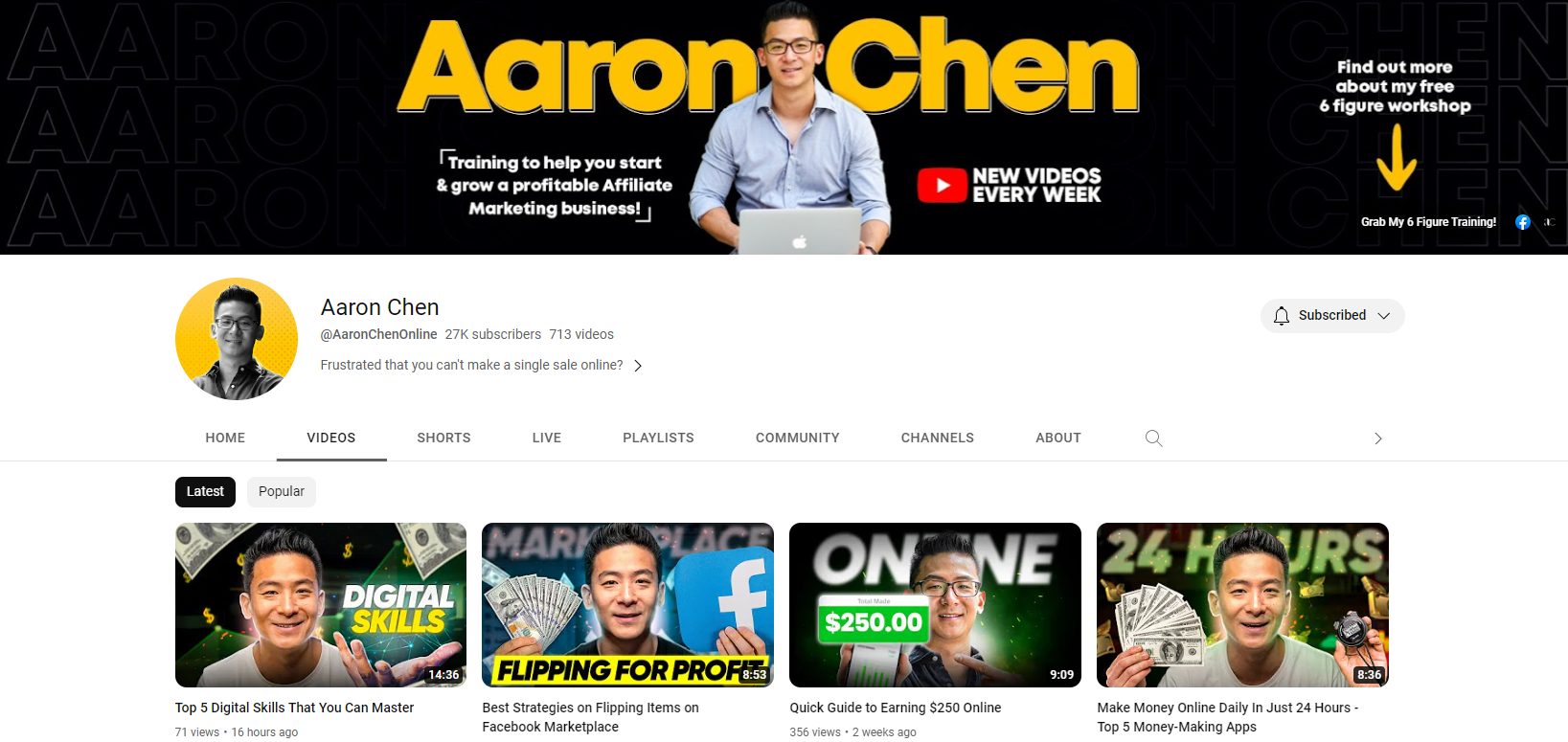 And he has a podcast called The Freedom Audio Show where he shares ideas listeners can use to smash their online income goals.
I've gone through the entire course a couple of times now and messaged back and forth with Aaron directly and he does strike me as a trustworthy guy who genuinely cares about your success.
Invincible Marketer isn't one of those fly-by-night courses that's here today and gone tomorrow.
For Aaron, this is his personal life mission and that's reflected in the high quality of the training and his unwavering commitment to excellence in everything he does
What You'll Learn In The Invincible Marketer Training
Invincible Marketer is an absolute BEAST of a course with 17 sessions, 63 lessons and over 32 hours of super in-depth training on how to make money with affiliate marketing.
Affiliate marketing is a business model where you promote other people's products in return for a commission on every sale.
In my experience, it's the single best way to earn online because it's beginner-friendly, low-cost and has limitless earning potential.
Here's what you'll see once you log in: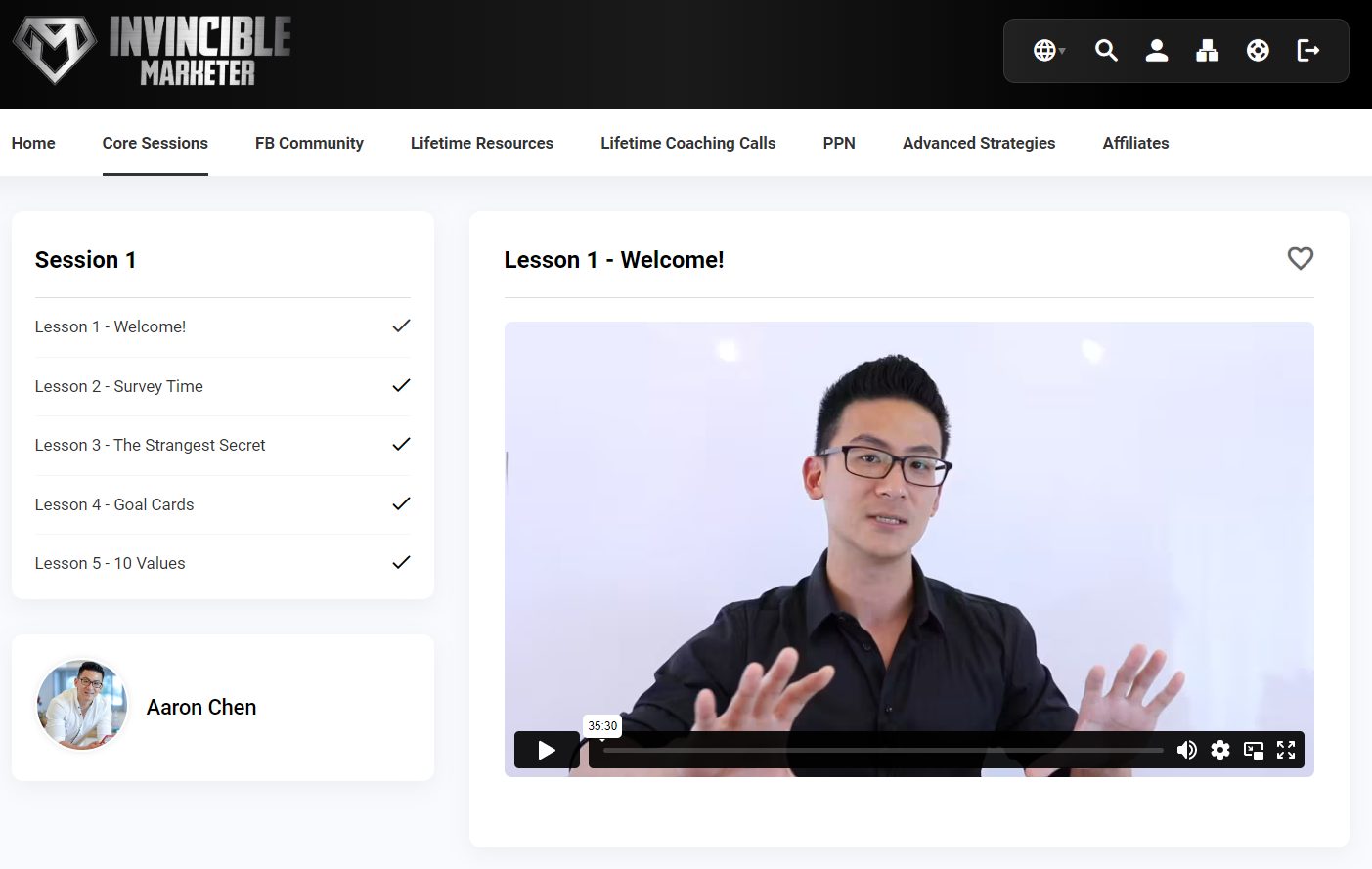 Essentially what you'll learn as you go through the lessons is how to create your own 6 Figure Conversion Model: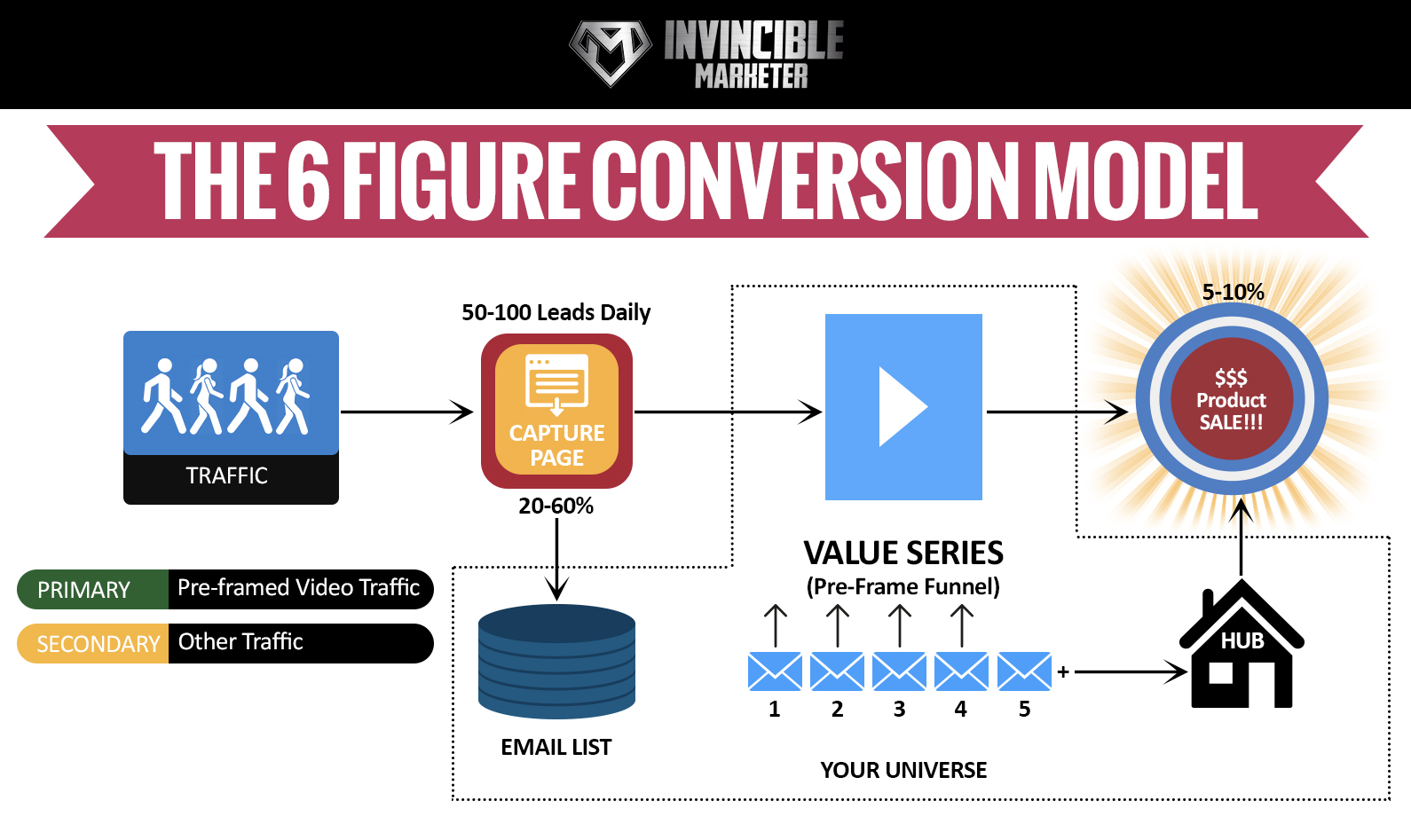 Simply put, you drive traffic from places like YouTube and TikTok to your landing page, collect their emails so you can send them through what Aaron calls a Value Series or follow-up series and promote any products you want in any niche you want.
The training's not boring either.
Aaron is a talented presenter who will walk you through every stage of the process over the shoulder and step by step in a way that's engaging and easy to understand.
Another thing I'll say is the course is continually updated to make sure it's cutting edge for 2023 so you only learn what works now.
Watch this video to get a feel of what you can expect from Aaron and the training.
What Support Do You Get?
When you join Invincible Marketer you'll be invited to the student-only Facebook group with over 1,900 members where you can ask questions and get answers, get feedback on your work so far and share your latest success stories.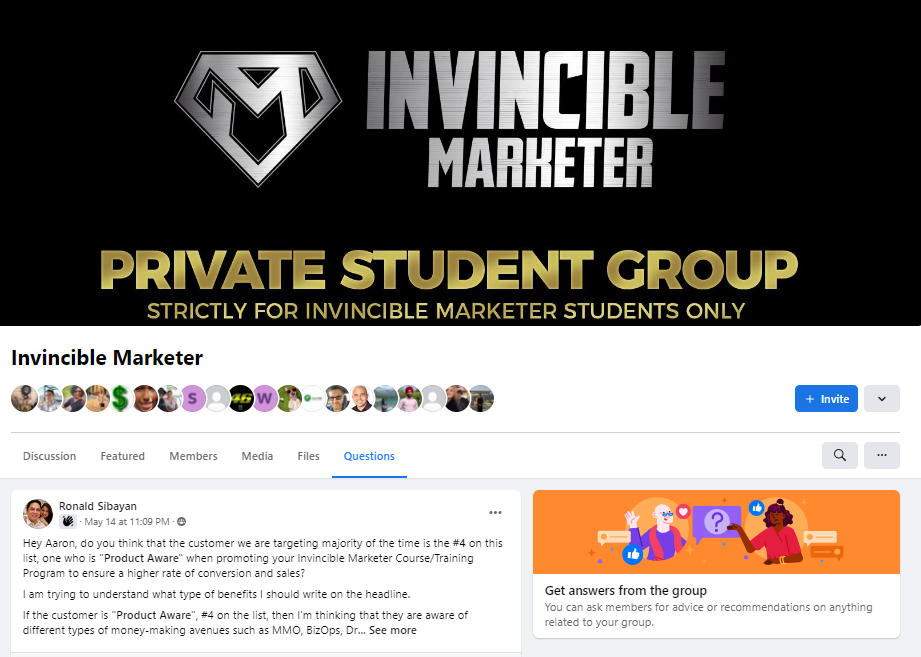 You'll also have Aaron's direct email if you're looking for that one-on-one coaching and support.
And sign up for the Lifetime membership or Video Authority Mastery and you'll be invited to join Aaron's twice-monthly Zoom coaching calls with live Q&A.
What's So Different About Invincible Marketer?
I run a review site in the make money online space where my team and I have invested 1000s of hours reviewing 700+ courses.
What I can tell you is the vast majority of affiliate marketing courses out there teach you to:
Pick the highest converting offers
Hustle hard to drive traffic
Pray someone buys from the sales page
It looks something like this: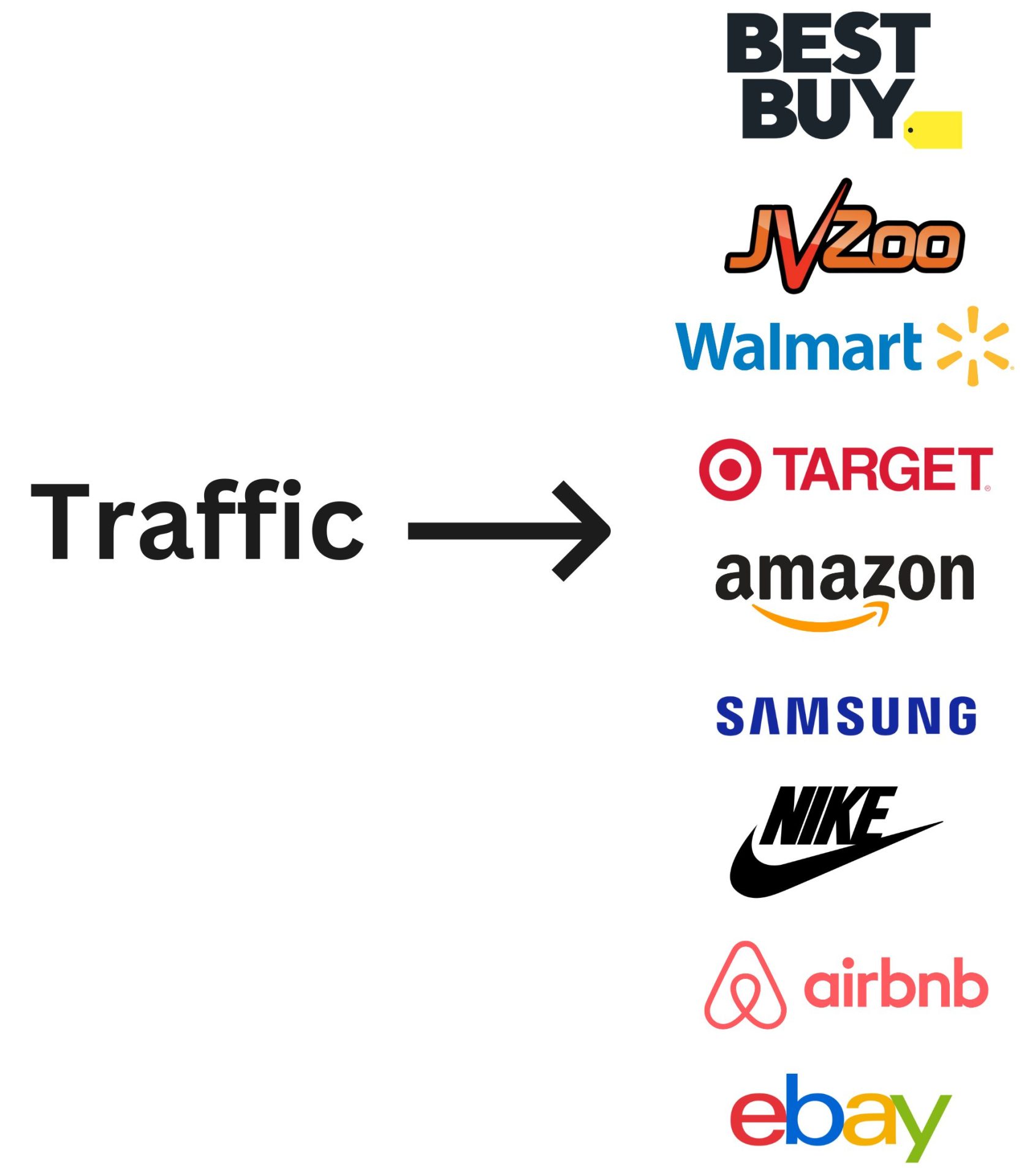 They say just drive traffic to the sales page of whatever product you're promoting and you'll make money.
And you can…
But at a pretty dismal 1% conversion rate.
The ethos behind Aaron Chen's training is you'll get higher conversion rates (5-10%) and make more money if you offer value to your audience first.
You simply create some kind of content that answers their questions or helps solves their problems in a way that builds trust, authority and credibility.
It's called The Invincible Model and it looks more like this: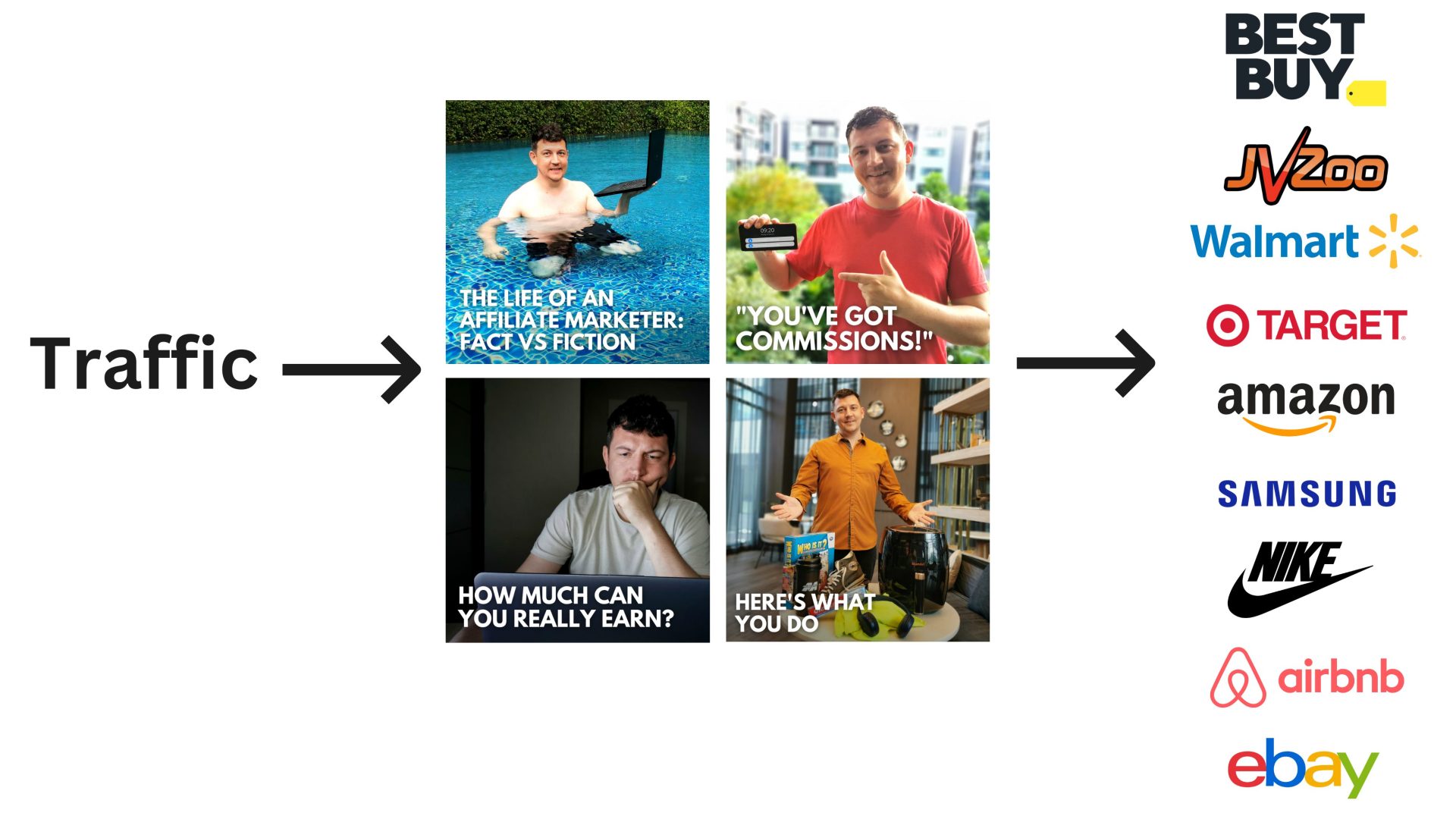 So after going through the course for the first time I drastically changed the way I ran my affiliate marketing businesses. I created my own Value Series and yes, my conversion rates went from less than 1% to around 13%.
I've been doing affiliate marketing for 9 years now, made $100,000s in commissions and even been officially recognised as a super affiliate.
All this to say, I've seen a lot of training and tried a million different strategies and this training works.
How Much Does Invincible Marketer Cost?
There are two pricing plans for Invincible Marketer:
$67 per month (cancel whenever you like)
$430 one-time for lifetime access
If you want to go for the Lifetime membership without paying the $430 upfront, you can opt for the payment plan with 3 monthly payments of $145 ($435 in total).
Invincible Marketer Discount?
According to the checkout page, the $67 per month is already discounted down from $197, so I don't think it'll be discounted further (I'll let you know if it is).
You can save quite a lot by becoming a Lifetime member when compared to paying monthly, especially if you plan on staying a member for 8 months or more.
They do offer a 7-day $7 trial which gives you a low-cost, low-risk way to check out the entire platform.
3 Invincible Marketer Pros
1. Hands-On, Results-Driven Training
This isn't your average "watch-and-forget" course.
And you can't binge-watch it in one afternoon.
Yes, this is a course created for beginners but it goes way beyond just vague theories and broad strokes.
You're getting 32+ hours of training that equips you with actionable knowledge and practical how-to.
Aaron dives deep into every aspect of affiliate marketing from beginning to end, breaking down complex concepts into easily digestible chunks, allowing you to absorb the material at your own pace.
From creating captivating capture pages to crafting irresistible headlines, he covers it all.
Each lesson starts with a bird's-eye view, providing a clear roadmap before zooming in on the nitty-gritty details.
And each lesson comes with homework assignments meaning you'll build your affiliate marketing business as you work your way through.
And by the end of the course, you'll emerge as a formidable online entrepreneur armed with the skills you need to skyrocket your income.
2. Students Get Results
A significant number of students are getting results after joining Invincible Marketer.
You can see a bunch of student success stories over on the Invincible Marketer sales page.
Some students are doing incredible, like Dan.
He's typically making $10k a month and made $21,500 in his best month so far:
And listen to Sean's story. He struggled for 2 years trying to make his first affiliate sale until he joined Invincible Marketer and now he's making $3,000 a month:
3. Invincible Marketer Is Wallet-Friendly
At first glance, Invincible Marketer might seem a tad pricey but compared to some other affiliate marketing courses but it's actually incredibly affordable, especially if you go for the Lifetime option without the recurring monthly fees.
Let's take a look at how Invincible Marketer's pricing stacks up against other popular affiliate marketing courses…
Affiliate Lab is $997.
Legendary Marketer costs $2,500.
Authority Hacker Pro will set you back $2,997.
As you can see, Invincible Marketer offers a highly competitive price point.
And better yet:
You can take the $7 Invincible Marketer test drive and see for yourself if it's the right fit.
3 Invincible Marketer Cons
1. Training Isn't The Only Expense
Aaron is very open and honest about this – you are gonna need a budget to apply the training.
Aaron recommends using Clickfunnels to build out your Value Series and create landing pages, ClickMagick to track where your sales are coming from and GetResponse to build your email list.
That's at least an additional $176 per month you're going to need to set aside for business-building tools.
Just something to keep in mind when you're deciding whether or not this is the course for you.
2. Not A Blanket Refund Policy
Invincible Marketer comes with a 30-day refund policy but it's what I call an "Action-based refund policy", meaning you'll need to prove you've gone through the course and applied it before asking for your money back.
"We require you to complete all the sessions, get involved with our community and build out your capture page and value series before making your refund request.

If you have done so and can provide evidence of the work you have done and still don't feel like you got your money's worth, then we are happy to give you a refund within the 30 day period."
3. Results Won't Be Immediate
It's important to have realistic expectations going in and with Invincible Marketer (or any other affiliate marketing course), it will take time to see results.
So prepare yourself for the mental mind game that is online business.
You'll have days of self-doubt when you're wondering if you're wasting your time.
This is why I'm always harping on about how important it is not just to get the right training, but to ensure you have the right support in place to help get you unstuck and stay motivated.
And I believe Invincible Marketer gives you that.
You're going to have access to expert coaching and resources that will make your journey to $10k a month that much smoother and quicker.
The key is to master the skill of delayed gratification and keep your goals upfront and centre so you stay on track.
Invincible Marketer: Best Affiliate Marketing Course?
We're on a mission to find the best affiliate marketing course, fueled by rigorous research and feedback from real students.
Invincible Marketer is an impressive course, but it's not the best we've come across…
🏆 Best Affiliate Marketing Courses 🏆
That being said, Invincible Marketer is undoubtedly a solid option.
Especially when students are getting results like these: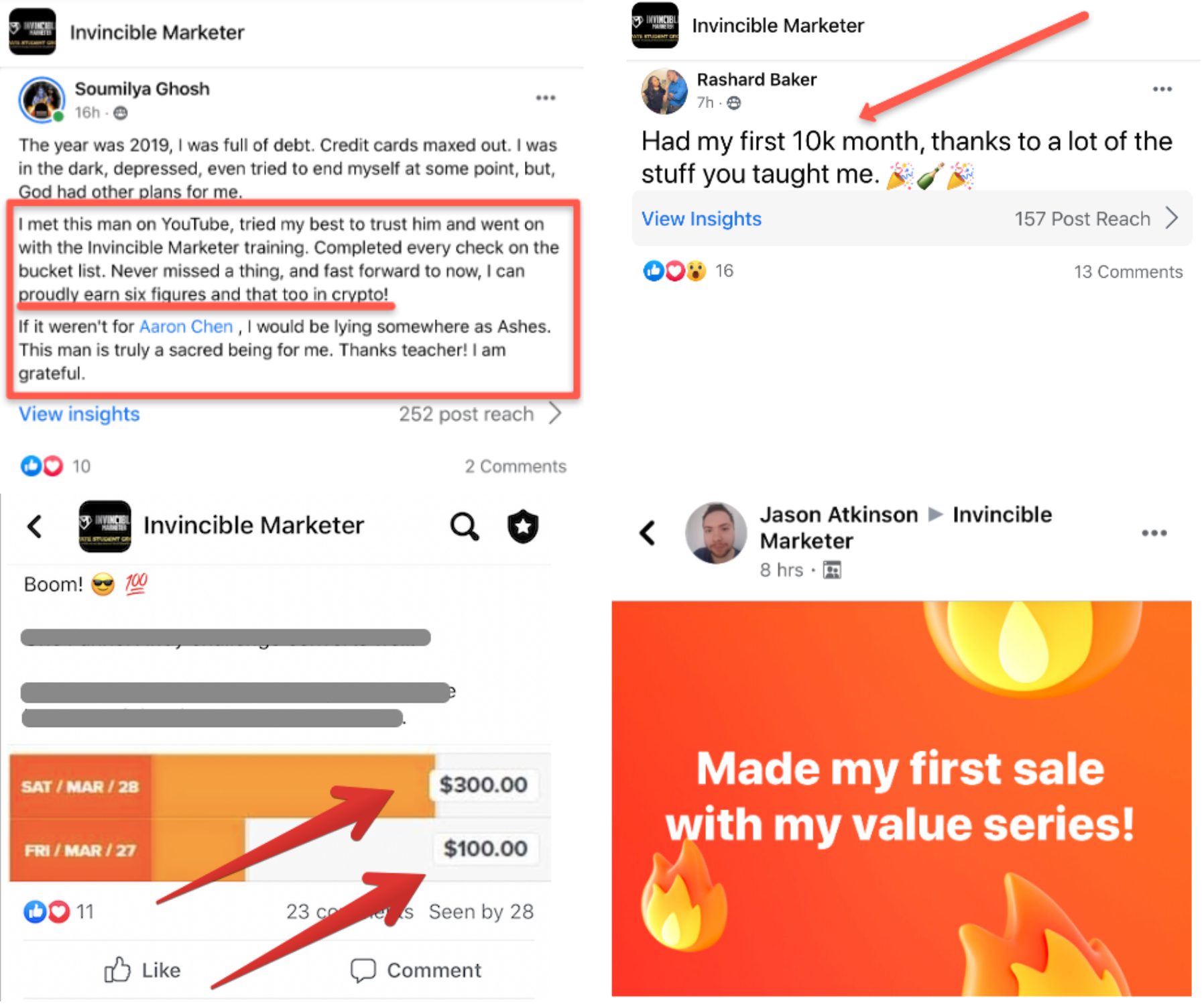 Best Invincible Marketer Alternative?
Introducing Wealthy Affiliate.
Wealthy Affiliate is an all-in-one affiliate marketing training platform and community.
With its comprehensive courses, interactive live classes, user-friendly website-building software, and cutting-edge keyword research tools, Wealthy Affiliate is a beginner's one-stop solution for online success.
Founded by the visionary duo Kyle and Carson in 2005, this powerhouse platform has amassed over 2.6 million members and continues to empower aspiring entrepreneurs worldwide.
Wealthy Affiliate teaches the affiliate marketing strategy where essentially, you choose a niche, create a website and then create content that gets ranked in Google to give yourself a flow of free search engine traffic you can recommend products to.
Wealthy Affiliate has 3 membership options:
Starter
Premium
Premium Plus+
The Starter membership is free forever, Premium is $49/month and Premium Plus+ is $99/month.
The best part is, aside from a $14/year domain, everything you need to earn 6 figures online is included in the membership price so no additional costs.
Read: Wealthy Affiliate Review: Best Affiliate Marketing Course For 2023?
Is Invincible Marketer The Best Option For YOU?
That depends on where you're at…
Let's go through it.
If You Want To See Results As Fast As Possible 📈
Invincible Marketer places a stronger emphasis on YouTube, social media, and paid ads to drive traffic and generate revenue.

While Wealthy Affiliate does touch on social media marketing, its core training is primarily focused on SEO.

While I love building blogs and getting traffic from Google because it's free and super-targeted, it can 9-12 months for Google to rank your sites which is a very long time to wait to make sales consistently.
If You're Already Earning $1,000/Month+ 👨‍💻
Wealthy Affiliate is definitely more geared towards beginners whereas I would say Invincible Marketer is great for intermediates and advanced affiliate marketers too.
I've been at this affiliate game for nearly a decade and I learned so much that helped me take my business and my income to the next level…
Aaron got me thinking about lifetime customer value, centralising offers, tracking links (I ran my affiliate business blind for years).
He also gave me the push I needed to stop hiding behind the keyboard and step out in front of the camera which I'll be forever grateful for.
If You're On A Tight Budget 💰
Even with Invincible Marketer's $430 one-off Lifetime membership, you'll still have to pay $176/month for additional tools and software in order to be able to follow along with the course.
Wealthy Affiliate on the other hand is $49 a month, or $24.92 a month if paid yearly and your keyword tools, sitebuilders, hosting and anything else you could possibly need to succeed is included.
If You're Still Unsure 🤔
Watch Aaron's video presentation here and see if Aaron's style resonates with you.
It'll give you a solid overview of the entire program.
And when you're ready to join Invincible Marketer, do yourself a favour and take the 7-day $7 trial.