If you're just starting out, you might think finding products for affiliate marketing is hard.
It's not at all!
In fact, there are 11,400+ affiliate programs and 600 million+ affiliate products out there.
All you do is find an affiliate program with the products you want to promote, join for free, grab your unique affiliate link so you get credited for sales and start promoting.
So now let me show you how to find them so you can start earning daily commissions in whatever niche you're in.
1. Use Wealthy Affiliate's Affiliate Program Search
Head over to WealthyAffiliate.com and create your free account.
Once inside the members' area, click the Promote tab in the top menu and that'll take you to Affiliate Program Search: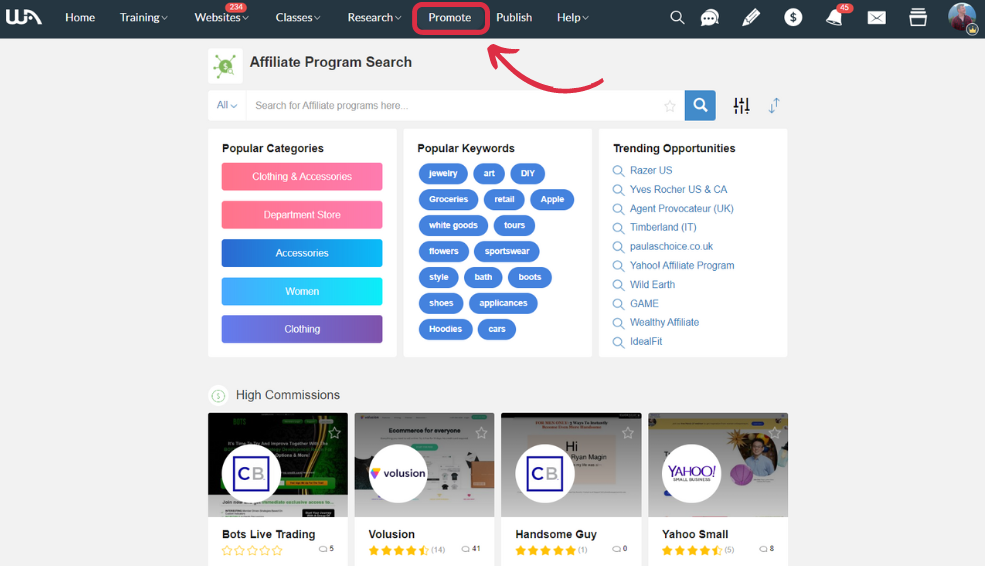 Simply type in your niche or type of affiliate product you're looking to promote and you'll get a whole array of affiliate programs suggestions come up, complete with information about commission rates, payout options and affiliate reviews.
2. Search The Commission Academy Blog
That's right. If you want to find products for affiliate marketing you're already almost there.
Just go to the Commission Academy blog, scroll down and run a search for "best affiliate programs".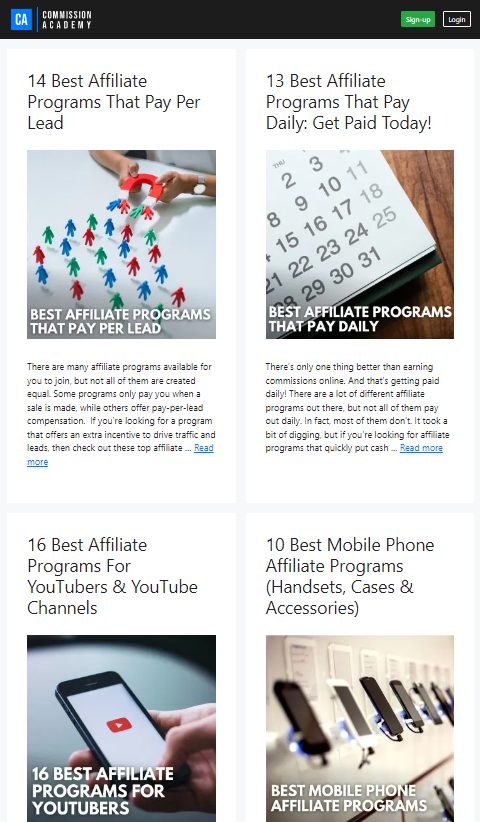 For example, we've listed the best:
You name it, we've probably already done the hard work of sifting through to find the best affiliate products out there so you don't have to.
3. Affiliate Networks
Another genius way of finding affiliate products is to join an affiliate network which houses 100s if not 1,000s of affiliate programs under one virtual roof.
We've listed 5 more affiliate networks here.
4. Google It
Sometimes the simpler, the better. And finding affiliate products to promote that convert is no exception.
All you do is run a search for whatever type of affiliate program you're looking for.
For example, if you wanted to promote women's make-up as an affiliate, google "make-up affiliate programs" and you'll get 100s and 100s of make-up affiliate programs come up: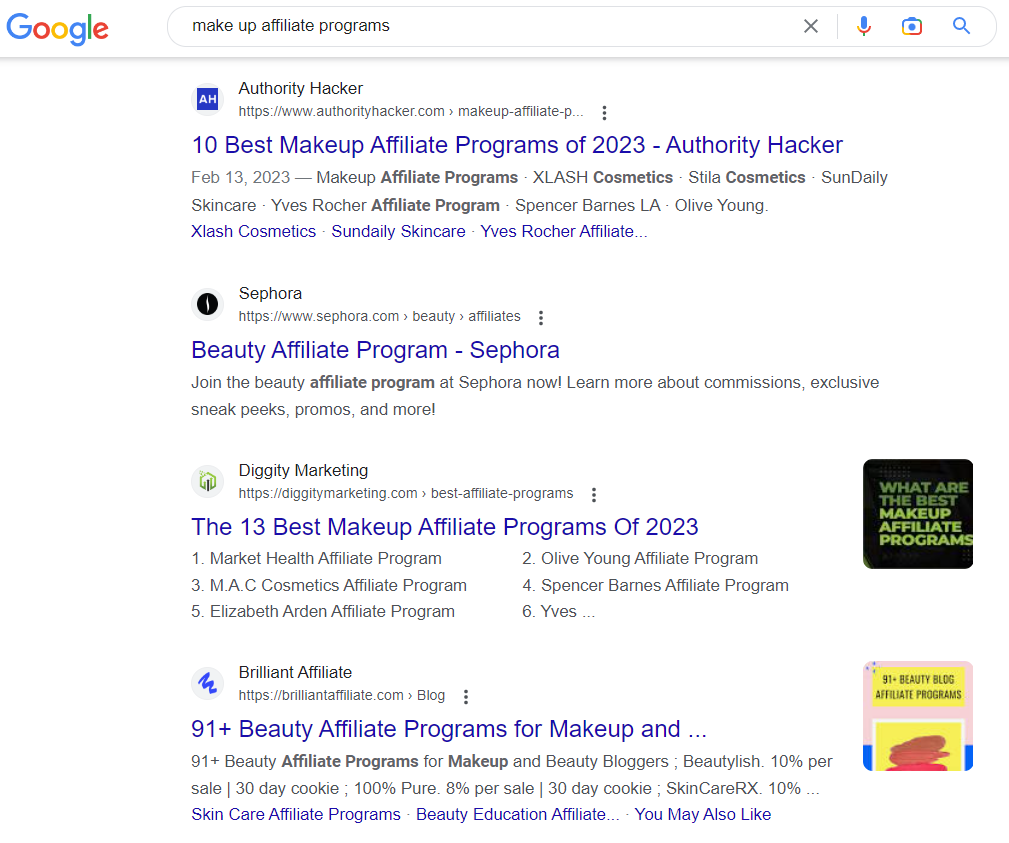 You could signup for any one of these and instantly be able to promote a large range of make up and beauty products.
Give it a try!
I think you'll be surprised at how many products you can find in a very short space of time!
5. Check Out Your Favourite Brand's Website
Finally, one of the best ways to find affiliate products is to check to see if the brands and products you already use and see if they have an affiliate program.
If they do, you'll normally see a link in their website footer that says something like "Become an Affiliate" as they do on Amazon:
So there you have it!
There are limitless affiliate products out there you can sell to generate a passive income online with affiliate marketing if you want.
And now you know exactly how to find them.
Now I'll share a few pro tips I've learned (the hard way) over the years to help you increase conversion rates and maximise sales as you start your affiliate marketing career.
5 Quick Tips For Finding Affiliate Products That Sell
1. Identify Hot & Trending Products In Your Niche
We tell students in Commission Academy course to pick an affiliate marketing niche topic based on what they're passionate about and interested in.
Why?
Because that way, you'll have your finger on the pulse when it comes to new and current trends that are happening and you can take advantage of those when it comes to creating content and promoting products.
2. Don't Overlook The Basics
If you're in the fishing niche, fishing rods are going to be your bread and butter.
If you're in the golf niche, you'll make the majority of commissions promoting golf balls, clubs and caddies.
You'll make more sales when you figure out what your audience needs and wants and give it to them!
3. Target Buyer-Intent Keywords In Your Content
Whether you're promoting products on your blog or YouTube channel, understand search intent, target buyer intent keywords in your content and you'll never have to "sell" anything.
You'll simply be catching people at the end of the customer buying cycle and recommending products in a natural way, giving people what they want and the sales will automatically follow.
In a nutshell, you've got 4 types of search intent:
Informational
Navigation
Commercial
Transactional
As an affiliate, focus on commercial and transactional search intent.
Keywords like:
Best running shoes for under $100
Buy an electric shaver
Where to buy weightlifting straps
Cheapest hotels in Paris
So use a keyword tool like this one to come up with a list of 20-30 commercial and transaction keywords you can target in your upcoming content to drive sales.
4. Promote Products You Personally Use To Increase Conversions
Look around your house and see what products you're using and promote them.
You already know a lot about these products and clearly, you believe in them (otherwise you wouldn't have bought them).
This is going to help you generate more clicks and sales because you'll be able to share your personal experience of the product, point out the real-life benefits and craft compelling product reviews.
5. Find Affiliate Marketing Products With Recurring Commissions
Every niche has them.
You'll increase how much you can earn when you promote products that get you paid not just once, but over and over again.
So find affiliate marketing products where people pay monthly or yearly.
Things like:
Subscription boxes
Web hosting
Membership sites
Online courses
Check out this list of recurring affiliate programs to get the ideas rolling.