Did you know that Commission Academy has a free to join affiliate program? That's right. You can earn money by referring others to the free course that you know & love.
All you need to do is simply sign up for our free course & you'll be able to get access to your affiliate links, which you can then share online to start earning commissions.
And if you're brand new to affiliate marketing, you can also leverage the training in our course to learn how to promote your links effectively. It's a no-brainer to sign yourself up for our free to join affiliate program.
But Commission Academy isn't the only place that provides a free to join affiliate program. In fact, as we recently uncovered, you should never have to pay to join a legitimate affiliate program.
This means that the good news is there are many free to join affiliate programs available online.
And to help you find them, we've put together lists of affiliate programs, as outlined below:
List of Free To Join Affiliate Programs
Below, you'll find the lists that we've put together of the most popular free to join affiliate programs. The best part is that there is no money required to start promoting any of these programs.
💰 Bonus: Free affiliate programs that pay daily.
Free Affiliate Programs For Beginners
We recommend that beginners choose an affiliate program related to a lower-competition niche. This will help them speed up their results & see success sooner.
Some examples of affiliate programs in low-competition niches include:
And for beginner affiliates that want to start earning fast, there are also instant payout affiliate programs.
How To Find Free Affiliate Programs
The good news is that finding free affiliate programs in any niche is really easy. All you need is the help of a search like Google.
To find a free affiliate program, simply type in your niche, along with "affiliate programs", like shown in the image below: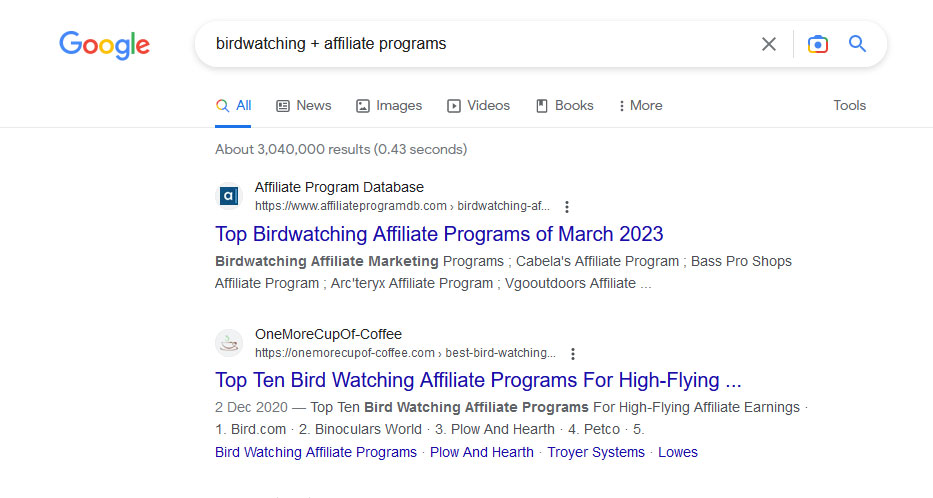 In the example above, you can see that I have typed in birdwatching (an example affiliate niche) along with "affiliate programs", & as a result, it has brought up lists of relevant affiliate programs.
Now, as mentioned earlier, all affiliate programs should be free of charge. If an affiliate program requests a fee, it is likely a scam.
That is unless it is one of the rare instances outlined in this post.
But in general, you should never have to pay money to join an affiliate program. After all, companies are eager for you to promote their products. They want you to join. They don't want to charge you.
Can You Really Start Affiliate Marketing With No Money?
Yes, you can indeed start affiliate marketing with no money down. Especially with the free training here at Commission Academy at your side.
However, whilst you can do it for free, that doesn't mean that free is necessarily best.
For example, imagine if you were trying to find gold on a beach. Sure, you could do it for free with no tools to help, but I think you'd agree a metal detector would come in handy, right?
Well, it's the same story when it comes to building an online affiliate marketing business. You can do it for free, but you're going to be making your life harder by going down that route.
Instead, we recommend that you leverage tools & by doing so, you'll be able to grow your business bigger & faster & ultimately, earn more money.
The Bottom Line
As you can likely now see, finding free affiliate programs to join is really easy & hopefully, the ones we've listed have helped you out.
You don't have to invest money to become an affiliate marketer, but by doing so, you'll be able to achieve your goals much more easily & much more quickly.
And remember, you should never have to pay to join an affiliate program.
But overall, hopefully, you have found this post insightful & if you haven't done so already, be sure to sign up for our free affiliate marketing training before you leave.
In our training, you'll learn how to achieve massive success as an affiliate marketer in any niche.
And, of course, if you have any additional questions or comments, don't hesitate to leave them below.