Quick Answer: Yes, affiliate marketing is a real and legit business model. It's commission based and affiliates earn a % every time they generate sales online. Get started here.
There is no need to spend a lot of money on building your website, hiring employees, or paying for costly office space; all you need is the ability to promote quality products and services and make them available to your audience. Many think of affiliate marketing as a hobby or a side business when it is a viable business model.
Affiliate marketing is a performance-based online business so you get paid if someone buys one of the items in your affiliate link.
People should click on your links as long as you provide quality information and offer valuable products relevant to your audience. You will also earn a commission from the companies you promote if they offer their affiliates a recurring income stream.
The Basics Of Affiliate Marketing Business
Affiliate marketing is the practice of partnering with a company (becoming their affiliate) to receive a commission on every product sale you successfully generate
Here's an overview of how an affiliate marketing business works: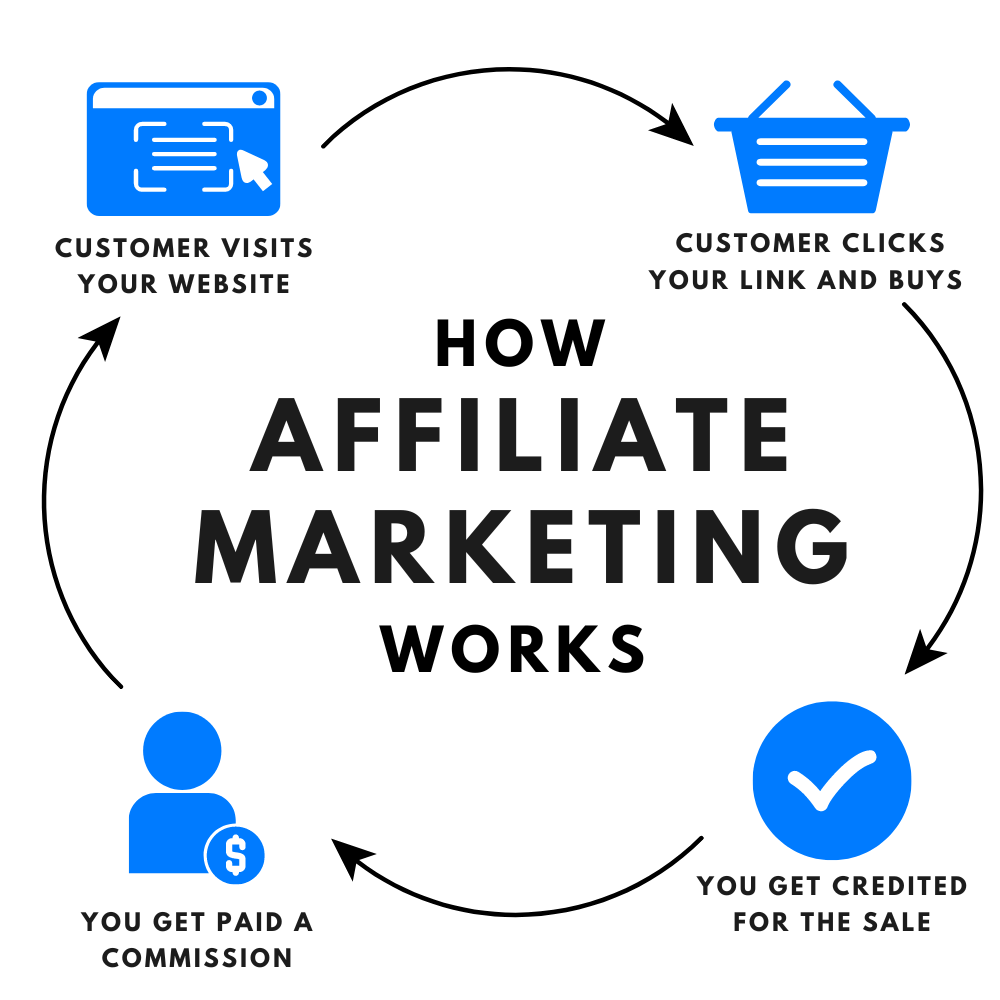 This method of making money is prevalent on the Internet because of its low startup costs and high conversion rates.
An affiliate joins an affiliate program and shares their links online via their website. If someone buys something, there is a percentage that the affiliate gets paid.
These percentages vary depending on the product type and the partner program it is coming from.
3 Types Of Affiliate Marketing
Affiliate marketing is a great model to help you start making money online. There are different kinds of affiliate marketing, and we will quickly run through each.
1. Partnership Affiliate Programs
These programs require you to partner with a business that sells a product or service that fits your niche. You would receive a commission every time someone purchases a product or service through your affiliate link.
2. Direct Affiliate Programs
These programs are when you are an affiliate directly from the business's website. The business usually has an application process for these programs, so you will need to contact them first before starting as their affiliate.
You would get paid for every purchase or sale of the business's products/services through your website or blog link.
3. Network Affiliate Programs
Affiliate networks are similar to direct affiliate programs.
Instead of being signed up directly to the company, they have several affiliates who run their ads and market their products/services on their websites.
Who Exactly Is An Affiliate Marketer?
An affiliate marketer sells or promotes products and/or services products of other companies.
The company allows the affiliate to place links on his website or blog and, in exchange, pays him a commission for the customers he sends their way. This relationship between the affiliate marketer and the company benefits both parties: The company gets new customers while the affiliate earns money.
Not all affiliate marketers have websites or blogs, but it is highly recommended if you want to build a strong and sustainable business that generates a substantial income.
How Can You Become an Affiliate Marketer?
The internet is an avenue for buying, selling, and marketing things. Almost anything can be bought or sold online. And the internet is an ideal venue for marketing products to millions of customers. One way to market products online is affiliate marketing.
To start affiliate marketing, you will need to set up your website. We show you exactly how to do this in our free Commission Academy training so don't worry, we'll walk you through it.
Next is finding an affiliate program that matches your interests. This can be done with a quick Google search or you can also check out our blog to find the best affiliate programs.
Watch this video to get started:
You Can Start With Little To No Investment
One of the most common questions about affiliate marketing is whether it can be done on a shoestring budget.
The short answer is yes, you do not need much money to start and you can even become an affiliate for free.
But as with any business, you have to invest time and effort to make a living in affiliate marketing, so it's not a quick-fix solution for everyone.
How Do Affiliate Marketers Generate Passive Income?
Affiliate marketers are online sales and marketing agents who earn commissions online by referring customers to companies they purchase from.
Typically, the commission ranges from less than 1% to 75% or more, depending on the product and the level of referral volume.
Affiliate marketers make passive income through a variety of methods:
Product Sales
When consumers click on affiliate links and buy products, the affiliate earns a percentage of that sale. For example, if you refer a customer who buys $500 worth of products, you earn about $50 in commissions.
Leads
In some cases, affiliates earn income based on leads generated from their sites. For example, if an affiliate sends a lead to a company that turns into a sale, the affiliate typically gets paid for that lead.
This approach is often used for service providers such as law firms or medical practices. It is also common for service providers to pay affiliates on a cost-per-acquisition (CPA) basis.
In this payment method, the provider only pays affiliates when the consumer takes the desired action specified in the agreement, such as signing up for updates or purchasing a specific product.
Sponsored Advertising
Affiliates can also make money by displaying advertisements on their websites. Affiliates can earn through Sponsored Advertising. Affiliates can earn a (usually) small percentage of the sale price on certain products, services, or information they send to their customers. For example, if you are an Amazon affiliate, you will receive a commission for any sales made through your website.
How affiliate marketers can earn through sponsored advertising:
By promoting products on his website
By getting visitors to click on product ads on his website
By getting visitors to download free product samples
By getting visitors to sign-up for newsletters
By getting visitors to buy other related products
By building an email list and then selling them products.
What Is The Average Income From Affiliate Marketing Business
The answer depends on many factors:
How much time you can devote to your business
Payout rates of your favourite affiliate programs
The products and services you decide to promote, etc.
Many affiliate marketers make a few hundred dollars or less per month in commissions—just enough to potentially pay for groceries, gas, car insurance, and other living expenses.
Others have become rich through affiliate marketing. It all depends on how hard you are willing to work at it and how well you choose products to feature.
The best way to determine the average income is by researching different affiliate programs and the rates they offer.
Depending on the niche, you could get started earning as soon as next week—but it might take months or years before you begin to see any significant income from your efforts.
Let's be clear:
Affiliate marketing is not a get-rich-quick scheme.
It is not even an easy way to make money. The process takes hard work and a lot of time, and the results will vary. However, it can be gratifying if you are willing to put in the effort and seek a career in business!
There Has Never Been A Better Time To Start
Without a doubt, affiliate marketing has become a really popular way to make money online.
You would have to agree that the Internet has opened many new doors for making a living; however, it can be complicated to get started with affiliate marketing.
So, is affiliate marketing a business?
Yes, affiliate marketing is the best online business model and a great way to make money from home and start your own business.
It's also an excellent option for anyone looking to start an online business part-time and looking for ways to make some extra cash on the side.
The key to affiliate marketing success is to create something valuable whenever you refer someone to a product or service. You are helping someone with information you found helpful in your own life and turning that information into something valuable by sharing it with others.
Check out the free Commission Academy now and start a thriving and profitable affiliate marketing business of your very own.
The sooner you start, the sooner you'll be making commissions!