Why is it some Clickbank affiliates earn $100,000s while others can't make a single sale?
Turns out, it has more to do with how you promote Clickbank products than the products themselves.
You've got to promote Clickbank strategically in a way that drives traffic and sales.
All without coming across as a desperate spammer.
Because as we all know:
More traffic = more clicks = more sales = more passive income
Robby Blanchard is the world's #1 Clickbank affiliate. He earned $1.8 million in just 4 months.
That's 5.4 million a year!
It just goes to show what you can achieve when you promote Clickbank products in the right way. If he can do it, so can you and it's high time you grabbed your slice of the action.
Read on to learn:
How Clickbank Affiliate Marketing Works
Simply put: Clickbank affiliate marketing is where you make money promoting other people's products.
Clickbank has both product creators (sellers) who create both physical and digital products, and affiliates, who promote these products in return for a percentage of the sale price.
Join Clickbank's affiliate program, choose the products you want to promote and you'll get a unique affiliate link with your Clickbank ID in it so you get paid commissions every time someone clicks through that link and buys.
Here's an overview of how Clickbank affiliate marketing works: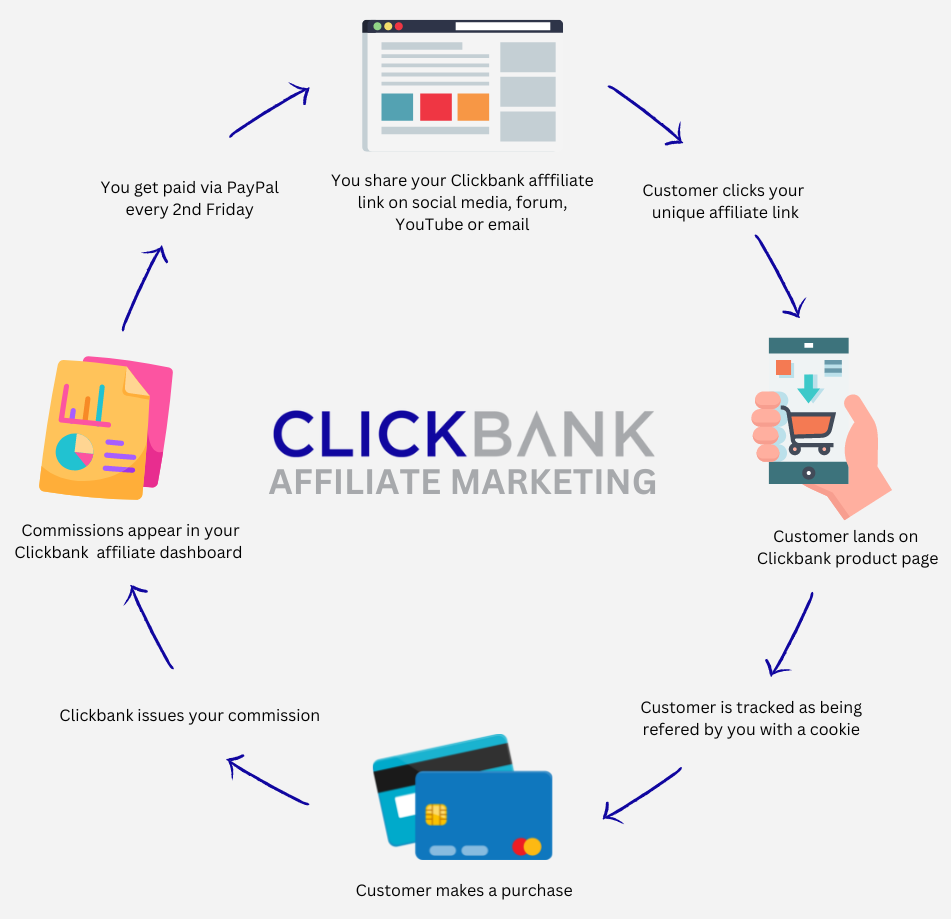 And since most Clickbank products are digital products (so very low product creation cost), you'll earn 50% up to 100% commission rates on every sale.
There are 276 categories with 21,562 product listings to choose from, including:
Arts & Entertainment
Betting Systems
Business & Investing
Computers & Internet
Cooking, Food & Wine
Education
Employment & Jobs
Health & Fitness
Home & Garden
Languages
Parenting & Families
Sports
Travel
Once you've chosen a product that matches your affiliate niche, all you have to do is share your Clickbank affiliate links online so people click on them and buy.
It really is that simple!
See How To Become An Affiliate Marketer For Beginners for a step-by-step guide on how to get started.
11 Ways To Sell Clickbank Products Without A Website
Use these 11 core strategies to start promoting Clickbank products and make sales without a website.
It's probably best to pick one of these traffic sources and master it first before branching out with the other methods to maximise your commissions.
1. Generate Sales On Instagram
Instagram is one of the fastest ways to take advantage of your social media following and generate Clickbank sales right now.
Instagram allow affiliate links so you can add links to your Instagram Stories and link in bio.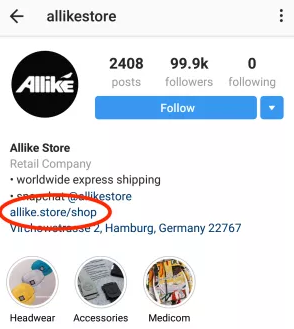 There are a ton of link in bio tools you can use to make the most of Instagram's one-link limit and send followers to a page containing all links to any relevant Clickbank products you want to recommend.
Linktree is a great and free link in bio tool to start with.
Use eye-catching images and relevant hashtags and post consistently to build a following.
And remember to mark any content as "Eligible For A Commission" and avoid making any misleading claims so you don't fall foul of Instagram's content monetization policies.
2. Answer Questions On Quora
Quora is a powerful traffic source because it's so super-targeted.
It's basically a forum where people post questions and get answers from members of the public.
A lot of Clickbank affiliates give high-quality, helpful answers and include a call to action.
Here's the problem:
Answering questions with a direct affiliate link isn't allowed. Do this and your answer will get deleted and your account shut down.
What you CAN do however is use the indirect approach:
Link to a blog post
Link to a YouTube video
Link to your podcast
Link to your Instagram
These could contain a link to the Clickbank product you're promoting and send traffic to your affiliate link that way. Just make sure your product is relevant to the question being asked.
3. Include Links In YouTube Videos
One of the most lucrative and sustainable ways to make money with Clickbank without a website is by starting a YouTube channel based on the product niche.
Affiliates on YouTube enjoy the highest conversion rates (2-5%) and make $10-$50 for every 1,000 views so there's definitely a lot of money to be on this platform.
Don't worry about getting everything perfect – just get your phone out, hit record and upload!
You could do:
Product reviews (best for conversions)
Helpful how-tos
Top 10 lists
Tutorials
Unboxing videos
And of course, add your affiliate links to your video descriptions and tell folks where they can check it out.
The key to success when it comes to promoting Clickbank products on Youtube is FOCUS, meaning you don't want to push fat loss products if your channel is all about backpacking.
So decide what you want your channel to be about and promote relevant products you know your subscribers will want to buy.
See also: 16 Best Affiliate Programs For YouTubers & YouTube Channels
4. Share Links On Medium
If you don't want to start your own income-producing blog, Medium is the next best option.
Simply sign up as a writer, publish posts and end with a call to action and your affiliate link.
Medium is great for ranking on Google so use a keyword tool like this one to find high-volume, low-competition keywords you can target to make several commissions daily.
Medium has no problem with affiliate links as long as you don't overdo it and violate their spam policies.
It's also probably a good idea to include some kind of affiliate disclosure.
5. Add Affiliate Links To Podcast Show Notes
If blogging seems like too much work and the mere thought of shooting videos brings you out in a cold sweat, why not start a podcast?
Pick a topic you love to talk about and start recording – you never know where it could take you!
To monetise, pick 3-5 Clickbank products in the niche you're in that have a high gravity score (so you know it sells well), endorse the product during your show and include a link for listeners in the show notes
Stay consistent and you could eventually reach 6-figures in affiliate income as your podcast grows.
6. Tweet Links Out To Twitter Followers
Twitter has 353.90 million users, making it a great way to reach a wide audience and promote Clickbank products without a website.
And the best part?
You can include direct affiliate links in your tweets to drive traffic and generate commissions as long as you're not caught spamming.
So mix up your tweets a little: you don't want every tweet to contain a Clickbank affiliate link.
Share some interesting facts and inspirational quotes, educate your audience about the benefits of your products and you'll build a loyal link-clicking, product-buying fanbase.
7. Promote Products On Pinterest

Pinterest can be a powerful high-converting traffic source, especially if you're promoting Clickbank products in more visual niches like:
The key to driving sales with Pinterest is to create beautiful images (Canva is free and easy to use) and include important keywords in your pin and board titles.
You can also join a few related group boards to get your links out there.
And yes, Pinterest allows you to post affiliate links as per their community guidelines:
"Affiliate content should be original and add unique value for Pinners. Be transparent about the commercial nature of your content and about your links and their behaviour"
8. Email Links To Subscribers
Even in 2023, email is still one of the best ways to promote Clickbank products and make sales.
Why?
Because when people join your email list they're giving you permission to contact them and there's no more powerful way to get your affiliate links out there than by hitting someone up in their inbox directly.
You can build an email list even without a website by driving traffic from any of the other traffic sources on this list.
Use email software like AWeber to collect email addresses and send out emails automatically to start generating a steady stream of Clickbank commissions.
9. Recommend Products On TikTok
TikTok is growing like wildfire and affiliates like Rachel Meaders are already using this platform to bank crazy commissions: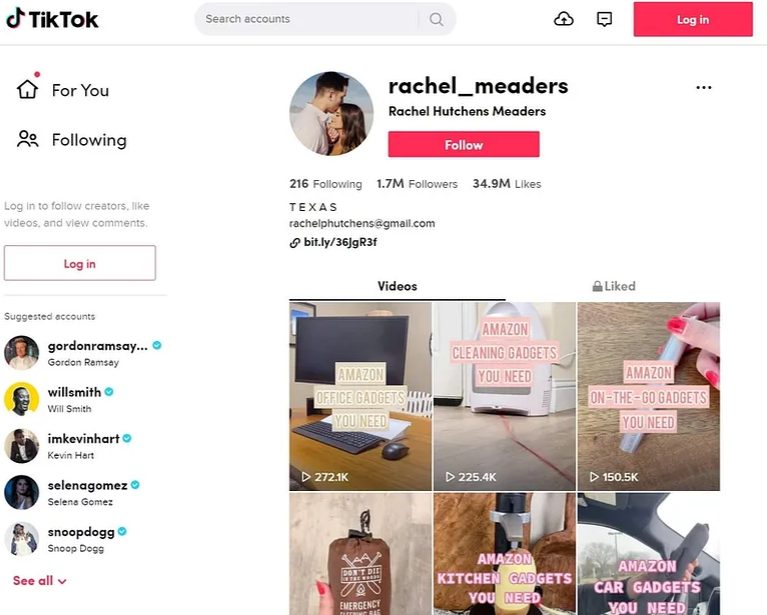 Anyone can promote Clickbank products on TikTok because you can demonstrate them in real-time with a quick and easy 2-3 minute video.
You're allowed to add affiliate links to your videos if you have 10,000+ followers or you can convert your TikTok to a free business account and add affiliate links to your bio.
10. Generate Affiliate Sales With Facebook
You're already on Facebook daily, so why not make money with it?
Obviously, you don't want to spam family and friends with your affiliate links but do it right, and it could be a great way to make sales.
Facebook groups work best.
Find the groups most relevant to your product niche and get active in the community. Share helpful information like how-tos, product reviews, testimonials, and frequently asked questions.
Facebook allows affiliate links as long as you avoid making any misleading claims.
11. Leverage Paid Ads
All the previous ways to promote Clickbank products take time but not very little money.
But what if you're cash-rich and time-poor?
That's where paid ads come in.
While they can take a bit of tweaking to get an ad campaign running profitably, paid ads offer the fastest route to becoming one of Clickbank's top affiliates.
There are so many types of paid ads. You've got:
Eleavers.com is an ad network that specialises in Clickbank affiliate marketing and they offer the lowest cost-per-click (CPC) in the industry, meaning you get to keep more of the money you make.
Check out our free Commission Academy advanced training for a step-by-step walkthrough on how to get rapid results promoting Clickbank products with paid ads.
How NOT To Promote Clickbank Products
However you choose to promote Clickbank products online, you can maximise sales and revenue by avoiding these common affiliate marketing mistakes.
Not Understanding What You're Selling
If you really want to stand out from the other 100,000 Clickbank affiliates then you don't want to just regurgitate what it says on the product sales page.
You can do better.
Actually buy the product before putting your name to it. Get a clear grasp of what it is and how it works and you'll be in the best position to show the real-world benefits of the product and make 10x more sales.
Overlooking Relevancy
Who do you think rakes in the most commissions:
The guy trying to sell fishing rods to golfers or the guy selling golf balls to golfers?
Exactly.
Same goes for Clickbank.
If you promote cheerleading products to a bunch of bodybuilders, don't be surprised if you make diddly squat.
Relevancy is key when it comes to quitting your job and turning affiliate marketing into a full-time career.
So figure out what people want and show them where they can get it.
Thinking Only Short Term
Clickbank is a legit affiliate network but let's just say some Clickbank products are better than others.
There are some affiliates who couldn't care less about the quality of the products they're promoting as long as they make a quick buck but I think this is short-sighted.
If you want to build a thriving online business in the long term, don't put your reputation in jeopardy by promoting scammy or subpar products that don't do what they say they will do.
People might buy from you once but once that trust is broken they'll never buy from you again.
Instead, choose products you can proudly get behind.
Promoting Clickbank Products FAQs
Here are some common questions we often get asked about selling Clickbank products.
If you have a burning question that's not answered here, let us know in the comments and Dale and I will get back to you right away.
What Are The Best Clickbank Products To Promote?
The best Clickbank products to promote are the ones most relevant to your niche as that's what's going to get you more click-throughs, sales and commissions.
And the best affiliate niches are the health, wealth and relationships niches as these tend to get the highest conversion rates.
Check out this list of the top 20 best-selling Clickbank products of all time for ideas.
How Do You Become A Clickbank Affiliate?
Becoming a Clickbank affiliate is quick and easy.
To get started click here to sign up for your free account, enter your name, email phone number, address and password and you're good to go!
From there, browse Clickbank's marketplace categories until you land on a product that's a good fit for your audience.
What Is The Best Way To Promote Clickbank Products?
Honestly, you can use all the ways I've just given you to drum up sales, but if you want to see serious results from your efforts then you need a website.
Why?
Because generating commissions through third-party sites like Medium and TikTok is fine when you're starting out, but if you want to build a solid financial future for you and your family the only way to do it is with a website you 100% own and control.
Watch this video to discover why promoting Clickbank affiliates with a website is the smart way to go:
How Long Do Clickbank Affiliate Links Last?
All Clickbank affiliate links come with a 60-day cookie duration so as long as your referrals click through your link and buy within 60 days, you'll still get credited for the sale.
How Often Does Clickbank Pay Affiliates?
Clickbank pays affiliates every Friday via cheque or direct bank transfer.
When you become a Clickbank affiliate you'll first have to make 5 sales from 5 different payment methods to meet their payment requirements.
From then on, you can choose between a $10 and $1,000,000 minimum payment threshold amount and you'll get paid every Friday as long as you've made more than that.
Take The Next Step
Now you have a multitude of ways you can promote Clickbank products and start earning commissions!
As I say, choose one traffic source to begin with and scale up from there.
And if you're new to affiliate marketing take a look at our free Commission Academy course for complete step-by-step training on how to build your own 6-figure online business.