Wouldn't it be nice if you could actually get paid for using Instagram?
At least then you'd be getting something back for all the free content you've created for Mark Zuckerberg.
Not a criticism – just a fact.
And Linktree affiliate marketing might be just the way for you to make money from your Instagram posts.
Let's take a look at how you'd go about doing that.
What Is Linktree?
Linktree is a link in bio tool many social media influencers use to create beautiful personalised landing pages to help followers find all your important links in one spot.
Linktree gives you a smart way to add multiple links to your Instagram account so you can direct fans to more of your content, your online store, recommended affiliate products, Spotify, your podcast and more.
How Does Affiliate Marketing With Linktree Work?
Affiliate marketing with Linktree works when your Instagram or TikTok followers know, like and trust you enough to buy the products you recommend.
You add your Linktree page with your recommended product affiliate links and you earn commissions every time someone clicks through and buys.
It looks like this: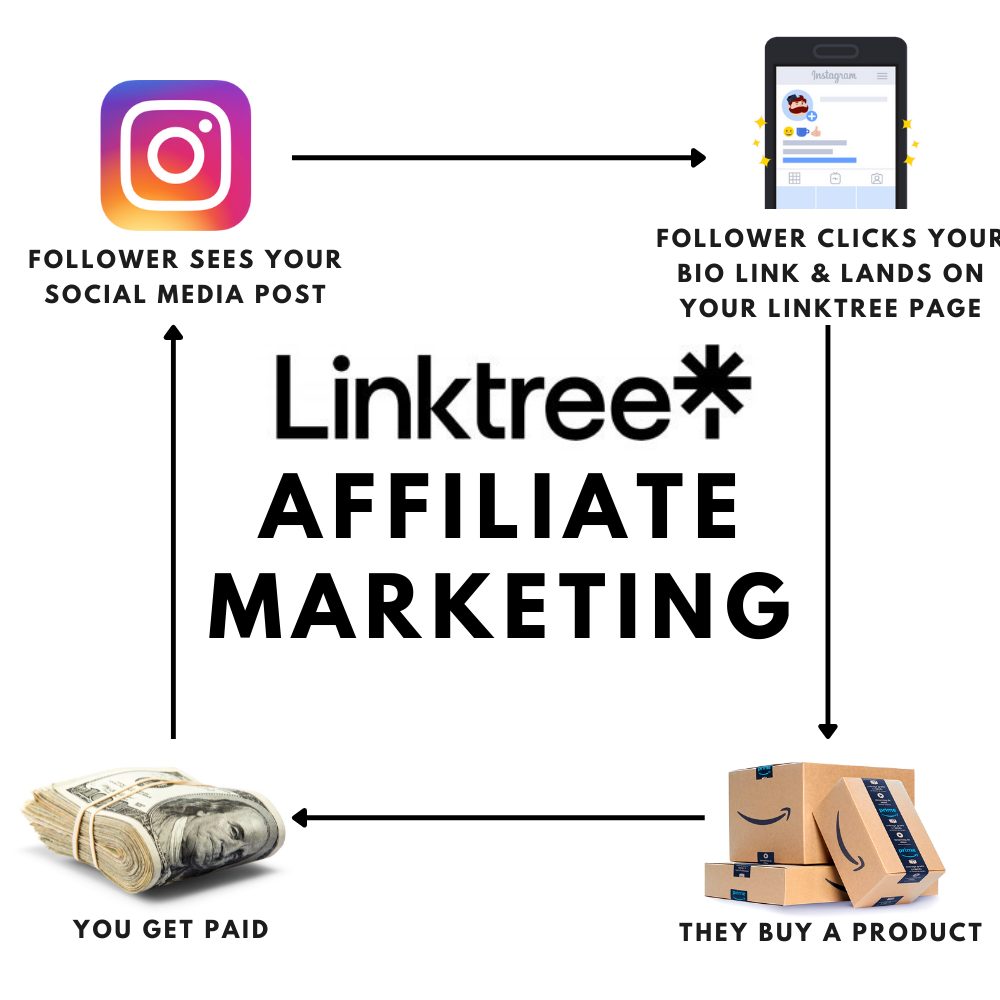 You can make money selling as many products as you want and there's no limit to how much you can earn.
You could share helpful how-to posts, product demonstrations and even product reviews that direct people to your Linktree page via your bio link to increase sales and revenue.
How To Use Linktree For Affiliate Marketing [5 STEPS]
1. Identify Your Audience's Needs & Wants
Let's start with a bit of research because you'll make more money with Linktree affiliate marketing when you give people exactly what they want.
And how do you find out what your followers want?
The best way is with Instagram Insights where you'll get all important data on your followers including:
Where they live
How old they are
Whether they're male or female
You can also see which of your posts got the most comments, likes and highest levels of engagement to see what topics your audience likes the best.
Then it's just a matter of thinking about what your followers' goals and aspirations, pain points and areas of frustration are. From there, you can come up with some ideas on what products and services they're likely to appreciate the most.
2. Find The Right Affiliate Products
Now you've completed the first step, it's time to actually find products you can promote as an affiliate and we do this by finding relevant and related affiliate programs.
Once you join, they'll give you a unique link you can add to your Linktree page that ensures you get credited for every single sale you generate.
There are literally 10,000s affiliate programs online that you can join for free that are going to give you access to millions of products and the ability to make A LOT of money with affiliate marketing.
And the best way to find these affiliate programs?
Simply do a Google search for whatever your topic is plus the words "affiliate program" and you'll get a ton of options come up: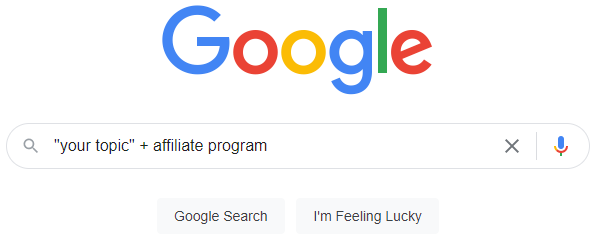 Or you can search the Commission Academy blog. That's probably easier because we've already researched the best affiliate programs out there so you don't have to do the heavy lifting.
A Few Examples…
Let's say you post on Instagram about fitness. You can do a quick search for:
Or let's say you're all about beauty and fashion. Search for affiliate programs like:
You get the idea!
There are affiliate programs out there related to whatever your followers are interested in, whether that be travel, food, pets, parenting, business, music or photography.
And whatever your Instagram brand is about, the Amazon affiliate program is always a solid choice just because they're so well-known and have pretty much any product you can think of – plus with Linktree you can easily integrate your Amazon affiliate account.
Watch this video to find out more about how affiliate programs work:
3. Create Your Linktree Page
Alright, so by now you know what kind of products would be a good fit for your audience and you know exactly how to find them. Now it's time to create your Linktree landing page!
First, head on over to Linktr.ee and create your free account. They have paid options too but the free version is all you need to get started.
Next, enter your Instagram ID and build out your page. You can design and customise your page however you want so get creative!
Now you want to copy and paste your affiliate link and add it to your page somewhere where it'll generate the most clicks.
Here's a video walkthrough if you're looking for a complete step-by-step:
4. Publish Helpful Product-Based Content
Complete steps 1-3 and you're good to go… almost!
All we need to do now is drive traffic to your affiliate links because the more eyeballs your bio link gets and the more clicks you get, the more sales you'll generate and the more money you'll make!
So what's the best way to drive traffic?
I've already given you a clue – it's posting useful and helpful content that tells your followers to check out the link in your bio.
Say your Instagram is aimed at women wanting to increase their fitness levels for example and you're promoting a health supplement. You might post a few different types of content on Instagram, such as:
Inspirational quotes and images
Workout tutorial videos
Product photos shot in a studio
Lifestyle photos featuring your products
User-generated content
In each post, you're going to recommend the health supplement in an organic and natural way. You don't need to go overboard and turn into a sleazy salesman, but you don't have to be subtle about it either.
If you genuinely believe in the product and know it will help people achieve their fitness goals then tell them to check out the link in your bio and give it a try. Lots of them will.
5. Watch As Your Commissions Roll In
The beauty of using Linktree to earn affiliate commissions is you can rinse and repeat this process as many times as you like…
Whether you want to focus on promoting a single product or you want to promote a whole range of products over time – the ball's in your court and it's completely up to you.
And as long as you put your fans first and give them exactly what they want, you'll generate a steady online income stream that makes following all these steps and building your online presence worthwhile.
Should You Start Affiliate Marketing With Linktree?
You can.
With 1.4 billion users, Instagram can be a powerful revenue source for social influencers and Linktree is one of the most popular link in bio tools that makes it easier than ever to create a profit-generating landing page you can add your affiliate links to.
There's also no end of potentially profitable niches to enter into which gives you a way to turn your passion into a thriving online business.
So I guess it depends on if you have a large enough following to make it worth your while.
But something to keep in mind is you're effectively building your financial future on a third-party platform…that could vanish overnight.
Or suddenly decide to ban any form of affiliate marketing altogether.
That's why building your own niche or authority website is always the smarter way to go for almost unlimited income.
And that's exactly what we'll teach you in the free Commission Academy course.