Found a great product or service your audience will love? Want to write a product review that converts into clicks and affiliate sales? You're in the right place! I'm going to show you how to write a product review step-by-step.
The best part?
This product review writing guide contains outlines, templates and examples you can use on your own site.
Here's the deal:
Product reviews are DYNAMITE at generating sales. Why? Because people trust them:
88% of consumers trust online reviews as much as personal recommendations
89% check reviews before buying anything online
90% say positive product reviews influence their buying decisions
And you're catching people at the "intent" stage of the customer buying cycle, right before they purchase: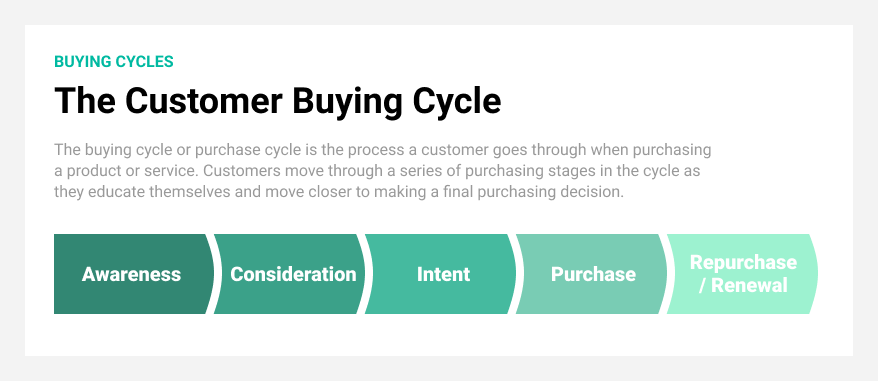 The person searching for a review already knows about the product and has pretty much decided they are going to buy it. They just want to check a few details and confirm it's a good product first.
That's where you swoop in with your stellar review and snag the commission!
So how do you write a great product review that results in high conversion rates and happy buyers?
By using a simple outline and following a few simple strategies.
There's a fine art to writing a positive review that skyrockets your sales without coming across like a greasy car salesman, so whether you're starting affiliate marketing or looking to go next level, I'm going to show you what elements to include in your reviews and give you some real-life examples too.
Let's do this!
How To Write A Good Product Review In 9 Steps
I've written over 700 product reviews that have gone on to attract millions of monthly website visitors and generate $100,000s in sales. Here's the 9-step process I follow every time I write a product review:
Carry out proper keyword and product research
Create your basic outline with subheadings
Craft a captivating headline
Write a clear and concise intro that connects
Add a summary box to boost conversions
Answer questions under each subheading
Take pictures and videos of yourself using the product
List out the real pros and cons
End with a final call to action
Do this and you'll have a winning product review no matter what your product or affiliate niche.
Let's take each step one by one…
The Better Your Research, The Better Your Review
Writing a good product review starts with the research phase. The first step is to find out what people want to know about the product as this ensures your review gets traffic after it's published.
You could also call this keyword research or SEO analysis.
Keyword tools like Jaaxy, Mangools and AnswerSocrates can help you figure out what product-related questions people are searching for online so you can include them in your review as subheadings.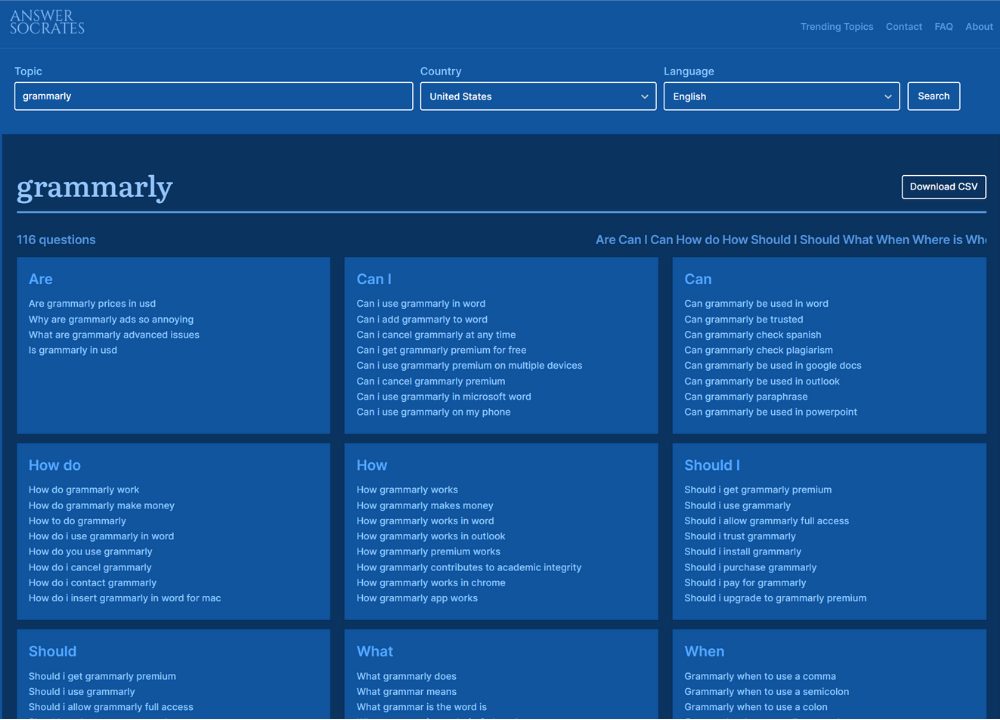 Google is a well of information too.
If I was writing a review of Grammarly I would simply search "Grammarly review" and their People Also Ask feature would give me a bunch of relevant keywords: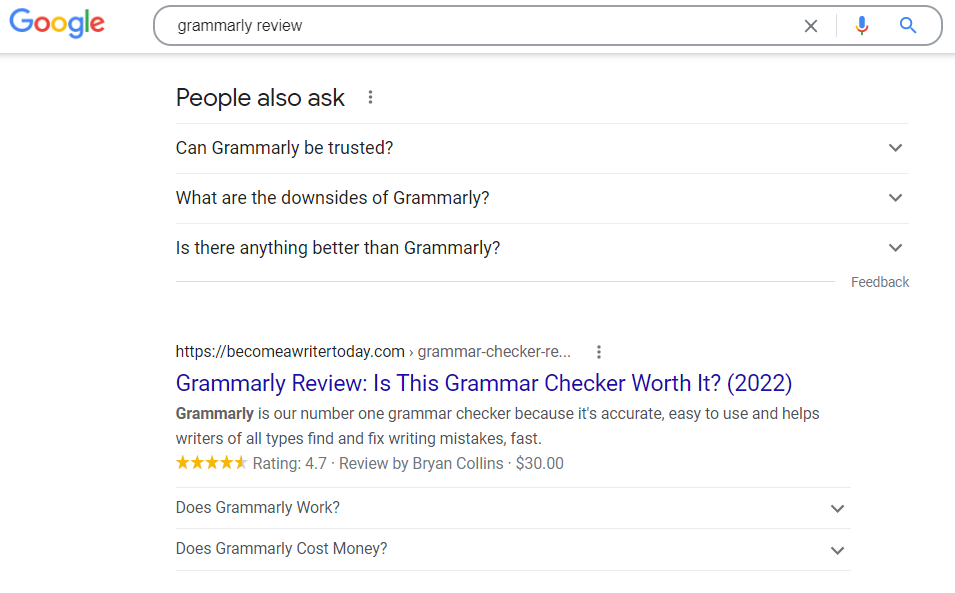 Scroll down to the bottom of the results page and you'll see a ton of other related searches too: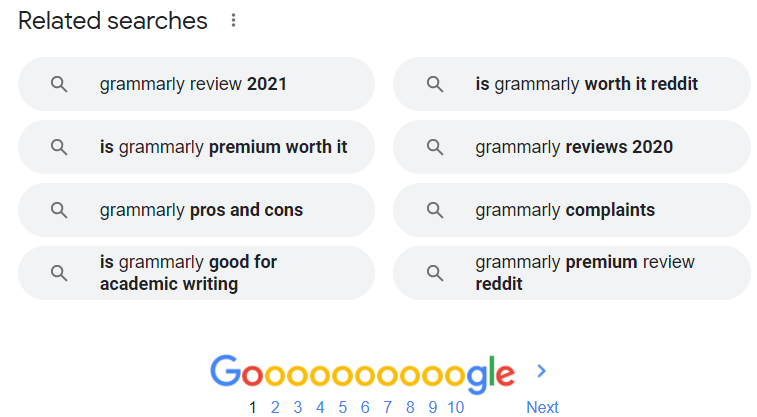 The second part of the research phase is product research. Whether you're reviewing digital products like web hosting and software or physical products like air fryers and printers, you'll write a much better review if you've actually bought the product and used it yourself.
How To Write Product Reviews Of Things You Don't Own?
While there's no replacement for personal, first-hand experience, it is still possible to write reviews of products you don't own. You'll find a goldmine of information by:
Reading Google reviews
Checking Reddit
Browsing Amazon reviews
Seeing what YouTubers are saying
Go through and note down everything you can about the product:
Is it easy to use?
Does it do what it says it'll do?
What problems does it solve?
Are there any downsides?
Is it worth the money?
Getting the answers to these questions will arm you with the info you need to write the best review possible.
My Product Review Template
So now your research is done, let's move on to the writing phase.
Though each product review will vary slightly depending on what type of product it is, using a product review template will make the writing process a whole lot smoother.
Seriously, using a template has been the biggest gamechanger in terms of writing efficiency because instead of staring at a blank page, you have a basic outline and structure you can bounce off.
Here's the template I use:
And now I'm going to show you how to write each of those sections.
Feel free to save this outline on Google Docs or better yet, create your product review template as a reusable block inside WordPress so you can just load it up whenever you need it and start writing.
HEADLINE
Your headline is the first thing people see after hitting search, so you want to come up with an attention-grabbing headline that will attract clicks without it being too clickbaity (in 60 characters or less).
Ideally, you want your target keyword at the beginning, which in our case is "the name of the product" + "review".
Here are a few product review headline examples you could try:
[Product]: The Brutally Honest Must-Read Review For 2022
[Product] Review: Why It's Now Better Than Ever
[Product] Review 2022: Is [Product] Worth It? My Verdict
Honest [Product] Review: Pros, Cons & Alternatives
[Product] Review: 27 Things You Must Know Before Buying!
[Product] Review: Does It Work? My Honest Take!
The ONE [Product] Review You Need To Read!
Taking the time to do this right is crucial as you've only got a couple of seconds to capture someone's interest and get that click. You want to focus on click-through rate because if your review starts at position 3 but gets more clicks than those reviews in positions 1 or 2, you'll move up the rankings.
INTRODUCTION
Intros should be short and concise. Waffle and you'll lose people instantly. Here's how I write my intros:
1. Ask a question people will say "Yes!" to. This reassures people they're in the right place and shows them you understand exactly what their question or problem is.
2. Follow up with internal dialogue people have after thinking about the question.
3. Make a promise. Tell them what you're going to cover and give them a reason to keep reading.
Using our Grammarly review as an example, I would probably write the intro like this:
"Looking for a Grammarly review to find out if it can really help you write better? At $30 a month it's not exactly cheap, but is it worth it?

In this review I'm going to show you exactly what you get and how it works so you can decide for yourself.

Sound good? Let's do this!"
Keeping your intros short means you can get to the meat and potatoes of your review as quickly as possible.
SUMMARY BOX
Straight after your introduction, it's good to give your readers a quick snapshot of the review as a whole.
A good product review summary will show details on what the product is, how much it costs, bulletpoints of the pros and cons and give an overall star rating.
Most importantly, it'll have a clear call to action (with your affiliate link) like this review on DigitalTrends: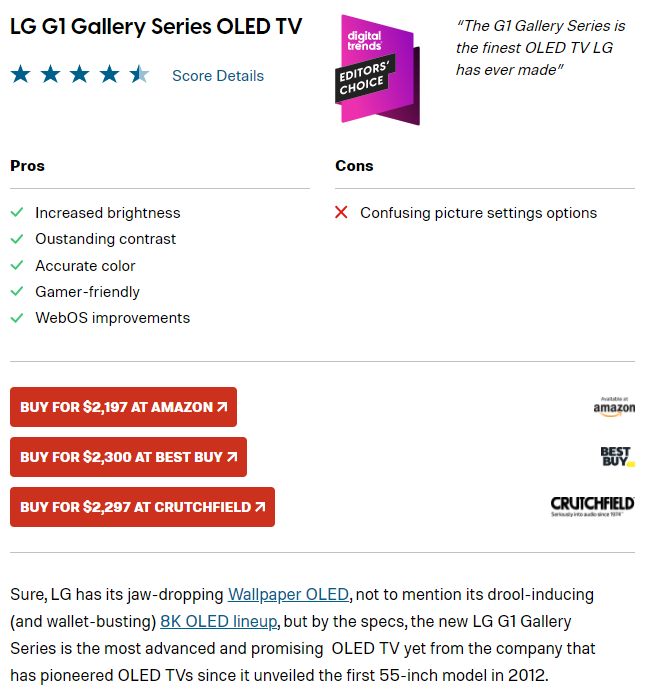 Adding a summary box like this isn't too difficult and definitely worth it! According to AuthorityHacker, adding a summary box with a CTA to their reviews increased their sales by almost 30%.
I use GeneratePress' GenerateBlocks plugin to create summary boxes but there are other great WordPress plugins out there you can use like Thrive Architect and WP Review.
WHAT IS [PRODUCT]?
9 times out of 10 I'll start the main review with the "What Is…" question and give a 2-4 sentence paragraph explanation of what the product is.
I find it's a nice way to ease into the specifics of the product and a ton of people will search this term. It's worth thinking it through and crafting a detailed yet concise answer to win Google's coveted featured snippet: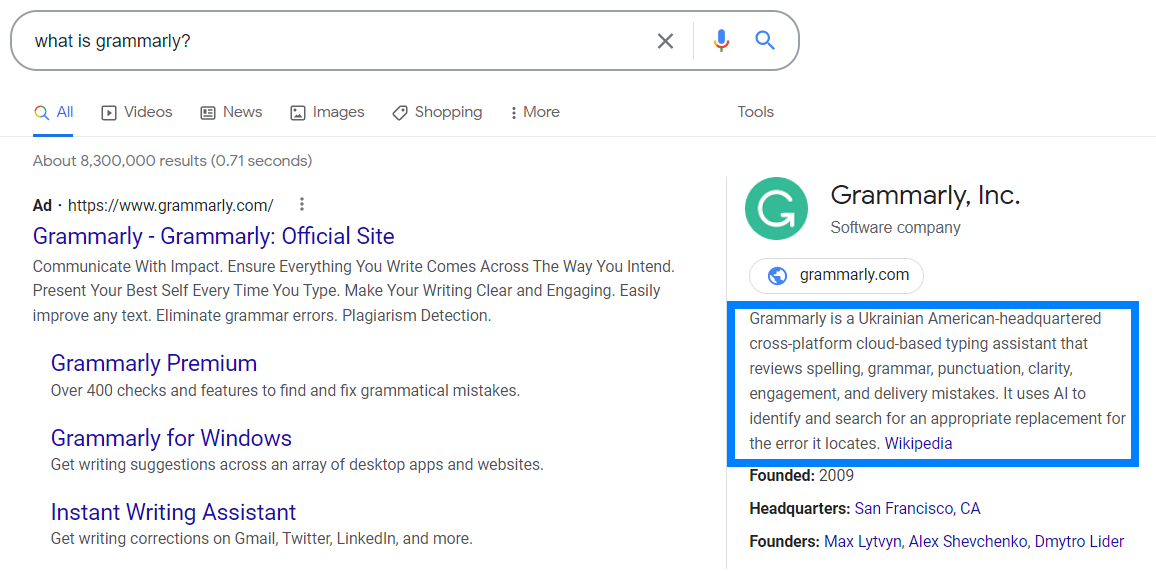 HOW DOES [PRODUCT] WORK?
A picture says 1,000 words so show rather than tell wherever possible. Pull out your phone and take a quick video explaining how the product works.
Resist the temptation to point out product features and instead, demonstrate how the product will solve their problem and benefit them personally.
HOW MUCH DOES [PRODUCT] COST?
Be open and honest about the pricing because you want your review to answer every possible question about the product. Say whether or not there's any customer support and be sure to include any upgrades, discount codes or warranties, if it comes with a money-back guarantee.
If you're buying the product yourself (recommended!) then show the payment process and average delivery times.
INSERT ANY OTHER PRODUCT-RELATED QUESTIONS HERE
Depending on your product and what you discovered in the research phase, there are a few questions you could include to make your review worthy of Google's top spot, including:
Who Is [Product Creator/Brand]?
What Makes [Product Different]?
Who Is [Product] For?
Who Is [Product] NOT For?
Is [Product] Worth It?
Is [Product] Right For You?
More [Product] Reviews
[Product] Alternatives
Give the best possible answer directly after the subheading as a target answer to win the featured snippet and you can freestyle after that.
[PRODUCT] PROS AND CONS
There's no such thing as a perfect product and talking about the cons as well as the pros is going to make your review a lot more credible and trustworthy.
And mix it up a little. Instead of pros and cons maybe try:
What I Like About [Product]/What I Don't Like So Much…
Praise For [Product]/Criticism Of [Product]
The Good/The Bad
Green Lights/Red Flags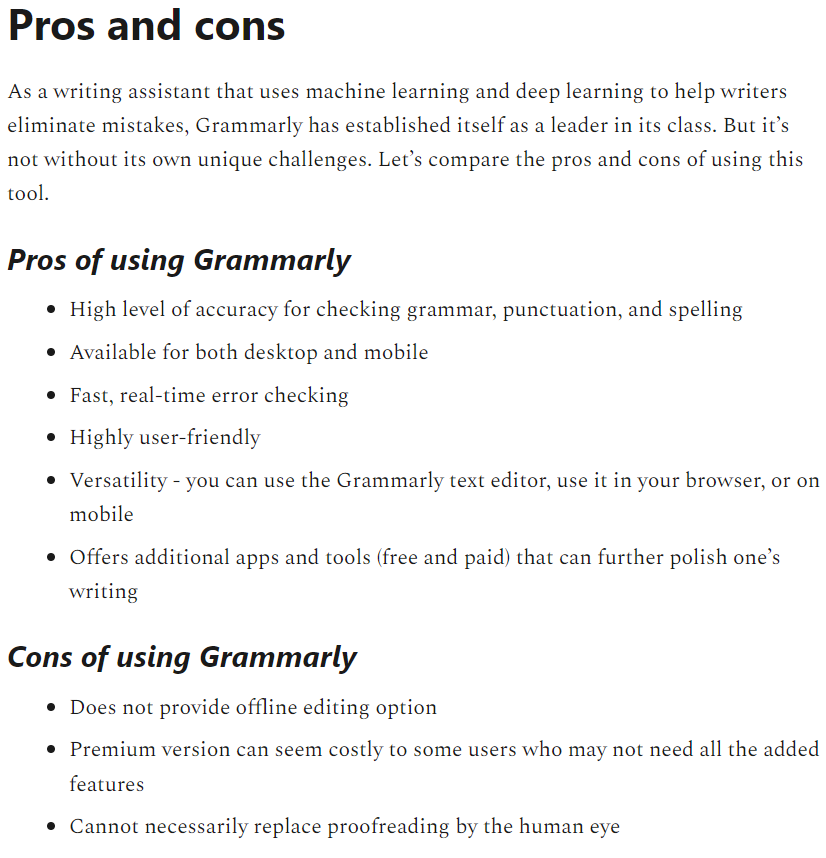 Also, avoid the rookie mistake of listing out the features as they've probably read them on the sales page already and zero in on the product benefits.
Sticking with our Grammarly example, instead of listing out features like:
Clarity-focused sentence rewrites.
Tone adjustments.
Plagiarism detection
Make it clear how the product is going to help or benefit them in a personal way, like this:
Grammarly will reduce editing time and save you 20 minutes a day
Gives you the confidence to write without worrying if your grammar is correct
Helps you write clearer sentences so you can get your message across
Can you see the difference that makes? Rather than rattling off boring features, you're showing potential buyers how the product will directly impact them and that's bound to result in more sales.
[PRODUCT] REVIEW: FINAL VERDICT
Your product review won't convert unless you can convince readers to take action, and in this final section you do that by answering the biggest question in your reader's mind:
"Is this product worth it and is it right for me?"
Give them a compelling reason to buy the product by reminding them how the product is going to make their life easier or relieve a pain point. Then you give a clear call to action telling them where to buy it.
And there you have it! That's the product review outline I like to use. I hope it helps! Use it as a springboard for your next review and feel free to adapt it to the types of products you're promoting.
Pro Tips For Writing Product Reviews That Convert
Apply these tips and you'll become a well-respected and trusted authority in your niche who knows how to write reviews to boost click-throughs and commissions.
Let's start with the most important…
Be Honest
According to KPMG's Global Online Consumer Report, consumers make their final purchase decision based on pricing, delivery options, return policy and trust. We've covered the first 3, they're easy… but what about trust?
Don't give an overly positive review just to get more clicks. It'll only destroy your reputation. If you want consumers to trust your reviews so you make a lot of money with affiliate marketing then transparency is key.
Always be honest about what you think about the product and don't hide your affiliate disclosure.
Be Helpful
Putting readers first always results in more sales and the more helpful your product reviews, the higher your commissions. So imagine a close friend is thinking about buying the item you're reviewing and write for them.
What do they need to know to make an informed decision?
What do you wish someone had told you before you bought this product?
What would you tell yourself if you could travel back in time?
Be Open
As a reviewer, it's your job to share your experience and be opinionated, so write your review in the first person and tell us what you really think.
What were your first impressions?
Did the item match your expectations?
Do you find the product easy to use?
Be Direct
When you're giving a call to action it's OK to get a little bossy. Tell people exactly what to do. Be clear about what action you want them to take and they're far more likely to do it.
Always start your CTAs with an action word: Go here. Do that. Check out this. Sign up now.
So instead of:
"If you like, you can look at the product."
Instead, say:
"Tap here to see prices on Amazon!"
Be You!
You don't talk like a robot, so don't write reviews like one. Remember what we said about writing your reviews for a friend? Write in a conversational way and let your personality shine through.
And another thing: Show your face!
Let us see you with the product, using the product. That's by far the best way to jack up conversions.
4 Great Product Review Examples
This guide wouldn't be complete if I didn't show you some of the best product reviews I've seen out there in the wild, so let's look at some real-life examples:
1. The Best Suitcases for Checking Review (by WireCutter)
Land on this review and you instantly have all your questions answered because this reviewer wastes no time in telling you what their top pick is and the exact reasons why.
People trust their reviews because they explain (in impressive detail) what their review process and criteria is. They also give readers 2 or 3 purchasing options with multiple CTA buttons and prices clearly displayed. I love the fact they use their own product photos and go the extra mile to demonstrate the product.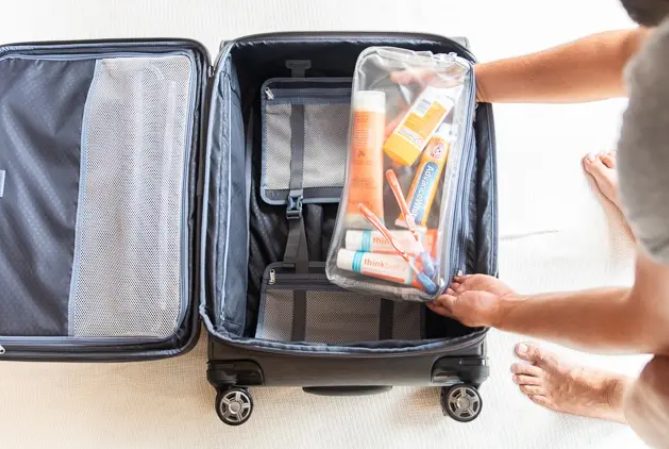 2. The Best Wireless Home Security Cameras (by ConsumerSearch)
I like Consumer Search's home-based product reviews because rather than sticking to a singular "#1 top pick" they recommend a range of security cameras in different categories like "easiest to install", "best for smart home integration" and "most affordable" to make it easy for readers to find the best one.
3. SEMrush Review: Details, Features & Pricing (by Backlinko)
If you want examples of digital product reviews then look no further than Brian Dean. He keeps intros short and to the point and lets people know exactly what to expect by showing dozens of screenshots of how it works.
He uses "Things I Like" and "Things I Don't Like" for his pros and cons sections before ending with "The Bottom Line" where he gives proof he's been using SEMrush for 6+ years. Now that's a real product endorsement!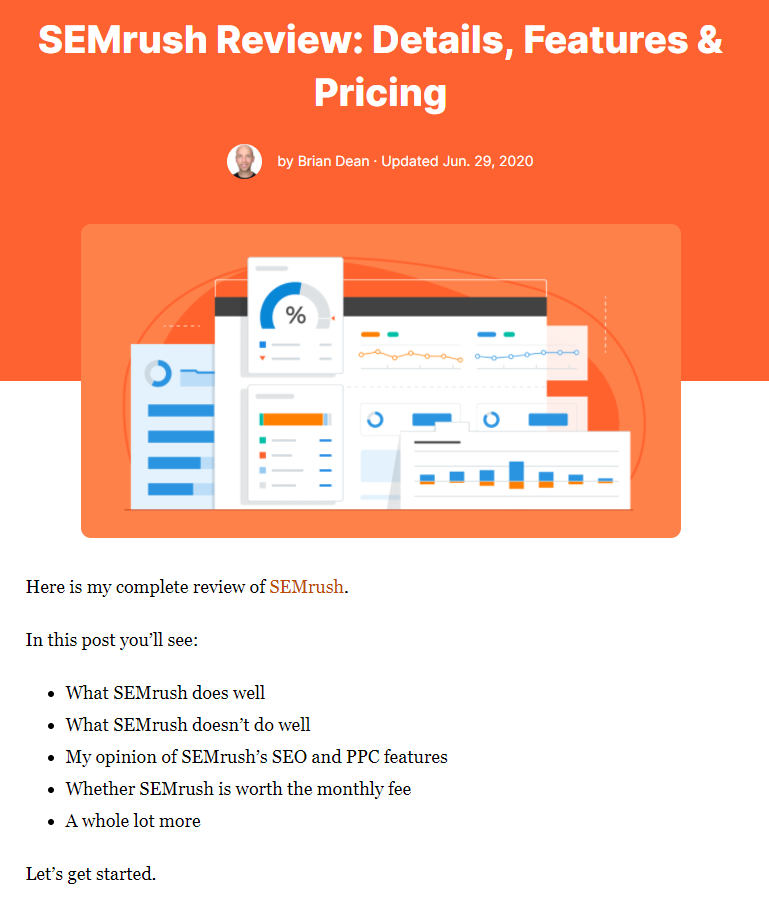 4. Apple iPhone 13 Review: Everything You Need To Know (by Tom's Guide)
Tom's Guide is in a super competitive market but they stand out because of their product comparisons and attention to detail. They go to extreme lengths to compare the phone's specs with other models out there, even comparing images they took from each phone so it's easy to see (quite literally!) why people should buy it.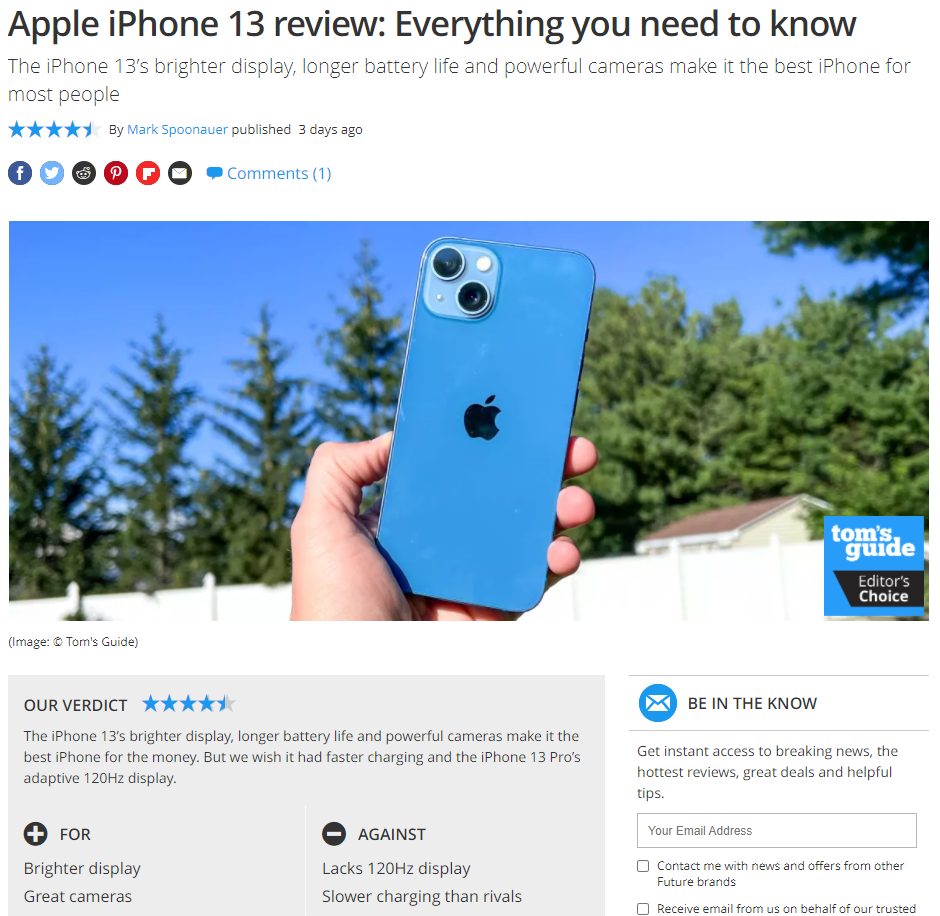 Now You're Ready To Write A Great Product Review
You've seen the stats that prove product reviews play a central role in promoting products as an affiliate and now you know exactly how to write a product review that ranks high on Google and converts like crazy.
You have the exact review writing process I follow and the template, outlines and examples to make it happen.
Is writing product reviews easy?
No, but it's definitely worth putting in the time and effort to do it right. Carry out proper keyword research, get as much information about the product as you can and make your review as helpful as possible by answering all your readers' questions so they can be sure it's the best fit for them.
Do this and you'll see the difference it makes to your bank balance.
Not only that, you'll have people thanking you for writing such a helpful and unbiased review.
So, what are you waiting for?
Take up thy keyboard and review like the reviewing ninja that you are!
Your readers are counting on you.
Have You Written A Product Review That Converts?
Have you written an affiliate product review that got a ton of traffic and brought in daily commissions?
We'd love to hear how you did it!
If you liked this post then be sure to check out our guides on how to become an affiliate marketer and how to sell other people's products online.