This is an ultimate list of the 15 best link in bio tools for 2023.
Instagram only lets you add one link to your bio but with a link in bio tool you can give your audience quick and easy access to what they want and you don't have to mess around constantly changing your bio URL.
It also means you can make money on Instagram because you'll be able to:
And in this guide, I'll reveal the world's best link in bio tools to help you get started…
…and help you choose the best one for you.
15 Best Link In Bio Tools
1. Sked Link (Recommended)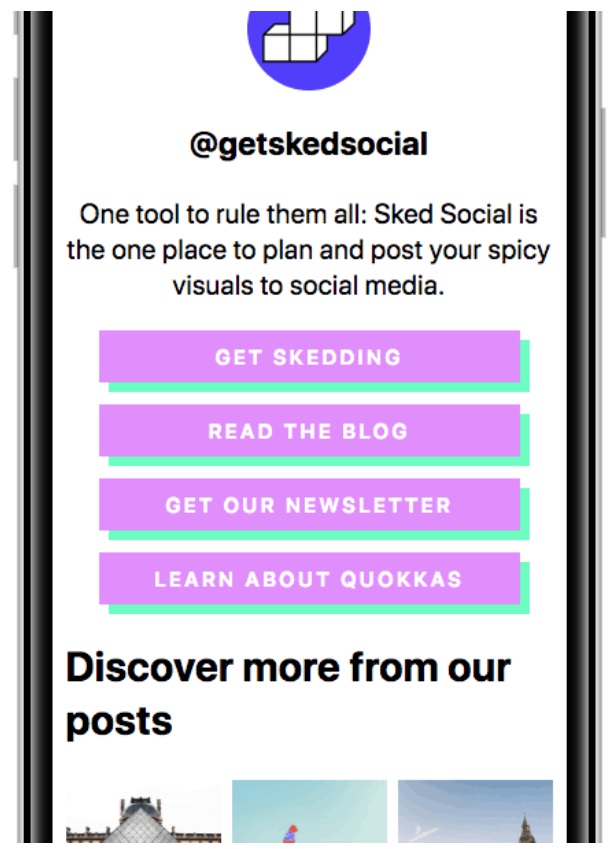 Sked Link helps you get the most out of your one Instagram bio link by helping you create simple yet beautiful landing pages that tells your followers where you want them to go next.
With Sked Link you can:
Use it across multiple Instagram accounts
Autoschedule posts
Include images, videos
Integrate your account with Canva for creating beautiful images
Sked Link pricing: There's a 7-day free trial then you can choose from Fundamentals ($25/mo), Essentials ($75/mo) or Professional ($135/mo) depending on your budget. Pay yearly and you'll get a 20% discount.
2. Shorby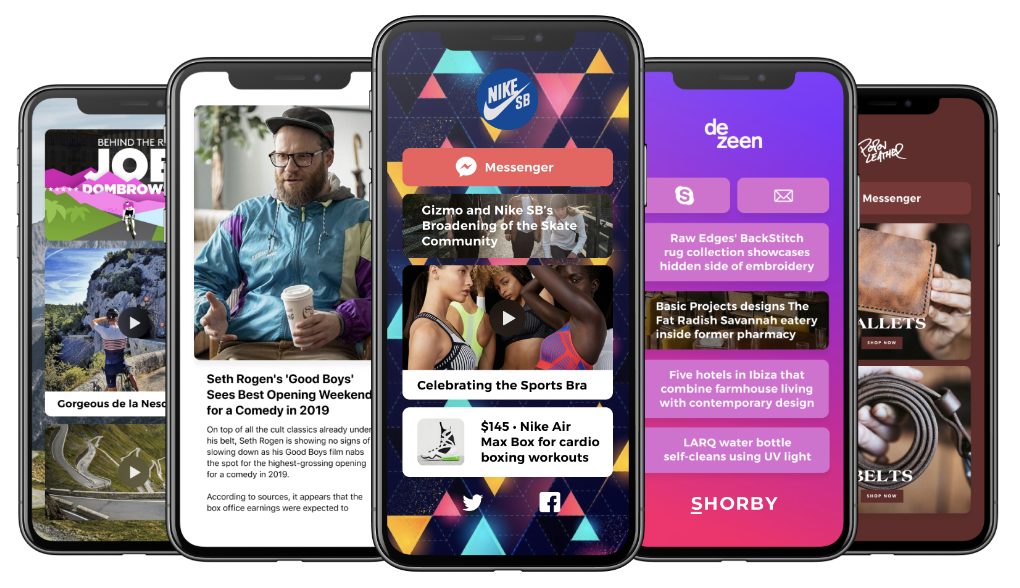 Shorby is the best and most popular link in bio tool for Instagrammers who want to escape Instagram's one-link limitation and drive more traffic to their own websites and pages.
With Shorby you can:
Create beautiful, 100% customisable landing pages so followers can access all your links in one place
Add your own branding and logo
Link to your Facebook Messenger, Whatsapp or Line to keep in touch
Use the easy-to-use block builder to add posts, videos and GIFs
Automatically display your latest blog posts, recommend affiliate or Shopify and Etsy products
Schedule posts and links to appear at specific times
Add your YouTube, TikTok, Facebook and other social media links
Shorby pricing: Shorby has three pricing options: Rocket, Pro or Agency. Rocket is $15 per month or $12 per month if you decide to pay yearly. Pro is $29 per month or $24 per month paid yearly and Agency is $99 per month, $82 per month if you go for the yearly option.
3. Linktree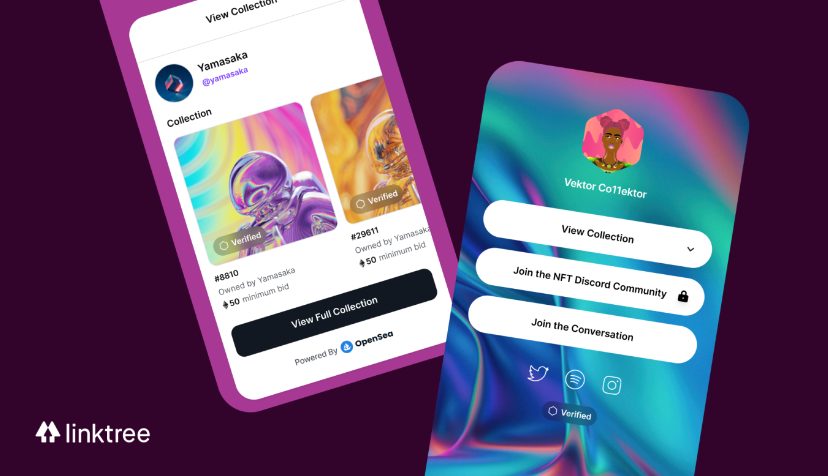 Linktree is used by 25M+ Instagrammers and is another solid way to add a link to your bio that allows your followers can easily access your website, products, promotions, Spotify, podcast and social media accounts on one stylish centralised page.
With Linktree you can:
Customise your landing page to get it looking exactly how you want
Generate a QR code to make your page even more accessible
Add a tip jar to create an extra revenue source
Sell your own products and collect payments
Schedule content (great for flash sales and special promotions)
Track detailed analytics to measure follower engagement stats and sales
Linktree pricing: Linktree has 4 pricing options so you can choose the one that best fits your budget: Free, Starter, Pro and Premium. Free is free, Starter is $5/month, Pro is $9/month and Premium is $24/month.
4. AllMyLinks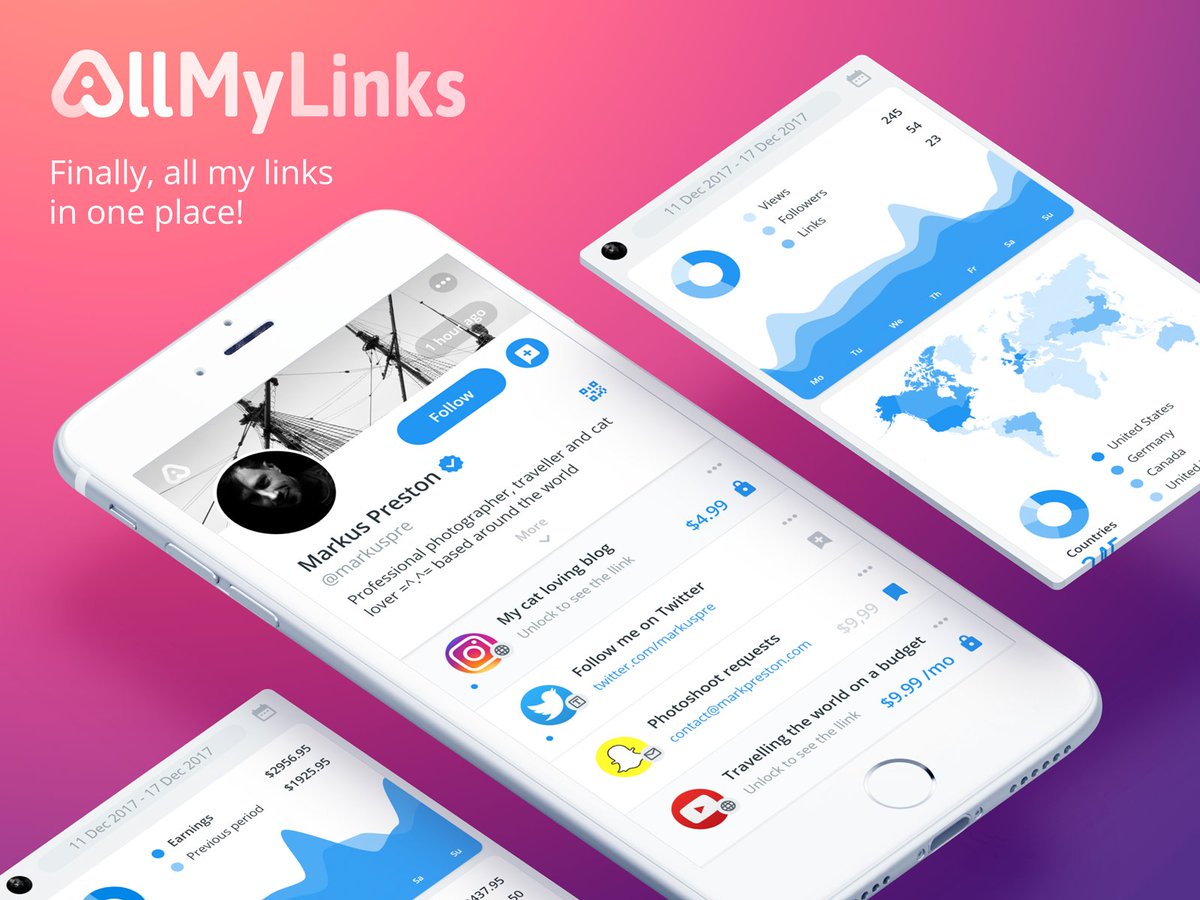 If you're on the hunt for a free link in bio tool, AllMyLinks may be just what you've been looking for. You can add your social media links in one spot and change the page how you see fit.
With AllMyLinks you can:
Link to your Instagram, Twitter, Snapchat, Youtube and any other social media account
Send automated welcome messages
Show your followers when you're online
Connect your PayPal to receive direct payments
AllMyLinks pricing: AllMyLinks is 100% cost free and ads free and there are no premium or paid options.
5. LinkinBio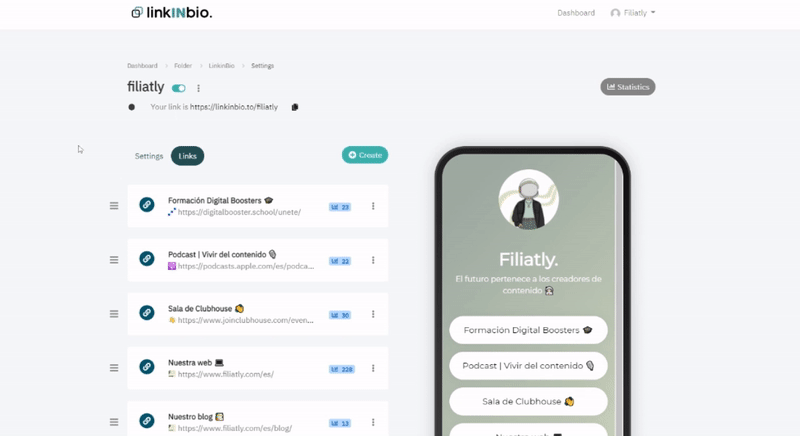 LinkInBio calls itself the #1 link in bio tool for Instagram and TikTok. What makes LinkInBio different from the other link in bio tools out there is that your landing page looks exactly like an Instagram grid.
With LinkInBio you can:
Change design and colour settings to personalise your page
Customise your URL
Connect your landing page within posts
Add up to 5 links per post
Link to your Shopify store directly and track sales
LinkInBio pricing: They have a free Lite version, an $18/month Pro version (with a 14-day free trial), a $40/month Growth version and an Advanced $80/month version. LinkInBio's paid subscriptions include other social media growth tools by parent company Later and you can pay yearly for an 18% discount.
6. Koji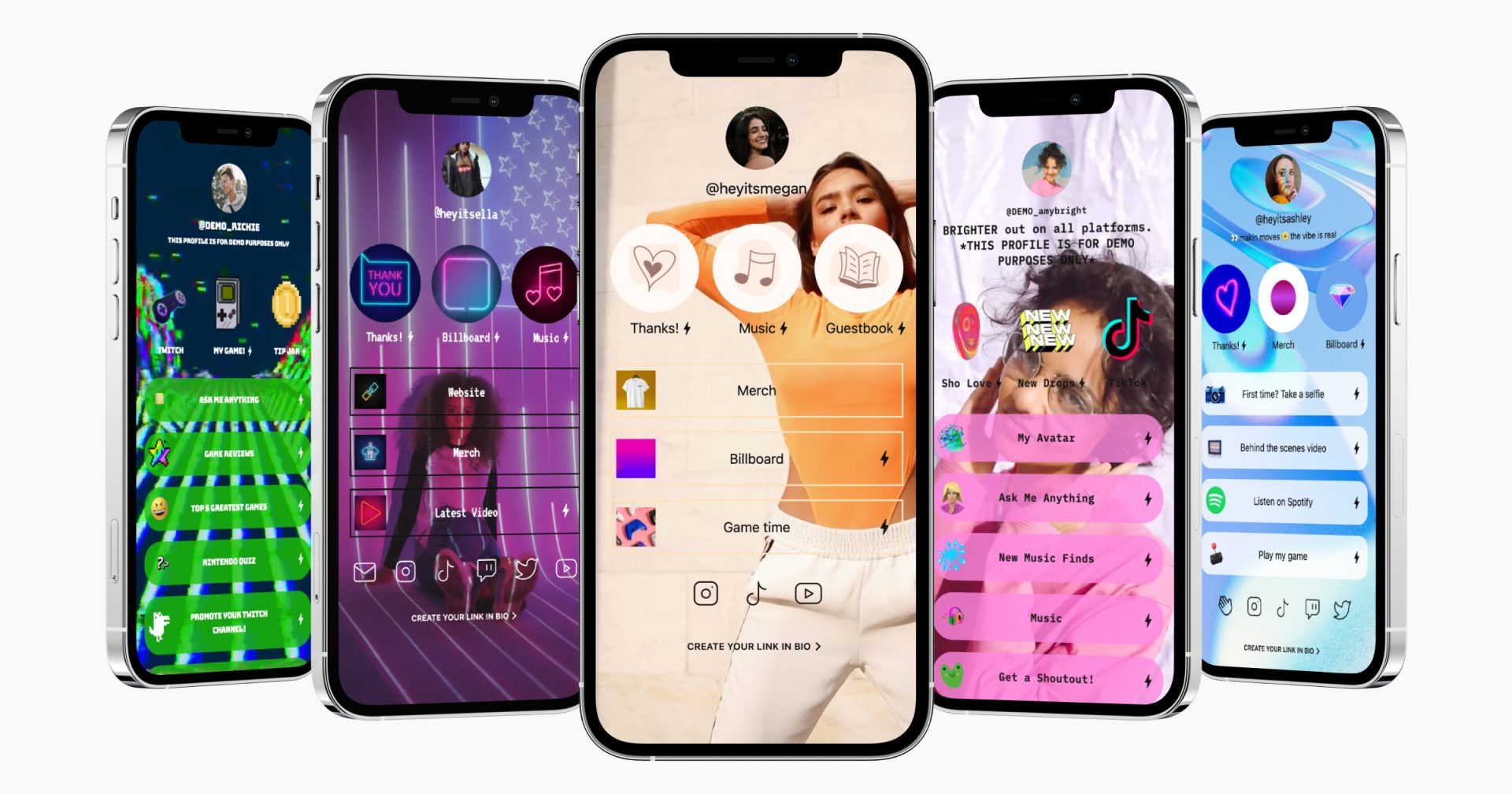 The Koji link in bio tool app comes with a a super easy page builder and is targeted at musicians who want to monetize their Instagram account and make it easy for fans to find what they're looking for in one place.
With Koji you can:
Add a tip jar to start receiving donations via Stripe
Build a list of email subscribers
Add personal status updates
Add affiliate and Shopify links
Sell personalised videos
Sell space to promote followers channels with the Billboard feature
Koji pricing: The Koji link in bio tool is free to use with no Premium or paid options. Instead of paying a monthly subscription, you pay a 9% transaction fee for any products you sell or a 6% fee for tips you receive through the platform.
7. ContactInBio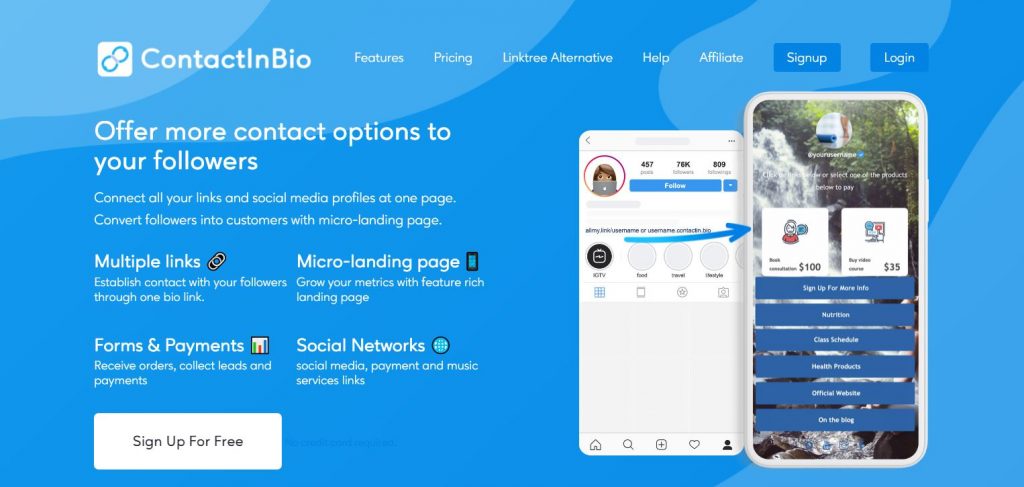 ContactInBio does what every other link in bio tool on this list does – makes it easy to create a single optimised landing page to better connect with your audience and monetise your social media, except this one is aimed at singer influencers.
With ContactInBio you can:
Choose from 12 free and 56 premium themes and layouts
Add links to Messenger, Whatsapp, Telegram, Line and more
Promote your work and add links to Spotify, Itunes and Soundcloud
Sell your own merchandise and accept payments via Stripe, Paypal etc.
ContactInBio pricing: There are three subscription options: Free, Business and Agency and you can pay monthly for a year or pay a one-time fee for lifetime access. Business is $7 a month or $91 one-time. Agency is $28 a month or $273 one-time.
8. Feedlink
With Feedlink by Embed Social, not only can you create a custom landing page, you can also tag each of your posts with a unique link that drives traffic from TikTok and Instagram to specific landing pages.
With Feedlink you can:
Create a stunning bio page
Show your latest posts feed
Choose from many styling and customisation options
Feedlink pricing: Feedlink has three pricing options: Starter, Pro and Business. Starter is free for the first year then $12/year. Pro comes with a free 7-day trial then it's $3 per month and Business is $9 per month.
9. LinkFolio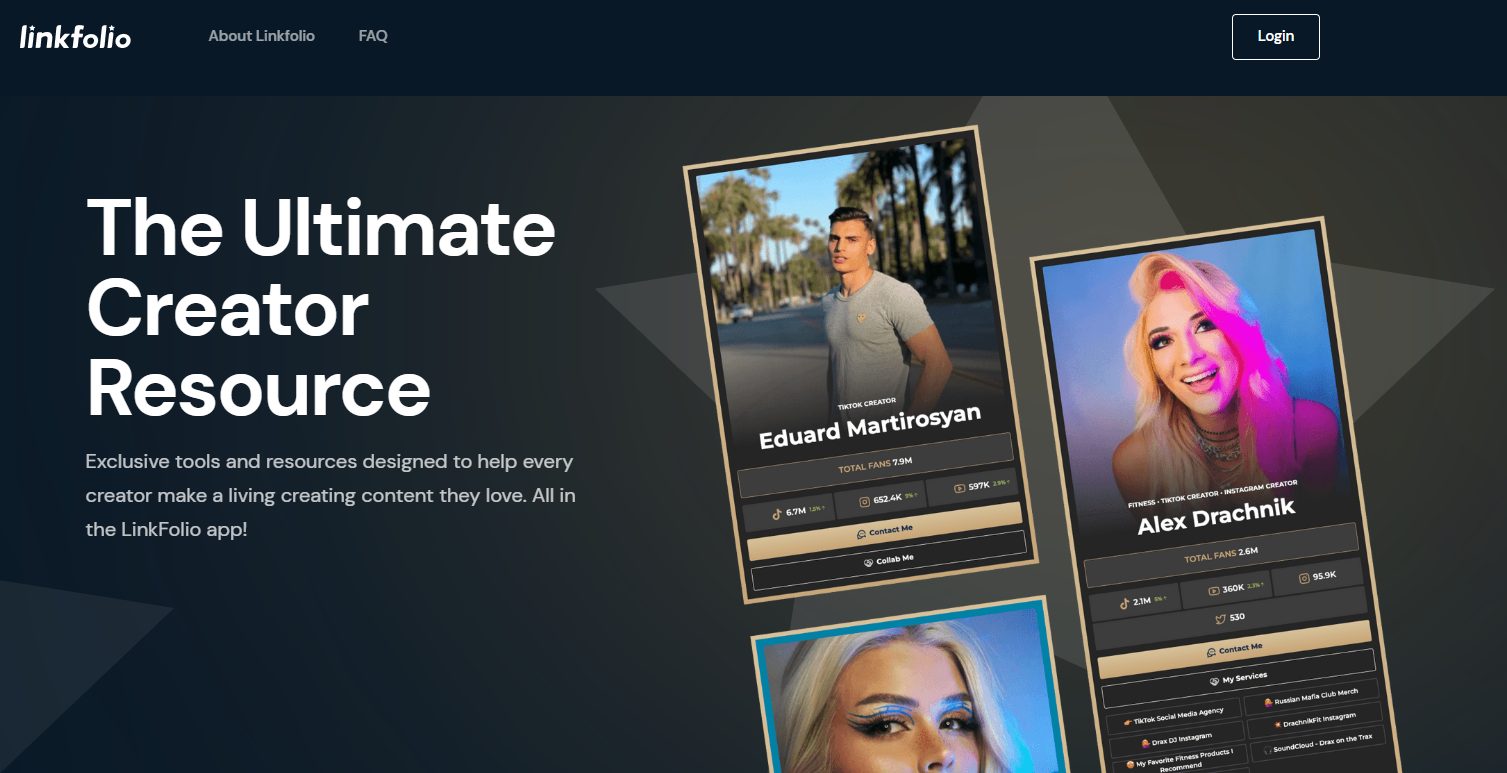 LinkFolio is a well-known link in bio tool, brand outreach and digital media kit rolled into one that's used by bloggers and social media influencers the world over.
With LinkFolio you can:
Design an outstanding portfolio in seconds
Add all your social media feeds to show latest posts
Automatically contatc big influencers in your industry
Create unlimited custom links
View detailed audience stats
Linkfolio pricing: Linkfolio has three pricing options: Free, Premium and Premium Plus. You can remain a free member for as long as you like and go Premium anytime for just $10/month or $99 if paid yearly. Premium Plus is $99 per month.
10. Tap Bio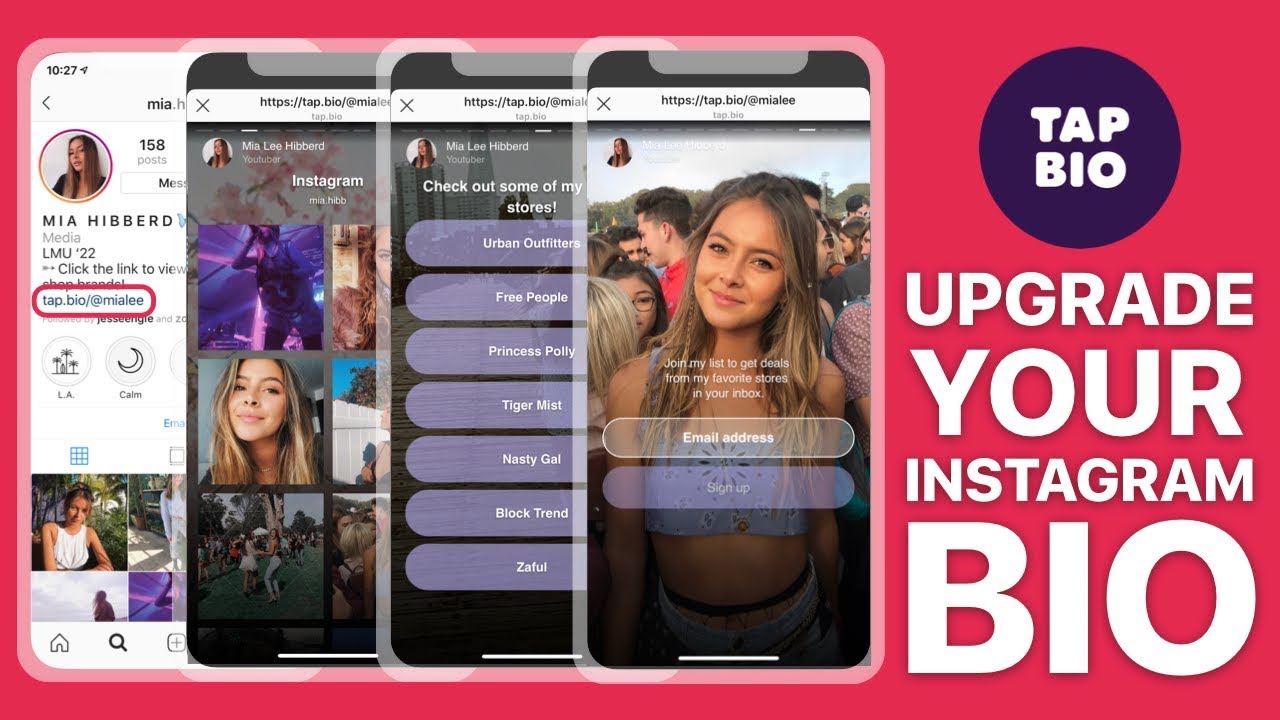 Tap Bio is a simple, affordable yet elegant link in bio tool that helps Instagrammers, TikTokers and online influencers connect better with their audience and take their social media marketing up a level.
With Tap Bio you can:
Show your Instagram posts with links
Include an email form to build a list of subscribers
Connect your Twitter feed
Add cards with direct links to whatever site you want
Embed your latest YouTube videos
Tap Bio pricing: You can join Tap Bio with a free Basic membership, a $5 a month (or $36 a year) Silver account or a $12 (or $96) Gold account.
11. Milkshake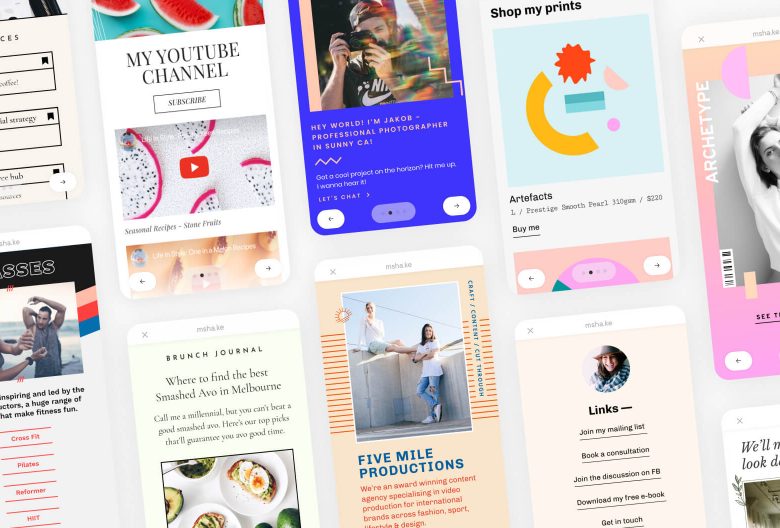 If you like simple, beautiful landing pages then you'll love the Milkshake app. They make it super easy to create stunning landing pages in minutes.
With Milkshake you can:
Add an About page
Create up to 5 cards on the free version
Include an email form to build a fanbase
Add links to all your social media
Connect your Twitter feed
Milkshake pricing: A free version of the Milkshake app is available on Google Play or the App Store. Like most free link in bio tools, their branding will be displayed until you go Premium for just $2.50 a month.
12. Bio.fm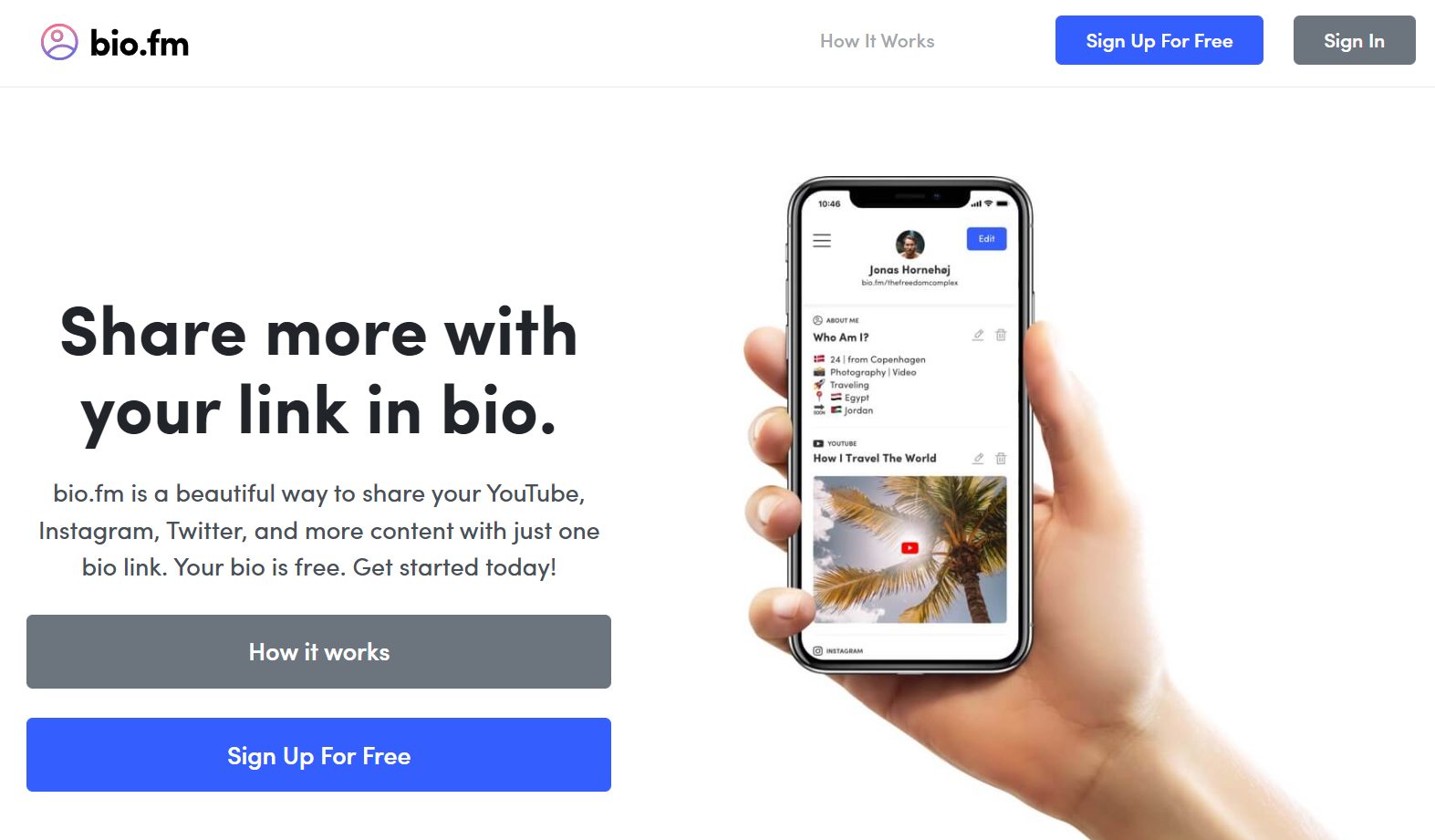 Bio.fm gives you a beginner-friendly way to you can share any of your content that gets more click-throughs thanks to visually-appealing blocks and carousels.
With Bio.fm you can:
Direct people to your online store
Add links to recommended products to earn affiliate commissions
Connect your Twitter and YouTube channel feeds
Include to your Snapchat, TikTok, Twitter and Instagram accounts
Bio.fm pricing: Bio.fm is free to start and you can upgrade your account at any time for $10 per month or $100 per year to access extra features.
13. Lnk.Bio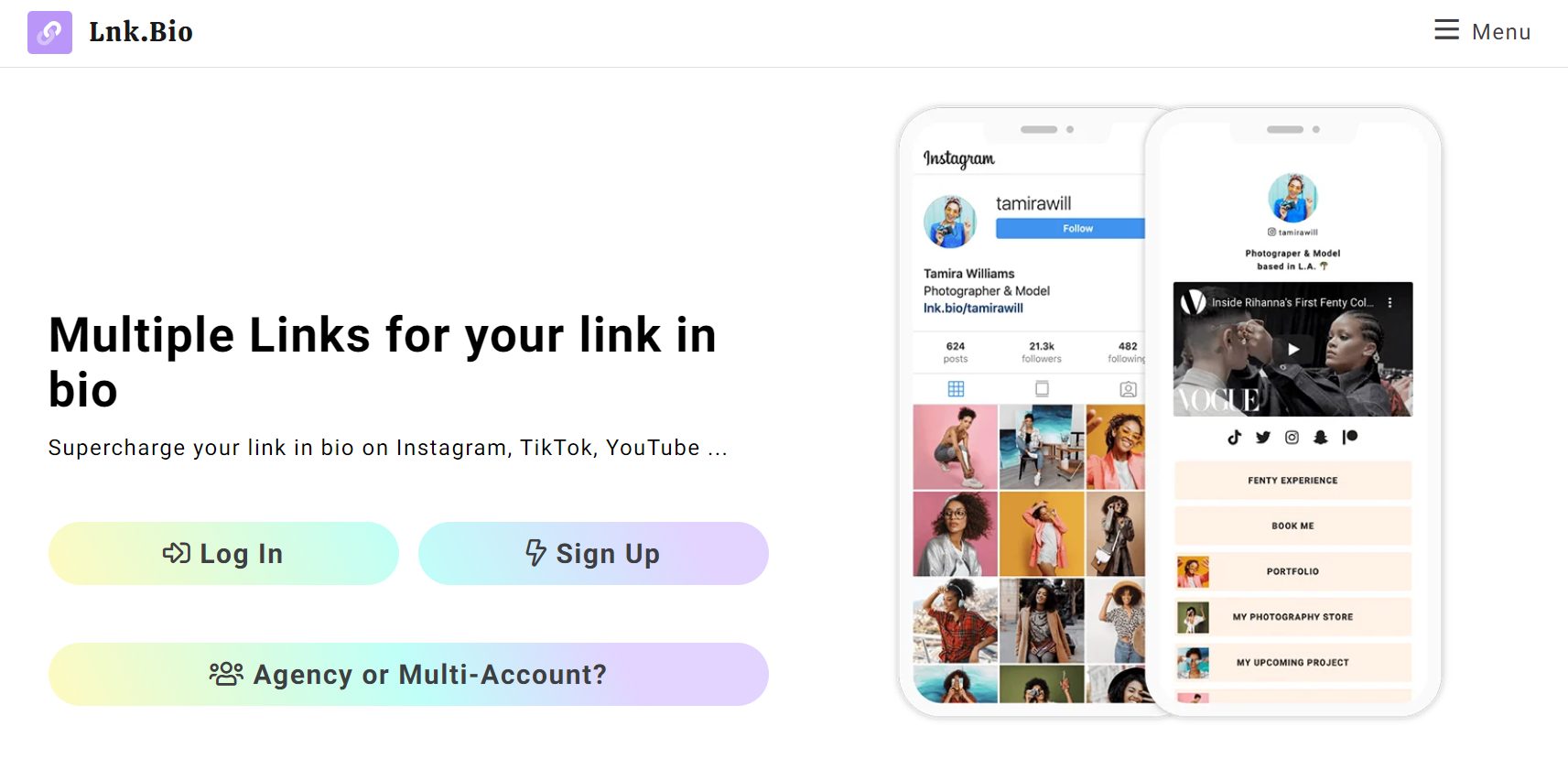 Lnk.Bio is the link in bio tool of choice for 600,000+ top influencers and brands (including Jaguar and Lonely Planet) who want to supercharge their bio link.
With Lnk.Bio you can:
Choose from over 300 social, music and messenger icons
Add unlimited links
Embed a contact form
Schedule social media posts
Sync with your Instagram
Create agency and multi-user accounts
Lnk.Bio pricing: You can join Lnk.Bio for free or upgrade to Mini for $0.99 per month or $9.99 one-time. Unique gives you the full features and you pay just $24.99 one-time for lifetime access.
14. Social Bio Links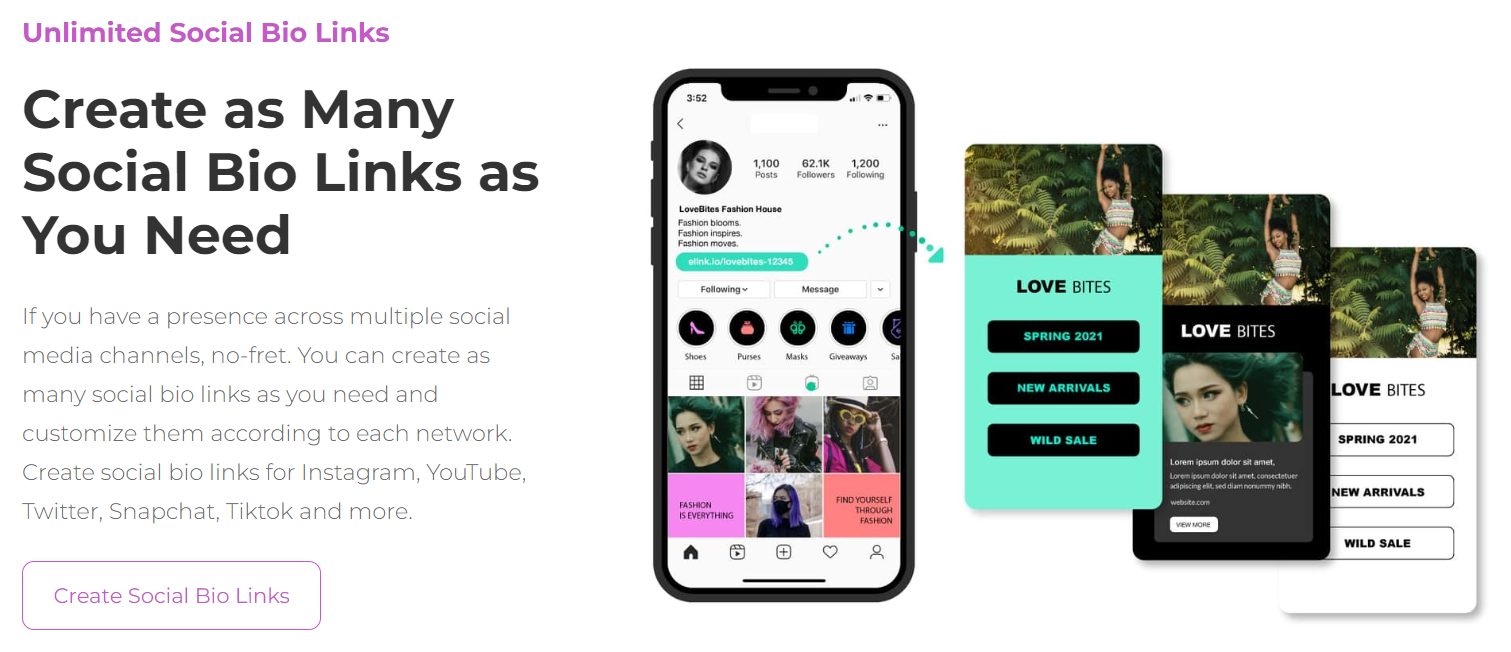 Elink's Social Bio Links tool allows you to create clear and bold responsive landing pages that keep your audience engaged.
With Social Bio Links can:
Choose from 50+ layouts
Show videos and blog posts
Add affiliate links
Add links to your e-commerce store
Connect your Twitter feed
Social Bio Links pricing: There are three pricing plans: Free, Pro and Auto Pilot. The Pro plan is $15 a month and the Auto Pilot plan is $45 a month. You can pay for a year or two years for a 20-33% discount.
15. Campsite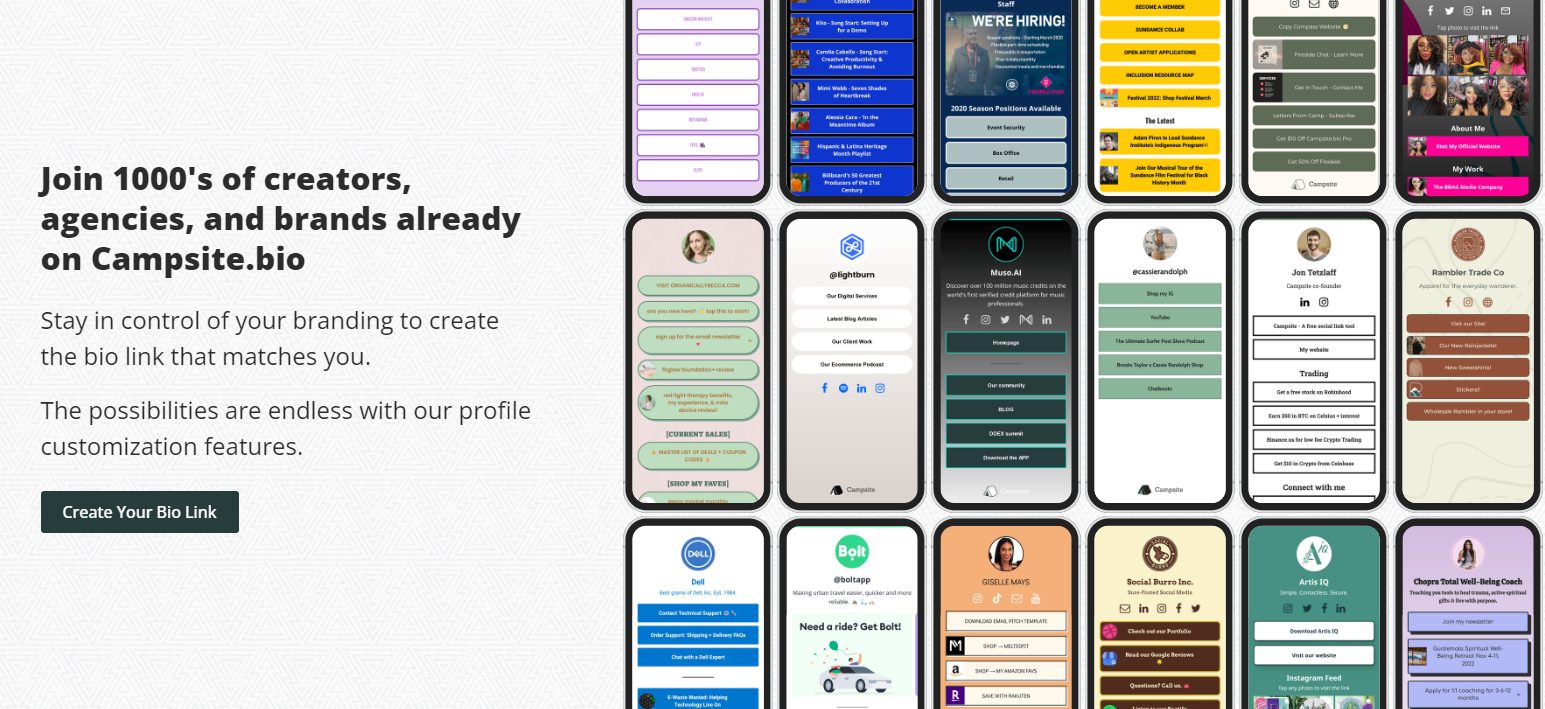 Campsite.bio is probably the link in bio tool on this list with the most customisation options to help you convert followers into customers.
They also have excellent customer support and a 4.4 rating on Trustpilot.
With Campsite you can:
Choose from a wide number of layouts and themes
Embed music and image grids and carousels
Add collaborators to your team account
View advanced analytics
Add opt-in forms and pixel tracking
Campsite pricing: Campsite has a Free plan and two paid plans: Pro and Pro+. Pro is $7/mo, Pro+ is $25/mo and you can go yearly to save 16%.
The Best Link In Bio Tools: Bottom Line
There you have it: 15 of the best free and paid link in bio tools available right now.
I've given you a lot to choose from but any one of the tools will help you make the most out of Instagram's one-link limit.
Stuck with which one to try first?
Start with the Sked Link free version »
The landing pages are beautiful and take just a couple of minutes to create and Sked Link is the most popular link in bio tool for a reason – because they're the best.
Now I'd like to hand it over to you.
Are there any quality tools here that I missed?
Or maybe you have a question about one of the tools I reviewed.
Either way, leave a quick comment below right now.