Affiliate marketing is the single best way to monetise your blog.
Why?
Because you've done the hard work of creating content that ranks. Now it's just one more small step to add affiliate links and start making money.
And if your blog is brand new, follow the steps in this guide and you'll start generating revenue even with minimal traffic.
In this affiliate marketing for bloggers guide you'll discover:
How Affiliate Marketing Works With Blogging
Affiliate marketing is when you recommend relevant products and services related to the topic of your blog to your readers and get paid a commission every time you generate a sale.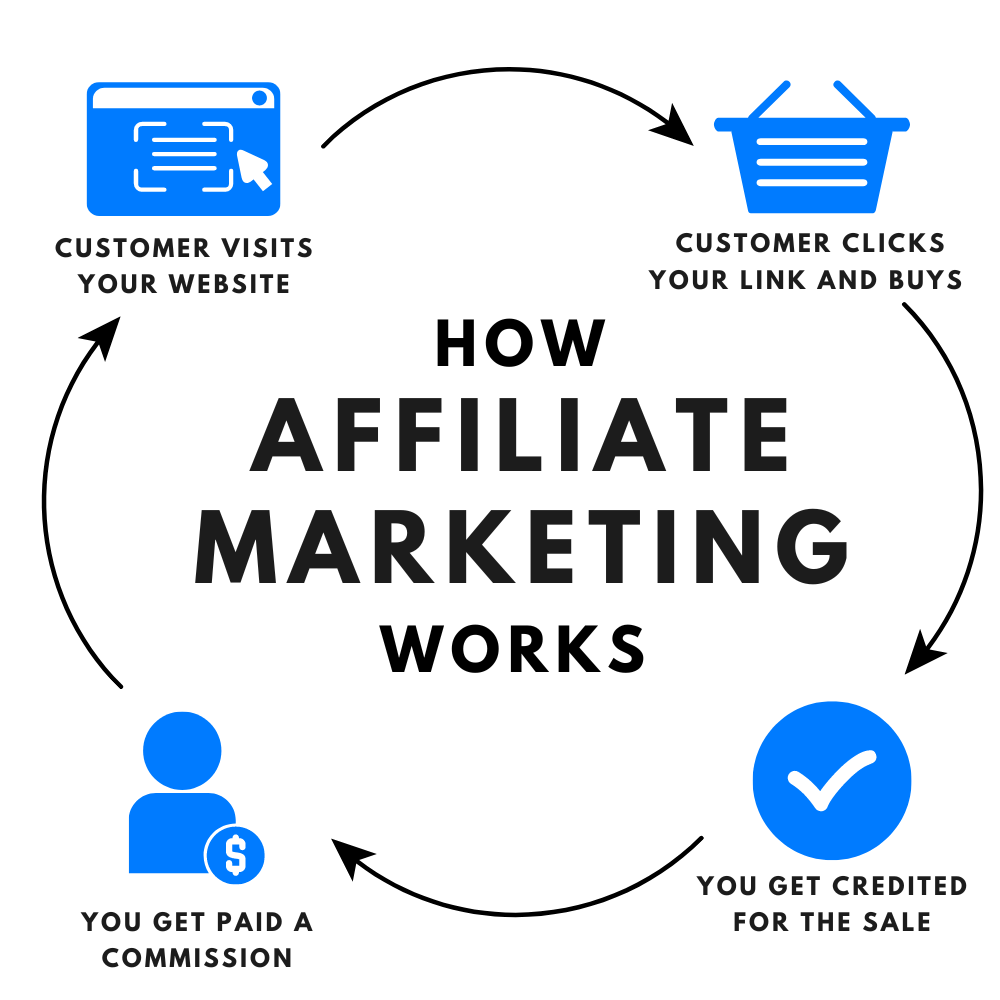 Let's say you have a blog about snowboarding and you write a review on your favourite goggles.
You join a snowboarding affiliate program and add your unique affiliate link so all sales are tracked back to you.
You then earn a commission every time someone lands on your review, consumes your content, clicks your affiliate link and buys the goggles you recommended.
Whatever your blog is about – you can monetise it with affiliate marketing. There are affiliate products for every niche imaginable, if you know how to find them.
Why Affiliate Marketing Is Best Way To Monetise Blogs
Reason #1: You Can Make Money Blogging Early On
It's true. You could earn your first commission just days or weeks from now, even if your blog is brand new.
As soon as you've got 20-30 posts you can apply to join affiliate programs you like and add affiliate links as soon as you're approved.
Chances are, you've already got traffic and you've already mentioned some of your favourite products so you might as well make money for sending new customers their way.
Reason #2: You Can Earn Even If Blog Traffic Is Low
You don't need much traffic to make a full-time affiliate marketing income from your blog.
Depending on what products you're promoting and how good your content is, you could earn $1000-$2000 per month with less than 500 daily pageviews.
All you have to do is target the RIGHT kind of traffic to start making sales.
If you were just monetising with display ad networks like Adsense you'd be waiting a very long time to make any decent income as you need 10,000s of blog readers to earn serious money.
Reason #3: It's The Most Profitable Way To Monetise A Blog
Because affiliate marketing is commission-based, you earn money based on the number of sales you generate.
For example, if you run a sports blog you could promote baseball affiliate programs and earn $40 every time a reader clicked through your link and bought a baseball bat.
Let's say your affiliate conversion rate is 2%.
That means for every 1,000 readers who read your post, 20 of them will end up making a purchase and you'd make $800 in commissions.
Compare that with Google Adsense which typically pays $10-$20 per 1,000 views and you'll earn 40x more money with affiliate marketing.
Reason #4: Affiliate Marketing Is A Win-Win-Win
Readers get to find products they love.
Bloggers get to earn commissions recommending products they believe in.
Online stores get to make sales without big advertising costs.
'Nuff Said!
Reason #5: You Really Can Generate Passive Income
It's going to happen.
You'll write a stellar post with affiliate links that nabs the Google top spot.
And that ONE post will go on to generate revenue for you for months and even years to come.
That's what we call passive income!
Once you put the time and effort into writing that blog post (which you'd be doing anyway) even without affiliate marketing, that effort will pay you back again and again and again.
Check out our passive income guide to discover how you can make $30k+ a month with your blog.
Start Affiliate Marketing On Your Blog In 5 Steps
Affiliate marketing is incredibly simple and as a blogger, you're already halfway there.
Now let's walk you through the 5 steps you can take today to start making money from your blog.
Step 1: Find Products Your Readers Will Love
Did you know there are over 600 million affiliate products you can promote as an affiliate online?
And finding them is super easy.
Here are the best 5 ways:
Step 2: Join Affiliate Programs
Once you've found the affiliate program you like, you can apply to join for free as an affiliate.
You just fill out an application form and enter your blog domain, current traffic numbers and how you'd like to be paid and you're done.
Some affiliate programs may have age limits or country restrictions but in general, there are no minimum requirements to become an affiliate.
Step 3: Add Affiliate Links To Your Blog Posts
As soon as you're approved (usually takes 24-48 hours) you'll have instant access to your affiliate links.
The next step is to go through all of your existing blog content and look for ways you can add your affiliate links where it makes sense.
The key to success with affiliate marketing is promoting relevant products on your blog in a way that helps your readers and adds value to your content.
Step 4: Scale Up With Buyer Keywords
Well done for getting this far, you should see your first few commissions come in in no time!
Now scale up your affiliate income by using a keyword tool like Mangools to come up with a content strategy that focuses on commercial or transaction keywords.
These are keywords that have buyer search intent, like:
10 Best Earphones
iPhone 14 review
Where to find Spanish tutors online
Netflix vs. Amazon Prime
Create blog posts targeting these kinds of keywords and you're going to attract buyer-ready traffic who'll easily convert into paying customers and you'll make more money.
Step 5: Mention Products In Your Emails
This fifth and final step is entirely optional but…
If you have a list of email subscribers or you want to start one then either sending out blog post updates which contain your affiliate links or promoting affiliate products directly can be a great additional income stream for your blog.
Email marketing still works well in 2023 because you're getting your affiliate links right in people's inboxes.
These are readers you already have a relationship with who've expressly given you permission to contact them.
And going back to what we said earlier about passive income, email marketing can be entirely automated.
With email software like AWeber, you can schedule emails to be sent out to your list once or twice a week.
You could create 100 emails if you want and they'll go out like clockwork every time someone subscribes to your list to earn a steady stream of affiliate commissions.
Affiliate Marketing For Bloggers FAQs
Which Blogging Site Is Best for Affiliate Marketing?
There are a ton of free blogging platforms out there but I recommend WordPress.
WordPress gives you the greatest creative control and you can monetise your blog however you want.
Want to start a profitable affiliate marketing blog?
Grab our free Commission Academy course and we'll walk you through it step by step.
How Many Blog Posts Before Applying For Affiliate Programs?
The good news is you don't need many blog posts to make money with affiliate marketing.
I'd recommend a minimum of 20-30 blog posts so affiliate programs can see their products are a good fit with your blogging niche.
Is Affiliate Marketing Hard To Learn For Bloggers?
I think affiliate marketing is actually easier for bloggers to learn than for total beginners because you've likely already chosen your niche, started a blog, mastered content creation and are starting to see some traffic coming in.
Learning affiliate marketing and monetising your blog then is the next logical step.
How Much Can Bloggers Make With Affiliate Marketing?
How much money you can earn as an affiliate will depend on what your blogging niche is, how much your affiliate products are, the commission rates and how good you are at converting readers into buyers.
Some bloggers use affiliate marketing as a way to make an extra $2000/month while others go on to earn $150k per year.
It's really up to you how hard you're willing to work. The more content you create, the more traffic your blog will get and ultimately the more commissions you'll generate.
See this affiliate marketing income proof to find out how much you could make.