Quick Answer: You can do it as a side hustle or quit your job, go full-time and turn it into a lucrative 6-figure income. It is really up to you how far you want to go and how much you want to earn. Either way, get started here.
There are affiliate marketing millionaires working 60 hours a week.
There are part-timers building up 4-figure month side incomes.
Affiliate marketing is flexible. You can work anytime, anywhere and as much or as little as you like.
Obviously, those who go all-in see results faster and enjoy the big bucks but there are also those who just use affiliate marketing as a lucrative side hustle.
What Is Affiliate Marketing?
Affiliate marketing is a way for brands to tap into new markets by partnering with affiliate marketers who already have an established following. Affiliates promote a brand's products or services in exchange for a commission on each sale they generate. 
For example, let's say you run a hiking blog and you join a few hiking affiliate programs…
Every time one of your readers clicks on one of your affiliate links and makes a purchase from the retailer's website, you earn a commission.
The more traffic you drive to the retailer's site, the more sales you generate, and the more commissions you make. 
It's important to note that affiliate marketing is not a get-rich-quick scheme:
It takes time, effort, and patience to build an audience large enough to generate significant sales. However, for those willing to put in the work, affiliate marketing can be a fun and rewarding career choice.
How Does Affiliate Marketing Work?
The first step in starting an affiliate marketing campaign is finding the right affiliate programs. This involves identifying brands whose products or services complement your own audience's interests.
You can promote as many products as you want but relevancy is key. For example, if you run a parenting blog, it wouldn't make sense to partner with a company that sells car parts. 
Likewise, if you have a food blog, teaming up with a fashion brand probably wouldn't be ideal either.
Once you've found one or two good affiliate programs, you can join them for free and they'll provide you with unique tracking links that you can use on your blog or website. 
Whenever someone clicks on one of these links and makes a purchase from the partner brand's site, you earn a commission: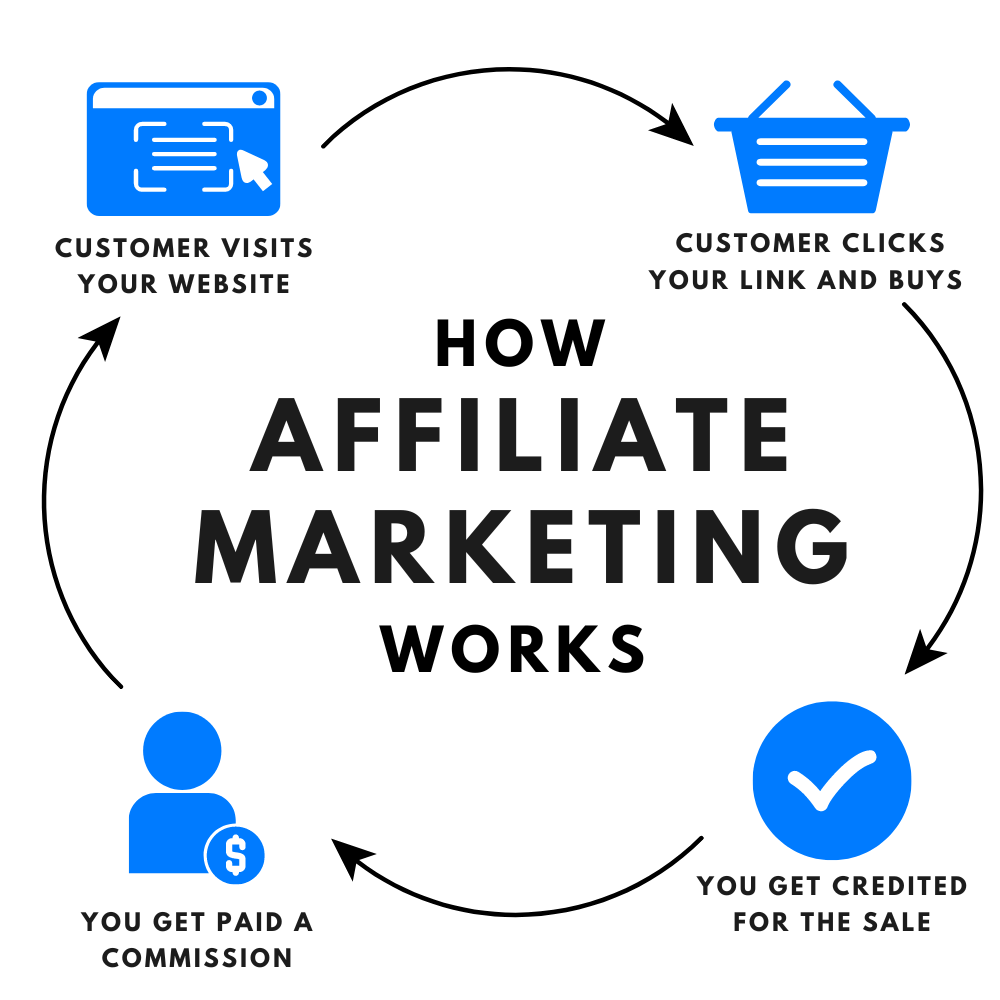 Is Affiliate Marketing A Full-Time Job? 
It can be, but it doesn't have to be. Like any other job, how much time you put into it will determine how much money you make.
If you're only doing it part-time, you're not going to make as much money as someone who's doing it full-time—but that doesn't mean you can't still make decent money.
How much money you can make with affiliate marketing depends on a number of factors, including the niche you're in, the number of affiliates you're working with, and the amount of traffic you're able to generate.
Generally speaking, though, most people who are successful with affiliate marketing are able to make several hundred dollars per month—and some even make thousands. 
Of course, if you want to make serious money with affiliate marketing, you'll need to treat it like a full-time job. That means dedicating a significant amount of time and effort to it every day.
If you're only putting in a few hours here and there, don't expect to make much; but if you're willing to really go all-in and put in the work, there's no reason why you can't start making some serious cash flow.
There are several reasons why affiliate marketing can be a great full-time job:
For starters, it offers a lot of flexibility in terms of hours and location. As long as you have a laptop and an internet connection, you can work from anywhere in the world. That's perfect for digital nomads or anyone who doesn't want to be tied down to one location.
Another big advantage of affiliate marketing is that it's relatively easy to get started. You don't need to invest any money in inventory or product creation. And you don't need to worry about shipping or customer service either. 
All you need to do is find a reputable affiliate program, sign up, and start promoting their products on your site or blog.
So, is affiliate marketing a full-time job?
The answer is yes…and no.
It all depends on how much time and effort you're willing to put into it. If you treat it like a real job and dedicate yourself to it fully, then yes—you can absolutely make a full-time income from it.
Moreover, it depends on a number of factors, such as how much time you're willing to put into it and how much money you want to make.
If you're just starting out, you may want to consider doing affiliate marketing part-time until you build up your skills and experience. Once you've done that, you can decide if you want to make it a full-time job.
Many people make a living from affiliate marketing by making strategic partnerships with merchants and promoting their products through their own channels (such as social media, email lists, or blogs). Others work for companies that specialize in affiliate marketing, such as Rakuten Affiliate Network or ShareASale.
There's no right or wrong answer when it comes to whether or not affiliate marketing is a full-time job. It all depends on your goals and experiences.
However, if you're just starting affiliate marketing, we recommend doing it part-time until you get a better sense of how it works and whether or not it's something you want to pursue long-term.
How To Make A Full-Time Income With Affiliate Marketing
Anyone can do affiliate marketing, but not everyone can do it well.
In order to make a full-time income from affiliate marketing, there are dos and don'ts and certain skills and strategies you need to master. 
The Skills You Need for Affiliate Marketing
First and foremost, you need to have excellent writing skills. The better you are at producing quality content, the better your chances are of succeeding with affiliate marketing.
Why?
Because the key to successful affiliate marketing is traffic—and the best way to drive traffic to your site is by producing quality content that will rank high in search engine results pages (SERP). 
In order to write quality content, you need to be knowledgeable about SEO best practices and how to effectively use keywords.
You also need to be able to build relationships and cultivate partnerships. A big part of affiliate marketing is networking—you need to be able to connect with influencers in your niche so that you can get your products and services in front of as many people as possible.
Last but not least, you need strong analytical skills. As an affiliate marketer, you'll be constantly measuring your performance so that you can make tweaks and adjustments as needed. This means being able to collect data and interpret it correctly. 
The Strategies You Need for Affiliate Marketing
Now that we've gone over some of the skills you need for affiliate marketing, let's talk about some of the strategies that will help you make a full-time income from it.
The first thing you need to do is choose the right products or services to promote.
This might seem like a no-brainer, but it's actually not as simple as it sounds.
First of all, you need to make sure that the products or services you select are relevant to your niche audience. If they're not, then they're not going to be interested in what you have to say—which means they won't buy anything from you.
Second of all, you need to make sure that the products or services are of good quality and offer value for money. No one wants to buy something if it's not going to meet their needs or live up to their expectations—so don't promote anything unless you believe in it yourself. 
The next thing you need to do is create well-designed landing pages. A landing page is where potential customers "land" when they click on one of your links or ads. The purpose of a landing page is conversion—meaning turning visitors into paying customers.
In order for your landing pages to be effective, they must be well-designed and easy to navigate so that visitors stay on your page long enough to learn more about what you have to offer and eventually make a purchase decision.
Of course, how much you actually make will also depend on how well you market the products you're promoting.
To be successful at affiliate marketing, you'll need to drive traffic to your website or blog and then encourage your visitors to click on your affiliate links—links that take them to the product pages of companies you're promoting. 
To do this effectively, you'll need to write compelling product reviews and helpful content that showcases the products you're promoting in a positive light and provides value to your readers. You'll also need to find creative ways to market your website or blog so that potential customers actually see it.
Doing Affiliate Marketing Full-Time: The Bottom Line 
So, is affiliate marketing a full-time job? The answer is yes and no. It definitely can be if you put in the time and effort to make it. 
With the right roadmap to follow and the right strategies, techniques and tools in your arsenal, you can easily make affiliate marketing a full-time income job.
But it's not going to happen overnight – it takes hard work, dedication, and perseverance to achieve success in this industry.