Affiliate marketing is one of the best ways to make money online.
You can be an affiliate for all kinds of companies, selling all kinds of products and services.
And, you can do it all from the comfort of your own home.
But, how much traffic do you need to make a full-time income from affiliate marketing?
You can technically make money with just one visitor; however, the amount of money you make will be very small. In order to make a significant income from affiliate marketing, you need a lot of traffic. 
Ideally, you should aim for 500 to 1000 visitors per day. This may seem like a lot, but it is possible to achieve with consistent effort and high-quality content.
How Does Affiliate Marketing Work?
Affiliate marketing is a commission-based marketing model in which businesses pay affiliates (individuals or organizations) for referring new customers or visitors to their website.
Essentially, if you can drive traffic to a company's website, they will pay you for it. The amount of money you can make depends on the amount of traffic you generate and the company's payout structure. Some companies may pay per lead, while others may pay a percentage of the total sale.
Here is how the process works: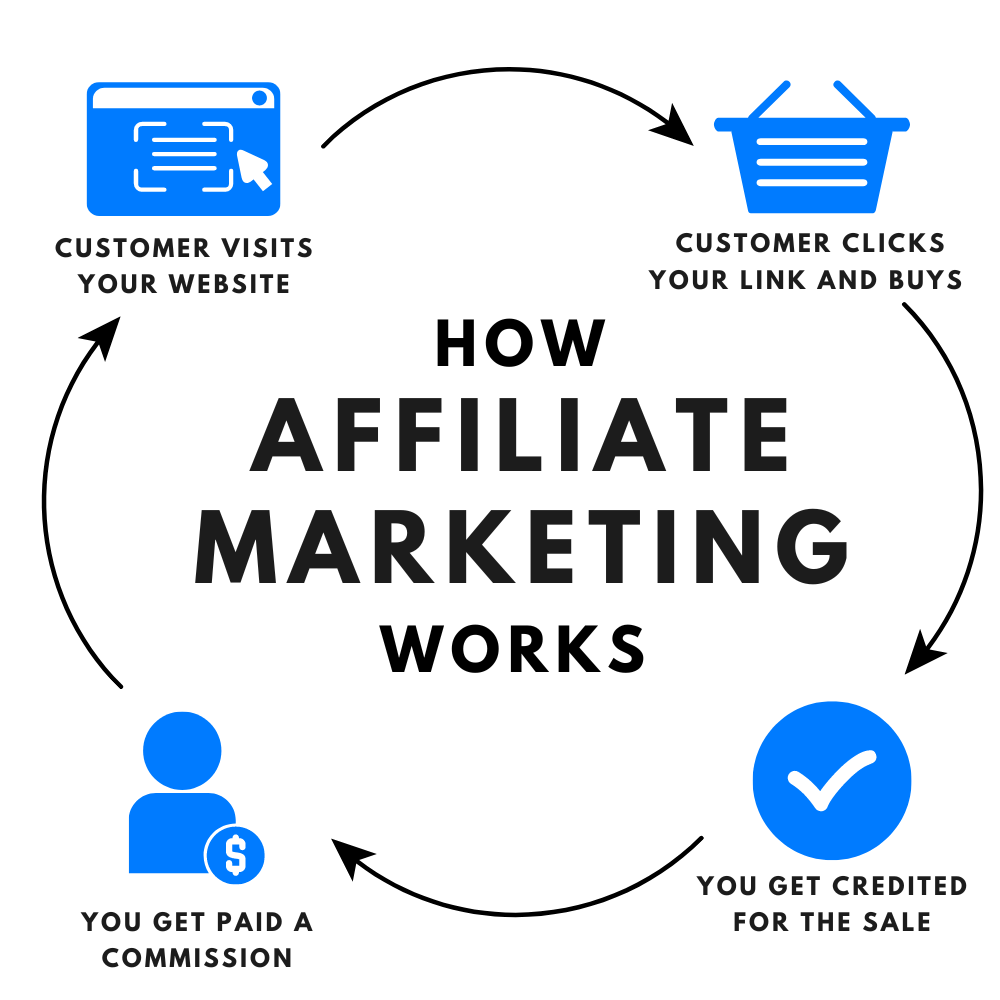 1. A company or individual, known as an affiliate, joins an affiliate program.
2. The affiliate is given unique tracking links to promote the company's products or services.
3. The affiliate promotes the company's products or services using their tracking links on their website, social media, or email marketing campaigns.
4. When a customer clicks on the affiliate's tracking link and makes a purchase, the affiliate receives a commission for the sale.
5. The company tracks the sales generated by each individual affiliate and pays them accordingly.
7 Factors Involved in Website Traffic 
The amount of traffic you need will depend on a number of factors, including the niche you're in, the products you're promoting, and your conversion rate.
The first factor to consider is your niche. Some niches are more competitive than others, which means you'll need more traffic to stand out from the crowd.
For example, if you're in the weight loss niche, you'll need more traffic than if you're in the pet care niche because there are more people competing for attention in the weight loss space.
The second factor to consider is the products you're promoting.
If you're promoting high-ticket items, you'll need less traffic than if you're promoting low-ticket items because each sale will generate more revenue.
For example, if you're promoting a $997 product, you'll need less traffic than if you're promoting a $27 product because each sale of the $997 product will generate 10 times as much revenue.
Building an email list is easy and only takes a few moments. By doing this, visitors will be updated on any upcoming events or information that they may have missed.
You will get a lot of benefits by subscribing to our mailing list including being able to advertise and drive future traffic to your website. You can also provide new offers through your mailing lists and remind people to come back with calls to action when you add new content or products.
Another important factor to consider is your conversion rate. This is the percentage of visitors who take the desired action on your website, such as subscribing to your email list or buying a product.
If your conversion rate is high, you'll need less traffic because each visitor will be worth more in terms of revenue.
For example, if your conversion rate is 2%, that means you'll need 50 visitors to generate one sale. But if your conversion rate is 10%, that means you'll only need 10 visitors to generate one sale.
Even if you're an expert, publishing content that is honest and sincere will help you gain a bigger following. Just make sure whatever you post is something you are comfortable vouching for.
Once people trust what you publish, they'll come back for more knowledge as well as bring new readers to your site. Although it may seem old-fashioned, word of mouth is still an effective way to advertise.
In the past, people would share their experiences with neighbors over the fence. Now, your viewers have the opportunity to spread your brand far and wide over social media channels.
Make a good impression and maintain honesty, as you may have your visitors being your leading champions and advertisers.
If you want to keep your readers coming back for more, it is important that you continually update your website with fresh content.
This will help to maintain their interest and keep them engaged. Try to produce new content on a regular basis, whether that be daily, weekly, or monthly.
By instituting a regular content schedule, your audience will begin to look forward eagerly to your next piece of content. More viewers than you might think appreciate knowing when they can expect new information from their favorite sources.
Another factor involved in website organic traffic is content.
It is important to ensure that all content is relevant and interesting if you want people to keep coming back to your site. Additionally, it is important to ensure that all content is properly optimized for Google's search algorithm so that your site can rank higher in Google's search results.
Traffic For Affiliate Marketing: The Bottom Line
Traffic is essential for affiliate marketing success. However, it's not impossible to generate traffic and sales with a small number of visitors. You just need to put in the hard work upfront until you start seeing results.
However, if you want to go full-time with affiliate marketing you should have 500-1000 visitors per day.  
Not sure how to get there?
Try our free training right here and we'll show you how it's done.