If you've only just found out about affiliate marketing & the amount of money that affiliates can earn, then it's only natural to be a little sceptical.
So to remove any doubts, you will likely want to see some solid proof that it really works.
And what is a better way to prove that affiliate marketing is legit than to check out some affiliate marketing income proof with verified earnings from real affiliates?
We don't believe there is one, and that's why we decided to put this blog post together to share affiliate marketing earning proof from real affiliates all around the world.
So let's dive straight in & get to the good stuff, the proof of income.
Affiliate Marketing Income Proof
All of the income proof that we're going to be displaying below has been sourced from Wealthy Affiliate.
In case you don't already know, Wealthy Affiliate is the largest affiliate marketing platform in the world & it has one of the largest communities of affiliate marketers.
This means that not only is there a lot of affiliate marketing income proof there, but you can also reach out to the individuals who've posted the proof to "verify" that it's actually real.
Of course, we'd hope you'd take our word for it, given that we're one of the most trusted free affiliate marketing courses in the world… But should you wish to reach out & verify it, just know the option is there.
Now let's get to the proof.
1. 6,759 visitors & $717.01 in 24 hours
This income proof comes from a Wealthy Affiliate member named Partha, who achieved 6,759 visits to his website in 24 hours & earned $717.01 from a combination of both display advertising & affiliate marketing.
In his income-proof blog post, he shares his traffic stats, his income screenshots & also the method that he used to generate the revenue.
Here are the screenshots of earnings pulled from his blog post: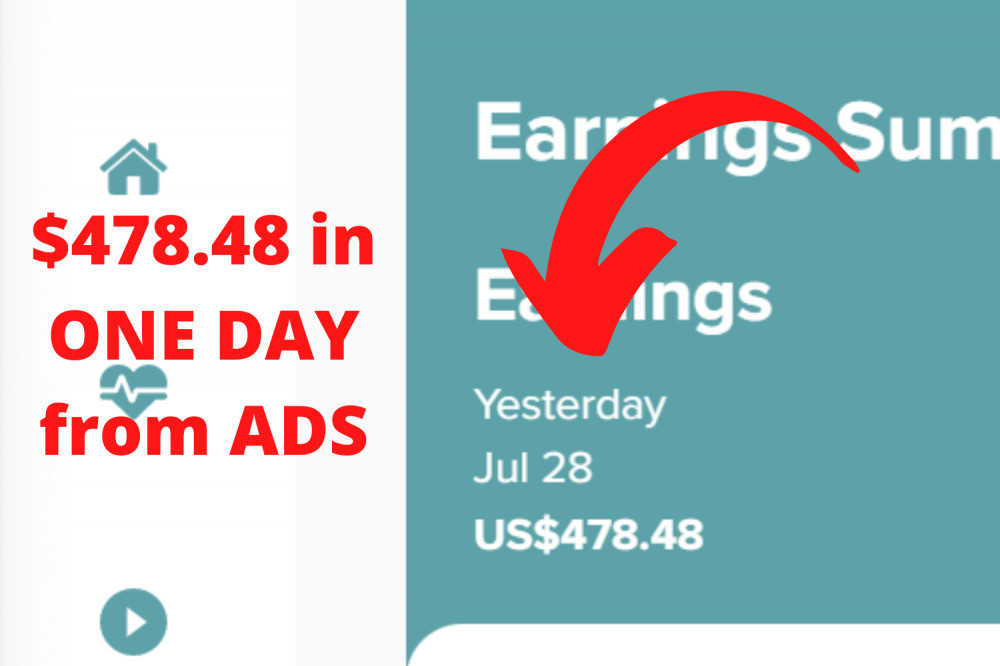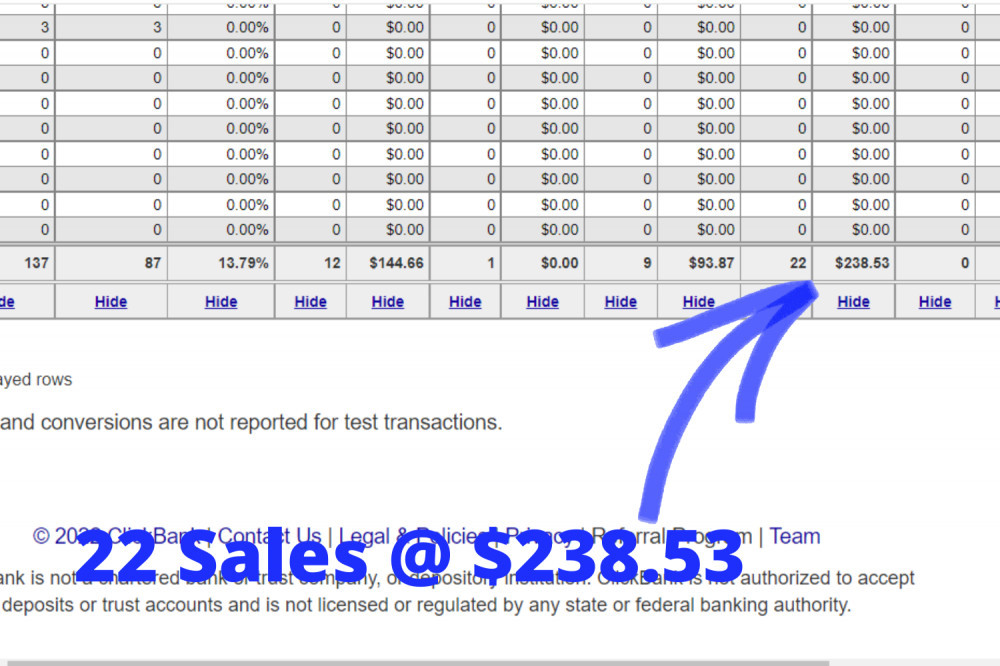 Pretty impressive stuff.
And even though $717.01 in just 24 hours sounds like a lot of money, it's by no means the highest amount you can earn with affiliate marketing.
You could, in fact, actually become a millionaire with affiliate marketing.
2. $80,000 in earnings from Amazon
When people look for affiliate marketing income proof, they love to see Amazon affiliate income proof & so here we're going to provide exactly that.
This Amazon income proof comes courtesy of Wealthy Affiliate member Rici922 & in his blog post, he uncovers how he made a whopping $80,000 from Amazon alone.
Admittedly, this was earned over the period of a year (not 24 hours like the last example), but nevertheless, it's still pretty darn impressive.
Here's a screenshot from one of his Amazon accounts (the total earnings came from multiple Amazon accounts in several regions):

If you'd like to see how he did it feel free to check out his blog post. He actually followed the same method we teach at Commission Academy.
And guess what? Even at $80,000 per year, he's still not one of the top Amazon affiliate earners.
3. From $0 to $448 in one day
We've mentioned a few times in our blog posts & weekly hangouts that affiliate marketing success is not always linear.
This means that whilst you might expect your affiliate marketing income to grow gradually, it doesn't always actually play out like that.
Sometimes you might work for a while & see no results, but then, all of a sudden, your business takes off rapidly & the income skyrockets.
This was the case for Wealthy Affiliate member Roope, as his earnings jumped all the way from $0 to $448, as he explains in his blog post.
Here's the screenshot from his affiliate account:

Roope also uses the same method that we teach at Commission Academy. As you can see, our method for affiliate marketing is proven to work.
4. First $1,000 month
Hitting your first $1,000 per month with affiliate marketing is a great milestone & it's one that Wealthy Affiliate member PaulWatson is very happy about.
Although it took him slightly longer than others to get there, he is thrilled because he now has a passive 4-figure stream of revenue from his website.
He didn't share any screenshots of his income, but he did break it down in his blog post.
Again, Paul also used a combination of both display advertising & affiliate marketing, which is exactly what we teach in our free affiliate marketing training.
The next stop for Paul is 5-figures per month! And then he'll be on his way to becoming a millionaire.
5. Finding $7,429 in a forgotten-about affiliate account
Imagine if you logged into an old affiliate account that you'd "forgotten about" only to discover that there was $7,429 sitting in there.
Well, that's exactly what happened to me.
Take a look at the screenshot below: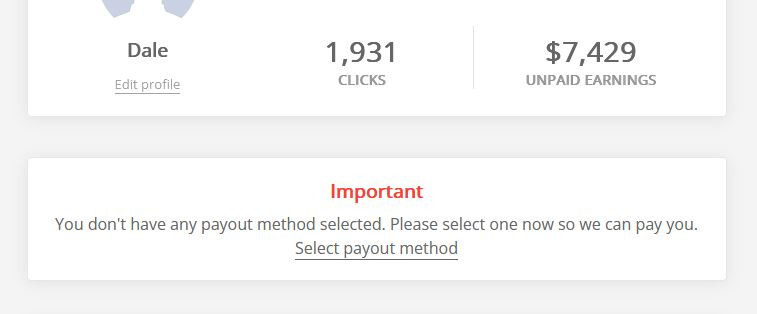 In my blog post over at Wealthy Affiliate, I explain how I'd set up multiple new websites during the beginning of the lockdown but then neglected them.
Little did I know that these websites had begun generating traffic & over the 2 years that they were left dormant, they had amassed $7,429 in commissions in my affiliate account.
I hadn't added any payout method in my affiliate account (because I didn't expect the sites to start earning) & so the income had just been building up & building up.
Can You Really Make Money From Affiliate Marketing?
Hopefully, after browsing through the affiliate marketing proof earnings above, you can see that the answer is a big fat YES! You can indeed make money from affiliate marketing.
We've explained how long it takes.
We've explained how much you can make.
We've uncovered why it's not a scam.
And what's more, we also teach you, for free, how you can get started.
So if you still have any doubts about it, be sure to sign up for our free training & as you go through, you'll get a better understanding of how it all works & how you actually make money from it.
But in short, you're essentially just a freelance advertiser for companies online.
You advertise their products or services, and they pay you a commission in return for any successful sales you manage to generate.
You scratch their back (by helping them promote), and they scratch yours (by paying you commissions).
Can You Make Passive Income With Affiliate Marketing?
Yes, you can indeed make passive income with affiliate marketing… But what you should be aware of is that not all methods will produce passive returns.
For example, if you are only leveraging social media for affiliate marketing, you will need to regularly publish posts to continue generating earnings.
However, if you are leveraging content creation or paid advertising, then even if you stop working, you can still stand to generate passive affiliate commissions.
The good news is that in our free training, we teach the methods that generate passive affiliate revenue.
Plus, we've also published a blog post explaining how to make passive income with affiliate marketing.
The Bottom Line
Hopefully, this blog post has helped to clear up any doubts that you had about affiliate marketing & its legitimacy.
Affiliate marketing is the best way to make money online (in our opinion), and as mentioned above, your income can even become completely passive too.
So if you'd like to take the bull by the horns & get started to work towards generating affiliate commissions for yourself, be sure to sign up for our free training course.
And if you have any questions, feel free to leave them below.