Should you start affiliate marketing or dropshipping to make real money online? What are the differences, how do they compare and which is best?
Enter today's guide on affiliate marketing vs dropshipping.
Both affiliate marketing and dropshipping business models give you a real way to earn a sizable income online selling other people's products and the chance to live that sweet laptop lifestyle many only dream about. Both models come with a unique set of pros, cons and challenges too.
You could try and do affiliate marketing and dropshipping at the same time but you'll be spreading yourself too thin and having a lack of focus will stop you from getting results.
The proverb "Chase two rabbits and you'll catch neither" springs to mind.
Obviously, it's better to choose ONE to start so let's run through the differences (and similarities) between affiliate marketing and dropshipping so you don't throw too much time, money and energy down the wrong rabbit hole.
Should YOU Do Affiliate Marketing Or Dropshipping?
If you've got cash to invest upfront and you want to start generating income sooner, you should do dropshipping. If you're looking for low-cost and low-risk, then affiliate marketing is best for you.
The best way to decide whether you should start dropshipping or affiliate marketing is to ask yourself how comfortable you are with risk. If you love taking higher stakes then you can win big with dropshipping. On the other hand, if you're in no rush and want to build a solid and reliable online income then becoming an affiliate marketer may be your best move.
Best place to get started?
For affiliate marketing check out the free Commission Academy Fast-Start Course »
For dropshipping check out the free Marketplace Superheroes Masterclass »
Now, let's dive into our guide about choosing to start affiliate marketing vs starting dropshipping this year.
💰 If You're On A Tight Budget…
Both business models cost a fraction of what it'd take to start a conventional offline business but compared to dropshipping, affiliate marketing has lower running costs and you can start for free.
🎯 If You Like Simple & Straightforward…
With dropshipping, you're creating a Shopify store, sourcing products, dealing with branding and dealing with customer service and delivery issues.
With affiliate marketing, you're creating a website that's going to direct people to online stores to earn a commission on every sale and the online retailer you're sending them to takes care of the rest.
📈 If You Want To See Results As Fast As Possible
Match a winning product with a winning traffic source and you can see results quicker with dropshipping.
That said, building neither dropshipping nor affiliate marketing is an overnight job and it can take several months of learning and hard work upfront before you start to reap the rewards.
🏖️ If You Want A More Hands-Off Approach
Both models take effort upfront to get off the ground, but day-to-day, affiliate marketing is much more passive.
Once you put in that initial effort to create content that gets ranked on Google, you'll be generating a steady stream of traffic and sales months and even years down the line.
🤔 If You're Still Not Sure…
Watch free training for both to get a more detailed overview of how they work and then go with whichever one resonates best with you.
Click here to take the free Commission Academy affiliate marketing course »
And here's the free Marketplace Superheroes dropshipping webinar »
Now let's look at how affiliate marketing and dropshipping works and what the pros and cons are of both.
How Affiliate Marketing Works
Affiliate marketing is a commission-based model where you sell other people's products online for a percentage of each sale you generate. You join affiliate programs of online retailers like Amazon or eBay and earn a commission every time someone clicks through your unique link and makes a purchase.
Or as Neil Patel puts it:
"Affiliate marketing is the process of earning commissions by promoting other people's or company's products."
There are 10,000s affiliate programs you can join for free and over 550 million products as an affiliate to earn anywhere between 2%-90% commissions online.
To get started you'll need:
Website domain ($14/yr)
Mangools keyword research tool ($29/mo)
WordPress theme ($0)
Learn more: The Ultimate Beginners Guide To Affiliate Marketing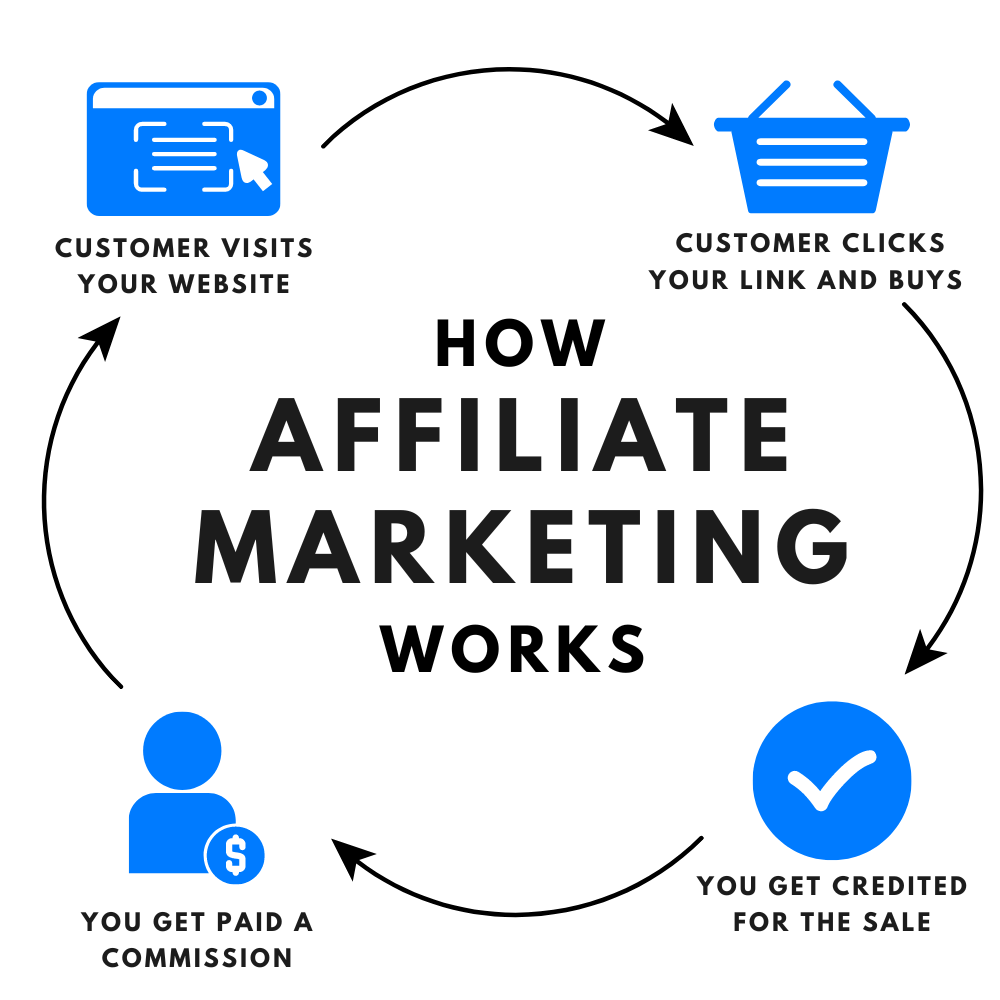 Affiliate Marketing Pros
Make money doing what you love. Whatever your favourite topic is, you can turn that into a thriving online business by choosing it as your affiliate marketing niche to promote products you're really passionate about to an audience of like-minded enthusiasts.
No need to handle products. There's no need to create products of your own or buy and stock someone else's products because all you do is send people to big-name online stores like Apple, H&M and Panasonic and let them handle the payment processing, shipping and customer care.
This is something you can do at home. Affiliate marketing gives your time freedom and location freedom and introverts love affiliate marketing because this is something you can run completely by yourself. You can build virtual teams if you want, or not – it's completely up to you.
Limitless earnings. Whether you want to earn $10,000, $100,000 or $1,000,000 a month from your business, you are in the driver's seat now and you can scale up as much as you want.
You're building an income-producing asset. Once your affiliate marketing website starts generating a steady income, you can sell it on sites like Flippa for up to 36x the monthly revenue.
Affiliate Marketing Cons
It takes time to see a return. Patience and delayed gratification are skills you'll need if you want to master affiliate marketing. Once you get momentum though, you'll see it's definitely worth it.
Low commission rates. Some affiliate programs like Amazon offer 2% on some product categories and they can change it on a whim. So you're either going to have top sell at mass volumes or find a different affiliate program offering higher rates to increase your income.
How Dropshipping Works
Dropshipping is a retail arbitrage model where you sell products via an online store for the retail price and then place that order with a wholesaler or manufacturer at wholesale price and keep the difference.
TechTarget defines it this way:
"In dropshipping, the retailer sells the product to the customer, then passes on the sales order to a third-party supplier, who then ships the order directly to the customer on behalf of the retailer."
You can find over 2 million products to promote on wholesale sites like AliExpress.
To get started you'll need:
Learn more: The Ultimate Beginners Guide To Dropshipping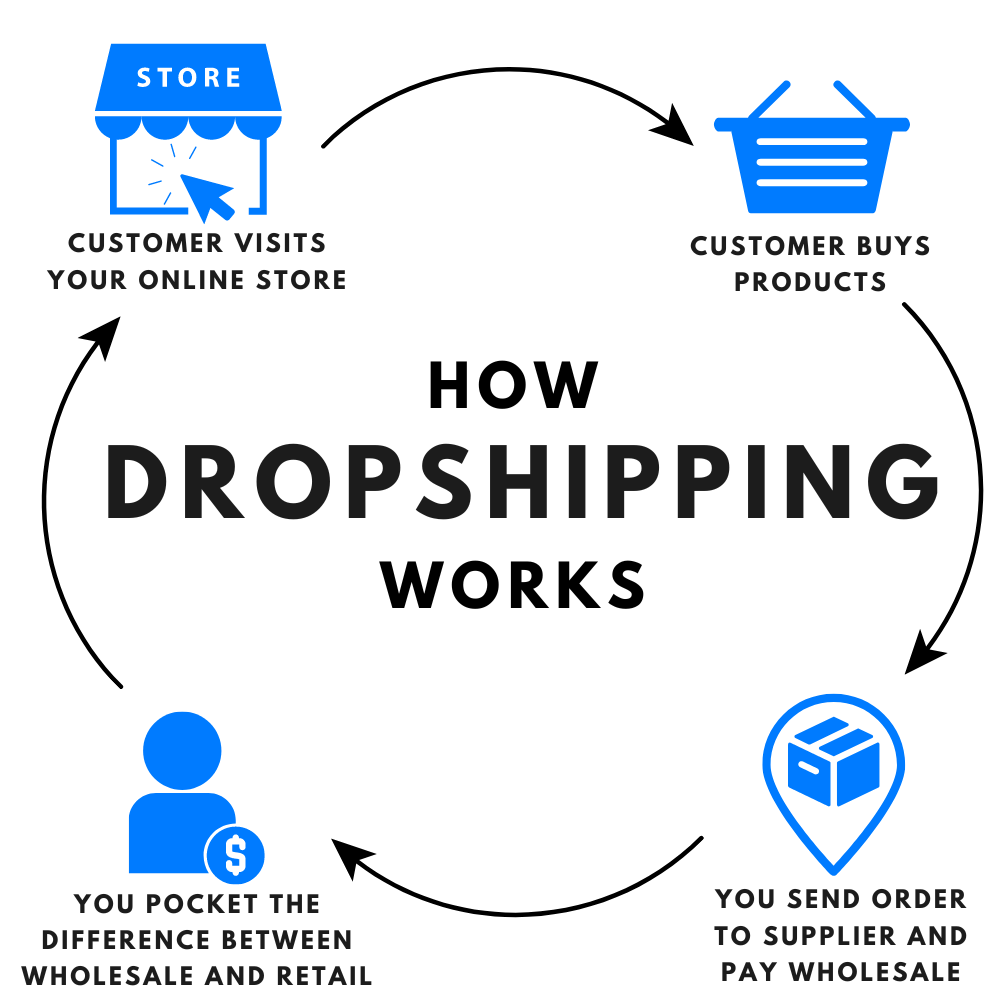 Dropshipping Pros
You can set your own prices. Unlike affiliate marketers who get paid a set commission rate, dropshippers have the final say over the price point they sell their products at.
Turn your passion into profit. You can market products you yourself believe in based on your hobbies, passions and areas of expertise. This is way more fun than working a job you have zero interest in.
No need to handle products. Unlike running a traditional store, with dropshipping, there's no need to hold any stock yourself. You simply take a customer's order and forward that to your third-party supplier who in turn ships it directly to the customer on your behalf.
No earnings cap. As you build out your e-commerce store, you'll be able to look at the data and identify your winning products and scale up your ad campaigns. You can do this as many times as you like, it's just a case of repeating this process to skyrocket your income.
You can sell your dropshipping store. It's not uncommon for Shopify stores to sell at 30-50x the average monthly profit on sites like OpenStore. This means you can generate profit now or sell your digital asset for a nice big lump sump and reinvest it into your next online venture.
Dropshipping Cons
Higher running costs. Easily the biggest disadvantage dropshipping has over affiliate marketing, many dropshippers struggle to make a profit after paying expenses. You'll have to ensure you have enough left over to pay your Shopify and DSers fees, refunds and advertising costs.
Some suppliers can be unreliable. AliExpress is one of the better ones but even then you may still have issues with product quality. Long shipping times can also cause customer complaints.
Labour-intensive customer service – As a dropshipper, you'll be responsible for any customer care issues that arise, including any questions, missing parcels, product defect complaints, delayed deliveries and refund requests. Though you always have the option of hiring a virtual assistant to help free up your time so you can focus on growing your business.
Need to test the quality of products yourself. Though not mandatory, it is considered best practice to test run your supplier before making products available to the general public. This is sometimes referred to as product validation and can cost you up to $75 per product.
How Affiliate Marketing & Dropshipping Are Alike
Both dropshipping and affiliate marketing give you a legit and profitable way to quit working for someone else and become your own boss. Put in the effort and you can be very successful with either and both business models allow you to live the laptop lifestyle and work wherever and whenever you want.
Neither models require you to create your own products or own your own stock because affiliate marketers simply earn commissions by recommending other people's products and dropshippers make money by promoting third-party suppliers' products.
In both cases, you're acting as a middleman between customers and product creators.
As the middleman, your primary task is to find out what people want and give it to them.
Some affiliate marketers make six figures a year and some dropshippers make more than $10,000 a day, so you can definitely get rich with either business model IF you apply yourself and stick with it.
And the better you can get at matching the right people with the right products, the more sales you'll generate, the more money you'll make and ultimately the more successful you will be.
How Affiliate Marketing & Dropshipping Are Different
The biggest differences between affiliate marketing and dropshipping are the product suppliers and the method of how you make money. Affiliate marketing is a commission model where you get paid to recommend online retailers' products and dropshipping is an arbitrage model where you sell products at retail and forward the order to the manufacturer to fulfil at wholesale.
With affiliate marketing, you build a website and create content to get free and organic traffic from Google to generate sales and with dropshipping you build a Shopify store and use paid Facebook and YouTube ads to generate sales.
Affiliate marketing takes longer but is more hands-off once you get it going. Dropshipping is more expensive and more complex, but you can see results faster.
| | | |
| --- | --- | --- |
| | Affiliate marketing | Dropshipping |
| Running costs | $0-$50/month | $150-$200/month |
| Risk level | Low | Medium-High |
| Profit margins | 50-80% | 10-15% |
| Earning potential | High | High |
| Difficulty level | Medium | High |
Affiliate Marketing vs Dropshipping: The Bottom Line
There's no one-size-fits-all solution. Both are great business models with high earning potential and you could do very well with either.
I guess the real question is one only YOU can answer:
Is affiliate marketing or dropshipping a better fit for you and your goals?
If it's affiliate marketing, the best place to start is right here at Commission Academy »
If it's dropshipping check out Marketplace Superheroes »
And whichever one you go for, take the first step today.
I hope you enjoyed this affiliate marketing vs dropshipping comparison for 2023.
Now I'd like to hear from you: Which online business strategy are you going to try and why?
Let me know by leaving a quick comment below right now.