Quick Answer: Affiliate marketing is specifically promoting other people's products or services online for a commission whereas digital marketing is a more general term meaning any type of online advertising or promotion.
Affiliate marketing and digital marketing are two different online business models, though they can overlap.
In this post, we'll discuss the differences and similarities to help you distinguish the two.
The Objective Of Affiliate Marketing 
Affiliate marketing is a commission-based business model where affiliates pitch other online store's products or services to their followers, readers, or subscribers on different online platforms.
The Objective Of Digital Marketing 
Digital marketing aims at a higher Click Through Rate (CTR) since digital marketers are paid for the number of ad clicks. The objective is to send more and more ad viewers to the merchant's platform. Payout in this case does not depend on successful sales.
The Differences Between The Two?
In one line:
Affiliate marketing is about earning commissions for every sale you successfully generate for online retailers whereas digital marketing is the general promotion of products and brands online.
Affiliate Marketing Players 
The following are the main components of affiliate marketing:
1. The Affiliate
Become an affiliate marketer and you can, join an affiliate program of any online store and recommend products via your website or Youtube channel for a commission.
You can earn 6 figures or more simply by helping people find the products they're looking for.
2. The Online Store
Online stores offer affiliate programs to recruit affiliates who will increase sales in return for a cut of each sale.
Many big-name brands and high street stores run affiliate programs as they realize we're buying online more than ever.
3. The Customer
Every day people like you and me search Google for product reviews and recommendations. Often times we buy a product or service online not even realising we're buying through an affiliate link.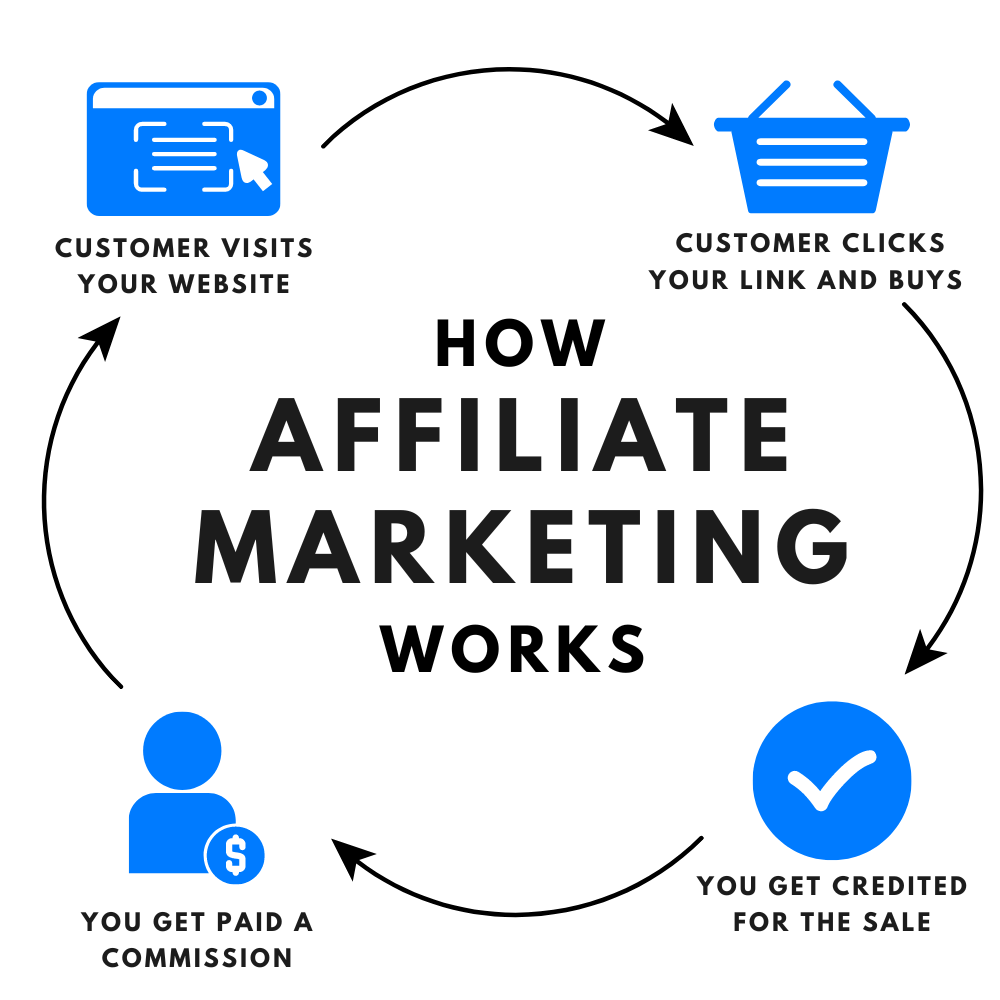 Pros Of Affiliate Marketing
Affiliate marketing is a safe and profitable business model that you can use to earn money from home. It is easy, convenient and flexible.
There are many benefits of affiliate marketing, including the following:
Anyone can do this, no matter what your background
You can earn even if you are not tech-savvy
Starting costs are really low
You get to choose the type of products you wish to promote
You can select the niche that interests you most, such as travel, fashion, health, etc.
Components Of Digital Marketing
Digital Marketing is a term used in marketing which covers all the activities involved in promoting brands, products and services using digital communication channels. Digital marketing can be broadly classified into three categories: paid, owned and earned media.
Digital marketing is a vast topic. Digital marketing can be divided into video marketing, social media marketing and email marketing.
1. Video Marketing
It is promoting your product or brand through videos on digital platforms such as YouTube and Facebook. In this type of marketing, you create videos to promote your product or brand more interactively by using features like comments, ratings and shares.
2. Social Media Marketing
It is promoting your product or brand through social media websites such as Facebook, Twitter, Instagram, etc. You can also use various tools to promote your product or brand on these sites by creating an account on them and interacting with your audiences or followers.
3. Email Marketing
It sends emails to your customers and gives them promotions about your products or services. You can set up an email ID for your business and send emails to your customers promoting various offers related to your business.
4. SEO 
SEO (Search Engine Optimization) is the practice of helping a website rank high in the major search engines. This can be accomplished through keyword research, writing for human readers instead of search engines, and link-building to reach a broader audience.
5. SEM 
SEM (Search Engine Marketing) is often used as a synonym for PPC advertising. It is much more expensive than this, however, including all kinds of marketing efforts involving search engines— SEO, PPC, email marketing, display ads, and more.
6. Analytics 
Analytics is the study of how your customers interact with your business online. It is a powerful way to learn about your target audience, how they interact with your brand, where they come from, what they are interested in—and much more.
Pros Of Digital Marketing 
If you are at a loss for what digital marketing might look like in your own business or organization, here are some ways this kind of marketing could be helpful:
It can help spread your message through conversations on Twitter and Facebook.
It can help you engage with customers on eCommerce sites like Amazon, Etsy, and eBay.
It can increase your visibility through search engine optimization (SEO) techniques.
It can even help you develop relationships with customers by harnessing the power of LinkedIn.
It can give you more tools to measure your success—and improve upon it—by using analytics software that provides insight into the performance of your online efforts.
It can allow you to differentiate yourself by creating original content for your customers to find and share on social media sites like Pinterest.
Similarities Between Affiliate Marketing & Digital Marketing
Affiliate marketing and digital marketing are online advertising methods companies pay for each visitor to their website or customer leads.
Both affiliate marketing and digital marketing use the same process, i.e., to drive traffic from one website or from one place to another.
The only difference is that affiliate marketing is used to promote a product of a specific company, while digital marketing is used to promote a product or service of an individual business organization.
Moreover, affiliate marketing and digital marketing provide the same benefits, such as cost-effectiveness, faster customer acquisition and lead generation rate, etc.
Affiliate Marketing vs. Digital Marketing: Which Is Best?
That is the million-dollar question. However, the answer to that question is complex and varies from business to business.
In marketing and advertising, you have two options: affiliate or digital.
Affiliate marketing is when you act as a middleman between the consumer and the brand or product. You are an affiliate of this brand and receive a commission for each sale that you make.
Digital marketing is advertising for a brand without being affiliated with it.
On the surface, both seem viable options for businesses that want to get their product out there and sell many products quickly.
Affiliate & Digital Marketing: The Bottom line 
Digital marketing is an umbrella term that encompasses several different types of online marketing efforts. It includes SEO (search engine optimization), SEM (search engine marketing), PPC (pay-per-click), display advertising, social media advertising, email marketing, conversion rate optimization, and more.
Affiliate marketing is the best online business model because you can earn substantial income without having to source products or provide any services yourself.
It also happens to be what we here at Commission Academy specialise in.
So if you want to learn how to start a thriving online business step by step click HERE.