Quick Answer: Many affiliate marketers fail either because of a lack of clarity or wrong niche and keyword selection. In other words, not having a solid overall strategy. Impatience, however, is the biggest reason most quit too early before giving their earnings enough time to grow.
We've helped countless aspiring entrepreneurs create full-time affiliate marketing incomes online.
In that time we've:
Celebrated our students' first sales
Cheered them on their first 100 email subscribers
And toasted their first $1,000 days.
Safe to say, I really believe in affiliate marketing. It works for me and many of our students.
But the word online is that between 75% and 95% of beginner affiliate marketers fail.
Whichever way you cut it, that's a HIGH failure rate.
So why is it so many fail to earn a full-time income from this thing?
If everyone dreams about earning online, why do so few actually make it?
After achieving super affiliate status and mentoring and coaching others to affiliate marketing success, I believe I may be able to offer some insight and help you avoid the most common newbie mistakes.
Here are the top 5 reasons most affiliate marketers fail and what you can do to avoid the same fate:
Reason 1. They Have No Clear Strategy
You want to build an online business that will generate extra cash flow and eventually full-time freedom.
Good for you!
So you start looking online to figure out how to go about it. But…
There are so many different methods, courses and systems out there – where do you even start?!
I mean, take a look at these screenshots from some of the affiliate marketing "experts". What do you see?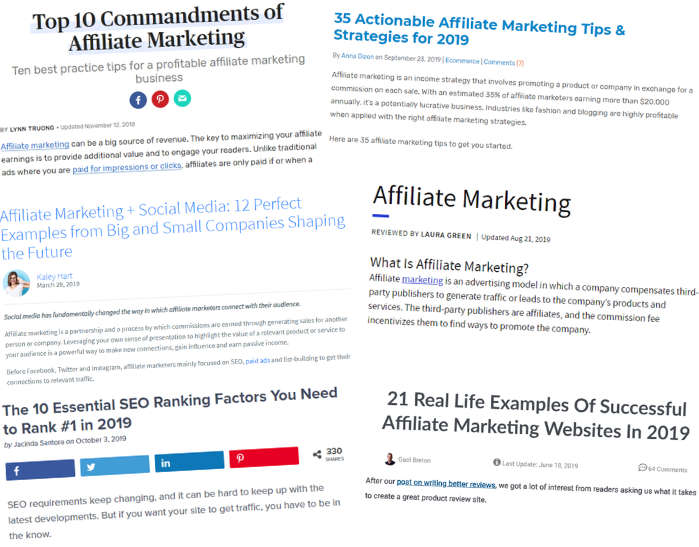 35 tips to do this, 21 tricks to do that… it's neverending!
While affiliate marketing tips can be helpful, here's what happens:
You take a course that says launch jacking is the only way to go…
You watch a YouTube video on how to do keyword research…
Someone tries selling you a done-for-you affiliate marketing system
You read about a "new" SEO technique you just "have" to try…
You hear Pinterest is a great source of traffic…
And before you know it, you're like Stretch Armstrong being pulled in all directions. You have all this information without an OVERALL STRATEGY you can follow to actually make it happen.
THEY SAY: You have to get on [some social media site] and use this cutting edge tactic to get a huge following. Oh, and don't forget to use this expensive sales funnel software to skyrocket your earnings!
I SAY: This is not how you become an affiliate marketer. Okay, so you get 1,000 followers on Instagram. Then what? How do you use that to make your first $10,000 online and build it into a stable stream of income?
This is the number one reason most aspiring affiliate marketers fail, despite their best efforts.
So say "No!" to information overload.
Choose a strategy and stick to it!
And if you're looking for an exact blueprint that'll take your online income to $1,000, $10,000 or $100,000 a month then follow our proven roadmap.
We've learned over the years exactly what works and what doesn't, meaning you get to cut out all the guesswork, learn from experienced experts and fastrack your progress.
Reason 2. They Don't Have A Website
Yes, you can make money with affiliate marketing without a website by:
Sharing affiliate links in Facebook groups
Buying solo ads
Paying for PPC ads
Starting a YouTube channel
But you need a website if you want to build a sustainable affiliate marketing business that's going to provide for you and your family in the long term.
Why?
Because without a website, what are you going to do? Do you really think you can build a solid financial future by spamming social media sites?
Using social media sites is all well and good, but what if that platform you're using closes down? You're going to have to start all over again.
With a website, you own 100% of it. It's not going to go anywhere and YOU are in complete control.
It's also worth remembering most affiliate programs require affiliates to have a website to get approved.
All this to say, just build a website! You know it makes sense 🙂
Most people scream in terror at the mere mention of building a website because they think they need a coding degree. While that might've been true a decade ago, now it couldn't be further from the truth.
It's really not that difficult. Sites like WordPress, SiteRubix and Wix all make it super easy to start your very own affiliate site even if you've never done it before.
Want a click-by-click walkthrough?
Take the Commission Academy Crash Course and we'll guide you every step of the way.
Reason 3. They're In The Wrong Niche
A lot of people fail at affiliate marketing, not because they have the wrong skill set or mindset, but because they chose the wrong niche, to begin with.
It's all too easy for newbie affiliate marketers to pick the wrong niche because they think it's more profitable or they're chasing high ticket commissions and NOT because it's a topic they have a level of interest in.
Yeah, good luck with that!
You'll be far more likely to succeed if you choose a niche that you actually like.
You also want a niche that has plenty of products and/or services you can promote.
If you think you may have chosen the wrong niche, think about how you might be able to tweak your direction a bit. Sometimes it's just looking at your niche from a new angle that can make all the difference.
If you think it's best to dive into a brand new and start again from scratch then do that. I know it's scary but just think, you'll be taking everything you've learned so far with you into your next project so you'll progress a lot faster than the first time around.
Reason 4. They're Not Writing The Right Content
Successful affiliate marketers know that to maximise sales they need to create content around the right keywords.
Keywords are the phrases and questions people google and you can use keyword tools like Jaaxy or Semrush to see how often these phrases get searched on average per month.
But not all keywords were created equal. There are some keywords that are naturally going to generate more affiliate commissions than others. If it takes say, 3 hours to write a blog post, you might as well focus your efforts on those.
Let's say you have a language affiliate website where you're promoting online language courses:
Bad keyword: How To Say Thank You In Japanese
Good keyword: Best Japanese Courses For Beginners
Great keyword: iTalki Review
The bad keyword here might have a high monthly search volume, but somebody searching that is likely going to come to your site, get the answer they're looking for and leave. Whereas someone searching for a specific online course review is much more likely to result in a sale.
This is why understanding searcher intent is vital. It's your job to match the right people with the right products so you've got to put yourself in the headspace of your audience.
We know a lot about someone searching "iTalki Review":
We know they're looking to learn a language
They've decided they want to learn from a native teacher online
They're almost ready to sign up to iTalki but want to make sure it's the right choice
So you can come in, do a super-helpful product review and grab the sale.
And all because you choose the right kinds of keywords 😉
Reason 5. They Haven't Given It Enough Time
I totally get it. You want to see those affiliate commissions coming in and you want to see them coming in like yesterday.
I'll be honest. If I was where you are reading this post, I'd probably be rolling my eyes at this point…
Because I've been there and it's really frustrating when you don't see any results after you've put in the hours… And those doubts creep in…
"Is this ever going to work?"
"Will anyone ever read what I've written?"
"This niche is way more competitive than I thought."
"Maybe I'm just not cut out for this!"
Or maybe that's just me 😉
No, let's face it: super affiliate or not, we've all thought about calling it a day. Especially when you're just starting out and are waiting to experience that first real breakthrough.
The biggest reason most fail at affiliate marketing is that realistically it can take anywhere from 6 to 12 months of solid work to turn this into a full-time income.
I made my first sale at the 2-week mark, was making a regular income at 6 months and was finally able to quit my job at 12 months. Your timeline might be different. It really depends on your schedule and your work ethic.
Yes, affiliate marketing takes time, but the very fact you are reading this right now means you still believe this whole affiliate marketing gig is worth it and shows that you have the determination and grit to see it through.
You Never Fail If You Never Quit
Mastering the skill of affiliate marketing is a huge learning curve that takes time.
It's easy (if not even normal!) to get impatient, but stick with it. Remember why you started and stay consistent. It's those small daily action steps that are going to get you to where you want to be.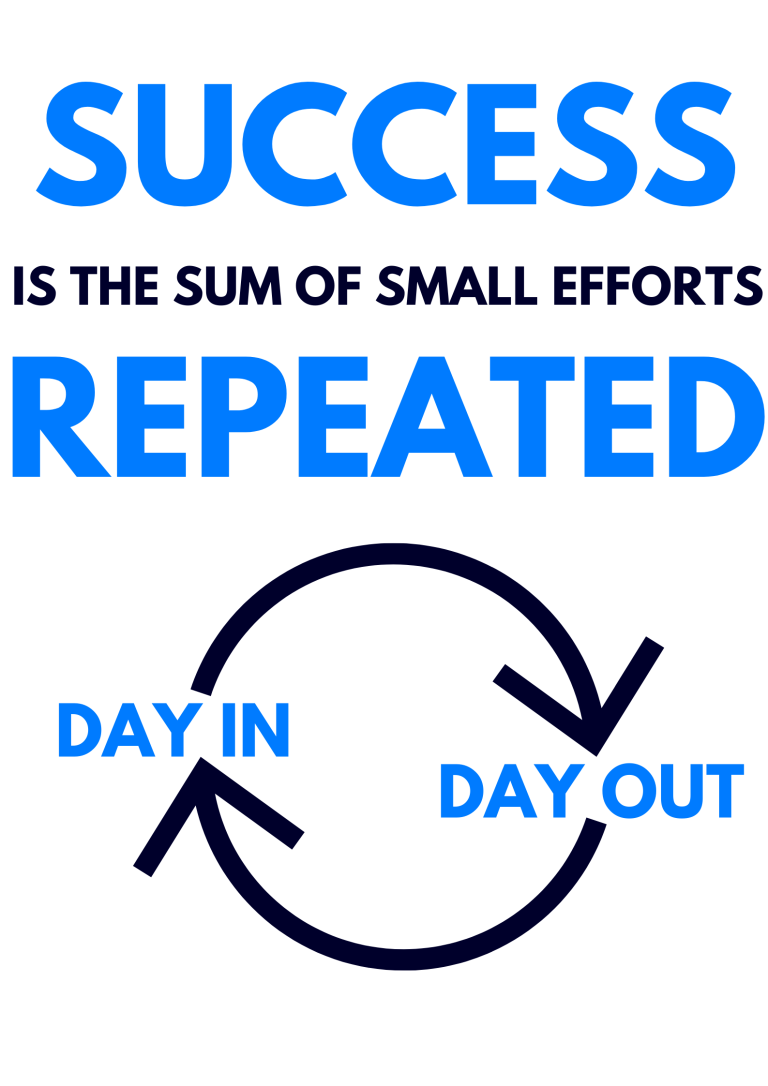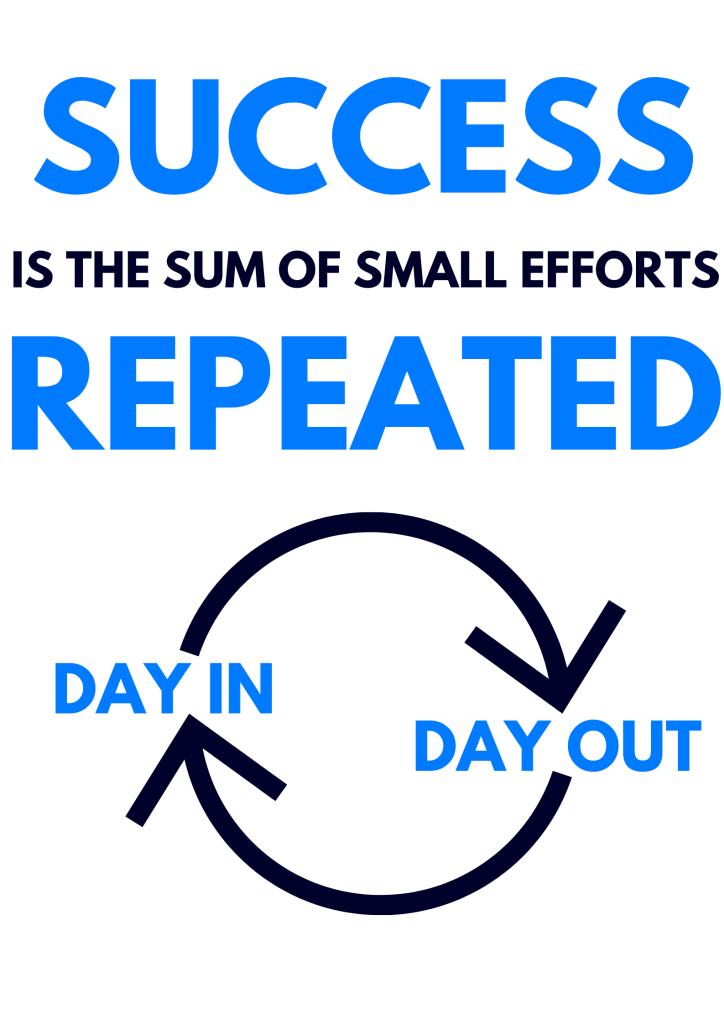 Made a mistake?
It's ok, just learn from it and you'll be better next time.
Not getting everything right the first time doesn't mean you're failing at affiliate marketing, it just means you're growing. You only fail when you quit so see it as a learning experience and refuse to be a statistic.
Remember Thomas Edison, inventor of the light bulb? It took him 1,000 tries before he got it right but you know what?
He kept going.
So you should too!
Because the truth is, with the right training and support, you can absolutely become a huge affiliate marketing success!