Quick Answer:
Internal links link to pages within the same website.
External links link to pages of other websites.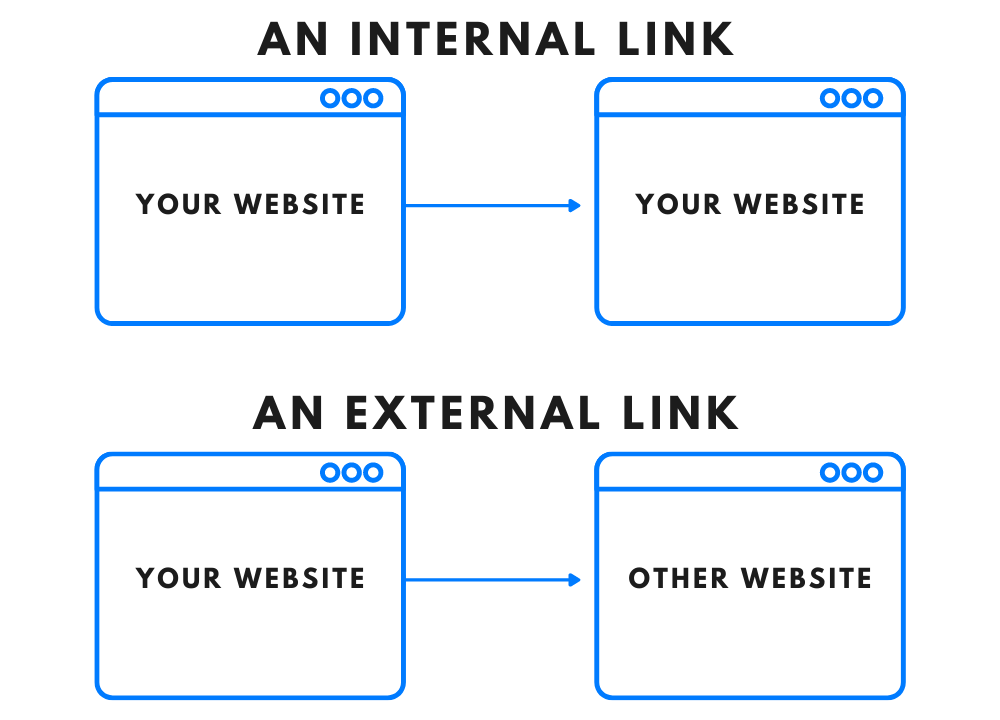 For example, I could link to another Commission Academy article on how many products affiliates can promote. That's an internal link as it's linking to another page on this website.
Or I could link to this Wikipedia article on SEO and that's an external link because I'm linking to another website.
Now you know the difference between internal and external links, let's talk about why it's a good idea to get into the habit of adding a nice mix of internal and external links on every page and post you create.
Why You Want To Add Both Internal And External Links
Adding internal and external links to your posts is good for:
Your readers
Your Google rankings
Your wallet
Let's go through each one and I'll show you why…
1. Your Readers Like It
Adding internal and external links gives your readers a better user experience. It makes your posts better and more valuable.
When you write your posts, they'll be times when you mention a related idea or key concept but you don't want to go off-topic and explain the whole thing.
Especially if you've written another post about it already.
This is when sprinkling links throughout your posts comes into play: it gives your reader the option to delve a bit deeper and get more information if they want to.
Not only that, it establishes you as a credible authority on that topic and helps build trust.
So add both internal and external links whenever you think it makes sense.
Oh, and an embedded YouTube video counts as an external link so feel free to add some videos to your posts where relevant. 😉
2. Google Likes It
Internal links help Google find, crawl and index posts across your site and help Google get a better idea of what your post is about.
External links to high authority sites make your site more credible and trustworthy in Google's eyes.
Let's say you have 2 posts ranking for the keyword "best virtual reality affiliate programs". 
Both have in-depth, super helpful content, but one is linking to highly authoritative, trusted sites and the other is linking to low-quality, scammy sites.
Which one do you think Google will rank higher?
Makes sense, right?
Plus, Google has told us themselves that adding external links to trusted sites will help your website rank.
3. Your Wallet Likes It
Not only is adding links to your posts good for your readers and good for your website's performance in the search results, but it can also actually be really good for your bottom line.
Whether you're looking to earn a decent side hustle or make blogging your full-time career, affiliate marketing is the best and most profitable way to make money blogging.
Why?
Because if you've already started blogging then you're already halfway there.
Simply join an affiliate program, recommend and link to good quality products your audience will appreciate and you can earn up to 75% commissions for each sale you generate.
For example, if you had a bodybuilding blog, you could recommend workout supplements and link to a bodybuilding affiliate program to earn commissions online.
Or, if you blog about fishing, you could join the best fishing affiliate programs, add links to fishing equipment and turn your blog into a profitable online income stream.
How Many Links Should You Have On A Page?
There's really no limit but you don't want to overdo it or your blog posts could start to look a little spammy.
Add links when you feel it is relevant and appropriate and you'll be just fine.
Google backs me up on this too:
Start Making Money From Your Blog
If you are fired up about learning how to grow and monetise your blog…
Click here to take the free step-by-step Commission Academy crash course »
That's where we'll walk you through how to start earning consistent commissions from your blog in the shortest time possible, even if you're just starting out.
See you on the inside! 🙂