ClickBank is one of the largest, most well-known & longest-running digital marketplaces ever to exist.
It is, however, also a marketplace that has managed to build up quite a bit of a negative reputation due to the high number of low-quality (and borderline scammy) products it hosts.
So, what's the deal? Is it legit & do people actually make money with ClickBank?
What are the average earnings of a ClickBank affiliate?
And most importantly, is there any ClickBank income proof to prove they pay their affiliates?
If those are some of the things you've been wondering about, then you can rest assured that you've landed in exactly the right place to find out the answers.
On this page, we'll be uncovering everything you need to know about how much you can make with ClickBank & we'll also be sharing some solid ClickBank income proof.
So let's dive straight in.
Free Training
Become a Super Affiliate Marketer 🚀
Sign up for our free affiliate marketing training & learn how you can become a super affiliate in any niche. Discover powerful traffic generation methods & little-known tactics to generate the most revenue for every single click.
Do People Actually Make Money From ClickBank?
In short, yes, people do actually make money from ClickBank & there are 2 primary ways they do it.
The people making money from ClickBank are either making money by creating products & getting affiliates to sell them, or they're making money as affiliates promoting other people's products.
Both methods have their advantages & disadvantages, but our favourite method of making money through ClickBank is as an affiliate.
This is because, as an affiliate:
There's no need to create your own product
You don't need to deal with customer support/refunds
There are no upfront costs
You can easily change what products you're promoting
So as you can see, it's pretty straight forward to make money from ClickBank as an affiliate. All you need to do is find a good product & send people to it.
If they happen to purchase it, you get paid a commission (which can be up to 90%).
The only issue, however, is that it can be difficult to find good products on ClickBank. It's safe to say that they're few & far between.
So whilst you technically can make money with ClickBank, it can be difficult to find products that actually convert well… Meaning you may earn more by choosing a different affiliate program to promote.
And if you're specifically looking for digital products to promote, we've got you covered. You can check out our list of the best digital product affiliate programs.
But don't be fooled into assuming that digital products are better. That's not always true.
You'll earn the most from the product that is most relevant to your audience. Whether it is physical or digital doesn't really matter.
Even if a digital product has a higher commission rate, it may not pay as much as a physical product if the physical product converts higher with your audience.
But that aside, let's take a look at the average earnings of a ClickBank affiliate.
How Much Does The Average ClickBank Affiliate Earn?
ClickBank doesn't publicly share a specific breakdown of the average income for their affiliates, but after some digging around their blog, we managed to find some interesting statistics.
Let us quote their blog:
ClickBank has hundreds of Platinum affiliate marketers who earn more than $250k per year just on our platform.
Beyond that, we have an impressive number of Diamond affiliates who earn more than $5 million per year through affiliate marketing through ClickBank
So that certainly highlights there is the potential to earn big on ClickBank… But we already know that because, as we revealed, it's possible to become a millionaire with affiliate marketing.
What it doesn't highlight is how many of the affiliates made less than $100, or even $0, which we suspect will be a high percentage.
So the average ClickBank affiliate income will likely be much, much lower… But what you have to remember is that that's not a reflection on the program itself.
You see, average income can be a very misleading statistic as whilst there may be 100,000+ affiliates, only a small handful of them may be actively promoting the platform.
So whilst ClickBank's average affiliate income data isn't available, in reality, it's not that important.
It's not about what others are achieving – it's about what YOU will achieve… And with our free affiliate marketing training to hand, you'll be able to achieve great things with any affiliate program you choose.
This brings me to the next point.
How Much Can A Beginner Make With ClickBank?
In all honesty, how much you can make as a beginner with ClickBank depends on 2 things, which are:
The training you have available
Your work ethic
Providing you have access to good training (like our free affiliate marketing training) & you have a good work ethic, there is no limit on the amount you can earn as an affiliate.
So if you want to strive for $10/day, $100/day or even $1,000/day, it is all possible.
Heck, you could even find yourself becoming a millionaire with affiliate marketing.
And the best part about being an affiliate is that there is very little upfront investment required for you to begin your venture.
You could launch a business for under $100 per month & still have the potential to make millions.
Can You Make $100/Day With ClickBank?
Yes, absolutely… And given that the majority of the products on ClickBank pay commissions of 75% or more, it's not actually as difficult as it may sound.
For example, if you were promoting a $50 product that offered 50% commissions, you would only need to make 4 sales per day to hit the goal of $100.
Likewise, if you were promoting a $200 product that paid 50% commissions, you could hit the goal with just 1 single sale.
And if you were to promote a $500 product that paid 50% commissions & made 1 sale per day, you would have surpassed your goal by 2.5x & be generating $250 per day.
The question is, how do you get the sales?
And the answer to that question can be found in our free affiliate marketing training course.
In our course, you'll learn how you can generate unlimited traffic to send through to any affiliate offer to generate sales around the clock.
ClickBank Income Proof
After all this talk of money, you'll likely now be hyped to see the good stuff, the ClickBank income proof… And thankfully, there's no shortage of it.
In fact, a search for "ClickBank income proof" yields over 2,540 results. 😲
We won't bore you with that much income proof, though. We'll just share the good stuff.
Here goes…
The first one comes from a newcomer affiliate who is making a modest sum of money & sometimes exceeding $100 per day with ClickBank: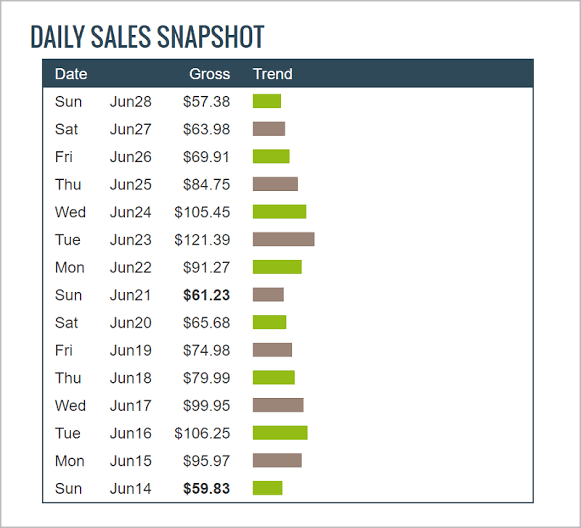 The second one comes from a more experienced affiliate who averages over $100 per day & sometimes even makes over $400 per day: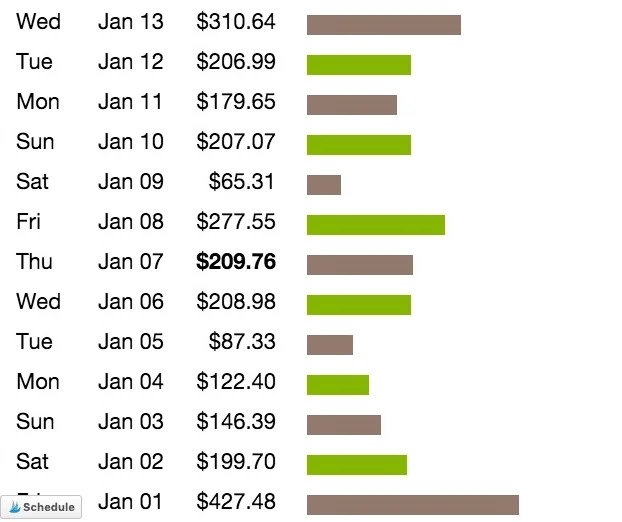 And because we appreciate screenshots aren't the best (as they can be faked), we've also included a video below from our good friend Vitaliy, who has managed to earn over $500,000:
So hopefully, this post serves as good proof that, yes, it's possible to make money with ClickBank.
And, of course, if you happen to have any further questions or comments, feel free to leave them below.