Welcome to the dog lover's easy, step-by-step guide on how to start a dog blog and make money from it.
I've made a full-time income blogging for the last 8 years and now I'm going to show you the best way to turn your passion for all things canine into real online earnings in the next 10 to 15 minutes.
And guess what?
You can start a successful and profitable blog no matter your age, location or back, even if you have no technical experience with websites.
Now you know you can absolutely do this, I'm going to walk you through the Blog Launching Checklist and take you through the exact process of starting your dog blog. 
Follow These 6 Steps To Start A Dog Blog
If you're ready to take the leap and learn how to start a blog that can grow into a source of real online income, then let's dive in.
Follow these steps to learn how to start a blog and make money today:
1. Pick A Dog Blog Niche
2. Choose A Name For Your Dog Blog
3. Get Your Dog Blog Set Up
4. Design Your Dog Blog
5. Create Content For Your Dog Blog
6. Monetise Your Dog Blog
Step 1: Pick A Dog Blog Niche
First, you need to decide what kind of dog blog you want to create.
This means narrowing down your blogging niche – the topic of your blog.
Targeting a more specific audience is really going to really help you create the right kind of content, make it easier to build a loyal following and ultimately enable you to make more money from it.
While you can choose to create a general dog blog that covers a wide range of dog and pet-related topics, you want to find a specific and unique angle so you can stand out from the competition.
Here are a few dog niche ideas you can choose from:
Specific dog breeds e.g. Labradors or poodles
A lifestyle-focused dog blog focusing on events and activities for dogs and their owners
Dog food and nutrition
Dog clothing and accessories
Dog insurance and healthcare
Dog-friendly travel
Dog grooming
Dog training
Dog breeding
Dog rescue and adoption
You want to pick a dog niche you're the most passionate and knowledgeable about as this will make your creating content for your target audience easier and more enjoyable.
Step 2: Choose A Name For Your Dog Blog
Now you know what you're going to be blogging about, it's time to choose a blog name.
This is an important step because the name of your blog is often the first thing your readers will see. It's your brand and your first impression that sets the tone for your blog and how it will be perceived.
For example, if you name your dog blog something like Simon's Blog, people won't know your blog is about dogs at all.
But with a name like The Dog Rescuer, it tells people straightaway who you are and what you're about.
Here are a few dog blog name ideas to help you get the ball rolling:
Daily Dogwalk
Healthy Bark
My Dog Is A Human
Simon And His Dog
Fearless Dog Trainer
Doggy Treks
Puppy Hacks
My Canine Companion
If you get stuck, check out our guide on how to come up with a good blog name.
Step 3: Get Your Dog Blog Set Up
Next, you have to choose blog hosting and register the domain name you want to use.
Blog Hosting – This makes your website live on the web so anyone can access it. . You need blog hosting in order to make your website live on the internet.

Domain Name – A domain name is the website address your blog users will type in their browsers to visit your blog. For example, our domain name is www.Commission.Academy.
There are a few factors to consider when choosing where to host your blog:
Ease Of Use
If you're not a technical person like me then you'll want to choose a blogging platform that's beginner-friendly and easy to use and doesn't require any coding skills.
Flexibility & Creative Control
Certain blogging platforms don't allow you to make any money from your blog. So, you need to choose a platform that offers monetization options if you want your blog to be profitable.
You also need full design flexibility when it comes to the look and feel of your blog so you can build a beautiful dog blog you can be proud of.
Speed & Reliability
There's nothing worse than having a blog that's down. You want your blog to be live in the web 24/7 so you don't miss out on any traffic or earning potential.
Help & Support
If something does go wrong, it's reasuring to know your website is in good hands. A good web hosting service will provide daily backups, free SSL and instant support when you need it most.
Price
When you're starting a dog blog, you want to keep costs low while still enjoying a premium service.
Because of all of these factors, we recommend hosting your blog with Wealthy Affiliate.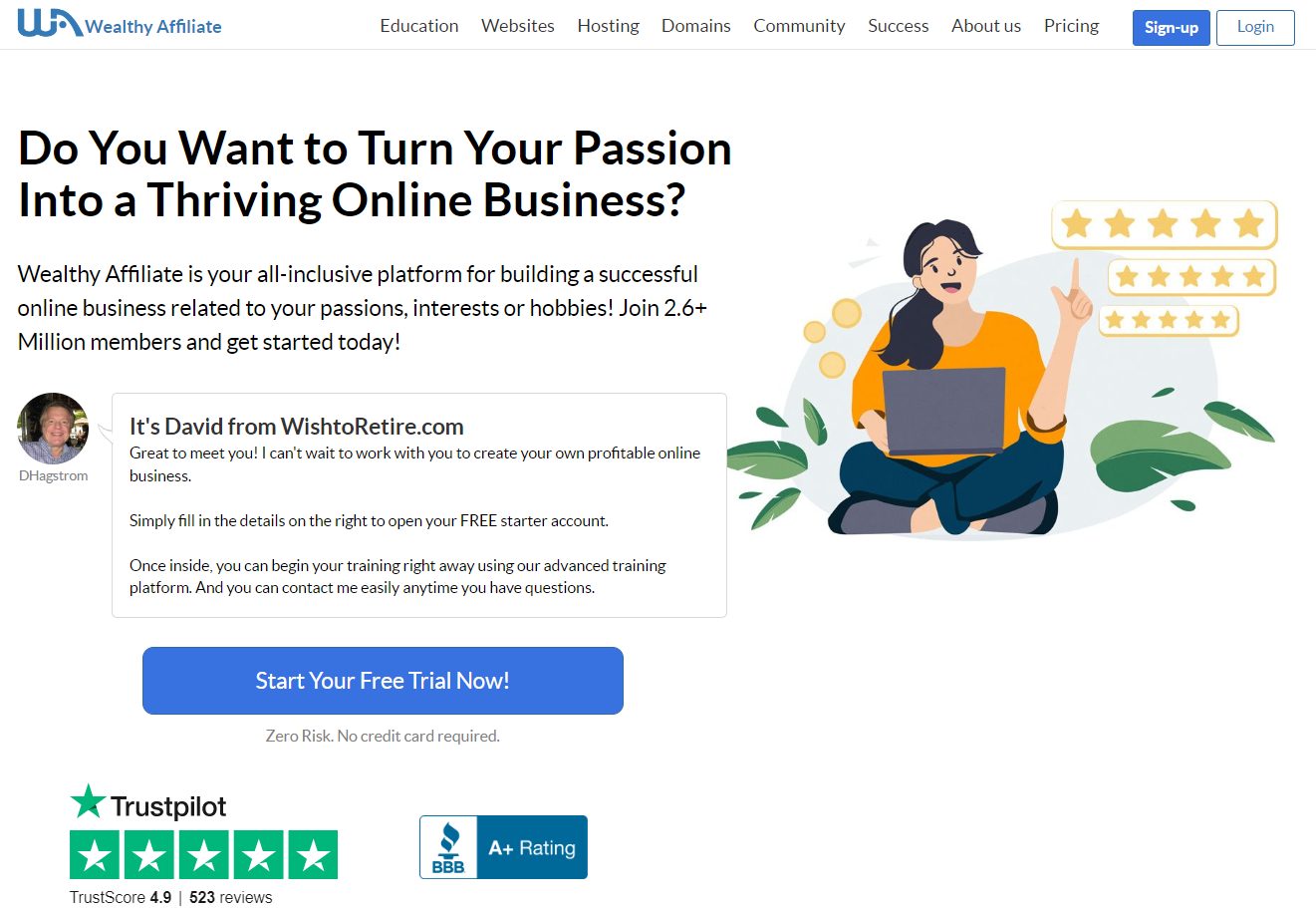 WealthyAffiliate.com offers the best blog hosting service and domain registration services on the market.
In fact, 2.2 million+ bloggers host their blogs at Wealthy Affiliate because it's reliable, offers 24/7 support and comes with 1-click website builders and daily backups.
You can host up to 3 websites and they give you a free domain name, free SSL certificate, and more!
With Wealthy Affiliate, you get everything you need to start a dog blog for as little as $49 per month.
How To Set Up Your Dog Blog With Wealthy Affiliate
To get started, go to Wealthy Affiliate and enter your best email to create your account.
Then, from the member's area, click Websites in the top menu and Build a Website in the dropdown:
Select the Register a Domain option:

You'll be asked to choose a Wealthy Affiliate pricing plan – you can pay monthly or yearly depending on your budget so pick the option that works best for you.
Now type in your blog name to check for availability. Ideally you want your blog name followed by ".com".
Once you've registered your domain name, click on Build a New Website and enter your dog blog's domain.
And now the fun part – selecting a WordPress theme! A theme is a template for you site and it's going to determine the look and design of your blog going forward.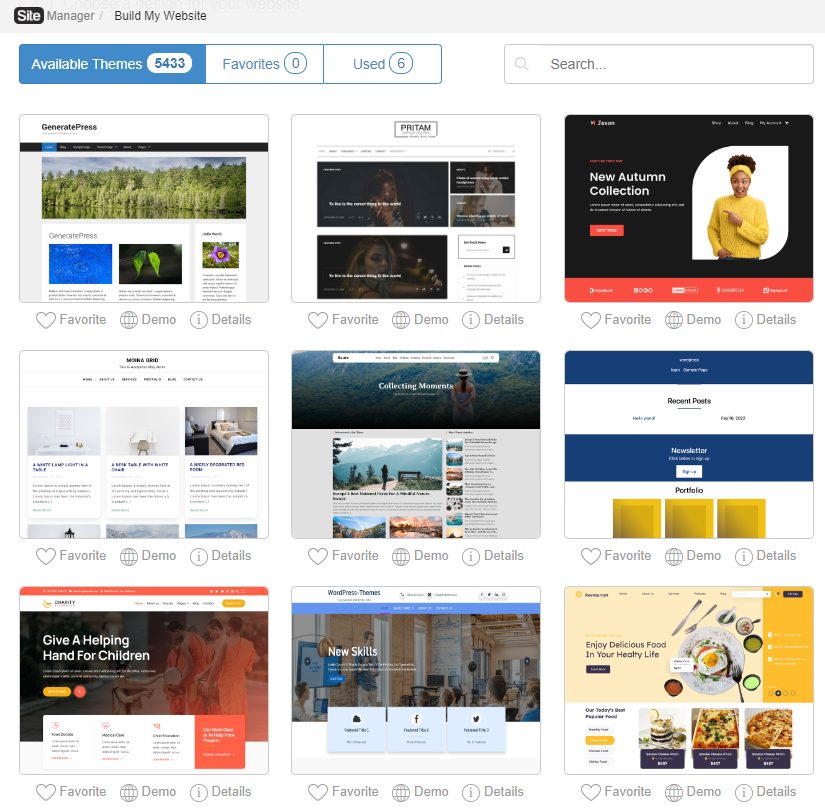 Wealthy Affiliate have 5,433 different themes to choose from but we recommend going with the GeneratePress theme because it's free, easy to use and comes with a ton of customisation options.
Once you've chosen a theme you like, hit Build My Website and let Wealthy Affiliate take care of the rest!
Step 4: Design Your Dog Blog
Congratulations – your blog is now live and on the web!
Now it's time to customise it and make it your own.
One of the first things you'll want to do is to add a logo.
Now you know you don't need to be a coder to start a dog blog, now let me show you how to create a blog logo without being a designer:
Go to Canva, create a free account and run a search for dog logos.
You'll see 1,000s of ideas come up: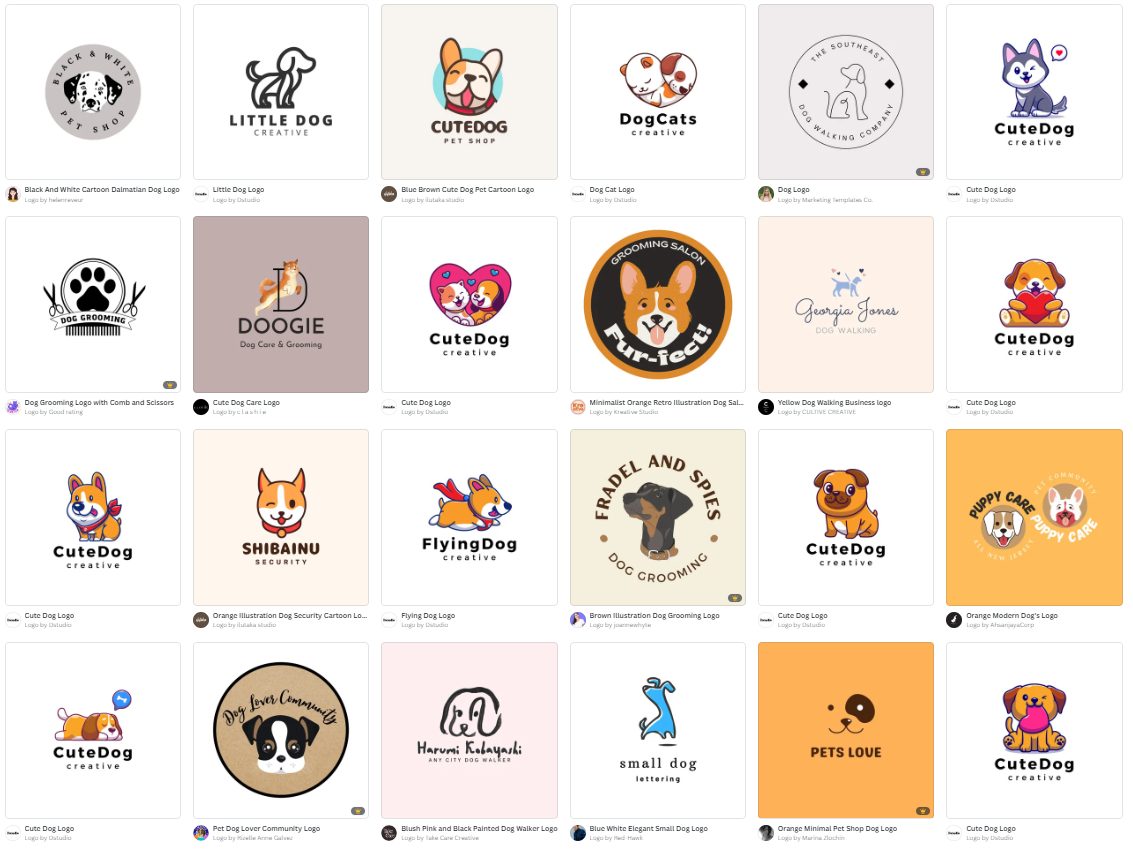 Pick the one you like best andchange the text, coloursand image until you're completely happy with it.
Then save it, log into your dog blog WordPress dashboard and from the left-side menu go to Appearance, Customize then Site Identity to upload your new logo to your blog.
From here you'll also see just how many customisation options you have. You can change the fonts and font sizes, colours, layouts and menus and get your blog looking however you want.
Step 5: Create Content For Your Dog Blog
Now you're ready to start writing blog posts for your gardening blog…
Content that's going to get ranked in Google and attracts 100,000s of monthly readers!
How To Write A Dog Blog?
For this step you're going to need a keyword tool like Mangools or Jaaxy that tells you how many times a month a specific question or phrase gets searched per month.
For example, a quick Mangools search reveals the phrase "how to make fresh dog food" gets searched on average 460 times a month: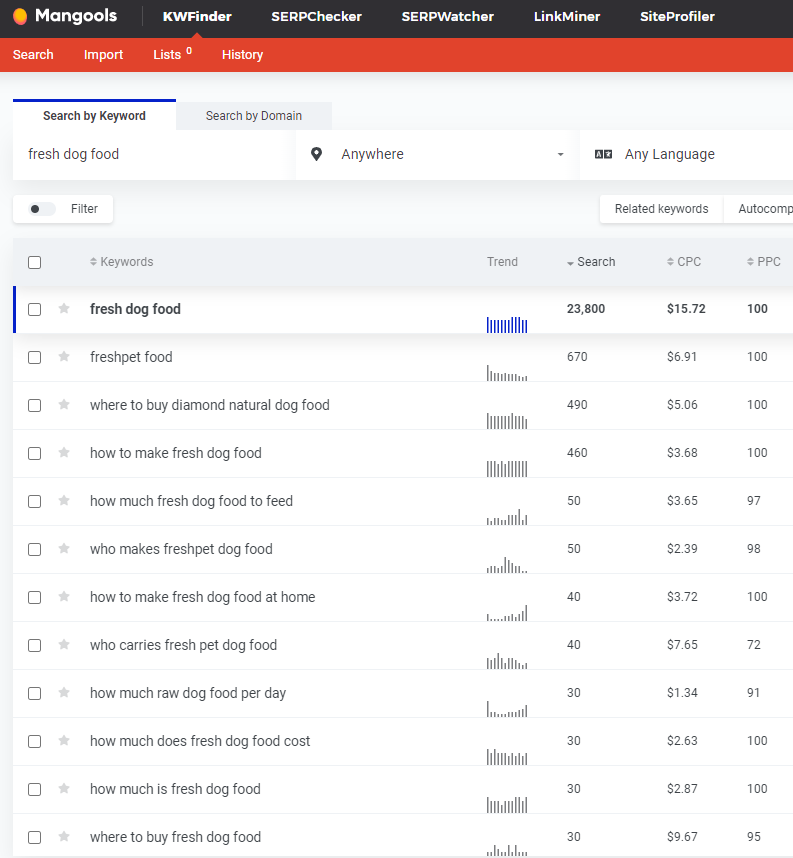 This is definitely a worthwhile post topic to write about. If I write this content in the right way (in the way we teach at Commission Academy) then this is going to get to the top spot of the Google search results and bring in a lot of traffic.
Here are some more dog blog post ideas:
How many types of dog breeds are there
What toys keep dogs entertained
Dog walk training
Do Dalmatians need a special diet
Where to buy a dog bed
How to take care of a Jack Russell
Once you have a list of keyword ideas you can start creating a content plan and publishing schedule.
Step 6: Monetise Your Dog Blog
Many bloggers struggle to make money with their blogs. As you're following this guide you don't have to.
While it takes time in the beginning, there are a couple of lucrative ways you can generate income from your dog blog:
Display Ads
Displaying ads is the most hands-off as all you do is sign up to an ad network like Ezoic and allow them to display ads on your blog.
You'll earn money based on how many people visit your site so there's really no extra work on your part and you'll get a nice check at the end of each month for doing what you're already doing.
Affiliate Marketing
Affiliate marketing is the best way to make money with a dog blog.
Simply search for dog affiliate programs, get a unique affiliate link and receive a link from the company and earn commissions when someone clicks on your link and completes a sale.
It's all commission-based and you can generate substantial income just by recommending programs you already use and know your audience will love, like:
Dog toys
Dog food, treats and supplements
Dog health insurance
Dog training courses
Smart collars
Dog cameras
Here's an example of affiliate marketing on the blog The Happy Puppy Site: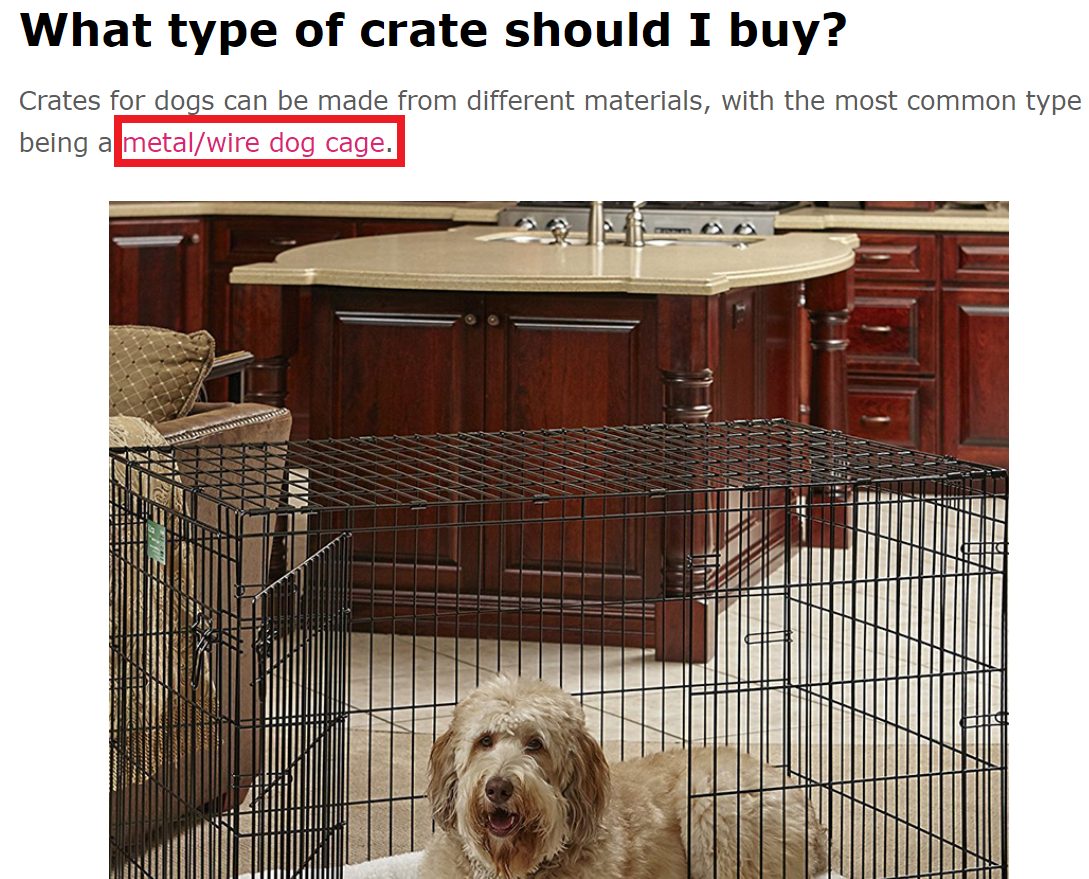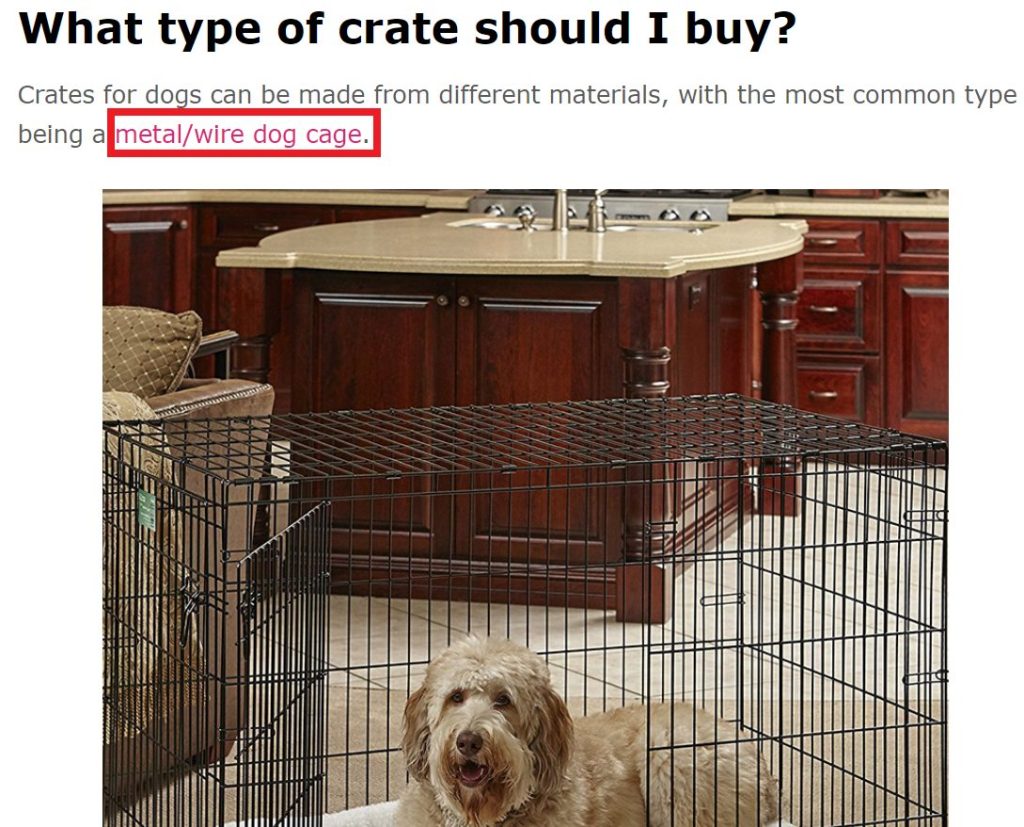 They wrote a post on how to crate train a puppy and linked to dog crates on Amazon. Every time a reader lands on this post, clicks the link and buys a dog crate, the owner of this dog blog will earn a commission.
Here are some of the best dog affiliate programs you can join to maximise your earnings:
1. Chewy
Join the Chewy affiliate program and promote their products on your blog and you'll make 4% on all sales.
Chewy has become one of the top online stores for everything pet-related. If dog owners need treats, food, and even medicine, Chewy has them covered.
2. Ollie
You can't have an affiliate list without a subscription service. Ollie is my pick for dog bloggers.
Ollie puts together healthy meals for dogs and sends them to customers. If you can get someone to sign up, you'll earn healthy $60 commissions.
3. Fi Smart Dog Collar
Everything is smart these days – from the FitBit to cameras on your doorbell.
Now you can be a smart pet owner. This product is a dog collar with a GPS in it. No matter what your crazy dog is up to, you'll know where they are.
Join the Fi Smart Dog Collar affiliate program and earn a solid 20% on all sales.
4. Paw
Who doesn't want a comfortable bed to sleep in? Unlike (most) humans, dogs also like to chew on them. This makes the dog bed game a great hustle to be in.
Paw pays 20% commissions.
And these just a few of the ways you can make money as a dog blogger with affiliate marketing!
You can learn more in our affiliate marketing beginner's guide.
How To Start A Dog Blog FAQs
Is The Pet Niche Profitable?
Yes, definitely. The pet niche and dog ncihe more specifically is highly popular and profitable as people are willing to spend a lot of money on their dogs and there are thousands of dog-related products and services you can promote.
How Much Does It Cost To Start A Dog Blog In 2023?
Starting a dog blog does not have to be expensive. All you need is web hosting, a domain and a keyword tool which you can get for less than $50 a month.
You can use free royalty-free image sites for blog post images to keep costs down to a minimum.
How To Start A Dog Blog For Free?
You can start a dog blog for free by going to Wealthy Affiliate and choosing the Free Domain option.
Starting a free dog blog is fine, but if you really want to grow your blog then you'll want to host it on your domain at some point as your site grows in popularity and starts generating revenue.
Do Dog Bloggers Make Money?
Yes, they do! Dog owners spend a whopping $1,300 per year on their dogs and as a dog blogger you have the opportunity to grab a slice of this for yourself through affiliate commissions.
How Much Money Do Dog Bloggers Make?
Kate started Pawsitively Intrepid back in 2017. A couple of years later, she monetized and turned it into a side hustle.
She's bringing in more than $100 a month now, most of which is coming from a combination of ads and affiliate revenue.
I talked about cute blog names in this post. One of the most clever is You Did What with Your Weiner.
She makes anywhere from $5k-$10k a month from this venture. This comes from a variety of income sources, such as ads, affiliates, sponsored posts, coaching and more.
Some bloggers are taking things to the next level with social media. If your dog is super cute and you're handy with the camera, you can make big bucks. It has become so lucrative that some bloggers are being paid up to $16,000 for Instagram photos.
That's A Wrap!
I hope this beginners guide has helped you as you start your dog blogging journey. Now you can turn your love of dogs into a a lucrative income!
And don't forget to sign up for our free blogging course to learn more about how to build a successful income-generating blogs!