When your YouTube channel gets more subscribers, you'll get more exposure and views, and adding a well-designed subscribe button people can't help but click is a big part of that.
That's why today I'm going to show you a very straightforward process for making a subscribe button that doesn't require any complicated software like Photoshop.
For this step-by-step tutorial, we're going to use Canva because it's so easy to use and free.
How To Make A Subscribe Button: Video Walkthrough
How To Make A Subscribe Button In 3 Steps
Step 1: Create A Blank Document
The first thing you want to do is head over to Canva and click Custom size.
You can make your subscribe button any size you want but a 150 x 100 px image is a good size to go for.
Then hit the Create new design button.

Step 2: Choose A Design
Next, click on Elements in the left menu and do a search for "subscribe button" to see a whole load of subscribe button designs come up.
Some of them are animated and some are static images, some are fully customisable and others are not so take your time and browse through to find the best one for you.

Once you've picked one, play around with the colours and sizing until you're happy with it.
If you want your subscribe button animated, click Animate and choose from the many animation options.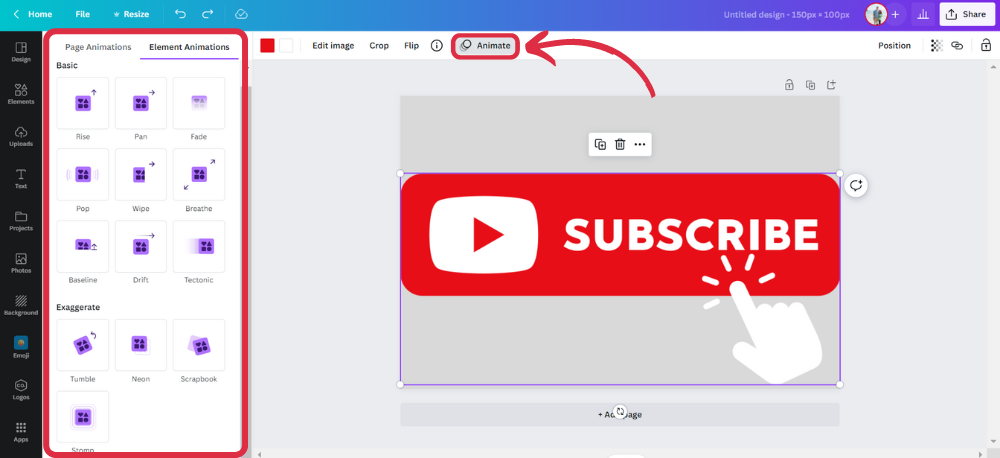 Step 3: Download
Once you're done, hit Share in the top-left of the screen and go to Download to save your design.
If your subscribe button is a static image, save it as a PNG file on a transparent background. If it's animated, save it as an MP4.

Now your subscribe button is ready to be added to your video as you edit your video.
See? it really is as easy as that!
If you found this quick and easy guide helpful, check out our other YouTube branding tutorials on:
How to make a YouTube cover
If You Don't Want To Make Your Own Subscribe Button
If you want a unique subscribe button that matches your channel's branding but don't want to create one yourself, you can hire a professional designer to do it for you.
Order your design on Fiverr and you'll get a custom subscribe button for as little as $5 in the next 24 hours.
You Deserve To Earn An Income With Your Channel
A lot of YouTubers don't realise you can turn your channel into a full-time income source simply by recommending products and linking to them from your video description.
And it doesn't matter if you only have only a few videos and not that many subscribers yet.
Check out our free training here and we'll show you how it's done, even if you're just starting out.
I mean, you put so much time into recording and editing videos, you might as well get paid for it right?
Exactly.