In this quick and easy guide, I'm going to walk you through how to create the perfect logo for your YouTube channel.
In just 5 minutes you'll be able to make logos like these, even if you're not a designer:

And the good news is you can do this on your web browser without needing to download any software.
Let's get started.
Make A YouTube Channel Logo: Video Walkthrough
5 Steps To Create A YouTube Logo
Step 1. Create Your Canva Account
Click here and join Canva for free.
Canva is the world's #1 logo maker and YouTubers love it for good reason. They make it easier than ever to create beautiful:
Subscribe buttons
End screens
And of course, YouTube logos.
They have 1,000s of images, fonts and templates you can choose from to come up with the perfect design.
Step 2. Create A Blank Design Or Use A Template
Type "YouTube logo" into the search bar and hit enter:

Now you can create a blank YouTube channel logo design and make your logo from scratch by adding your own text and symbols or you can choose any one of the pre-made templates.
Either way, this will open up an 800px x 800px document which is the recommended image size.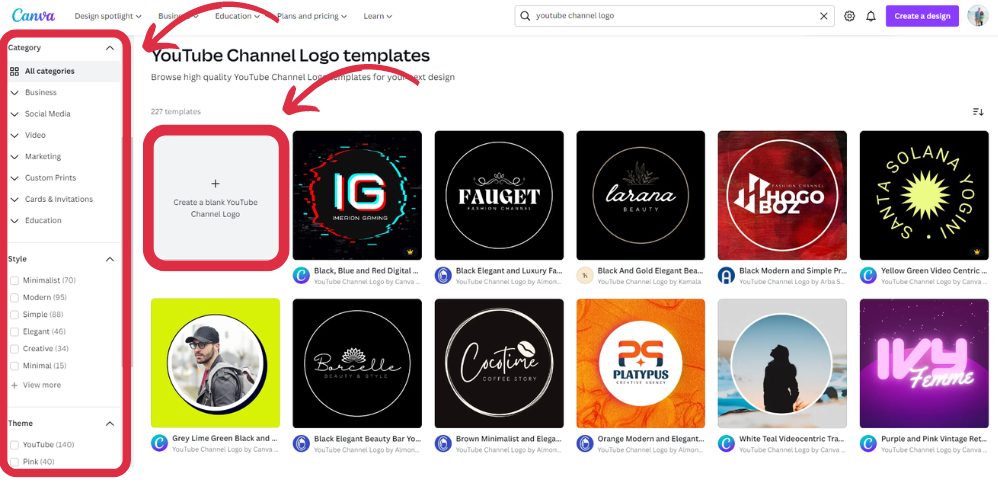 As you can see, Canva has plenty of professional YouTube logo templates you can use as a starting point.
Using a template saves you time, gives you a starting point and because they're made by graphic designers, you know your logo will look professional.
You can browse templates by category, style or theme.
So let's say you're a travel YouTuber. Just select the travel theme from the left-side menu and Canva will bring up a ton of travel-related YouTube logo ideas and templates you can run with.
Step 3. Customise
Once you've found a template you like, you can customise anything you want to make it unique.
You can change the:
Fonts
Sizes
Positioning
Colours
Background
Images
So don't be afraid to experiment and try out different ideas until you are happy with the result.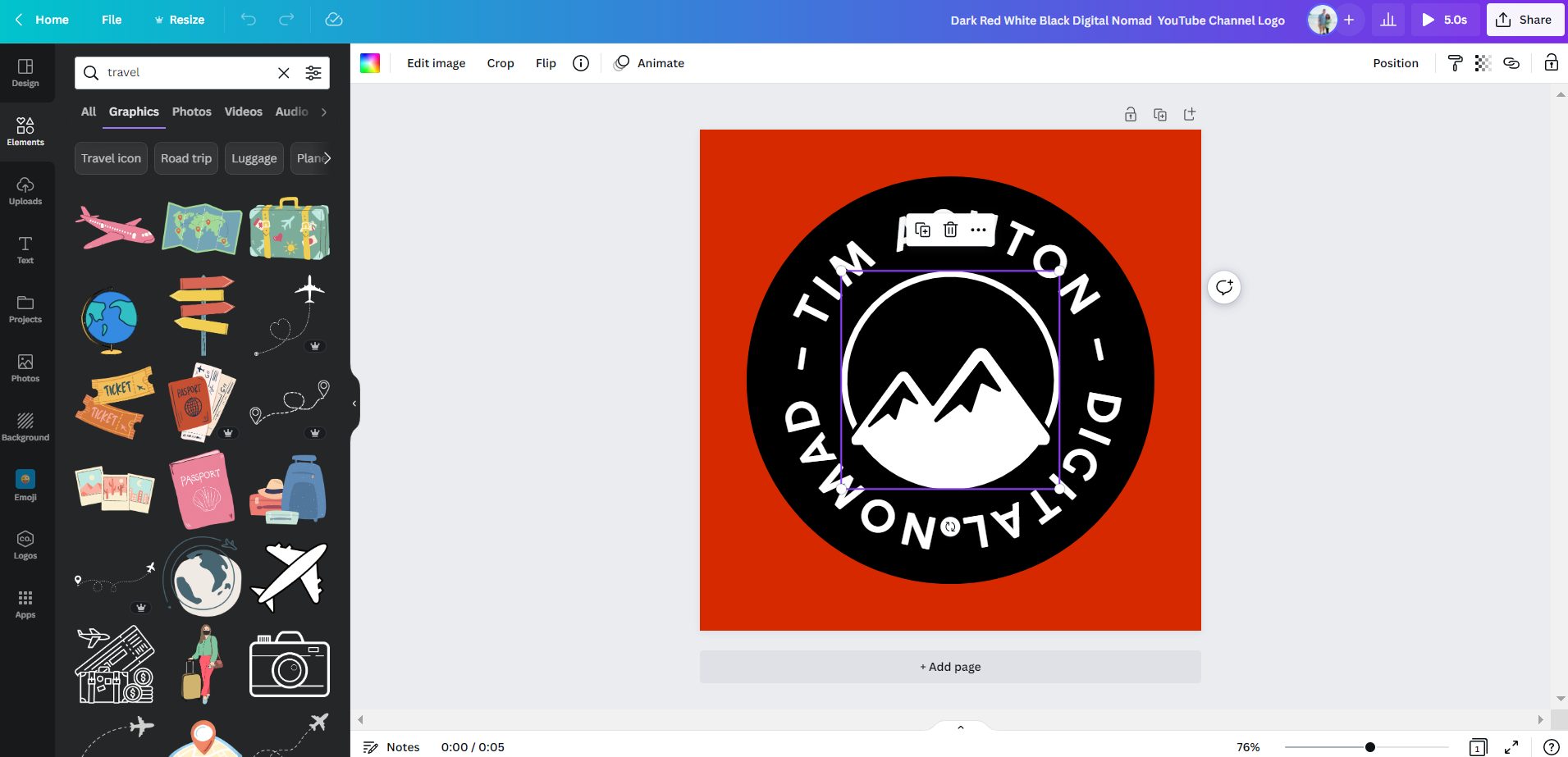 Step 4. Save Your Design
Once you're done, save your logo by hitting Share and Download, then choose your File Type.
YouTube supports JPG or PNG file types.
Step 5. Upload To Your Channel
To upload your new logo design to your channel:
Go to Youtube and sign in
Click your profile pic in the top right corner to go to your YouTube Studio
Then hit Customization in the left-side menu and select the Branding tab
Click Change under your profile picture and upload your logo
Hit Publish to save changes
Your new logo will now show on your YouTube channel
Hire A Designer If You Don't Want To Do It Yourself
If you don't want to make a YouTube logo yourself that's OK, you can always hire a logo designer.
Fiverr has 100s of professional logo designers who will create an awesome logo for you starting at just $5.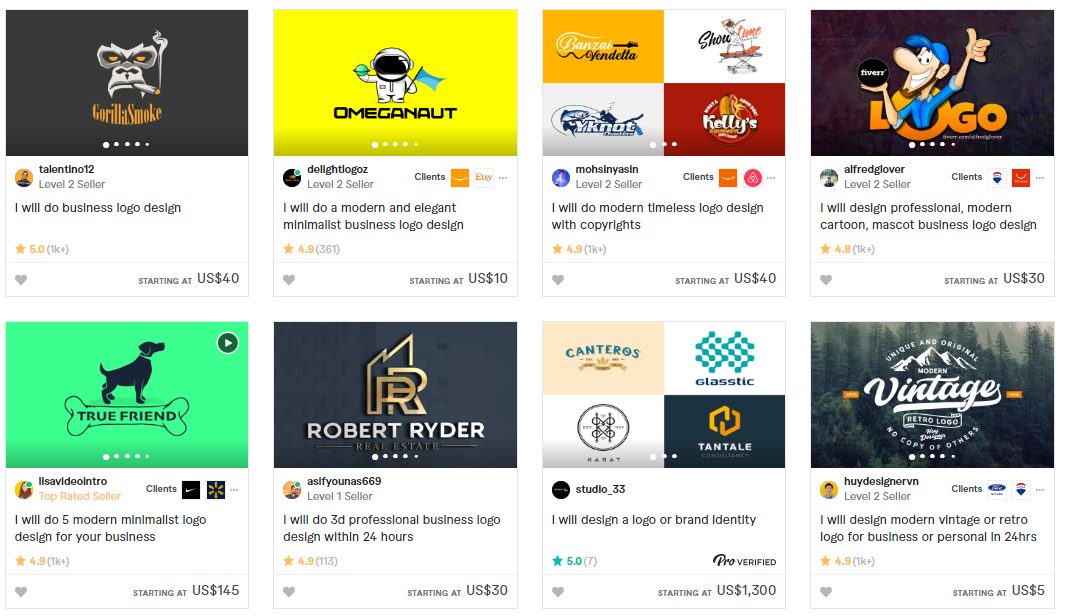 Simply find a high-quality designer with a lot of positive reviews and order your YouTube logo.
Be sure to tell them what your channel is about and what kind of brand you're going for so you're both on the same page.
Most designers will send you your logo within 24-48 hours and offer unlimited revisions until you're happy.
Ready To Start Earning With Your YouTube Channel?
Most YouTubers don't know this but you can make good money on YouTube just by recommending products to your viewers, even if you're just starting out.
See our free training here and discover how to turn your channel into a passive income stream.
I mean, if you're going to all that effort of shooting, editing and uploading videos then why not get paid?
Exactly.