A good YouTube banner gets you more views and subscribers.
It's your virtual shop front. The first thing people see, like a Facebook or Twitter cover image.
That's why I'm going to show you how to make a YouTube banner without the need to download any complex software or have a degree in graphic design.
You'll also get access to 2,749+ free and professional youtube banner templates so you can find a stunning design whatever your channel is about.
For this step-by-step tutorial, we're going to use Canva because it's easy to use and free.
Are you ready?
Let's do this!
How To Make A YouTube Banner: Video Tutorial
Make A YouTube Banner In 5 Easy Steps
Step 1: Open Canva
First, go to Canva and click Create a Design in the top left and search and select YouTube Banner.
This'll open up a new design for you preset at 2560 x 1440 pixels; the recommended YouTube banner size.

Step 2: Choose Your Favourite Template
You'll see a ton of free YouTube banner templates come up on the left-hand side. You can browse through them all or type the topic of your YouTube channel to get more specialist design ideas.
For example, I'm going to design a YouTube banner for a gaming channel so I'll search "gaming" in the search bar.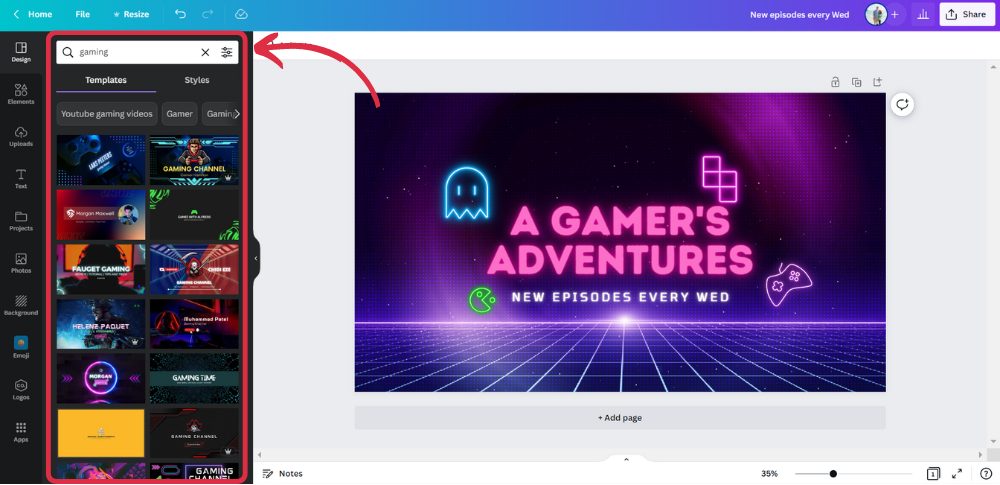 Step 3: Customise It
Once you've found a template you like, click on it and that template will become the main design you can now edit and customise as you see fit.
You can change fonts, colours and text sizes, add images and graphics, rearrange the layout and change the background – basically, you have full creative control over the design and can make it your own.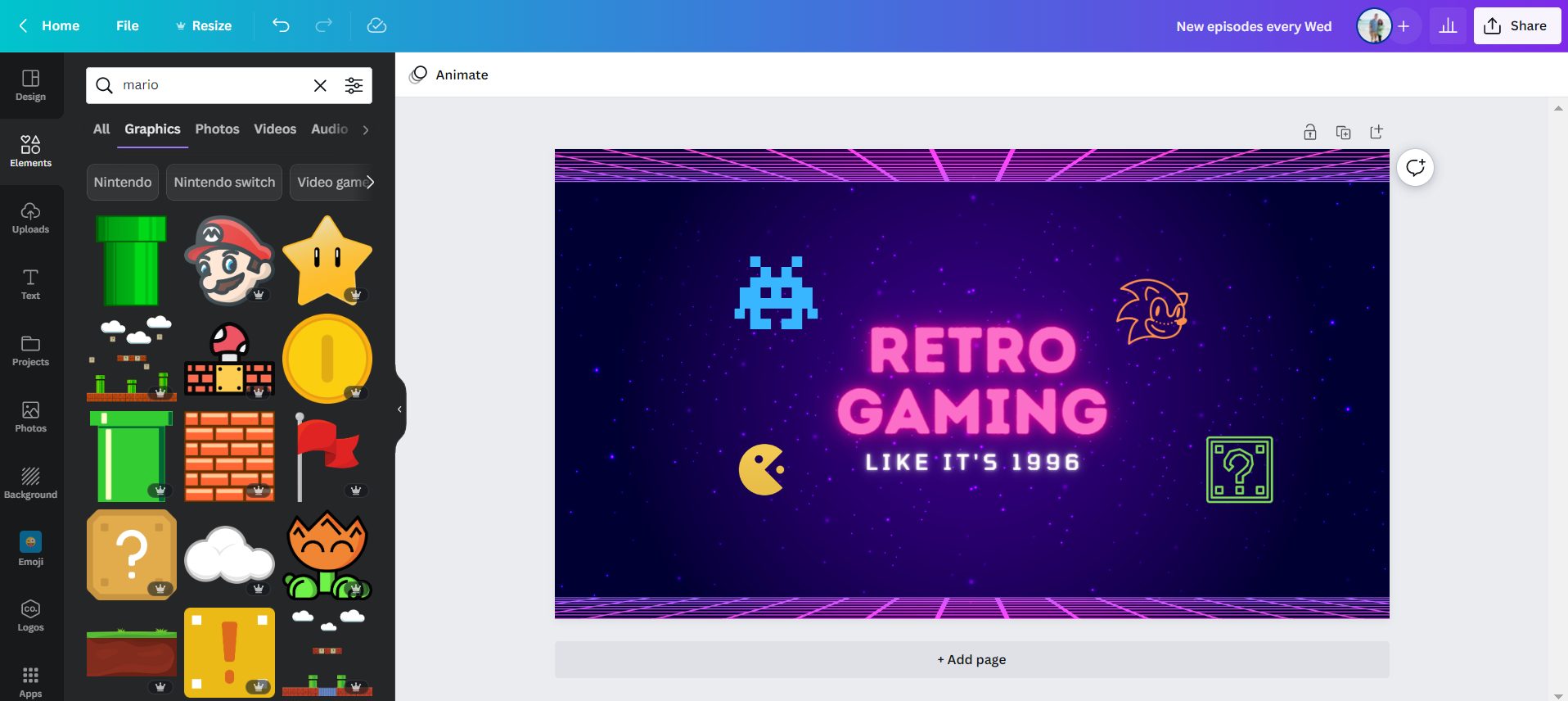 Step 4: Download
Once you're done editing, click on the Share button in the top left, choose the File type and Download.
Save your design as a JPG, PNG, GIF or BMP file as these are the ones you can upload to YouTube.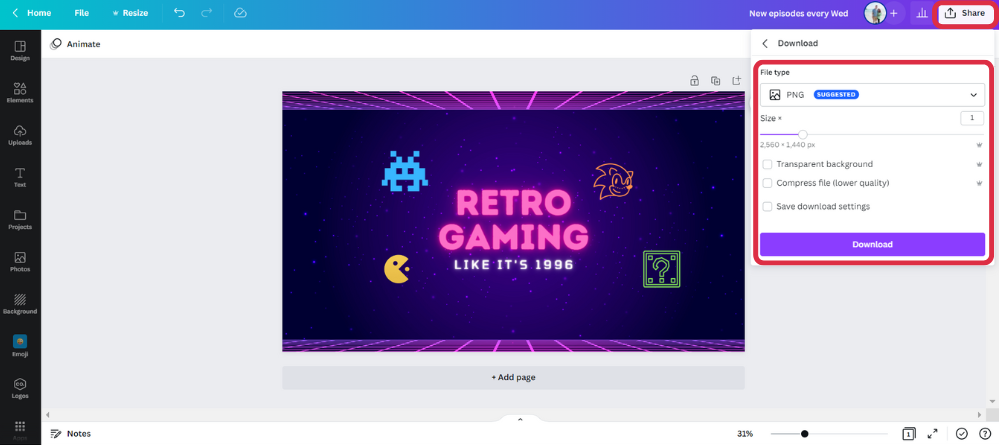 Step 5: Upload To YouTube
To add your new banner to your channel, go to YouTube, click on your profile picture in the top left and select Your channel from the dropdown.
Next, click the blue Customise channel button and choose the Branding tab
Then, click on Upload to upload your new banner design.
Just a word of warning from personal experience:
Uploading your YouTube banner might take a few attempts as it's a bit finicky. Check it looks good on all devices (laptops, PCs, Smart TVs, phones, tablets etc.)
Here's a handy video that'll show you more channel branding options, including how to add links to your YouTube banner:
You Did It!
Congratulations on designing your very own YouTube banner – you've just branded your channel.
And if you found this step-by-step helpful then check out our other YouTube tutorials:
5 Great YouTube Banner Examples To Inspire
Let's start with our very own Commission Academy YouTube channel.
We launched this in early 2022 and we've still got a long way to go but as you can see, it's a simple, yet stylish design with strong branding which draws the eye:
Next up, we have Liam James Kay's channel on online entrepreneurship.
With 228K subscribers, his channel has really taken off. His banner is a simple but beautiful image that tells you what his channel is all about. He also uses his banner to remind people to subscribe.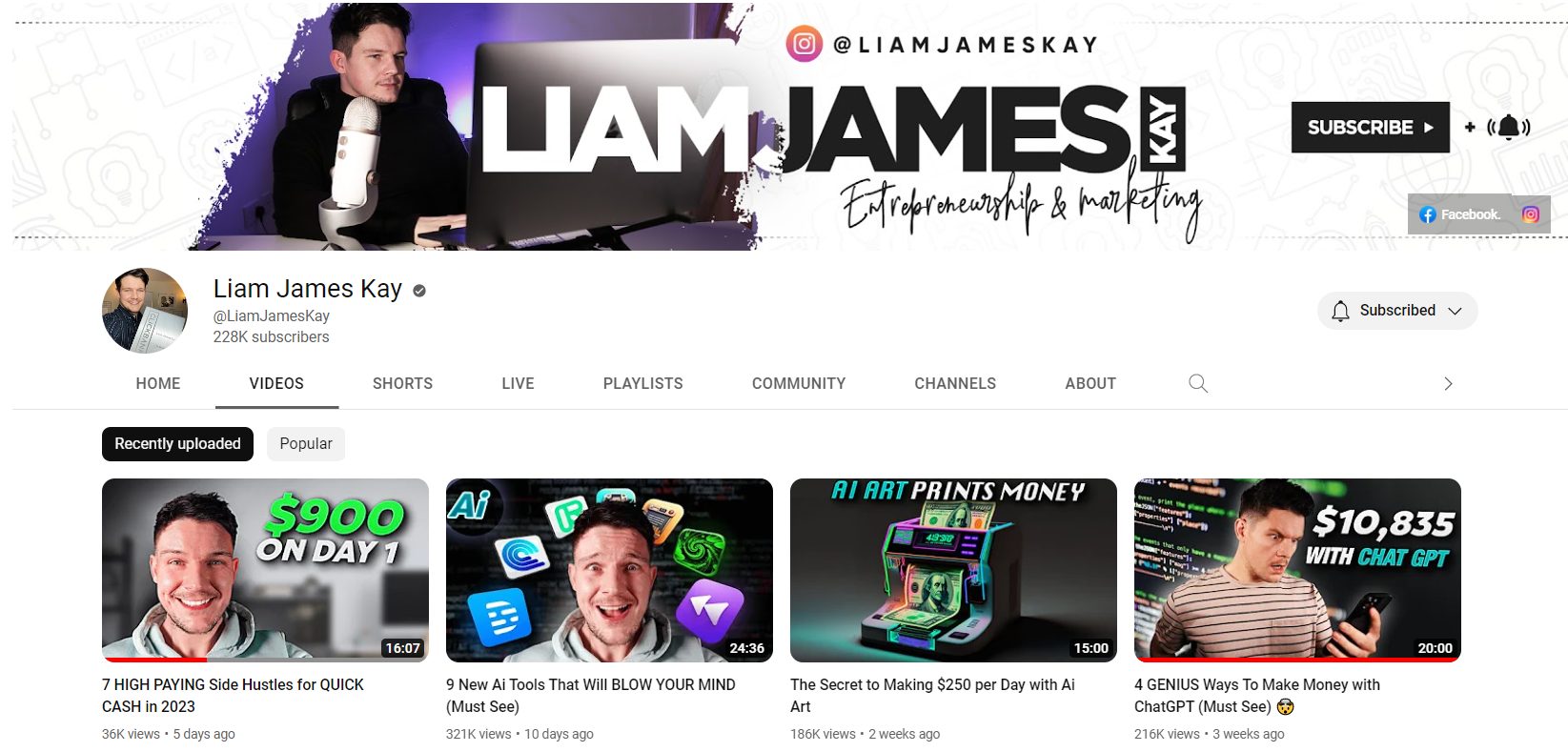 Jeff Nippard has a well-established YouTube channel about bodybuilding and powerlifting.
I love this YouTube banner because it's so simple: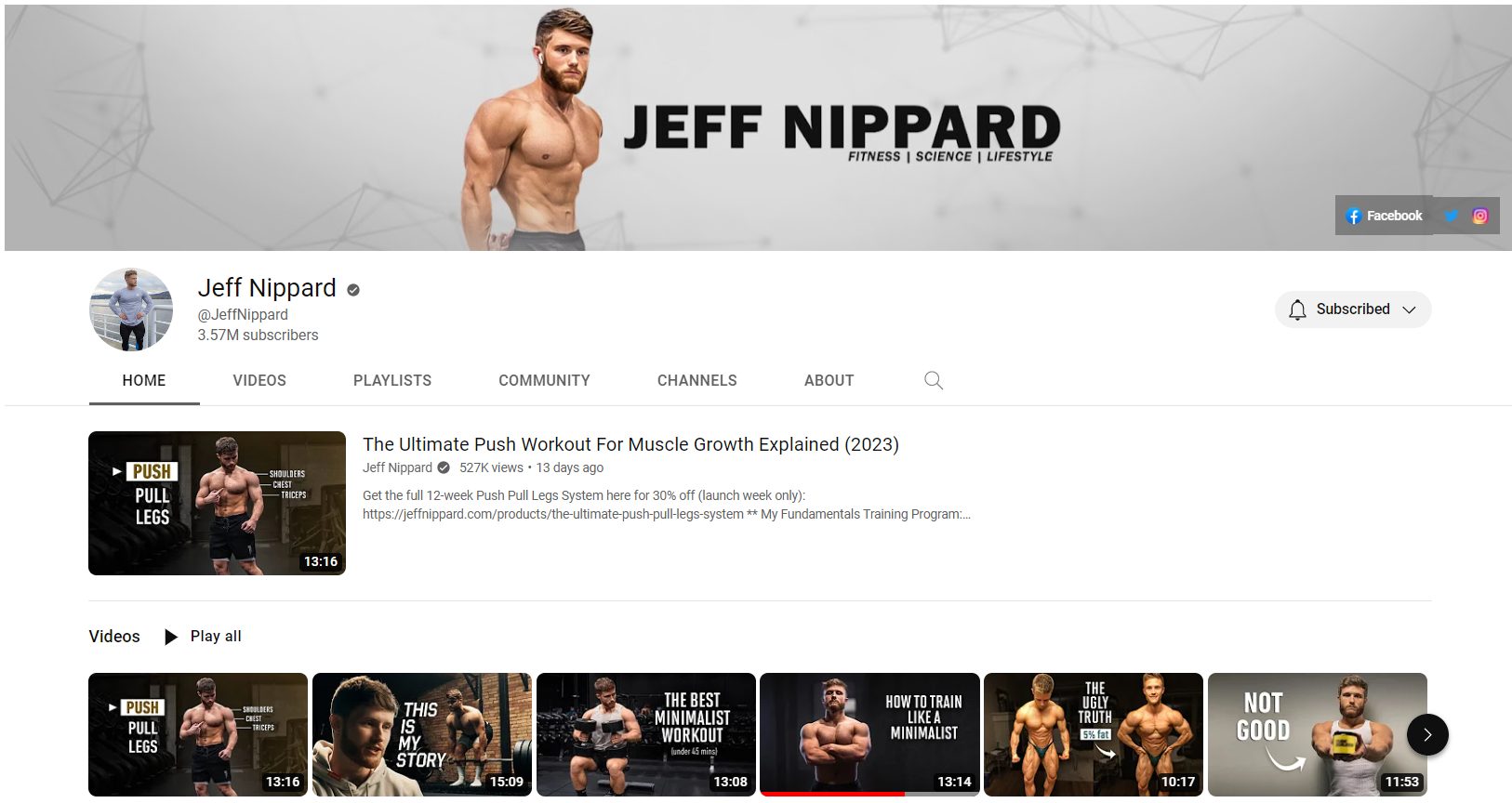 Take a look at I Roam Alone's YouTube banner – it's simple but eye-catching. One look and you know this channel is about travel.
Notice she links to her socials and tells people she uploads new videos every Monday: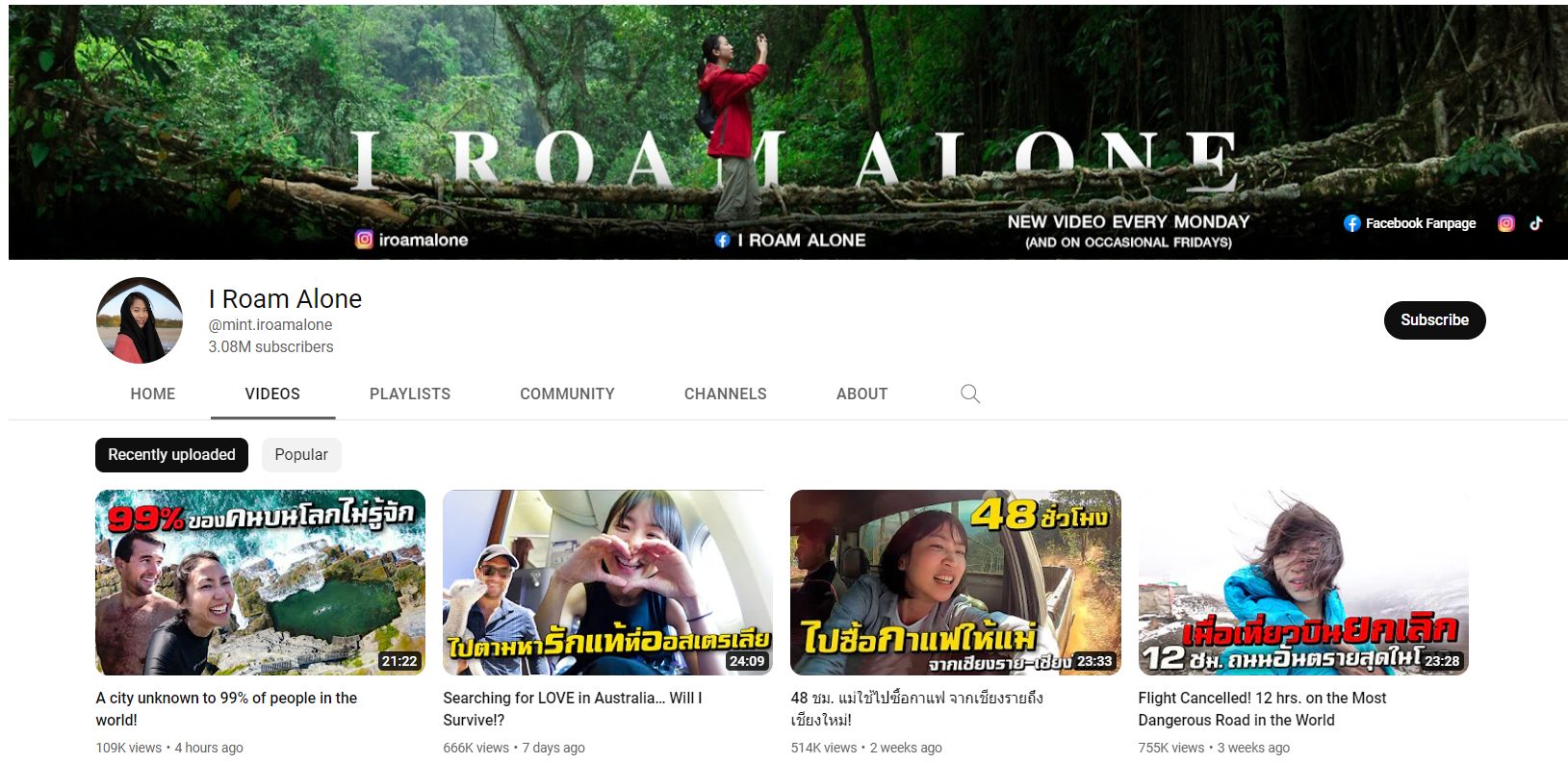 And last but not least, we have People vs. Food.
This is a channel all about – you guessed it – food!
Their YouTube banner has their logo in the middle with links to their socials: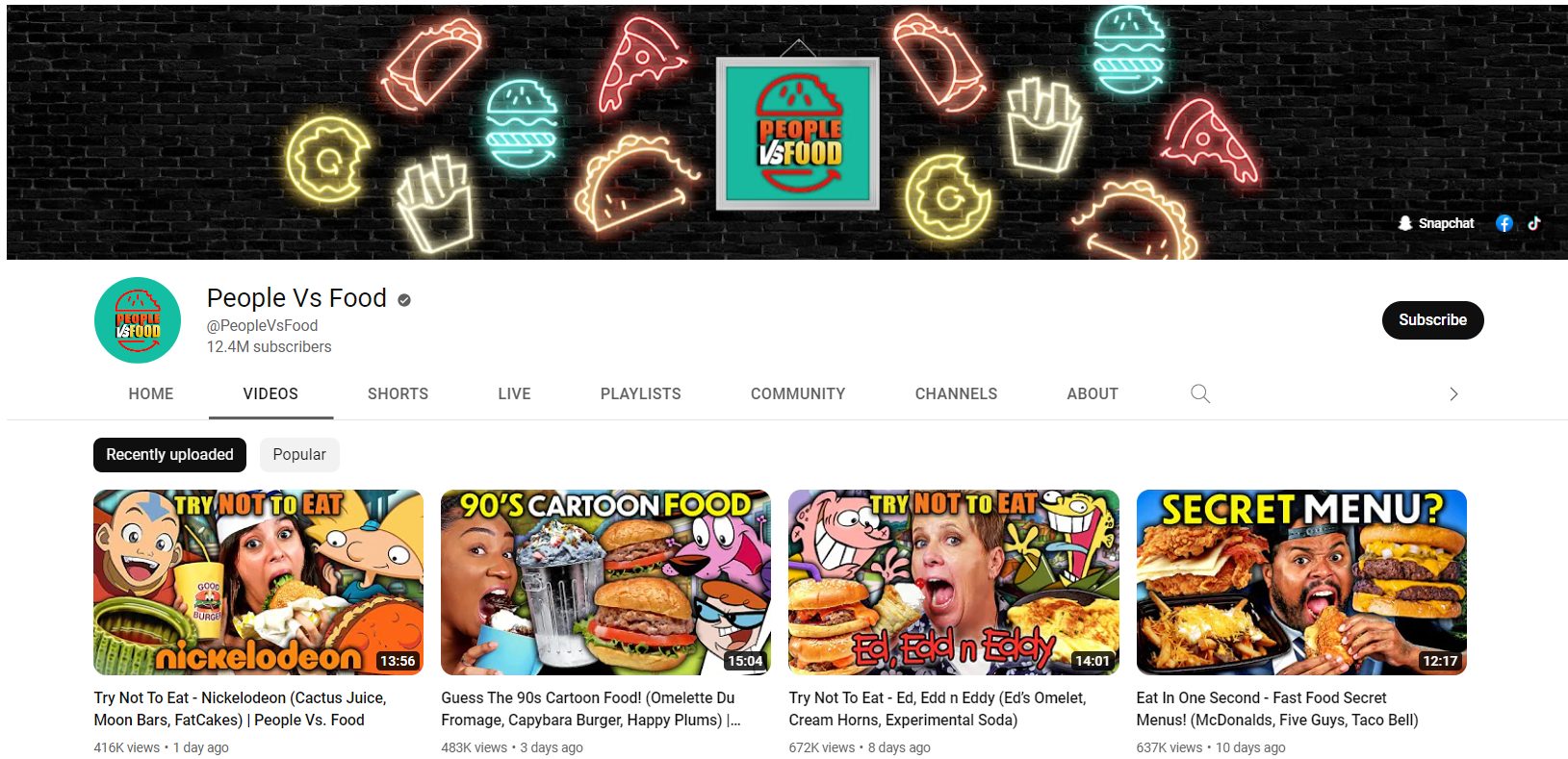 Making A YouTube Banner FAQs
What's The Recommended Size For A YouTube Banner?
YouTube recommends your banner image be sized 2560px by 1440px. The safe area that will display on all devices is the central area of 1546px by 423px so be sure to keep any logos and important text in this area.
The maximum banner image file size for uploading uploaded onto YouTube is 6MB and files can be uploaded as JPG, PNG, GIF or BNP.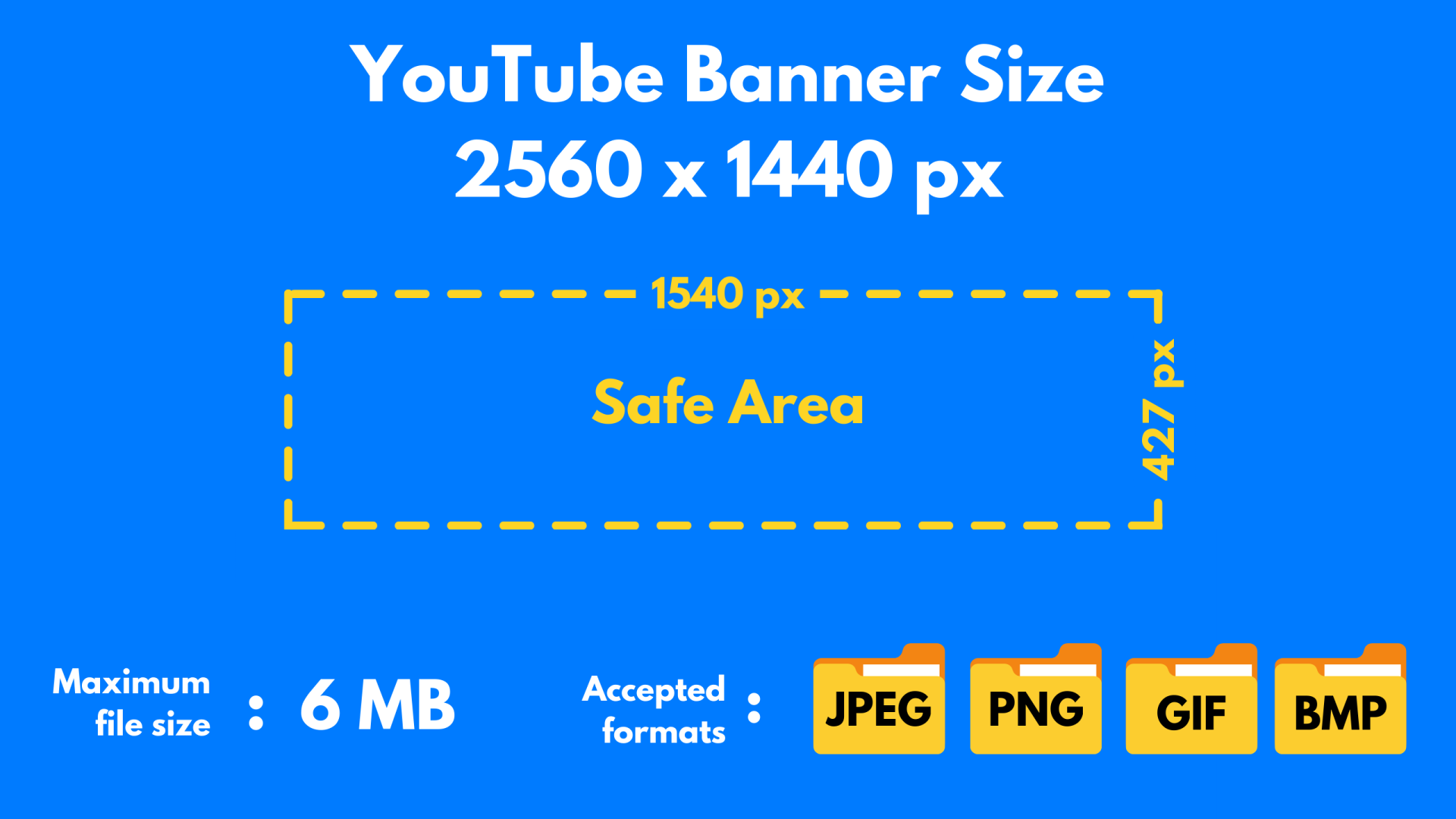 Can I Make My Own YouTube Banner Template?
Yes of course! If you'd rather not use one of the pre-designed Canva templates then go to Canva and hit the Start a Design button and enter the recommended banner image size.
Use the elements, photos, background and text options from the left-side menu to create your own design from scratch.
What Should I Put In A YouTube Banner?
It's really up to you. You can include your YouTube logo and summarise the theme of your channel in 2-4 words. You can link to your other social media channels. It's also a good idea to add an image of yourself if you can.
Some YouTubers tell people when they're uploading videos so they know what to expect.
The main when designing your banner is to keep it simple and straight to the point. You can always change it down the line if you need to.
Can You Make An Animated YouTube Banner?
Unfortunately no, you can not add an animated YouTube banner to your channel. Though you can upload your banner as a GIF file, it won't be animated.
What If I Don't Want To Make My Own YouTube Banner?
If you want a stunning YouTube banner that matches your channel's branding without the hassle of making one yourself, you can hire a professional designer to do it for you.
Order your YouTube banner design on Fiverr for as little as $5 and it'll usually be delivered within 24 hours.
You Deserve To Earn An Income With Your Channel
A lot of YouTubers don't realise you can turn your channel into a full-time income source simply by recommending products and linking to them from your video description.
Check out our free training here and we'll show you how it's done, even if you're just starting out.
I mean, if you're spending so much time shooting and editing videos, why not get paid for it?
Exactly.