If you've begun your affiliate marketing journey or started researching how to get started then MunchEye is a website that you've likely stumbled across.
It refers to itself as "the eye of IM launches" but of course, that doesn't really give much away.
So what exactly is MunchEye? And more importantly, can you make money with MunchEye?
If that's what you've been wondering then you can rest assured that you've landed in the right place because that's exactly what we're going to discuss right here in this post.
So without further ado, let's dive right in, starting with the main question first:
What Is MunchEye?
MunchEye is essentially a calendar that highlights the upcoming product launches in the IM (internet marketing) industry.
So this includes products related to cryptocurrency, eCommerce, list building, local marketing, PLR, SEO, social media, marketing software, video & online business opportunities.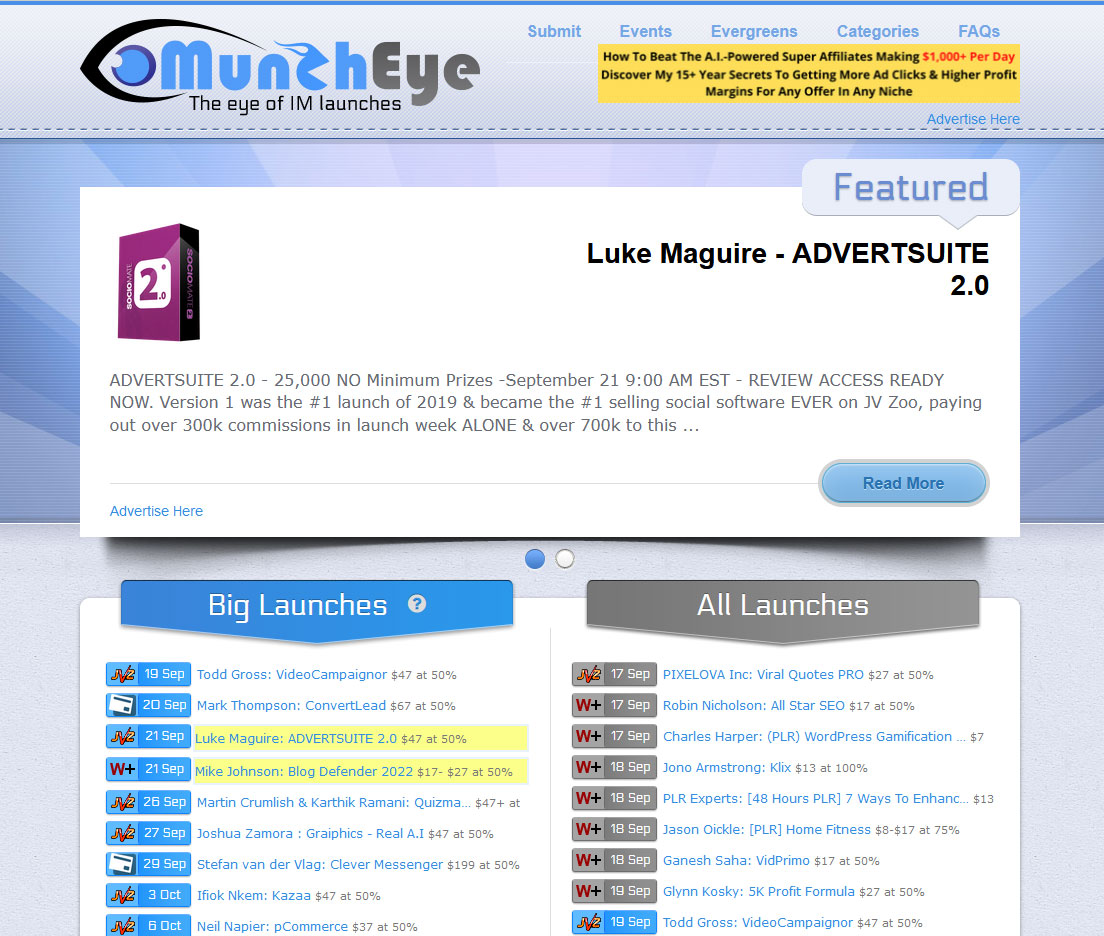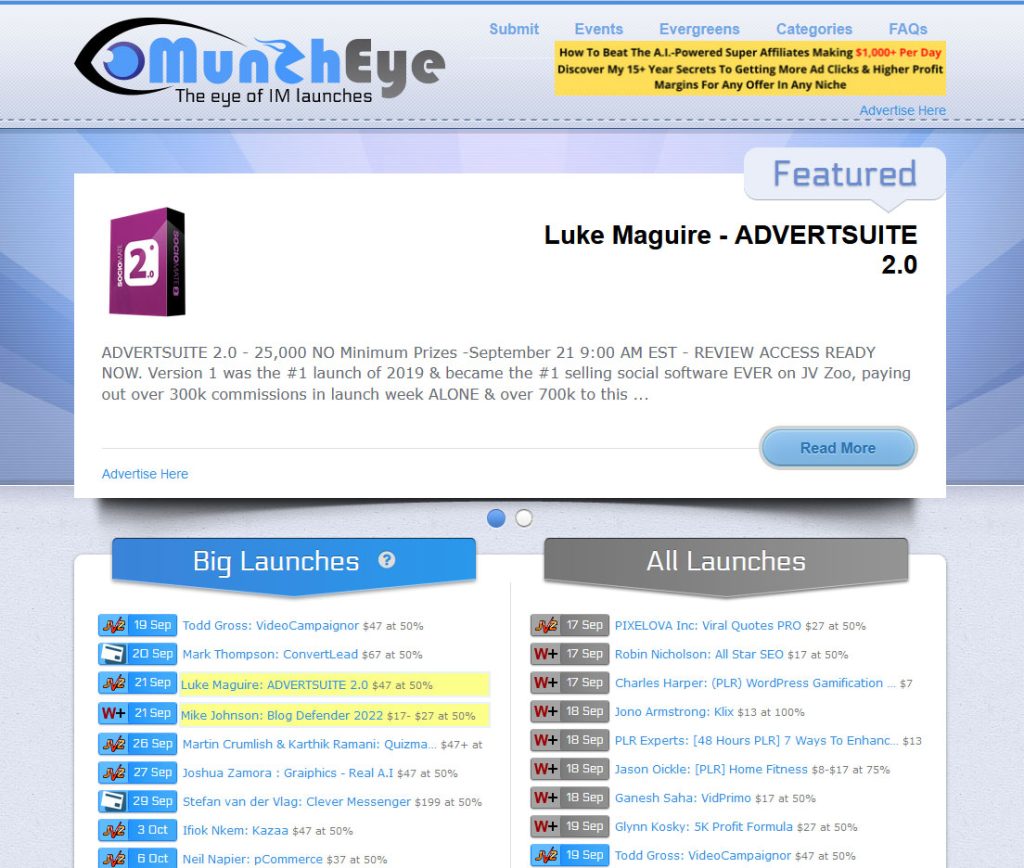 Primarily, MunchEye displays product launches from the WarriorPlus+ & JVZoo affiliate networks but they also allow people to submit their own launches so from time to time you may see products from other networks such as PayKickStart & ClickBank.
Now, you might be wondering – what is the use of this information?
Well, the reason many affiliates use sites like MunchEye is that in the IM industry a lot of the products are what's known as "churn and burn".
This means that products will get promoted heavily for a little while, and then affiliates will ditch them & start promoting the next new thing.
Why?
Because sadly, most IM products are really low quality. They just sell off the back of their overhyped, misleading claims.
So when the programs begin to get bad reviews & stop converting as well, the affiliates start pushing "the next best thing" that launches through MunchEye.
Of course, these affiliates are not what you would refer to as "good affiliates". They're essentially scammers, steering people towards bogus programs.
But this does provide a good opportunity for legitimate affiliates. In fact, MunchEye can help legitimate affiliates earn a LOT of money.
Let us explain…
How To Make Money With MunchEye
One of the easiest ways to make money online as an affiliate is through a method known as launch jacking & when it comes to launch jacking, sites like MunchEye can really help you out.
First off though, you're probably wondering what launch jacking is.
Well, we've covered the method in full here, but in short, it involves writing a review of a product & getting it ranked in search engines before (or very close to) the launch date so that you can get lots of visitors to your page when the product goes live & people start searching for it.
Then, you can either recommend the product to them as an affiliate if it's a good product or you can steer them towards a better product if it's not a good product & earn yourself commissions.
Either way, it's a win & that's why launch jacking can be a great method to get started with.
So, how can you make money with MunchEye?
Well, MunchEye is a product launch calendar which means that you can use it to view all of the upcoming launches in the IM industry.
This means that if you have a niche website in the IM industry, you could write reviews of all the upcoming launches listed on MunchEye & stand to earn huge commissions when they start to go live.
And if you don't have a website in the IM niche but still want to make money from MunchEye then be sure to check out our free training because, in it, we teach you step-by-step how to get everything set up.
In fact, with the help of our affiliate marketing training, you could have your very own niche website live on the web in the next 5-10 minutes.
And you could be making money from MunchEye sooner than you think.
The Downside of MunchEye
MunchEye itself, as a tool, is fantastic, but one of the downsides you'll find if you're using MunchEye to make money is that most of the products listed are just total junk.
This means that if you decide to leverage MunchEye for launch jacking, you'll have to get the hang of picking the good products from the bad… Because if you pick a bad product, nobody will promote it meaning nobody will search for it.
And that means you won't make any money from it.
But the good news is that after a little while of using MunchEye & trying to launch jacking method, you'll soon get to grips with what types of products work & what ones don't.
You'll also typically find that it's generally the same handful of sellers that have the good launches so you can play it safe by looking out for their names.
And, to help you even further, MunchEye also has its own "big launches" list as shown below: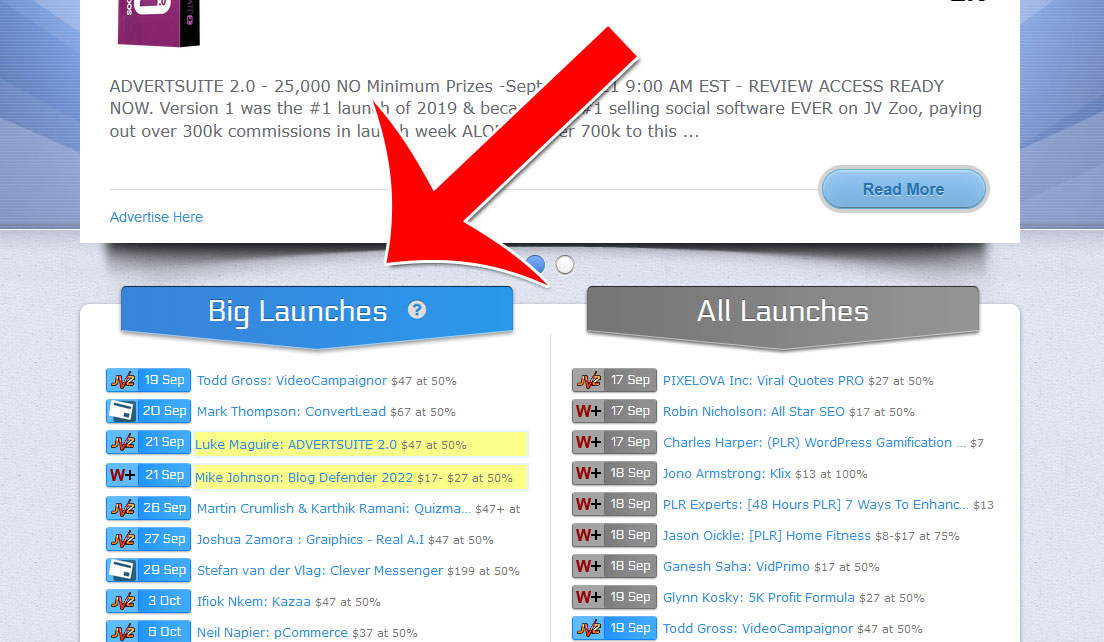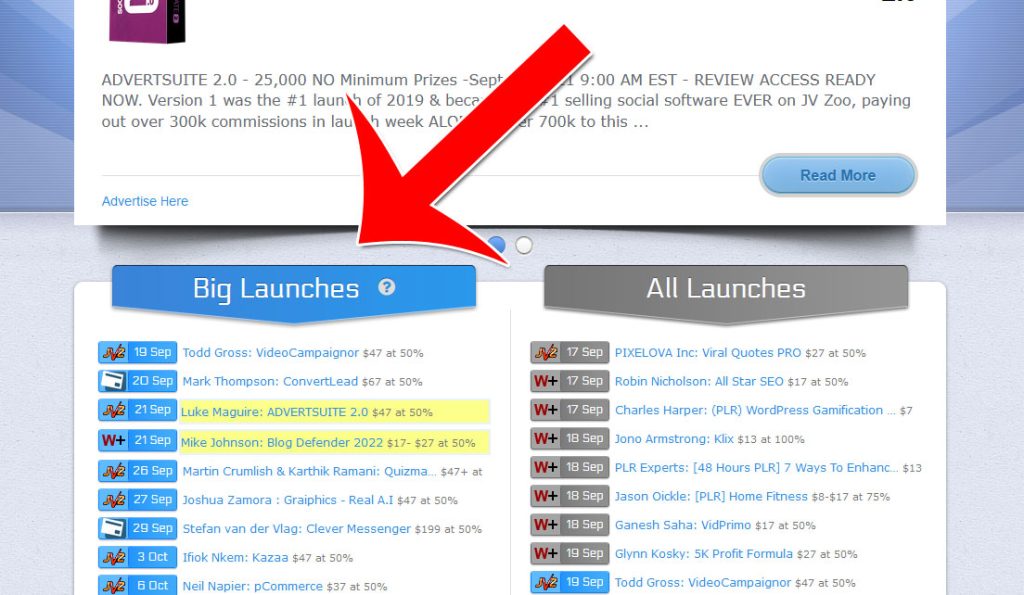 The only issue with this, however, is that as you can imagine, it's more competitive to rank for these launches because more people are gunning for them.
But with the nature of launch jacking, you'll still stand a good chance of ranking even if your blog or website is relatively new & you'll still likely get a fairly decent sip of the traffic even if you're ranked a little lower down due to the volume of the search when the launches go live.
The Bottom Line
MunchEye is a really handy tool that's used to find out when new products are launching in the IM (internet marketing) niche & it's great for launch jacking.
Alongside that, you can also use MunchEye to find upcoming affiliate marketing events around the world.
And whilst you can't make money directly from MunchEye itself, you can certainly use its calendar to generate a lot of money as an affiliate.
So hopefully after reading this post you now have a much better understanding as to what MunchEye is, how it works & how you can make money with it.
And if you'd like to put it into practice & actually start making money with MunchEye as an affiliate, do be sure to check out our free training before you leave.
Also, if you happen to have any additional questions or comments about MunchEye then don't hesitate to leave them below. We always love hearing from our readers.