If you've spent even just the smallest amount of time researching ways to get started with affiliate marketing, then chances are, you'll have come across a Warrior Plus affiliate marketing method.
The internet is plagued with Warrior Plus scams & there are new ones launching every single day that are looking to take advantage of people & part them with their hard-earned cash.
So, I have put this blog post together to uncover why you should avoid Warrior Plus affiliate marketing methods & what you can do instead to actually legitimately earn with affiliate marketing.
First of all, though, for those who don't know…
Free Training
Become a Super Affiliate Marketer 🚀
Sign up for our free affiliate marketing training & learn how you can become a super affiliate in any niche. Discover powerful traffic generation methods & little-known tactics to generate the most revenue for every single click.
What Is Warrior Plus?
In short, Warrior Plus is an affiliate network for digital products that are specifically related to "helping" people build & succeed with online businesses.
Notice, however, that I use the term "helping" loosely (more on that in a moment).
It is somewhat similar to ClickBank, except for the fact that ClickBank also caters for products outside of the online business niche.
So, vendors can list their online-business-related products on the Warrior Plus network & then affiliates inside of Warrior Plus can promote them to their audience.
Seems fair & reasonable, right?
And it would be if the products were actually of any value.
I mean, I don't doubt that there are likely "some" legitimate Warrior Plus affiliate marketing products, but they are certainly few & far between.
Instead, most of the Warrior Plus affiliate marketing offers resemble things like this: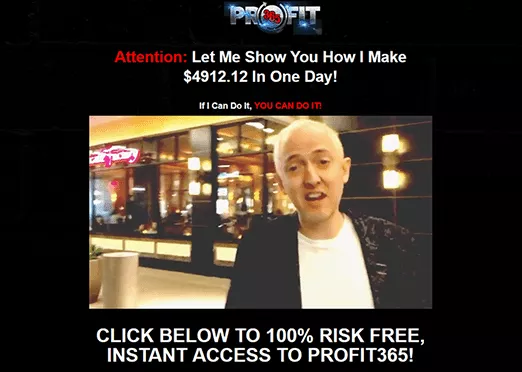 $4912.12 in one day… Yeah, right.
You can likely see from a mile off what a scam that product is… But, unfortunately, that's not a one-off.
Nearly every single Warrior Plus affiliate marketing product I've ever seen resembles something like that.
And as you can imagine, the systems or programs do not deliver on their promises, meaning that those who hand over their cash simply lose it.
That brings me to…
Is Warrior Plus Legit?
Through a technicality, yes, Warrior Plus is legit.
What I mean by that is that as a service itself, the Warrior Plus platform is legitimate. They allow vendors to host products, they manage the payments & they allow affiliates to promote them.
Vendors get paid, affiliates get paid… And they have disclaimers to essentially shrug off any of the "product quality" issues onto the vendors.
So, in other words, if you buy a scam Warrior Plus product, Warrior Plus will say that you need to sort it out directly with the vendor because they simply facilitate the payments & delivery, etc.
Now, after reading that, you can likely see why I say it's legit through a technicality… And I do also think it's something that's running on borrowed time.
ClickBank, back in the day, used to be very similar… But they've somewhat cleaned up their act.
Personally, I think that as a company facilitating the payments & delivery of the products, you should have a duty of care to ensure they are of good quality.
In other words, not scams.
Warrior Plus Affiliate Marketing Scams
As I touched on a little further up on this page, Warrior Plus is just completely riddled with affiliate marketing scams & that's why I recommend avoiding it.
Even though there "may" be some legitimate Warrior Plus affiliate marketing programs to be found few & far between the scams, the risk is just too high.
To highlight this point, I clicked on the "top selling" products for today & I want you to pay particular attention to the programs I've highlighted in the screenshot below: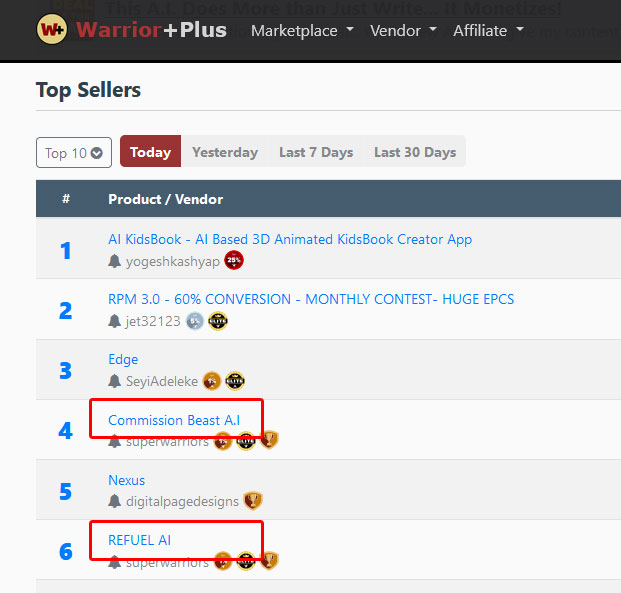 If I click through to take a look at those products, here's what I am presented with:

And those were literally just 2 products randomly selected from today's top-selling list.
The claims made are:
In 60 seconds flat, 100% done-for-you copy & paste AI system makes us $10,000+ per month
3-click done-for-you AI system pays us $997 every time
Now, I'm sure that you can tell a mile off those claims are fake. However, do you notice what they both have in common?
They both use the word "us", as in "make us $10,000 per month" or "pays us $997″.
Us being the creators of the programs, not you… And that's because, in reality, they're earning their money from the victims they manage to trick into signing up for their programs.
Don't fall for it. They may seem tempting, but as you'll see below, after doing a bit of due diligence, the truth soon comes into the light.
Warrior Plus Reviews
The Warrior Plus products are all designed in a way to try & rush you into signing up fast so that you feel you don't have time to check for reviews.
But if you do indeed run a search for Warrior Plus reviews, here's what you're presented with: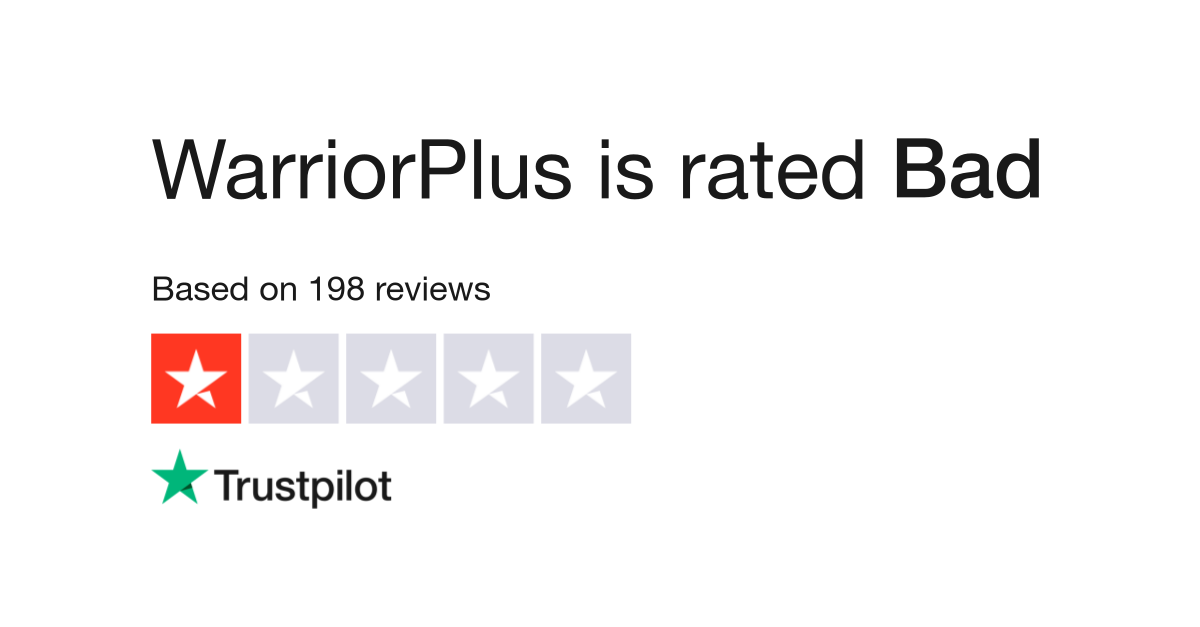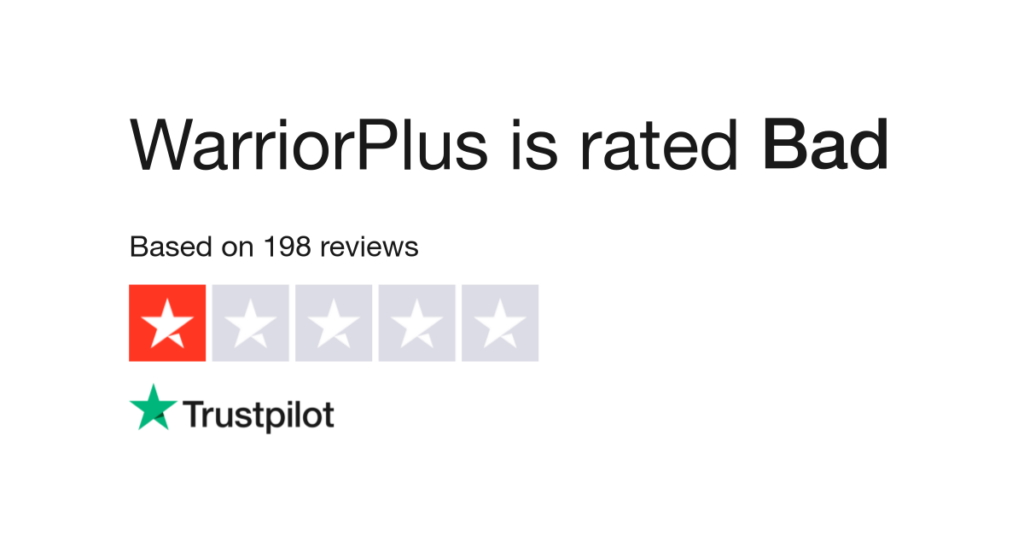 Alarming?
Well, that's only the tip of the iceberg.
Just look at what the buyers actually have to say: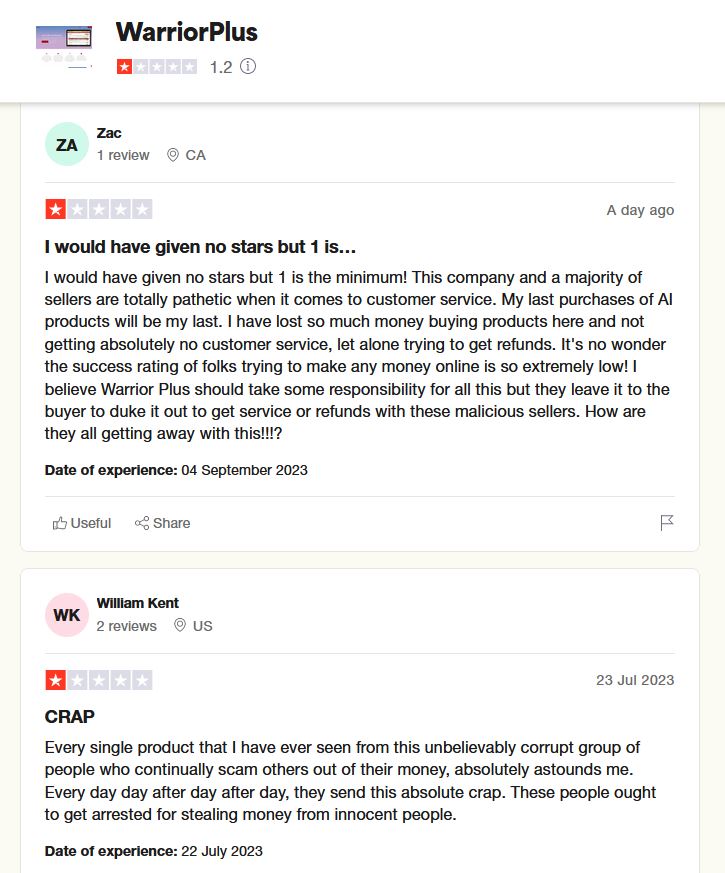 Words that trend through the reviews are scam, thieves, stealing, criminals, and malicious.
That's certainly not good at all.
How To Get a Refund From Warrior Plus
The good news is that, depending on how you paid, you do have a chance of getting your money back from a Warrior Plus scam.
Now, first of all, here is Warrior Plus' official stance on refunds, taken from their terms:
Important Note: Vendors/Sellers are responsible for ALL refunds. WarriorPlus is NOT the vendor. Each product is listed on WarriorPlus by individual vendors/sellers.
So, technically, your first port-of-call should be to contact the vendor. However, as you can imagine, the vendor will likely do diddly squat.
Still, it's worth a try.
If that fails, the next step is to head to PayPal & open a dispute with them.
Be sure to show them evidence that what you received was not what you were promised & that the vendor ignored your request for a refund.
Providing you supply enough evidence, PayPal will rule in your favour & Warrior Plus knows they will, which is why they actually threaten to ban you for opening a dispute.
Take a look:

But who cares?
Why on earth would you want to buy another product through Warrior Plus?
The Bottom Line
As a service for hosting products, facilitating payments & managing affiliates, Warrior Plus actually does a pretty good job.
It's just such a shame they don't vet anything they host on their network & that they allow scammers to run rampant on there.
As I mentioned further up on this page, I suspect they're running on borrowed time & that they'll have to eventually clean up their act like ClickBank…
But for now, I cannot recommend Warrior Plus affiliate marketing products.
Instead, if you want to get started with affiliate marketing legitimately, I strongly recommend you sign up for our free training course.
In our free training, we uncover how you can get started from scratch & walk you through the full process right to earning your first commissions.
So, if you haven't already done so, be sure to sign up for the training before you leave.
But overall, I hope that you found this post insightful & of course, if you happen to have any additional questions or comments, feel free to leave them below.