Quick Answer: Yes, Amazon affiliate links work on mobile the same way they do on laptops or tablets. When customers tap your Amazon affiliate link on mobile, you get credited for sales, whether they go on to purchase via the Amazon website or the Amazon Shopping app.
Yes, Amazon Affiliate Links Work On ALL Devices
The Amazon commission rates and 24-hour cookie duration are the same regardless of whether someone accessed your affiliate link on their mobile phone or any other device.
It's been confirmed by Amazon themselves:
"You will earn commission income consistent with the existing Associates program. All purchases through mobile phone and tablet apps will earn commission income under the same commission structure."
And this is great news!
Why?
Because it unleashes your full affiliate earning power.
A massive 24% of Amazon shoppers prefer to shop on their mobile and as an Amazon affiliate, you'll be fully credited for every sale.
You can earn BIG commissions simply for promoting Amazon products knowing you'll get paid every time you successfully generate a sale.
And the best part is not only do you get paid for the item you recommended – you'll get paid for EVERY item they add to their cart and buy.
Pretty sweet, right?
And making money as an Amazon affiliate is actually really simple:
Step 1: Join the Amazon Associates program
Step 2: Grab the link for the product you want to promote
Step 3: Share it online
Step 4: Bank commissions!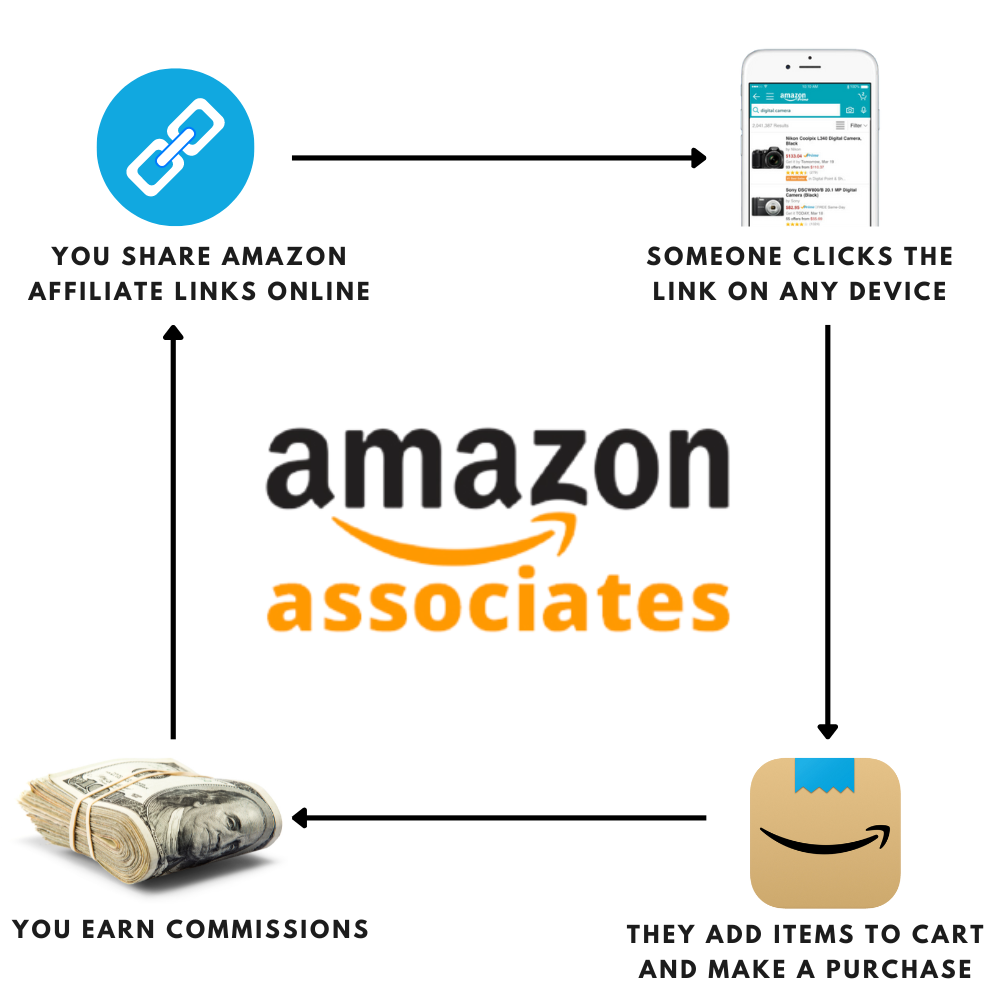 And that's really all there is to it!
Well, almost…
Because some affiliates make $150,000+ per month with Amazon and others make diddly squat.
So what's the difference?
Ultimately, your affiliate marketing success hinges on your ability to drive the right types of traffic and drive it in high volumes.
Let's look at how the super affiliates do it.
How Do Amazon Top-Earners Generate Sales?
Amazon's top affiliates are ahead of the pack because they know how to launch and build a successful affiliate marketing business.
They're not wasting time spamming Facebook groups or paying for solo ads or any of that nonsense.
So how exactly do they make more sales than anyone else?
They follow successful affiliate marketing methods.
Or more specifically:
They create niche affiliate marketing websites that get ranked in Google and attract buyer-ready traffic.
This is the winning strategy that'll get you results.
And while it might sound techy it's really not.
Take the free Commission Academy training and we'll walk you through it step-by-step.
No matter what your online income goals are for 2023, we'll equip you with the right know-how to make it happen.
Mobile GetLink: Earning With Amazon Just Got Easier
Whether you're just getting started with affiliate marketing or are already making regular commissions with Amazon, you need Mobile GetLink in your life.
Mobile GetLink means it's never been quicker to generate and share Amazon affiliate links on your mobile when you're on the go.
Keen to get started?
Download the Amazon shopping app here, sign in to your account and Mobile GetLink will be enabled automatically.
Here's a quick overview of how it works:
Should You Promote Amazon Products As An Affiliate?
Affiliate marketing is a life-changing business.
I can think of no other way everyday people like you and me can work from home and make a lucrative income doing it.
And Amazon has the biggest and most popular affiliate program out there because :
Everyone knows and trusts Amazon
They have 350+ products you can promote
You earn commissions on all sales within the 24-hour cookie period
So you promote Amazon products as an affiliate?
I would say yes, absolutely.
The only downside is Amazon's commission rates are quite low so don't limit your earning potential by promoting Amazon exclusively.
Check out these Amazon Affiliate alternatives for higher commission rates.
Got A Burning Question?
Let us know!
Seriously, we get a kick out of helping succeed online with affiliate marketing.
If you have any questions about making money with Amazon or anything else affiliate marketing related, ask in the comments or join one of our Weekly Live Hangouts and Dale and I will answer you directly!