Quick Answer: Yes, personal blogging is a low-cost and highly profitable way to earn online. Many personal bloggers go on to make 6-figures a year or more. Put in the work to create content upfront and you can generate relatively passive income through your personal blog.
If you're thinking about starting a profitable blog, the best time to start is now.
Your blog won't be profitable right away but stick with it and you'll build up Google traffic, an email list and an online income stream that will turn out very lucrative for you.
Start your personal blog right now with Commission Academy.
In our free training, you'll discover how we've built several income-generating blogs around a variety of topics, got millions of readers, 100,000s loyal subscribers and made a lot of money in the process.
We hold nothing back. This is a reveal-all course that will equip you with the mindset and skillset you need to succeed.
3 Ways You Can Earn Through Personal Blogging
You can make your personal blog profitable in a variety of ways. Let's start with a personal favourite.
1. Affiliate Marketing
Affiliate marketing is a great way to monetise your personal blog.
And it's actually really simple:
Someone visits your blog
You recommend a product or service you love
They click your affiliate link and buy
It looks like this: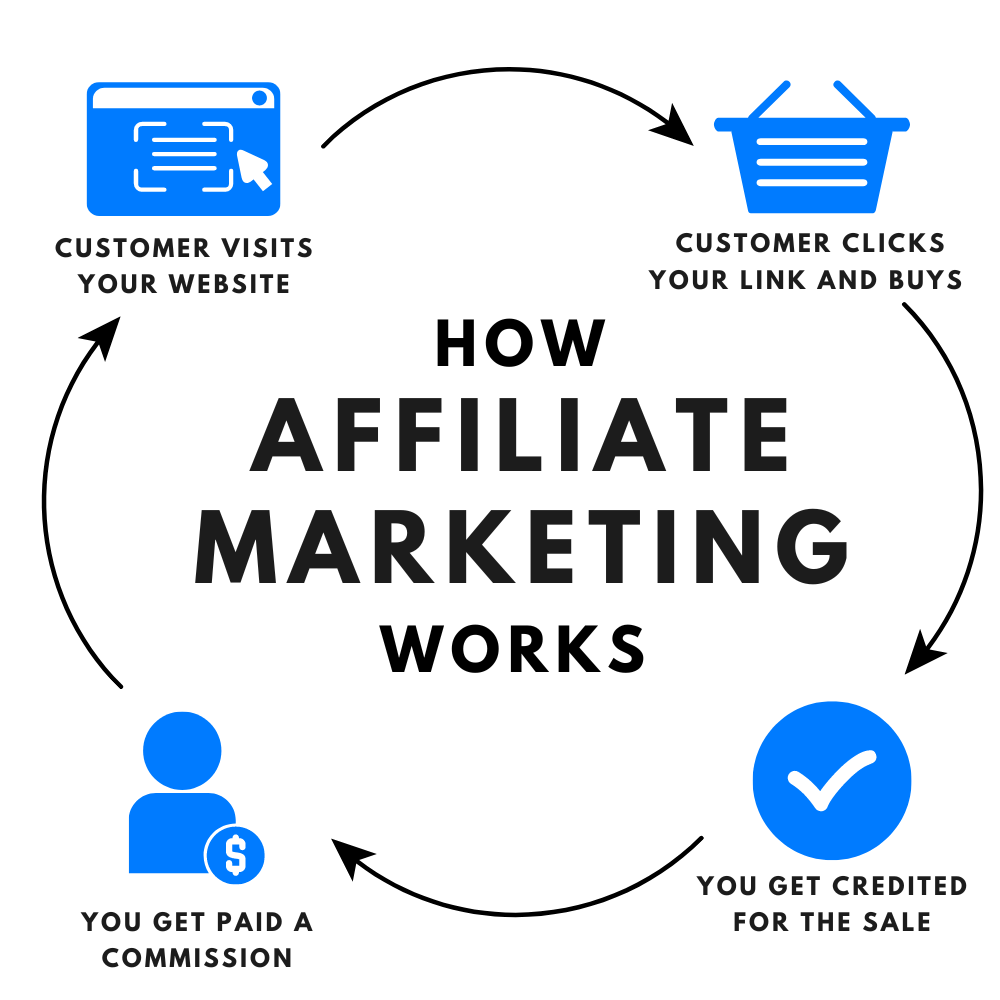 Whatever you're blogging about, whatever products and services you use, you can recommend them to your readers to earn a percentage on every single sale.
And you find products and get your affiliate links through things called affiliate programs.
Most major brands have affiliate programs. Sign up as an affiliate and you'll have unlimited access to a wide array of products you can promote to make your personal blog profitable.
Simply send people their way and they'll deal with all of the payment processing, shipping and customer care and send you a check at the end of the month. It really couldn't be easier.
2. Display Ads
Another great way to make money with your personal blog is to join an ads network like Ezoic.
They'll display ads on your site and you'll get paid per $10-40 for 1,000 views on average.
This is super passive because it really doesn't take any extra work on your part.
The best part?
Ezoic hgave no minimum pageview requirement meaning you can start earning as soon as you start your profitable blog.
3. Sponsored Posts
Another best way to profit from personal blog is to create sponsored posts.
Once your blog starts to gain traction and get more popular, you'll get emails from companies and brands who want to partner with you and they'll be more than willing to pay you for publishing sponsored content on your site.
Depending on your traffic volume and what your blog's about, this can become yet another highly lucrative income stream.
4. Sell Your Own Products Or Services
Whether you make your own jewelry, want to create a print-on-demand t-shirt business or offer your services as a coach, this is all made possible with a personal blog.
Your blog is your very own piece of online real estate – you can do what you want with it and make it profitable for you in more ways than one.
How Much Money Can You Earn With A Personal Blog?
Some personal blogs are more profitable than others but on average, bloggers make $45,000 per year. How much money you make will depend on how much content and traffic you have.
There is no limit to how much you can earn and your income will only grow the bigger your blog becomes.
How Long Before A Personal Blog Becomes Profitable?
I'm not gonna lie – it does a while for Google to start trusting your blog and send traffic your way.
And traffic is what you need to get people clicking your links and buying stuff.
The good news is starting a personal blog is super low-clost so you'll be in profit in no time.
The bad news is you'll have to put in the initial effort upfront and wait 3-6 months before you start seeing money coming in consistently.
So prepare yourself for delayed gratification. Be patient. Stick with it and it'll all be worth it!
How To Start A Personal Blog In 7 Steps
Get the best blogging training
Choose a topic
Register your domain name
Set up web hosting
Create your blog
Come up with a content plan
Add initial content
Start your free training here now and we'll cover everything from choosing a name for your personal blog to buiulding up an email list. With a bit of expert guidance, you can get your blog online in 30 minutes or less.
So if you're ready to launch a profitable and successful personal blog where you can share your interests and express yourself freely with a worldwide tribe of loyal fans and make a lot of money then think no more about it.
The sooner you start, the sooner you'll start making money and it could just turn out to be the best decision you ever made.